Are Charter Schools the Solution to Rural School Closings?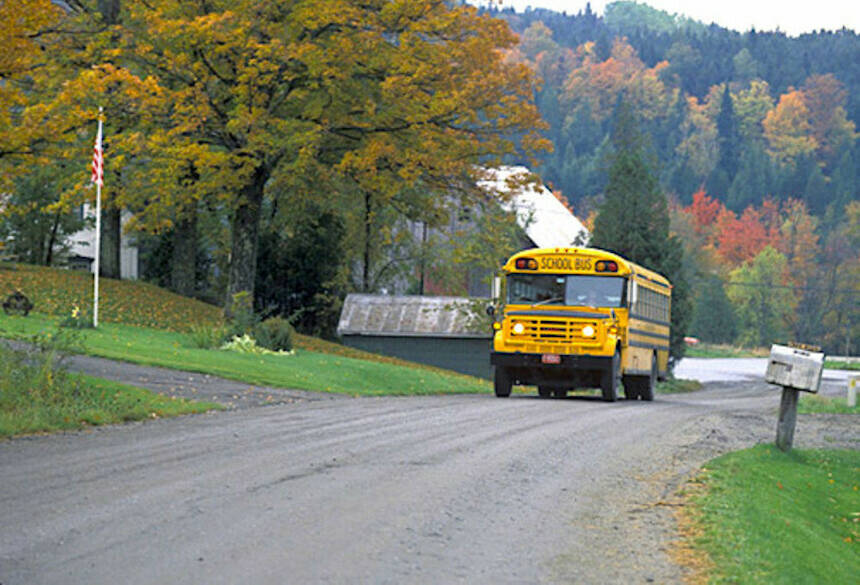 The recent appoint­ment of Bet­sy DeVos as sec­re­tary of edu­ca­tion has brought rur­al schools into the nation­al con­ver­sa­tion in ways nev­er seen before. At her con­fir­ma­tion hear­ing, DeVos said that guns might have a place in schools in order to pro­tect from ​"poten­tial griz­zlies" in places like Wapi­ti, Wyo.
While the com­ments about griz­zly bears and guns were well-pub­li­cized, there was con­sid­er­ably less talk about how DeVos' pro-char­ter school agen­da could play out in rur­al com­mu­ni­ties like Wapiti.
As a rur­al edu­ca­tion researcher and a life­long rur­al res­i­dent, I can attest that rur­al com­mu­ni­ties and schools are dis­tinct places of teach­ing and learning.
Though not often at the cen­ter of the nation­al con­ver­sa­tion, 33 per­cent of all U.S. pub­lic schools—includ­ing Wapi­ti Ele­men­tary — are clas­si­fied as rur­al. Data from the Nation­al Cen­ter for Edu­ca­tion Sta­tis­tics (NCES) and the U.S. Cen­sus Bureau indi­cate that rur­al schools enroll a total of 9.7 mil­lion chil­dren. A quar­ter-mil­lion of them attend char­ter schools.
Under DeVos' lead­er­ship, this num­ber is expect­ed to grow with increased fed­er­al sup­port. Although few in num­ber as com­pared to urban char­ter schools, char­ter schools in rur­al com­mu­ni­ties are dis­tinct because of the con­di­tions under which they are opened and oper­at­ed. Like most rur­al schools, rur­al char­ter schools are close­ly con­nect­ed to their rur­al communities.
Impor­tance of schools to rur­al communities
Thir­ty-two thou­sand rur­al schools serve every region of the Unit­ed States. These schools are the ​"heart" of their com­mu­ni­ties — social­ly and eco­nom­i­cal­ly — and are deeply impor­tant to their col­lec­tive identity.
Schools in rur­al areas not only help to main­tain the social fab­ric of rur­al com­mu­ni­ties, but also offer ser­vices that reduce the effects of pover­ty. These include health ser­vices, con­tin­u­ing edu­ca­tion class­es and com­mu­ni­ty lit­er­a­cy pro­grams. Social and eco­nom­ic invest­ment in rur­al schools is crit­i­cal for small rur­al com­mu­ni­ties that have been affect­ed by an increas­ing­ly glob­al econ­o­my.
Despite the pos­i­tive impacts of schools on rur­al com­mu­ni­ties, 150,000 rur­al schools have been elim­i­nat­ed through clo­sure or con­sol­i­da­tion since 1930. Rur­al schools are closed pri­mar­i­ly in response to bud­get cuts and low enroll­ment.
The sto­ry of the clo­sure of the Welling­ton School is typ­i­cal. Welling­ton was locat­ed in the pota­to farm­ing com­mu­ni­ty of Mon­ti­cel­lo, Maine. The school enrolled 66 chil­dren and played a crit­i­cal role in the com­mu­ni­ty. Res­i­dents fend­ed off clo­sure for over 30 years, but the school closed in 2014.
As was the case in Mon­ti­cel­lo, rur­al school clo­sures and con­sol­i­da­tions almost always face com­mu­ni­ty resis­tance. In cas­es where resis­tance fails, com­mu­ni­ty mem­bers some­times open a char­ter school in place of the exist­ing school. This is often not because com­mu­ni­ty mem­bers are dis­sat­is­fied with the tra­di­tion­al school, but because they sim­ply want to main­tain a school in the community.
When the res­i­dents of Elk­ton, Ore., were faced with the clo­sure of their school, res­i­dents opt­ed to open a char­ter school in its place. Elk­ton School Dis­trict is one of 12 rur­al sin­gle-school dis­tricts in Ore­gon that have con­vert­ed to char­ter schools in the face of clo­sure or con­sol­i­da­tion. Before becom­ing a char­ter schoool in 2009, Elk­ton enrolled 130 stu­dents in grades K‑12. Elk­ton now enrolls 240 stu­dents and is no longer at risk for closure.
Char­ter schools
Char­ter schools are an edu­ca­tion­al exper­i­ment of pub­licly fund­ed, tuition-free schools that oper­ate with few restraints on issues such as teacher qual­i­fi­ca­tions, cur­ricu­lum and finan­cial trans­paren­cy. Char­ter schools are fund­ed through the trans­fer of mon­ey from stu­dents' dis­trict of res­i­dence ("home" dis­trict) to the char­ter school.
Accord­ing to the Nation­al Con­fer­ence of State Leg­is­la­tors, local school dis­tricts approve the appli­ca­tions for or ​"autho­rize" about 90 per­cent of char­ter schools. Uni­ver­si­ties, state boards of edu­ca­tion, inde­pen­dent char­ter boards and munic­i­pal gov­ern­ments can also autho­rize charters.
Since the first char­ter school law was passed in Min­neso­ta in 1991, the U.S. has adopt­ed increas­ing­ly char­ter-friend­ly poli­cies. This began with the Pub­lic Char­ter Schools Pro­gram (PCSP) in 1995, and expand­ed with the pas­sage of No Child Left Behind in 2001. In 2015, the Every Child Suc­ceeds Act (ESSA) fur­ther increased fund­ing for char­ter schools — despite emerg­ing research sug­gest­ing that char­ter schools may have low­er aca­d­e­m­ic per­for­mance and neg­a­tive­ly affect the finances of the home district.
The increas­ing­ly char­ter-friend­ly envi­ron­ment can be traced to an ide­o­log­i­cal shift: While pub­lic edu­ca­tion was once seen as a key to democ­ra­cy, it is increas­ing­ly seen as a tool of effi­cien­cy and eco­nom­ic com­pet­i­tive­ness. This change has cre­at­ed prime con­di­tions for the school choice move­ment — and for the cre­ation and expan­sion of char­ter schools.
And char­ter schools are grow­ing. There are four times as many char­ter schools as there were in 1999. Forty-three states and the Dis­trict of Colum­bia have laws allow­ing char­ter schools.
DeVos' appoint­ment sig­nals a con­tin­ued inter­est on the part of the fed­er­al gov­ern­ment in the growth of char­ter schools. The Wash­ing­ton Post called DeVos a ​"one-issue nom­i­nee" for her sin­gu­lar focus on school choice. In DeVos' state of Michi­gan, 12 per­cent of char­ter schools are rur­al. Nation­wide, 16 per­cent of char­ter schools are rur­al. Still, rur­al char­ter schools have been most­ly absent from the nation­al conversation.
Why rur­al char­ter schools
A key dif­fer­ence between rur­al char­ter schools and urban char­ter schools lies in how the schools come to be and who is in charge of their day-to-day operations.
Pro­fes­sion­al man­age­ment groups (KIPP, Mas­tery, Pro­pel Schools, Schol­ar Acad­e­mies, etc.) are far more like­ly to man­age urban char­ter schools. Nine­ty-three per­cent of New Orleans char­ter schools and 44 per­cent of New York City char­ter schools, for exam­ple, are man­aged pro­fes­sion­al­ly. In con­trast, just 7 per­cent of rur­al char­ter schools are pro­fes­sion­al­ly man­aged. Nine­ty-three per­cent are ini­ti­at­ed and oper­at­ed by local com­mu­ni­ty groups.
That rur­al char­ter schools often begin as a response to clo­sure and con­sol­i­da­tion explains, in part, the dis­par­i­ty between how urban and rur­al char­ter schools are man­aged. Rur­al com­mu­ni­ty mem­bers open char­ter schools as a means of keep­ing a school in their com­mu­ni­ty, and 93 per­cent of the time, assume the man­age­ment and oper­a­tion of the new school them­selves. They do so because they feel that the char­ter is a bet­ter choice for their stu­dents than the new­ly con­sol­i­dat­ed school. What counts as ​"bet­ter" is unique to each sit­u­a­tion and community.
Com­mu­ni­ty mem­bers may open a rur­al char­ter school as a means of sus­tain­ing and grow­ing the con­nec­tions between a school and its com­mu­ni­ty. Like­wise, the com­mu­ni­ty may want a char­ter school that places the rur­al com­mu­ni­ty at the cen­ter of its work. In some cas­es, a char­ter school is opened with an explic­it empha­sis on address­ing local need — such as the main­te­nance of children's native lan­guage. In gen­er­al, rur­al char­ter schools reject the idea that the pur­pose of school­ing ought to be to help stu­dents to ​"learn to leave" their rur­al com­mu­ni­ty. Rur­al char­ters are often opened with the express pur­pose of keep­ing chil­dren in the com­mu­ni­ty for school.
By estab­lish­ing a char­ter school, rur­al com­mu­ni­ty mem­bers, often for the first time in recent his­to­ry, can have a voice in the edu­ca­tion of their chil­dren. Parental con­trol is, in fact, the basis of argu­ments for school choice and char­ter schools.
Advo­cates claim that parental con­trol will result in more com­pet­i­tive and effi­cient school­ing. But parental con­trol in the case of rur­al char­ters can have a dis­tinct­ly dif­fer­ent mean­ing. Rur­al com­mu­ni­ty char­ter schools are often opened to serve local needs. They are not in com­pe­ti­tion with oth­er schools (none are near­by) and their small size and empha­sis on main­tain­ing com­mu­ni­ty tra­di­tions make them dis­tinct­ly inefficient.
In each instance, the open­ing of a rur­al char­ter school hap­pens in a com­plex web of edu­ca­tion­al pol­i­cy, eco­nom­ic dis­par­i­ties and a long-estab­lished cul­tur­al dis­dain of rur­al peo­ple. Until edu­ca­tion­al, social and eco­nom­ic poli­cies are imple­ment­ed with rur­al com­mu­ni­ties in mind, rur­al cit­i­zens should con­tin­ue to work to break down bar­ri­ers for more social­ly just rur­al schools and com­mu­ni­ties — in the same way that urban cit­i­zens have.
Rur­al char­ter schools can be a mech­a­nism for that work. They are a means for rur­al com­mu­ni­ties to talk back to mes­sages and poli­cies sug­gest­ing that small rur­al schools are inef­fi­cient, cul­tur­al­ly irrel­e­vant and too small to be polit­i­cal­ly significant.
(Dis­clo­sure state­ment: Karen Epp­ley does not work for, con­sult, own shares in or receive fund­ing from any com­pa­ny or orga­ni­za­tion that would ben­e­fit from this arti­cle, and has dis­closed no rel­e­vant affil­i­a­tions beyond the aca­d­e­m­ic appoint­ment above. ​"The Unique Case for Rur­al Char­ter Schools" was first pub­lished on The Con­ver­sa­tion and is repost­ed on Rur­al Amer­i­ca In These Times thanks to Cre­ative Com­mons licens­ing. The views expressed are sole­ly that of the author.)
Karen Epp­ley
is Asso­ciate Pro­fes­sor of Cur­ricu­lum and Instruc­tion at Penn­syl­va­nia State University.