Chicago 11th-Graders Walk Out in Defiance of State-Mandated Test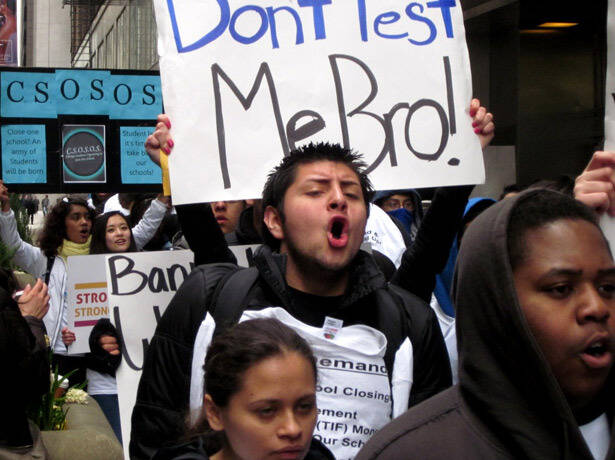 Wednes­day morn­ing, when most pub­lic-school 11th graders in Chica­go were prepar­ing to take the state-man­dat­ed Prairie State Achieve­ment Exam (PSAE), near­ly 100 stu­dents left high schools across the city in protest. Boy­cotting stu­dents met up with par­ents and allies down­town to ral­ly in front of the Chica­go Pub­lic Schools head­quar­ters in defi­ance of what they call May­or Rahm Emanuel's ​"mis­guid­ed agenda."
​"We are over-test­ed, under-resourced, and fed up," Bri­an Stir­gus, a senior at Paul Robe­son High School, told the crowd. The stu­dents object to both the preva­lence of high-stakes stan­dard­ized test­ing and the sched­uled clo­sure of 54 Chica­go gram­mar schools, which the stu­dents see as part of the same threat to their edu­ca­tion and their communities.
Stir­gus, a spokesper­son for new group Chica­go Stu­dents Orga­niz­ing to Save Our Schools (CSOSOS), said that the clo­sure of schools in pre­dom­i­nant­ly black and Lati­no com­mu­ni­ties is ​"racist," and that the use of high-stakes tests to eval­u­ate the schools is ​"fool­ish." Stu­dents are deter­mined to save their schools, he empha­sized, and are will­ing to take mea­sures like Chicago's mass walk­out in 1963, when more than 200,000 stu­dents boy­cotted class­es in protest of inequal­i­ty in the city's pub­lic schools.
In the after­noon, stu­dents gath­ered in front of Ben­jamin Ban­nek­er Ele­men­tary to hold a ​"speak out" and link arms in a sym­bol­ic block­ade in front of the school. Ban­nek­er was in ses­sion Wednes­day but will not be open­ing for a new school year in Sep­tem­ber if CPS plans do not change.
CSOSOS, along with stu­dent group Voic­es of Youth in Chica­go Edu­ca­tion (VOYCE), orga­nized the boy­cott in sol­i­dar­i­ty with stu­dent groups from across the coun­try that are begin­ning to take aim at exces­sive stan­dard­ized test­ing. Ear­li­er this year, Seat­tle's Garfield High School gained nation­al atten­tion when teach­ers launched a boy­cott of the dis­trict-man­dat­ed Mea­sures of Aca­d­e­m­ic Progress test. The boy­cott won sup­port from Seat­tle par­ents and stu­dents, and helped inspire a wave of anti-test­ing actions across the coun­try. Tim­o­thy Ander­son, an orga­niz­er with VOYCE and junior at Gage Park, told In These Times that Chica­go stu­dents have been in con­tact with stu­dents from Newark, NJ; Port­land, OR; Prov­i­dence, RI; Philadel­phia, PA — where sim­i­lar actions have recent­ly tak­en place or are being planned. Chica­go stu­dent orga­niz­ers are try­ing to fig­ure out how teach­ers, par­ents, and stu­dents can work togeth­er on a big­ger fight­back against test­ing and school clos­ings. ​"We're still plan­ning," said Ander­son, ​"nothing's official."
Par­ents and teach­ers were also at the two actions, if only on the side­lines. ​"We were very excit­ed when we found out [about the walk-out]," said Anne Carl­son. Carl­son is CPS par­ent as well as a teacher and a Chica­go Teach­ers Union del­e­gate at Drum­mond Ele­men­tary. She says the stu­dent-led walk-out came as a pleas­ant sur­prise. ​"Stu­dents are con­nect­ing the dots them­selves" between high-stakes test­ing and school clo­sures, she notes. It's part of the same agen­da to pri­va­tize Chica­go schools, and schools nation­al­ly, she believes, because ​"the tests are what is deter­min­ing which schools they close." Accord­ing to WBEZ, CPS uses a ​"com­pli­cat­ed for­mu­la" to judge schools' per­for­mance, but ​"more than half of the pos­si­ble points are based on parts of the Prairie State Achieve­ment Exam."
CPS stu­dents in their junior year are required to take the PSAE in order to move on to the next grade lev­el, but there is a make-up day in May for stu­dents who miss the test. Since stu­dents take the ACT test dur­ing the first day of the two-day test­ing peri­od, orga­niz­ers called for a boy­cott on the sec­ond day of test­ing to avoid jeop­ar­diz­ing stu­dents' chances dur­ing the col­lege admis­sions process. Mem­bers of VOYCE who left Gage Park High School Wednes­day morn­ing report­ed that teach­ers tried to inter­fere with the boy­cott by sug­gest­ing that stu­dents' ACT scores would be inval­i­dat­ed if they refused to take the PSAE. The threat turned a few stu­dents around, but most believed it to be unfound­ed. Kamaal, a stu­dent who declined to give his last name, told In These Times that his par­ents sup­port­ed his choice to join the boy­cott, and he does not believe that the school will pun­ish him and his fel­low stu­dents. For him, the most impor­tant thing is oppos­ing school clos­ings. ​"We're try­ing to do as much as we can," he said. ​"The bud­get is being cut and a lot of vio­lence is going to happen."
Amien Essif
is a reg­u­lar con­trib­u­tor to Work­ing In These Times and main­tains a blog called The Gazine, which focus­es on con­sumerism, gen­tri­fi­ca­tion, and tech­nol­o­gy with a Lud­dite bent. His work has also appeared on the Guardian and Coun­ter­Punch. You can find him using Twit­ter reluc­tant­ly: @AmienChicago