In the 1968 DNC Protests, Did the Left Self-Sabotage?
50 years after the infamous demonstrations, participants and historians reflect.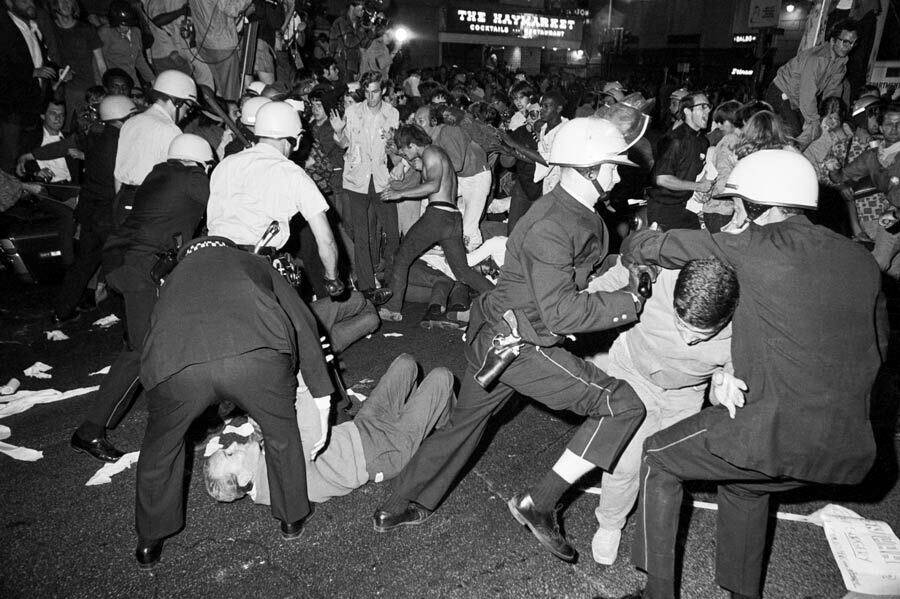 In the wake of the April 4 assas­si­na­tion of Mar­tin Luther King Jr., Black com­mu­ni­ties rose up in more than 100 cities and towns. Oppo­si­tion to the Viet­nam War, which would ulti­mate­ly claim mil­lions of lives in South­east Asia, grew, as did U.S. casu­al­ties. Of the more than 58,000 Amer­i­cans who died from 1956 to 1975, more than 14,000 were killed in 1968. In April of that year, police sav­age­ly attacked anti-war pro­test­ers in Berke­ley, Calif., and Chica­go, giv­ing the coun­try a pre­view of what was to come August 26 – 29, when the Demo­c­ra­t­ic Par­ty held its nation­al con­ven­tion in Chicago.
The reality is that it was racism—not cultural politics or demonstrations in the street—that caused a majority of white voters to abandon the Democratic Party.
The con­ven­tion attract­ed more than 10,000 demon­stra­tors from across the coun­try who came to protest the Demo­c­ra­t­ic estab­lish­ment that had led the coun­try into war. They were wel­comed by thou­sands of mem­bers of the Chica­go Police Depart­ment who met them with tear gas, mace and bil­ly clubs.
Unlike the civ­il rights movement's non­vi­o­lent protests, in which police attacked Black cit­i­zens engag­ing in civ­il dis­obe­di­ence, the optics of the Chica­go demon­stra­tions were very different.
Some of the Chica­go demon­stra­tors arrived expect­ing a con­fronta­tion. Todd Gitlin, writ­ing in the San Fran­cis­co Express Times, pre­scient­ly advised those com­ing to Chica­go: ​"Wear some armor in your hair," a play on the pop­u­lar lyrics ​"If you're going to San Fran­cis­co, be sure to wear some flow­ers in your hair." Gitlin was cas­ti­gat­ed by oth­ers in the anti-war move­ment for depress­ing turnout at the Chica­go demon­stra­tions by warn­ing that they would turn vio­lent, but he was prophetic.
In a lat­er inter­view, George McGov­ern put it this way:
It was a sick­en­ing thing to see. There is no ques­tion that some of the pro­test­ers got out of line. But one can't argue that the Chica­go police didn't get out of line. They did. There was bru­tal­i­ty. There was overkill on the part of the police, and that's prob­a­bly where we lost the 1968 [elec­tion]. The clash between those two Amer­i­c­as that you could see on the street, young police­men on one hand, young pro­test­ers on the oth­er. They were from two dif­fer­ent worlds and that became clear to the coun­try and that divi­sion went right through the Demo­c­ra­t­ic Party.
In These Times has reg­u­lar­ly marked the anniver­sary of what a gov­ern­ment report described as a ​"police riot." On the 10th anniver­sary, in our Aug. 30, 1978, issue, amid the malaise of the Carter pres­i­den­cy, David Moberg wrote:
Report­ing at the time and rem­i­nis­cences now, how­ev­er, have been so dom­i­nat­ed by the issue of police bru­tal­i­ty (or demon­stra­tor provo­ca­tion) that the real point of the demon­stra­tion — oppo­si­tion to the war in Viet­nam — was lost to most peo­ple. … The police attack at the con­ven­tion con­tributed to the pre­oc­cu­pa­tion of many on the Left with ​"fight­ing the pigs." [That] pushed the New Left away from issues that could have gal­va­nized major­i­ty back­ing and toward an adven­tur­ism that helped to iso­late and ulti­mate­ly to weak­en it. … [M]any reject­ed not only the Democ­rats, but also all elec­toral pol­i­tics, even from the Left. Also, the over­whelm­ing antag­o­nism to Pig Ameri­ka — remem­ber the vocab­u­lary so many of us used? — often neglect­ed the for­mu­la­tion of a real alternative.
Should the con­ven­tion pro­test­ers, some of whom threw stones and human excre­ment, have been so mil­i­tant in their tac­tics? By appear­ing aggres­sive, did they dri­ve ​"law and order" vot­ers to Richard Nixon? By mak­ing Hubert Humphrey the ene­my, did they depress Demo­c­ra­t­ic turnout?
What lessons does the bat­tle of Chica­go have for us today, when there's anger at the Demo­c­ra­t­ic estab­lish­ment but also the pur­port­ed dan­ger of dri­ving vot­ers into the arms of Repub­li­cans, the forces of Don­ald Trump? On June 19, as rage mount­ed over immi­gra­tion author­i­ties tear­ing chil­dren away from their par­ents, Home­land Secu­ri­ty Sec­re­tary Kirst­jen M. Nielsen was hound­ed out of a restau­rant by Demo­c­ra­t­ic Social­ists of Amer­i­ca activists, one of whom yelled, ​"In a Mex­i­can restau­rant of all places? The fuck­ing gall. Shame on you, fas­cist pig." Crit­ics of the action warned that this and sim­i­lar breech­es of much-invoked ​"civil­i­ty" would all play into Trump's hands.
Who reaps the most ben­e­fit from such protests? We asked three vet­er­ans of 1968 and one his­to­ri­an of the peri­od to revis­it this 50-year-old debate.
Joel Blei­fuss is edi­tor and pub­lish­er of In These Times.
Blame the Democ­rats, Not the Protesters
By Mar­i­lyn Katz
Con­ven­tion­al wis­dom and a vari­ety of aca­d­e­mics, such as David Far­ber, author of Chica­go ​'68, hold that the law­less­ness of the youth in Chicago's streets drove vot­ers to Richard Nixon, ​"the law and order can­di­date," and helped ush­er in decades of Repub­li­can rule. They blame the uncouth demon­stra­tors for the demise of the Demo­c­ra­t­ic Par­ty and the Left.
It is time to chal­lenge those his­tor­i­cal assump­tions, not sim­ply to set the record straight, but because our under­stand­ing of the past influ­ences our strate­gies for a pro­gres­sive future.
The real­i­ty is that it was racism — not cul­tur­al pol­i­tics or demon­stra­tions in the street — that caused a major­i­ty of white vot­ers to aban­don the Demo­c­ra­t­ic Par­ty. And it was the Demo­c­ra­t­ic establishment's inabil­i­ty to embrace new polit­i­cal real­i­ties that result­ed in the squan­der­ing of the pro­gres­sive vote that might have spelled vic­to­ry and a dif­fer­ent history.
We think of 1968 as the water­shed year when Richard Nixon's ​"South­ern strat­e­gy" made the South a per­ma­nent fix­ture in the Repub­li­can Par­ty camp, but the shift began ear­li­er. In 1960, Demo­c­ra­t­ic pres­i­den­tial can­di­date John F. Kennedy praised the lunch-counter sit-ins chal­leng­ing seg­re­ga­tion. ​"The Amer­i­can spir­it is com­ing alive again," he said. The Demo­c­rat-laud­ed March on Wash­ing­ton was in August 1963, one year before the Civ­il Rights Act made employ­ment, res­i­den­tial and oth­er dis­crim­i­na­tion a crime.
In 1964, Lyn­don John­son won the pres­i­den­cy with a larg­er mar­gin of vic­to­ry than John Kennedy, but he lost the Deep South, turn­ing Louisiana, Mis­sis­sip­pi, Alaba­ma, Geor­gia and South Car­oli­na into Repub­li­can strong­holds, a posi­tion they main­tain today. Then came the Vot­ing Rights Act of 1965 and the ensu­ing white back­lash, and the 1967 Lov­ing Supreme Court case, which legal­ized mixed-race marriages.
In 1968, Hubert Humphrey lost to Nixon, 42.7 per­cent to 43.4 per­cent, with 13.5 per­cent of vot­ers choos­ing seg­re­ga­tion­ist George Wallace.
It is iron­ic — and explains much about the advent of Pres­i­dent Don­ald Trump — that while the media and Demo­c­ra­t­ic strate­gists were blam­ing the law­less­ness of the demon­stra­tors for Nixon's vic­to­ry and coun­sel­ing that we should all be ​"bet­ter behaved" if we wish to win in the future, only Repub­li­can polit­i­cal strate­gist Kevin Phillips rec­og­nized the more impor­tant under­ly­ing dynam­ic. He wrote:
From now on, the Repub­li­cans are nev­er going to get more than 10 to 20 per­cent of the Negro vote and they don't need any more than that. … The more Negroes who reg­is­ter as Democ­rats in the South, the soon­er the Negro­phobe whites will quit the Democ­rats and become Repub­li­cans. That's where the votes are.
The lack of under­stand­ing of racial pol­i­tics is com­pound­ed by a ten­den­cy to blame Humphrey's loss on those who weren't will­ing to com­pro­mise. Pun­dits like my friend Todd Gitlin too often cas­ti­gate the young, the anti-war forces, women and blacks for not hold­ing their noses and vot­ing for Humphrey.
I dis­agree. The mis­take was not ours, but that of Chica­go May­or Richard Daley, the Demo­c­ra­t­ic Nation­al Com­mit­tee (DNC) and Demo­c­ra­t­ic elect­ed offi­cials. With his bru­tal, sense­less sup­pres­sion of demon­stra­tions, Daley man­aged to make the Demo­c­ra­t­ic Par­ty and the Chica­go police the focal point of ire, rather than the war that peo­ple had come to protest. As for the DNC, had it cho­sen to embrace an anti-war, pro-choice, anti-pover­ty agen­da— the agen­da being fought for in the streets — we would have vot­ed and Humphrey might have won. Our protests were not a diver­sion from the pol­i­tics of the moment: We were the pol­i­tics of the moment.
Why bring up this 50-year-old his­to­ry now? Because the racism that under­lies Trump's rhetoric, actions and base is stark­ly sim­i­lar to the racial pol­i­tics that Phillips described near­ly 50 years ago. So, too, is the chal­lenge that the Demo­c­ra­t­ic Par­ty faces today, as evi­denced in the 2016 elec­tion and the sub­se­quent DNC lead­er­ship fight: Whether the par­ty should to con­tin­ue to search for and win that elu­sive white male mod­er­ate vot­er (à la Hillary's cam­paign) or ful­ly embrace the pro­gres­sive and racial­ly diverse pol­i­tics of the new­ly ener­gized con­stituen­cies of women, rad­i­cal labor, LGBTQ activists, Lati­nos, African Amer­i­cans, youth and social­ists (in all their intersections).
If the Demo­c­ra­t­ic Par­ty hopes to win, it must rep­re­sent us — all of us — and boldly.
Mar­i­lyn Katz is a pub­lic pol­i­cy com­mu­ni­ca­tions strate­gist, writer and polit­i­cal activist. She was called to action by the civ­il rights move­ment and the war in Viet­nam while a stu­dent at North­west­ern. In 1968, as an orga­niz­er with JOIN Com­mu­ni­ty Union, she orga­nized Chica­go high school stu­dents — an activ­i­ty that led her to be head of the ​"mar­shalls" in the April and August demonstrations.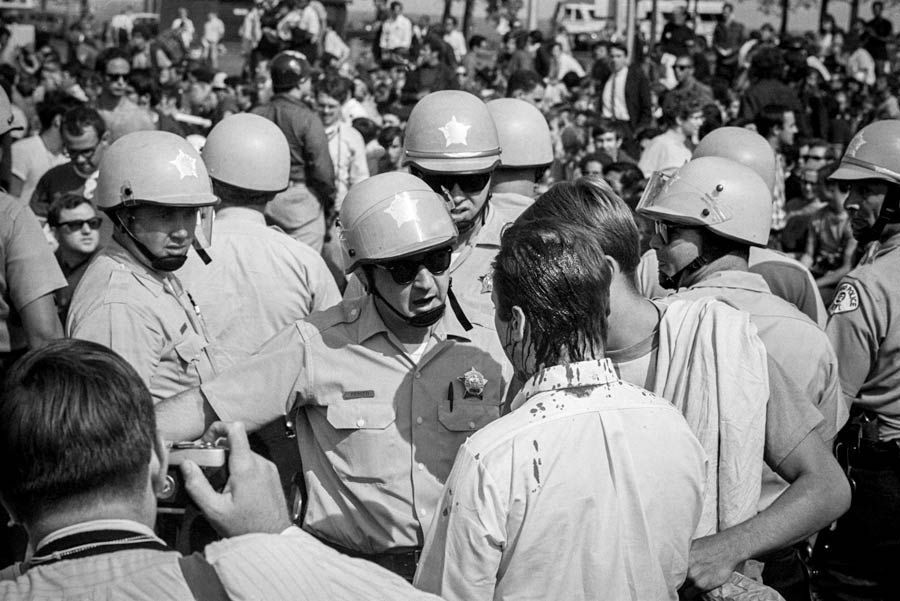 Hel­met­ed police con­front an anti-war pro­test­er bleed­ing from the top of his head onto his neck and shirt at the 1968 DNC protests. (Bettman/​Getty Images)
Our Hands Aren't Clean
By Todd Gitlin
What gal­va­nized the decades-long Repub­li­can swerve into the arms of white suprema­cists and the vilest of Amer­i­ca Firsters? Mar­i­lyn Katz is right that too much can be made of the inflam­ma­to­ry impact of the 1968 demon­stra­tions them­selves, for, as she writes, racist hatred of civ­il rights was the prime cul­prit, along with Lyn­don Johnson's com­mit­ment to the mon­strous and stu­pid Viet­nam War. Still, I can't agree that the mis­take that caused Hubert Humphrey's loss in 1968 ​"was not ours, but that of Chica­go May­or Richard Daley, the Demo­c­ra­t­ic Nation­al Com­mit­tee (DNC) and Demo­c­ra­t­ic elect­ed offi­cials." Of course, Daley's police wield­ed the vio­lence, but the move­ment made it too easy for them. The street-fight­ing approach to pol­i­tics had been mount­ing through­out 1967 and ​'68. Police aggres­sion in the Bay Area, Chica­go and New York left lit­tle space for non­vi­o­lence. Street­fight­ing, how­ev­er, regard­less of who was pri­mar­i­ly respon­si­ble, worked to the Repub­li­cans' advantage.
Richard Nixon was poised to make the Chica­go vio­lence work for him with a ​"law and order" appeal, pig­gy­back­ing on Daley's view — endorsed by most Amer­i­cans — that the demon­stra­tors were to blame. Some of the orga­niz­ers — provoca­tive, des­per­ate and indif­fer­ent to the costs of boil­ing polar­iza­tion — played into their hands. When Daley denied overnight per­mits in Chica­go parks, the demon­stra­tors' move into the streets made them look like aggres­sors in the eyes of many. Tom Hay­den, a key orga­niz­er, urged demon­stra­tors to ​"turn this over­heat­ed mil­i­tary machine against itself" and ​"make sure that if our blood flows, it flows all over the city."
Gov­ern­ment provo­ca­teurs played their parts in heat­ing up con­fronta­tions that played bet­ter for police, once tele­vised, than for the demon­stra­tors. (For details on some known provo­ca­tions, see John Schultz's mas­ter­ful No One Was Killed.)
All the major play­ers made crush­ing mis­takes, and no one's hands were clean. Sen. Gene McCarthy (D‑Minn.) part­ly walked away from his own cam­paign after Robert Kennedy's mur­der. McCarthy, had he been will­ing to play polit­i­cal hard­ball, might have tried to bro­ker a deal with Humphrey, offer­ing to cam­paign for him in exchange for back­ing away from the war. In late Octo­ber, John­son and Humphrey declined to go pub­lic with their knowl­edge that Nixon was com­mit­ting trea­son by inter­fer­ing in the Paris peace talks to sab­o­tage a deal that would have worked to Humphrey's benefit.
Had a few hun­dred thou­sand anti-war Democ­rats held their noses and vot­ed for Humphrey, he could have cor­ralled enough votes to throw the pres­i­den­tial race into the House of Rep­re­sen­ta­tives, where the Demo­c­ra­t­ic major­i­ty would have put him over the top.
Defeat has many mas­ters, and his­to­ry is paved with unknow­ables, both known and unknown. There's a spe­cial cham­ber in pur­ga­to­ry, maybe an air­lock, reserved for those who can nev­er stom­ach a vote for the less­er evil. I'll join my friend Mar­i­lyn there, not hav­ing vot­ed in 1968. After Bob­by Kennedy's assas­si­na­tion, in fact, I advo­cat­ed a write-in vote for Kennedy and Mar­tin Luther King Jr. — a naïve notion that would have been noth­ing more than an emp­ty ges­ture. In the wretched­ness of his­to­ry, pur­ga­to­ry is an even vaster ter­ri­to­ry than the hot­ter place, where Ralph Nad­er and Jill Stein lat­er carved out their sanctums.
The les­son I had bare­ly begun to learn in 1968 is this: When the lead­ing insti­tu­tions and the top play­ers act mon­strous­ly, the oppo­si­tion is not moral­ly free to stop think­ing. It has to judge the con­se­quences of its actions. The pow­ers that be are not omnipo­tent. The pow­er­less, as for­mer Czech Pres­i­dent Vaclav Hav­el wrote, have some pow­ers. ​"My hands are clean," ​"the ene­my is loath­some" — such defens­es are abdi­ca­tions of moral choice. When al-Qae­da and ISIS mas­sacre civil­ians, when the Khmer Rouge com­mits geno­cide in the name of anti-impe­ri­al­ism, when the Weath­er Under­ground plans to bomb a dance at Fort Dix, puri­ty of prin­ci­ple is no ali­bi. Vir­tu­ous ends do not jus­ti­fy coun­ter­pro­duc­tive means — period.
Todd Gitlin was the third pres­i­dent of Stu­dents for a Demo­c­ra­t­ic Soci­ety. In 1968, he wrote for under­ground papers, includ­ing a dai­ly pub­lished by Ram­parts mag­a­zine in Chica­go. He teach­es jour­nal­ism, soci­ol­o­gy and Amer­i­can stud­ies at Colum­bia Uni­ver­si­ty, and wrote about the Demo­c­ra­t­ic con­ven­tion in The Six­ties: Years of Hope, Days of Rage.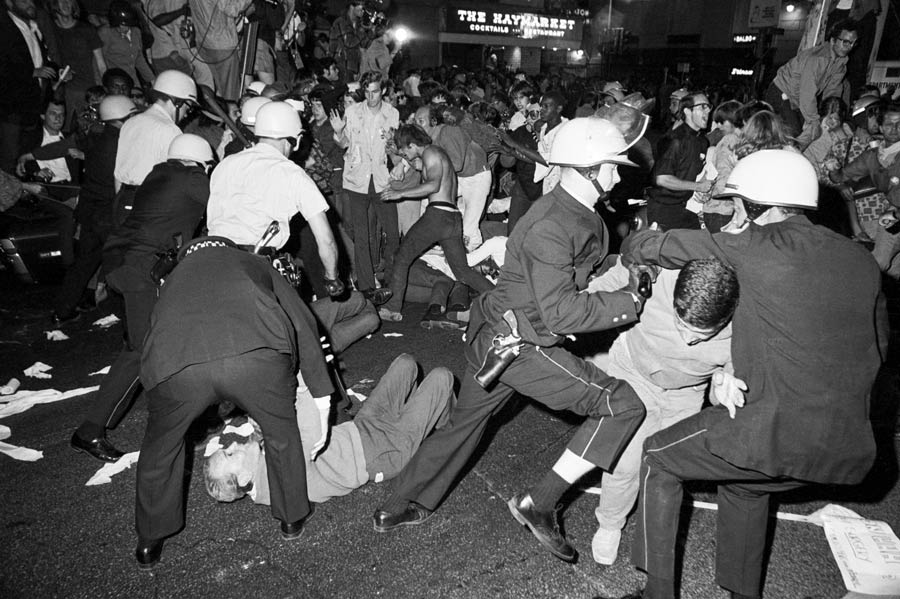 A mêlée breaks out between police and demon­stra­tors near the Con­rad Hilton Hotel on Chicago's Michi­gan Avenue dur­ing the Demo­c­ra­t­ic Nation­al Con­ven­tion on Aug. 28, 1968. (Bettman/​Getty Images)
It's Com­pli­cat­ed
By Don Rose
F. Scott Fitzger­ald once wrote, ​"The test of a first-rate intel­li­gence is the abil­i­ty to hold two opposed ideas in the mind at the same time and still retain the abil­i­ty to func­tion." Which is anoth­er way of say­ing that the lega­cy of the 1968 con­ven­tion demon­stra­tions — which I helped orga­nize from the git­go — is mixed. Oppos­ing analy­ses of that lega­cy each have val­ue: It's not ​"either-or" but ​"both-and."
I don't see how any­one can deny that the reac­tion to the police riots was a major con­tribut­ing force to Richard Nixon's 301 – 191 elec­toral vote mar­gin of vic­to­ry. All nation­al polling fol­low­ing the event showed sub­stan­tial majori­ties of the pub­lic favor­ing Chica­go May­or Richard Daley's blud­geon­ing cops and oppos­ing those shit-throw­ing rad­i­cals. Yes, Daley won the pro­pa­gan­da war and it cer­tain­ly had an elec­toral effect 69 days later.
But remem­ber, sim­i­lar majori­ties opposed sit-ins, free­dom rides and even Mar­tin Luther King Jr. and non­vi­o­lent civ­il rights demon­stra­tions. Racism was clear­ly a dri­ving force in the 1968 elec­tion — wit­ness the sub­stan­tial vote George Wal­lace got even out­side of deep Dix­ie (though Hubert Humphrey car­ried Texas and West Vir­ginia). On the oth­er hand, racism indi­rect­ly helped Humphrey: The Wal­lace vote drained enough from Nixon in states like Con­necti­cut and Penn­syl­va­nia to enable Humphrey to car­ry them, much as the Ralph Nad­er vote defeat­ed Al Gore in New Hamp­shire and Flori­da. One can argue that, while racism was the dom­i­nant force, reac­tion against our side prob­a­bly tipped it to Nixon, who of course exploit­ed racism himself.
But no tra­di­tion­al elec­toral analy­sis sup­ports the idea that Humphrey lost because of write-ins and left-par­ty votes.
To be sure, there is no way of count­ing those who sim­ply did not vote out of left-wing protest. One might argue that, had Humphrey bro­ken with John­son on the war a month ear­li­er, the pos­i­tive reac­tion might have gath­ered enough momen­tum to win. Might.
Elec­tions are com­plex. Rarely can a sin­gle mat­ter prove the deci­sive fac­tor. Did Hillary Clin­ton lose because of James Comey? Sex­ism? Emails? Stu­pid state­ments and a lousy cam­paign? Russ­ian inter­fer­ence? Take your pick.
On the oth­er hand, there is a pos­i­tive lega­cy to ​'68. Nation­al­ly, the Democ­rats gave us the McGov­ern-Fras­er reforms, devel­oped by a com­mit­tee head­ed by the then-sen­a­tor and 1972 pres­i­den­tial can­di­date. These large­ly took can­di­date selec­tion away from the par­ty boss­es by requir­ing pri­maries or cau­cus­es in every state, and insti­tut­ed racial­ly- and gen­der-bal­anced del­e­ga­tions to the con­ven­tion. Although they made up a minor­i­ty of vot­ers, many onlook­ers were sym­pa­thet­ic to our side of the Chica­go clash­es and joined the peace move­ment. It was a link on a chain lead­ing, how­ev­er tardi­ly, to Con­gress vot­ing to crip­ple the war by block­ing fund­ing in 1974.
Here in Chica­go, dis­gust with Daley and his police actions helped build an inde­pen­dent Demo­c­ra­t­ic polit­i­cal move­ment, large­ly cen­tered on the north lake­front (hence the archa­ic leg­end of the ​"lake­front lib­er­al"). In 1969, the white North Side elect­ed an inde­pen­dent alder­man and lat­er a swarm of inde­pen­dent del­e­gates to the Illi­nois Con­sti­tu­tion­al Con­ven­tion of 1970, which became one of the strongest of any state on civ­il lib­er­ties — even if it doesn't per­mit a grad­u­at­ed state income tax.
Hold those oppos­ing thoughts in your head as we jour­ney forward.
Don Rose is a Chica­go polit­i­cal con­sul­tant and writer and has been active in social move­ments for more than 60 years. He was Mar­tin Luther King Jr.'s local press sec­re­tary dur­ing his Chica­go cam­paign (1965−67) and was an orga­niz­er and press spokesman for the Nation­al Mobi­liza­tion Com­mit­tee to End the War in Viet­nam in 1968, and lat­er a cofounder of Chicagoans Against the War in Iraq.
If Nixon had Lost
By Rick Perlstein
The most impor­tant thing about the 1968 DNC demon­stra­tions was that a major­i­ty of the Amer­i­cans who watched them on tele­vi­sion sided with the cops. Their tri­bunes, Richard Nixon and George Wal­lace, got 57 per­cent of the pres­i­den­tial vote that Novem­ber, in part by tap­ping into the griev­ances revealed by angry reac­tions to the protests.
Then, his­to­ry played a cun­ning trick. The reac­tionar­ies just got angri­er, and angri­er, and angri­er — even as what they said they were react­ing against grew milder with each pass­ing year. The object of their wrath was not a move­ment bent on fuck­ing in the streets (the mock-demand of the Yip­pie-aligned White Pan­ther Par­ty), or assault­ing the citadel of the Demo­c­ra­t­ic Par­ty, or crip­pling the Amer­i­can war machine, but — well, read Hillary Clinton's 2016 plat­form. It wasn't bad, but it cer­tain­ly wasn't rev­o­lu­tion­ary. Only, that is, if you don't watch Fox News, where mil­que­toast Democ­rats come off worse than Pol Pot.
None of this his­to­ry is rea­son­able. None of it makes for neat, 50-years-on ​"lessons." Less still should it pro­vide an occa­sion for 50-year-old score-set­tling about who should have done what and when.
Was the Repub­li­can reac­tion dri­ven by racism? Of course it was. But that doesn't erase what hap­pened in Chica­go from the his­tor­i­cal ledger. For, as the his­to­ri­an Frank Kusch explains in the most rev­e­la­to­ry and fine­ly observed book on the Chica­go con­ven­tion, Bat­tle­ground Chica­go: The Police and the 1968 Demo­c­ra­t­ic Nation­al Con­ven­tion, a lot of what the cops were up to that week in Chica­go was a sort of wild­cat strike against their employ­ers, who did not let them knock in enough heads in the April 1968 West Side riots after Mar­tin Luther King's assas­si­na­tion. If the broad­er pub­lic, after its fash­ion, liked what they saw, this was because of an easy con­fla­tion: It was just as sat­is­fy­ing to bash the head of a hip­pie as it was an uppi­ty black; any offend­er against the cult of the bour­geois enclave would do. This con­fla­tion was not inci­den­tal to right-wing reac­tion in the 1960s and the years since, but, rather, defined it. ​"Law and order," as the Repub­li­cans used to say. (And, oh, wait: They still do.)
Should the pro­test­ers have been demon­strat­ing? Well, not many did. Only 10,000 showed up in Chica­go, when orga­niz­ers dreamed of hun­dreds of thou­sands. Should Hubert Humphrey have, ear­ly and aggres­sive­ly, come out for end­ing the war? Of course. For one thing, if he had, he prob­a­bly would have won. But maybe not. For it was not only his­to­ry that was cun­ning. Richard Nixon was, too. Many of the peo­ple who vot­ed for Nixon did so not only because they thought he'd give it to the hip­pies but because they thought they had heard him promise to end the Viet­nam War. Nev­er for­get: One rea­son reac­tionar­ies often pre­vail over lib­er­als — and left­ies — is that they are so much more will­ing to lie.
There was anoth­er rea­son Nixon won: He promised, in every speech, to make Amer­i­ca qui­et again. Because, in 1968, every­where Democ­rats went, anar­chy seemed to fol­low. Dur­ing one speech for Humphrey dur­ing the con­ven­tion, a woman marched toward the speak­er, naked, with the head of a pig on a plat­ter. Then, dur­ing the gen­er­al elec­tion, Humphrey was heck­led by anti-war pro­test­ers at near­ly every speech — that is, when they were not throw­ing things at him or (in one instance) pour­ing blood into a foun­tain next to which he was speaking.
Todd Gitlin is right: They should have been hold­ing their noses and vot­ing for him. Had Humphrey won, maybe he would have done what he lat­er did, as a sen­a­tor, which was to team with Rep. Augus­tus Hawkins (D‑Calif.) of Watts to pro­pose a full-employ­ment bill that would have required the gov­ern­ment to pro­vide a job, at pre­vail­ing wages, for every Amer­i­can who want­ed one if the unem­ploy­ment rate rose above 3 per­cent. Or the bill he wrote with Sen. Jacob Jav­its of New York — a Repub­li­can! — to set up a nation­al sys­tem of indus­tri­al plan­ning. In oth­er words, had Humphrey won, he might have worked to turn the Unit­ed States into a demo­c­ra­t­ic social­ist soci­ety. And yet, this is the man who the New Left decid­ed was mere­ly a mon­strous reac­tionary. Had he won, the Democ­rats might not have become Bill and Hillary Clinton's party.
Rick Perl­stein, an In These Times con­tribut­ing edi­tor, is the author of Nixon­land: The Rise of a Pres­i­dent and the Frac­tur­ing of Amer­i­ca.