Chicago Cabdrivers Under Attack, Study Says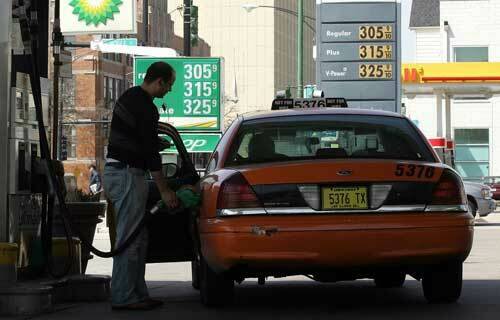 Pick up, drop off and try not to get hurt. For Chicago cabbies, this can be an almost impossible task.
Working as a cab driver carries its own set of dangerous risks. A University of Illinois Chicago (UIC) study released Wednesday reports that one out of five in the Chicago area has been assaulted on the job. With three out of five drivers experiencing some form of violence, it's no surprise the National Institute for Occupational Safety and Health reports they are 60 times more likely to be murdered than the average citizen.
The UIC study states that many of these attacks include ethnic and religious targeting; central and southeast Asian drivers are most likely to be attacked, and Muslims are more susceptible than Christians. Racial harassment has occurred at least two dozen times for 8 percent of drivers.
Local cabbie Haroon Paryani was brutally murdered in 2005, run over by a passenger reportedly over an $8 ride. As Ravi Baichwal reported on ABC Local, many drivers see workplace violence as an inevitable part of the job:
"There is nothing I can do to prevent anything from happening – most of our customers are sitting in the back and they got the upper hand to do anything what they want to do," said Girmachew Dori, cab driver.
The United Taxidrivers Community Council (UTCC) wants these issues to be addressed. They are asking for all cabs to be equipped with placards reminding passengers that assaulting a driver is a class 3 felony. Allowing taxicab parking on residential and business streets is another proposed reform. Laws currently force drivers to park on major industrial streets – meaning they must avoid residential and commercial streets – between 2 and 7 a.m. nearly everywhere in the city.
This increases the risk of muggings or attacks en route home: According to the study, about 6 percent of drivers who have to walk further than one block home have been victims of such violence.
Community members are joining the fight against these injustices. Alderman Joe Moore of the 49th District spoke out, saying ​"We need to do what we can to protect these working people. They are barely making a living as it is. Driving a cab is not a lucrative business."
An earlier study by the UIC surveyed nearly 1,000 of the Windy City's cabdrivers and found that after paying expenses, including leases and gas, they made less than $5 per hour. Late last month, drivers asked Chicago's City Council to raise their overall rates by 22 percent, and implement a new $50 fee for cleaning up passenger vomit. A top aide for Mayor Richard Daley has said the proposals are unlikely to pass.
Editor's note: ​"Is it Too Easy to Clobber a Cabbie?", a front-page Chicago Reader story published Oct. 15 by Working In These Times contributor Kari Lydersen, is available here. The story details the beating of Chicago cabdriver Walid Ziada and his efforts to bring the perpetrators to justice.

Chenault Taylor
, a former
In These Times
web intern, is a student at Northwestern University.