Chicago Car Wash Workers: Owner Took Their Tips, Said They Were His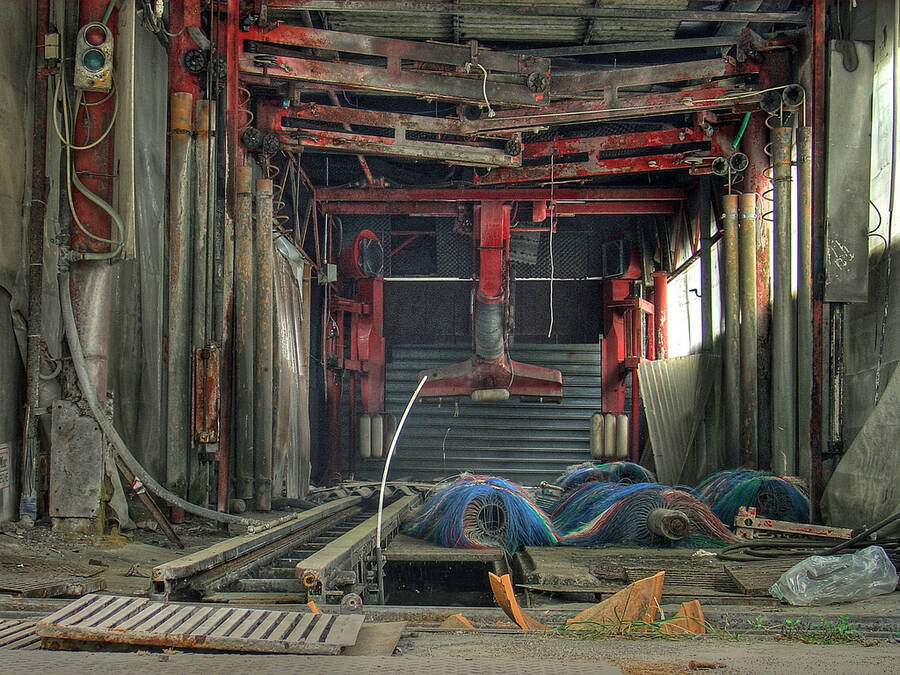 Harsh, messy win­ter days are when car wash work­ers' jobs are the hard­est, and the busiest. Vehi­cles stream in crust­ed with salt and grime. The work­ers are out­side, on their feet in slush, hands cold and raw as they scrub, wipe and buff cars clean.
Giv­en the extra chal­lenges of win­ter, peo­ple seek out full-ser­vice, hand car wash­es instead of clean­ing their vehi­cles at home or dri­ving through auto­mat­ed wash­es. So win­ter is when car wash work­ers can earn the most in tips, a cru­cial part of eking out a liv­ing in jobs that typ­i­cal­ly pay min­i­mum wage — or less, as a study by the Uni­ver­si­ty of Illi­nois Labor Edu­ca­tion Pro­gram showed in 2012.
So when the own­er of Zips Car Wash on Chicago's near west side told work­ers that cus­tomers' tips belonged to him, they were not hap­py. Con­fis­ca­tion of tips is at the heart of an ongo­ing labor strug­gle for Lati­no work­ers at Zips and the Arise Chica­go Work­ers Cen­ter, which has led a fight for the rights of car wash work­ers city­wide since launch­ing a cam­paign in 2012.
Five work­ers at Zips — four broth­ers and anoth­er man, all from Mex­i­co — say that Zips own­er Thomas Poz­dol has accused them of steal­ing ​"his" tips and that he need­ed to use the tips to buy tow­els, soap and oth­er supplies.
In com­plaints Arise filed with the Nation­al Labor Rela­tions Board (NLRB), they allege that Poz­dol fired them or cut their hours when they com­plained about the tips being confiscated.
"In front of cus­tomers, he was yelling and said, ​'I'm not stu­pid, you're rob­bing my tips,'" says Eliseo Romero. He and his broth­ers are from Puebla, Mex­i­co and have been in the Unit­ed States between 14 and 17 years each.
The tips issue arose two years ago, in Decem­ber 2013, when the work­ers say Poz­dol start­ed tak­ing their tips for a peri­od of three months, as out­lined in the com­plaints. Arise cal­cu­lates that each work­er would have earned about $150 in tips per week, for a total of $1,800 per work­er dur­ing that time.
Last Feb­ru­ary, Poz­dol again start­ed tak­ing their tips, the work­ers say. When they com­plained, he insti­tut­ed a ​"no tips" pol­i­cy and past­ed a hand-scrawled sign say­ing ​"No More Tips" across a wood­en blue tips box with a ​"Sup­port Our Troops" mag­net­ic ribbon.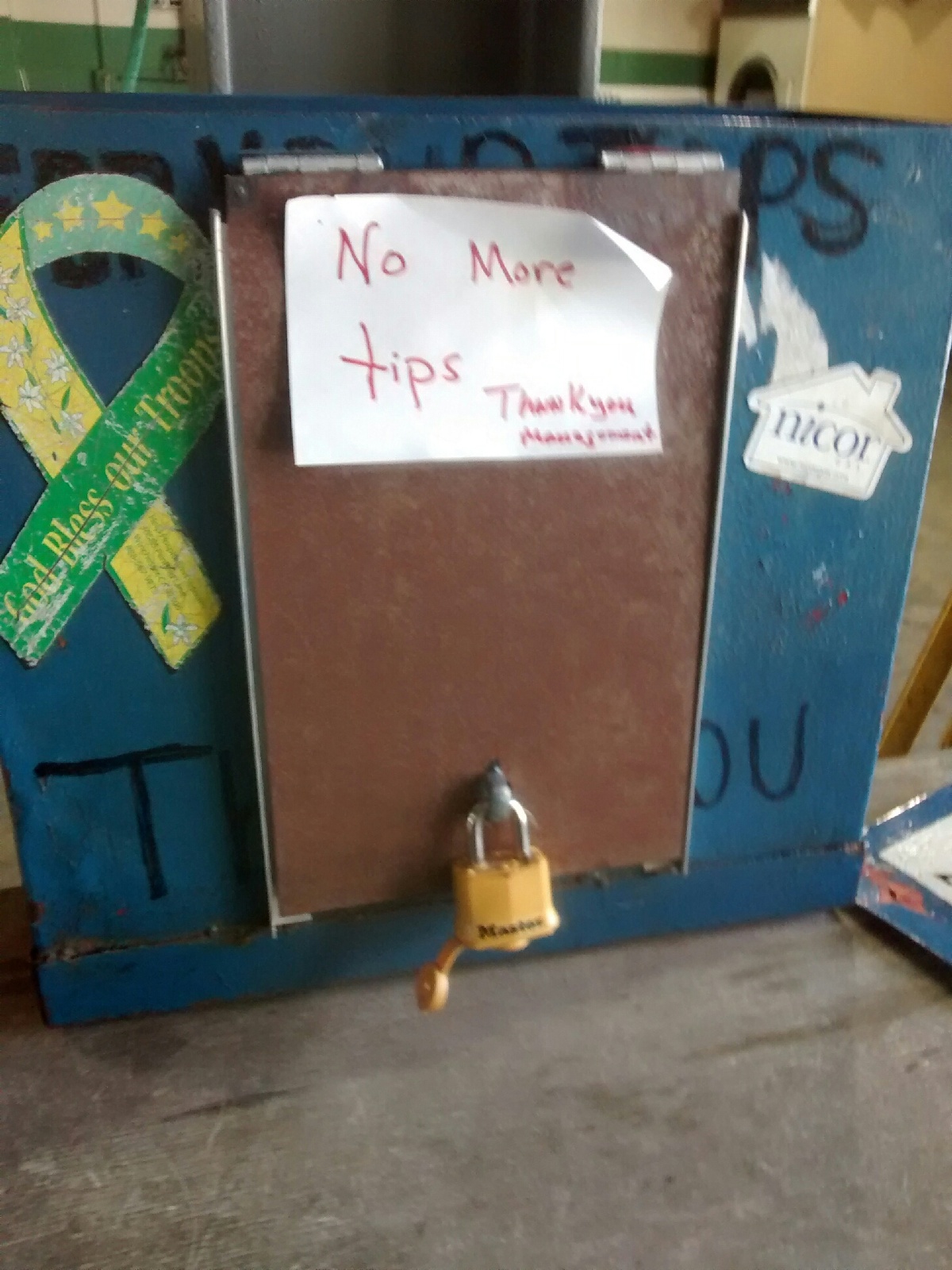 (Cour­tesy Arise Chicago)
But the work­ers say that Poz­dol still accept­ed tips direct­ly from cus­tomers him­self and allowed sev­er­al oth­er work­ers to be giv­en tips, even as he tried to pre­vent the five work­ers named in the com­plaint from receiv­ing tips. In all, Arise says, Poz­dol with­held 111 days' worth of tips from the workers.
The NLRB com­plaint alleges that Poz­dol retal­i­at­ed against the work­ers for demand­ing their rights and object­ing when the tips were con­fis­cat­ed. The com­plaint alleges that Poz­dol twice threat­ened to call immi­gra­tion author­i­ties, and that he ulti­mate­ly fired the work­ers or cut their hours because they had been speak­ing out. Israel Romero was fired on March 1 after Poz­dol accused him of ​"steal­ing tips," accord­ing to Arise.
Jose Romero saw his sched­ule reduced from 40 hours to 25 hours a week, and then on Sep­tem­ber 5 he was fired. Eliseo and Aaron Romero's sched­ules were reduced from 36 to 16 hours a week start­ing in July, and they also went sev­en weeks with­out work­ing, the com­plaint says.
In all, Israel and Jose are owed more than $5,000 each and Eliseo and Aaron are each owed $1,540 for lost wages, by Arise's calculations.
Addi­tion­al­ly anoth­er work­er, Omar Navar­ro, was fired after the NLRB claim was filed. He said he was told that he had tak­en too long for a break to repair his car. Arise is seek­ing $4,160 as lost wages for his alleged wrong­ful termination.
A hear­ing before the NLRB is sched­uled for April 4 on the charges of retal­i­a­tion. Arise has also filed a com­plaint with the Illi­nois Depart­ment of Labor. And they filed a dis­crim­i­na­tion com­plaint with the Equal Employ­ment Oppor­tu­ni­ty Com­mis­sion, since the work­ers who were pre­vent­ed from col­lect­ing tips, fired and saw their hours reduced are Lati­no, and oth­er work­ers who are not Lati­no were treat­ed differently.
Last week, an attor­ney for Poz­dol agreed to a set­tle­ment that the work­ers found sat­is­fac­to­ry, accord­ing to Arise Chica­go orga­niz­er Jorge Mujica.
Poz­dol, reached by phone, said the car wash is closed, though as of ear­ly Jan­u­ary cars were still being washed there. Poz­dol also owns a busi­ness called ARRP Truck­ing & Haul­ing oper­at­ing out of the same loca­tion. He declined to answer questions.
The Illi­nois Depart­ment of Labor com­plaint charges that Poz­dol switched back and forth between pay­ing work­ers with cash, per­son­al checks and checks issued both by Zips and by ARRP Truck­ing & Hauling.
The com­plaint alleges that Poz­dol told the work­ers he ​"dis­counts tax­es" when he paid them in cash, but W‑2s they received at year's end show only tax­es paid from the checks. The com­plaint seeks reim­burse­ment for such tax­es ​"with­held" but nev­er actu­al­ly paid over the course of three years.
The work­ers also say they were often deployed to clear lots of snow or oth­er tasks for ARRP, and in these sit­u­a­tions they were not able to earn tips or over­time that could have been due them.
"We were hired to wash cars, not to remove snow," said Jose Romero. ​"The work of remov­ing snow is fine. But we're not mak­ing tips, and it doesn't pay any more."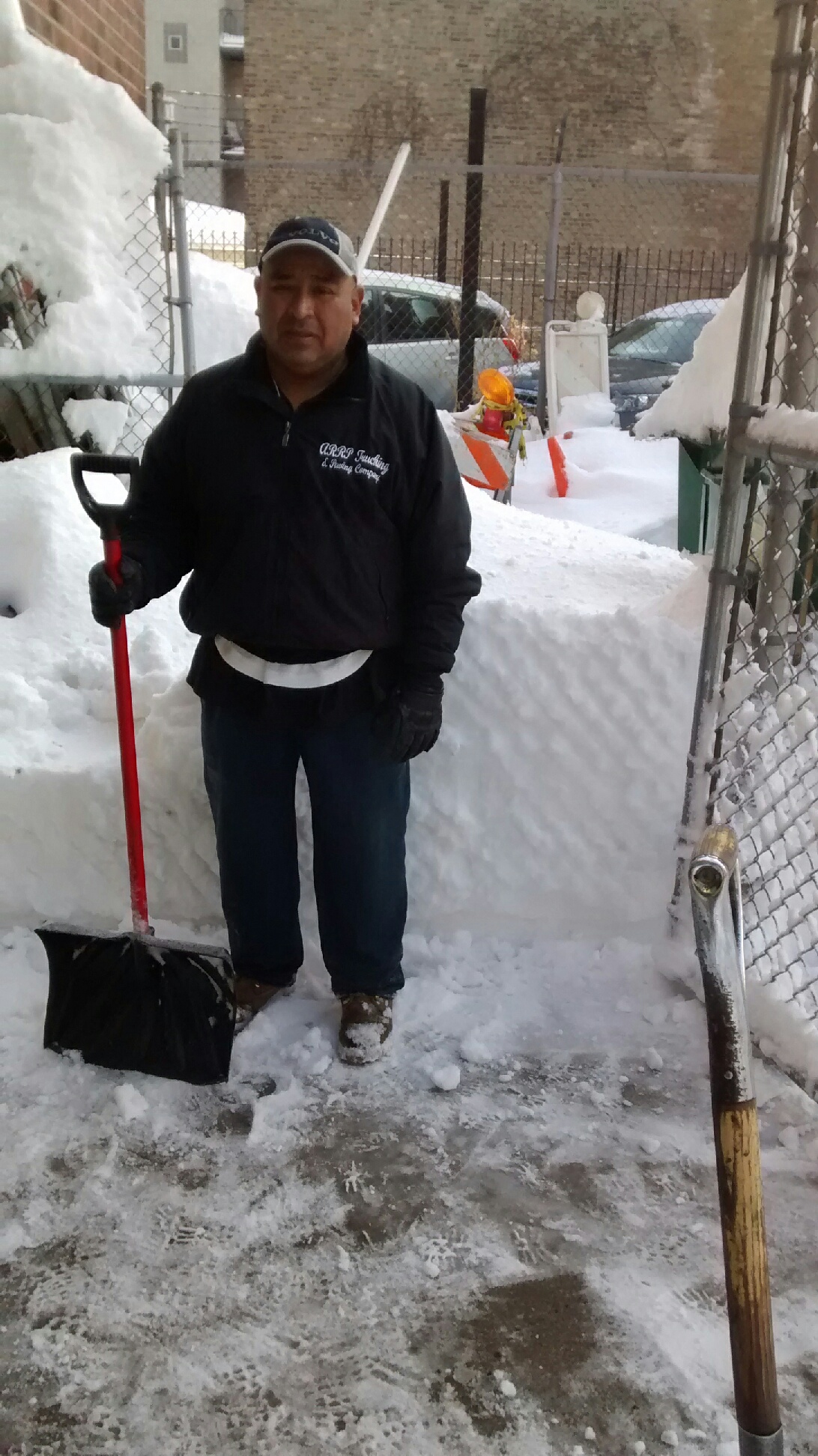 (Cour­tesy Arise Chicago)
Muji­ca said the five work­ers' sit­u­a­tion is an exam­ple of how preva­lent abus­es are in the car wash indus­try. For more than four years, Arise has been fight­ing to reclaim stolen wages for work­ers at anoth­er Chica­go car wash, in the Lit­tle Vil­lage neigh­bor­hood. That busi­ness has now been sold, accord­ing to Muji­ca, and the work­ers are await­ing an expect­ed pay­ment of $252,000 as a result of a law­suit filed by the Illi­nois Attor­ney General.
Inves­ti­ga­tions and work­ers rights cam­paigns have increas­ing­ly shown that nation­wide, car wash­es pay work­ers less than min­i­mum wage, fail to pay over­time, mis­clas­si­fy work­ers as inde­pen­dent con­trac­tors and oth­er violations.
The afore­men­tioned study, by Uni­ver­si­ty of Illi­nois pro­fes­sor Robert Bruno and researcher Alli­son Dick­son, found that three quar­ters of car wash work­ers in Illi­nois earn less than the state min­i­mum wage of $8.25 an hour. And while the great major­i­ty of them work more than 40 hours a week, only a tiny frac­tion are paid legal­ly man­dat­ed over­time. Almost all of the work­ers Bruno and Dick­son sur­veyed live below the fed­er­al pover­ty line and the lev­el of income con­sid­ered a liv­ing wage in Chicago.
Like many car wash work­ers, the Romero broth­ers and Navar­ro have long worked at least one oth­er job, includ­ing at restau­rants and bak­eries, in addi­tion to their hours at the car wash.
"Wage theft is such a preva­lent prac­tice and there are very few ways to stop it," said Muji­ca. ​"Own­ers cal­cu­late how much they can steal in any giv­en job, and even if you com­plain, the chances are you can't get your mon­ey back."
He said that even small­er cam­paigns like that at Zips can help bring some account­abil­i­ty to such indus­tries, as work­ers become more aware of their rights and how to fight for them. The Romeros ini­tial­ly got in touch with Arise on the advice of a friend who had worked with Arise on anoth­er issue.
"Each work­er who runs a cam­paign, you mul­ti­ply that by three or four or five," as they spread the word, Muji­ca said. ​"Soon­er or lat­er that will teach employ­ers they can't just do this with­out punishment."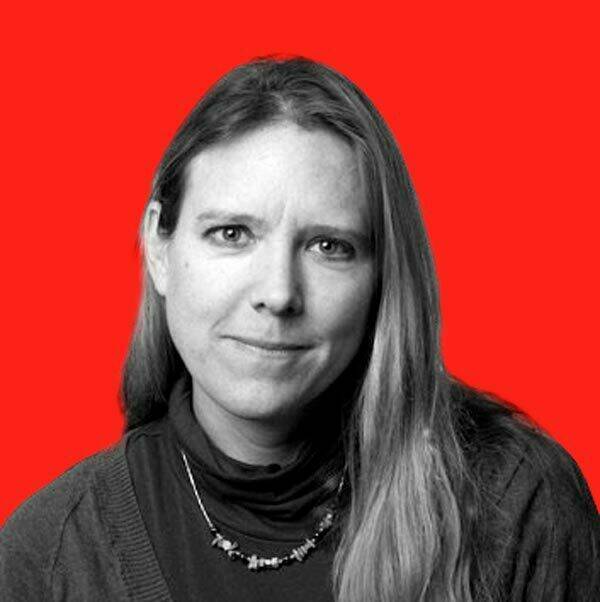 Kari Lyder­sen
is a Chica­go-based reporter, author and jour­nal­ism instruc­tor, lead­ing the Social Jus­tice
&
amp; Inves­tiga­tive spe­cial­iza­tion in the grad­u­ate pro­gram at North­west­ern Uni­ver­si­ty. She is the author of May­or
1
%: Rahm Emanuel and the Rise of Chicago's
99
%.