Chicago Progressive Groups Aim to End Rahm Emanuel's City Council Stranglehold
Two Chicago coalitions are working to elect progressive candidates in the 2015 elections—and build an enduring movement.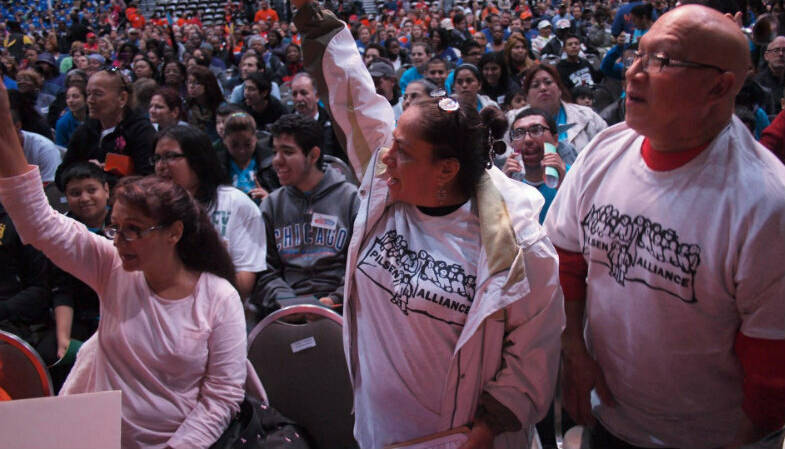 The Chica­go may­oral race has drawn nation­al atten­tion, with Chica­go Teach­ers Union pres­i­dent Karen Lewis, pro­gres­sive Alder­man Bob Fioret­ti and most recent­ly long-time pro­gres­sive leader Jesus ​"Chuy" Gar­cia chal­leng­ing May­or Rahm Emanuel for his seat in Feb­ru­ary 24 city elec­tions. Even before Lewis was forced to with­draw because of a can­cer­ous brain tumor, how­ev­er, many assumed Emanuel — and his $9 mil­lion war chest — would prove unbeatable.
"It will take grassroots leaders having clarity and unity on how to elect the progressive candidates we really need, and staying with them for the long haul."
Regard­less of the may­oral out­come, two major Chica­go coali­tions are work­ing to change the city's polit­i­cal course by tar­get­ing the 50-mem­ber City Coun­cil, try­ing to elect more pro­gres­sive can­di­dates will­ing to chal­lenge the may­or while also build­ing a durable polit­i­cal grass­roots movement.
On Novem­ber 15, Reclaim Chica­go will announce its endorse­ments in 10 to 15 alder­man­ic races. Group lead­ers have been inter­view­ing can­di­dates and decid­ing endorse­ments based on a plat­form that includes pro­mot­ing a liv­ing wage, high-qual­i­ty pub­lic schools, crim­i­nal jus­tice reform and infra­struc­ture spend­ing; and oppos­ing pri­va­ti­za­tion, cuts to pen­sions and lay­offs of pub­lic workers.
In the three months lead­ing up to the elec­tion, Reclaim Chica­go will cam­paign for the can­di­dates it endors­es with door-to-door can­vass­ing, polit­i­cal orga­niz­er train­ings and com­mu­ni­ty meetings.
"Our strength is mobi­liz­ing a well-trained group of cit­i­zens who will do face-to-face can­vass­ing to talk to res­i­dents one-on-one about our vision — about what Chica­go should look like and about these par­tic­u­lar can­di­dates," said Reclaim Chica­go spokesper­son Kristi San­ford. ​"We can't fin­ish the work in one elec­toral cycle — we're try­ing to over time build an inde­pen­dent polit­i­cal orga­ni­za­tion that holds offi­cials accountable."
While Reclaim Chica­go focus­es on grass­roots cam­paign­ing for spe­cif­ic can­di­dates, Grass­roots Illi­nois Action also tar­gets City Coun­cil with a slight­ly dif­fer­ent approach. In Octo­ber, Grass­roots Illi­nois Action, which draws on sup­port­ers from faith-based, labor and com­mu­ni­ty insti­tu­tions, unveiled the project Take Back Chica­go, includ­ing a web­site that ranks sit­ting City Coun­cil mem­bers based on their votes on issues deemed impor­tant to work­ing peo­ple. By high­light­ing elect­ed rep­re­sen­ta­tives' records on issues like the min­i­mum wage, afford­able hous­ing, pub­lic schools and fair tax­es, Take Back Chica­go aims to hold Coun­cil mem­bers account­able and boost pro­gres­sive mem­bers with strong records.
Both groups are 501©4 non-prof­it orga­ni­za­tions that can lob­by and endorse can­di­dates. Reclaim Chica­go is a project of the People's Lob­by, a nation­al grass­roots orga­ni­za­tion, and the Nation­al Nurs­es Unit­ed labor union. The People's Lob­by played a major role in the suc­cess­ful cam­paigns to elect Chris­t­ian Mitchell and Will Guz­zar­di to the state leg­is­la­ture by win­ning the March 2014 Demo­c­ra­t­ic pri­maries. (In Chica­go, Democ­rats are vir­tu­al­ly guar­an­teed to win in the gen­er­al election.)
Guz­zar­di, who won the 39th dis­trict on the north­west side of Chica­go over polit­i­cal machine-backed incum­bent Toni Berrios called the People's Lob­by ​"incred­i­ble part­ners" in his campaign.
"They were amaz­ing. Their orga­niz­ers were dili­gent and focused and dis­ci­plined," Guz­zar­di says. ​"They fit in per­fect­ly with the mod­el we were build­ing, which was one focused very strong­ly on door-to-door and grass­roots work and bring­ing a pro­gres­sive mes­sage, par­tic­u­lar­ly about the economy."
So far, Reclaim Chica­go has announced one endorse­ment, Car­los Ramirez-Rosa in Chicago's 35th ward — the same area from which Guz­zar­di was elect­ed state rep­re­sen­ta­tive. Rosa's cam­paign pledges include to fight for a $15 min­i­mum wage and low­er pub­lic tran­sit fares; to sup­port pub­lic edu­ca­tion; and to give back $35,000 of his own salary to be put toward infra­struc­ture investments.
Maria Fitzsim­mons works as a full-time orga­niz­er for a faith-based orga­ni­za­tion and also plans to put in long hours vol­un­teer­ing with Reclaim Chica­go. She has years of expe­ri­ence in com­mu­ni­ty orga­niz­ing in New York City, Seat­tle and Los Ange­les, where grass­roots orga­ni­za­tions gained sig­nif­i­cant vic­to­ries recent­ly includ­ing Seattle's $15 min­i­mum wage and leg­is­la­tion ensur­ing the rights of domes­tic, restau­rant and oth­er workers.
"It will take grass­roots lead­ers hav­ing clar­i­ty and uni­ty on how to elect the pro­gres­sive can­di­dates we real­ly need, and stay­ing with them for the long haul," she said. ​"It's not only get out the vote, it's get to know the can­di­date, get to know the issues, put this per­son in office, stay with them, build your own pow­er with them, don't leave them hang­ing. City Coun­cil is a rough place — we need to make sure they have the con­stituent sup­port they need to enact the poli­cies we asked for when we elect­ed them."
The idea is also to frame city issues in a larg­er con­text, chal­leng­ing the pow­er of cor­po­ra­tions and push­ing for increased democracy.
"It's not just talk­ing about, ​'We have to fund city ser­vices,'" Fitzsim­mons says. ​"It's a ques­tion of why aren't city ser­vices well-fund­ed, who isn't pay­ing their fair share, how are we not struc­tur­ing our gov­ern­ment and econ­o­my to reflect that we're all in this together?"
Guz­zar­di said the Repub­li­can vic­to­ries in the Novem­ber 4 elec­tions nation­wide, includ­ing for Illi­nois gov­er­nor, show how impor­tant this mes­sage is. He thinks peo­ple who feel they are suf­fer­ing and left out of the sup­posed eco­nom­ic recov­ery respond­ed to Repub­li­cans' mantra that their woes are gov­ern­ment-inflict­ed. Reclaim Chica­go puts forth a dif­fer­ent view.
"The wealth is being con­cen­trat­ed in the hands of few­er and few­er wealthy peo­ple and a few inter­na­tion­al cor­po­ra­tions. The rest of us are being left out to dry," Guz­zar­di said. ​"That's a sto­ry that res­onates with a lot of peo­ple. That sto­ry is an incred­i­bly pow­er­ful orga­niz­ing tool."
A sim­i­lar approach is tak­en by the Take Back Chica­go campaign.
"You can see this in the fast food strikes, the orga­niz­ing around the $15 min­i­mum wage," said Grass­roots Illi­nois Action exec­u­tive direc­tor Amisha Patel. ​"Peo­ple can't make ends meet, they are tired of not hav­ing the resources in their neigh­bor­hood, see­ing their schools close, their pub­lic men­tal health clin­ics close, see­ing jobs dry up in the neighborhoods."
Many Chicagoans still rem­i­nisce about the mul­ti-racial grass­roots move­ment that came togeth­er to elect Harold Wash­ing­ton as the city's first Black may­or in 1983. It is clear that the polit­i­cal and demo­graph­ic struc­ture in Chica­go today is sig­nif­i­cant­ly dif­fer­ent, and that same move­ment can't nec­es­sar­i­ly be revived. But Patel is among those who think anoth­er pop­u­lar and pow­er­ful move­ment is build­ing that could result in a more inde­pen­dent and respon­sive City Coun­cil — and a brighter and more humane future for Chicago.
​"Peo­ple are ready to look for­ward instead of look­ing back," Patel says.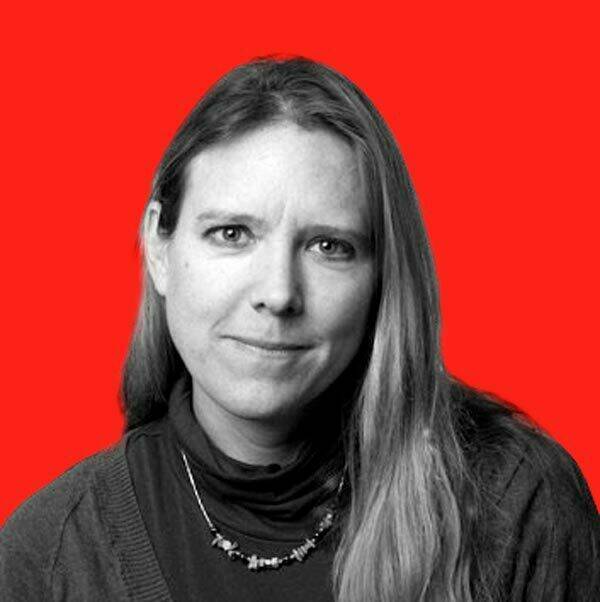 Kari Lyder­sen
is a Chica­go-based reporter, author and jour­nal­ism instruc­tor, lead­ing the Social Jus­tice
&
amp; Inves­tiga­tive spe­cial­iza­tion in the grad­u­ate pro­gram at North­west­ern Uni­ver­si­ty. She is the author of May­or
1
%: Rahm Emanuel and the Rise of Chicago's
99
%.