An Economic Blueprint for Chicago Any Progressive Candidate Should Get Behind
Chicago's elections offer a chance to break with the neoliberal policies of the past—by taxing the rich to invest in underserved communities.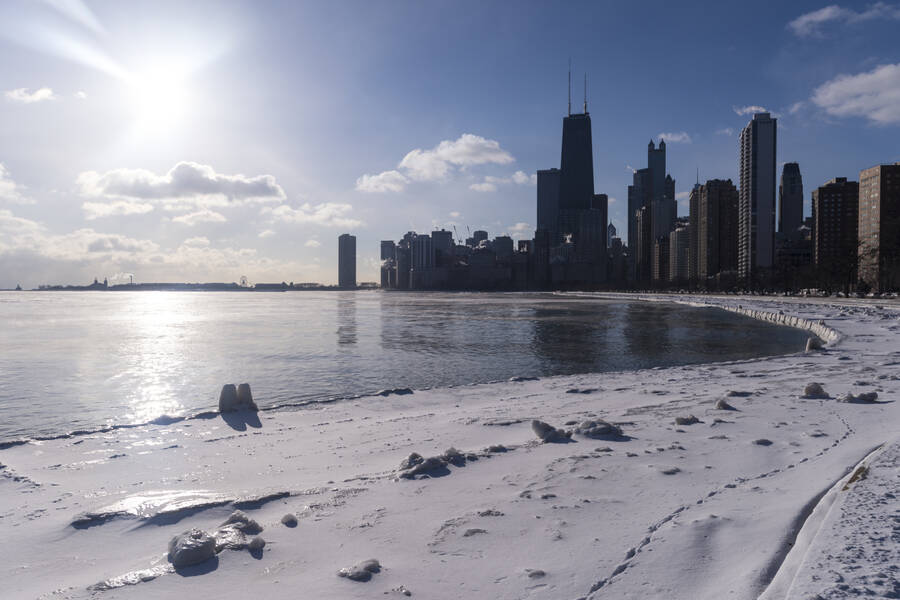 When Chica­go May­or Richard M. Daley left City Hall in May 2011, he was greet­ed with ban­ners read­ing, ​"Chica­go … A World Class City … Thank You May­or Daley." Many may­ors before him had set out to turn Chica­go into a world-class city, and with those ban­ners, the city's polit­i­cal estab­lish­ment was proud­ly pro­claim­ing that Daley had accom­plished this feat. When Rahm Emanuel suc­ceed­ed Daley to the Mayor's office, he saw it as his mis­sion to main­tain this world-class status.
Policies must be rooted in one fundamental principle: Chicago should be governed for the people who live here.
But the vision of a world-class city that Daley and Emanuel have pro­ject­ed through their finan­cial and bud­get pri­or­i­ties has been deeply incon­gru­ent with the needs of Chicago's com­mu­ni­ties. Their ver­sion of turn­ing Chica­go into a ​"world-class city" typ­i­cal­ly meant pass­ing poli­cies to attract wealthy, white pro­fes­sion­als and big, multi­na­tion­al cor­po­ra­tions to the city — at the expense of the city's com­mu­ni­ties of col­or. To these may­ors, improv­ing Chica­go has includ­ed trans­form­ing the demo­graph­ics of the city rather than improv­ing the lives of the peo­ple who already live there. The poli­cies embraced by both Daley and Emanuel have sys­tem­at­i­cal­ly pushed Black res­i­dents out of Chica­go. Mean­while, a wave of wealth­i­er and whiter res­i­dents has ascend­ed upon the city in recent years.
But Chicagoans don't need elect­ed offi­cials who seek to replace them with peo­ple they find more desir­able. They need new lead­ers who will break with the city's past and reject poli­cies that fur­ther enrich bil­lion­aires and major cor­po­ra­tions. They need a new may­or and City Coun­cil that will help trans­form the city into one that meets the needs of the peo­ple who already call Chica­go home.
Daley and Emanuel's Neolib­er­al Paradise
In his quest to make Chica­go ​"world-class," Daley tore down pub­lic hous­ing com­plex­es — includ­ing Cabri­ni-Green — that had been home to thou­sands of poor Black fam­i­lies and turned the land over to devel­op­ers to attract rich, well-edu­cat­ed white peo­ple into the city. The neigh­bor­hood where Cabri­ni-Green once stood saw the great­est increase in the con­cen­tra­tion of house­holds earn­ing more than $200,000 of any neigh­bor­hood in the coun­try between 2000 and 2017.
Daley also used Tax Incre­ment Financ­ing (TIF) schemes to siphon tax dol­lars away from blight­ed neigh­bor­hoods in order to award hun­dreds of mil­lions of dol­lars in tax give­aways to rich cor­po­ra­tions and devel­op­ers. He invest­ed in glitzy down­town projects like Mil­len­ni­um Park, great­ly expand­ed bike lanes, opened new selec­tive enroll­ment schools on the city's pre­dom­i­nant­ly white North Side and spent tens of mil­lions on the city's failed 2016 Olympic bid, all while con­sis­tent­ly ignor­ing the needs of res­i­dents on the city's pre­dom­i­nant­ly Black and Lat­inx South and West Sides.
Emanuel fol­lowed in Daley's foot­steps. He invest­ed in projects that would make Chica­go more attrac­tive to wealth­i­er white fam­i­lies and tourists — like the Bloom­ing­dale Trail, Mag­gie Daley Park and the River­walk exten­sion — and turned a blind eye to the city's Black and Lat­inx fam­i­lies who were endur­ing cuts to pub­lic ser­vices, endem­ic vio­lence, and rapid gen­tri­fi­ca­tion and displacement.
As may­or, Emanuel con­tin­ued to use TIF funds to take from the poor and give to the rich. He sought to bring both the G8 (unsuc­cess­ful­ly) and NATO sum­mits (suc­cess­ful­ly) to the city in 2012 as part of main­tain­ing Chicago's world-class stature. He now wants to build an express train from down­town to O'Hare to make it eas­i­er for world­ly busi­ness trav­el­ers to get to their meet­ings even though Chica­go already has a pub­lic train line that makes that same trip. He was able to find $2.25 bil­lion in tax hand­outs to offer to Ama­zon — the rich­est com­pa­ny in the world — but relies heav­i­ly on regres­sive fees from red light and speed­ing cam­eras in com­mu­ni­ties of col­or to fill bud­get deficits, despite the fact that unpaid traf­fic tick­ets are a major cause of bank­rupt­cy for poor Chica­go res­i­dents, and Black Chicagoans in particular.
Daley and Emanuel's desire to rebuild Chica­go as a haven for wealthy, white peo­ple is a symp­tom of a broad­er dis­ease per­vad­ing Demo­c­ra­t­i­cal­ly-con­trolled cities through­out the coun­try: Neoliberalism.
Neolib­er­al­ism, which looks to the mar­ket to solve social, eco­nom­ic and polit­i­cal prob­lems, has been the pre­vail­ing ide­ol­o­gy in the Unit­ed States and much of the world over the past three decades. Neolib­er­als argue that if we let pri­vate sec­tor actors com­pete in an unreg­u­lat­ed mar­ket­place, we will achieve bet­ter results than could be attained through gov­ern­ment inter­ven­tion or reg­u­la­tion. As a result, neolib­er­als gen­er­al­ly favor cut­ting tax­es, pri­va­tiz­ing pub­lic ser­vices, dereg­u­lat­ing indus­tries and bust­ing unions. In Chica­go, this ide­ol­o­gy has man­i­fest­ed through pri­va­tiz­ing park­ing meters, toll­ways and air­ports, con­vert­ing union­ized pub­lic schools into nonunion, pri­vate­ly-run char­ter schools and over­see­ing a may­oral-appoint­ed school board packed with cor­po­rate exec­u­tives rather than one elect­ed by voters.
When it comes to munic­i­pal pol­i­tics in the Unit­ed States, neolib­er­al­ism often boils down to deci­sions about who is wor­thy of pub­lic invest­ment. In an eco­nom­ic sys­tem con­trolled by mar­ket com­pe­ti­tion, it's pre­sumed that the rich earned their mon­ey while the poor didn't work hard enough, and there­fore the rich should be reward­ed and the poor should be pun­ished. This helps explain why neolib­er­als like Daley and Emanuel hand mas­sive tax give­aways to cor­po­ra­tions while at the same time rais­ing regres­sive fines and fees that hit poor peo­ple the hardest.
Not coin­ci­den­tal­ly, in big cities like Chica­go, the unwor­thy poor are over­whelm­ing­ly peo­ple of col­or. Neolib­er­al ide­ol­o­gy is under­gird­ed by white suprema­cy. Neoliberalism's reliance on com­pet­i­tive mar­kets ensures that there will always be win­ners and losers. In Amer­i­ca, how­ev­er, the game is rigged to ensure that com­mu­ni­ties of col­or will always lose. The lega­cy of slav­ery and Jim Crow and the role of white flight and racist redlin­ing have ensured that Black peo­ple, in par­tic­u­lar, remained poor and were not allowed to build wealth. While dressed in race-neu­tral lan­guage, neolib­er­al poli­cies are often designed to pun­ish peo­ple of color.
A Blue­print for Invest­ing in Chicago's Future
Neolib­er­al poli­cies can nev­er pro­duce a tru­ly world-class city, because the world does not need more cities that view the major­i­ty of their res­i­dents as peo­ple who need to be pushed out and replaced. As the Daley-Emanuel era in Chica­go comes to a close, it's impor­tant for the city's new­ly elect­ed lead­er­ship to learn from the fail­ures of the past and com­mit to poli­cies that will put the inter­ests of Chicago's cur­rent res­i­dents first. These poli­cies must be root­ed in one fun­da­men­tal prin­ci­ple: Chica­go should be gov­erned for the peo­ple who live here.
This can only hap­pen if the city's elect­ed offi­cials reject the neolib­er­al par­a­digm that holds that pub­lic poli­cies should reward the rich and pun­ish the poor, and that any­thing gov­ern­ment can do, cor­po­ra­tions can do bet­ter. To give Chicagoans the world-class city they deserve, here is a menu of poli­cies the city's new elect­ed lead­ers should embrace:
Make the wealthy and major cor­po­ra­tions pay their fair share to fund qual­i­ty pub­lic ser­vices. Chica­go can raise more than $3.7 bil­lion in pro­gres­sive rev­enue by:
Levy­ing a city income tax on high-earn­ing res­i­dents and commuters
Impos­ing a spec­u­la­tion tax on the finan­cial exchanges on LaSalle Street
Increas­ing the real estate trans­fer tax on high-end properties
Rein­stat­ing the cor­po­rate use fee for large corporations
Mak­ing the prop­er­ty tax sys­tem fairer
End­ing tax hand­outs to major cor­po­ra­tions and developers
That is more than enough mon­ey to pay for uni­ver­sal ear­ly child­hood edu­ca­tion, free com­mu­ni­ty col­lege for all, free pub­lic tran­sit and a pro­gram to alle­vi­ate home­less­ness in Chica­go that could reduce the num­ber of home­less res­i­dents by 36,000 over ten years.
Tar­get pub­lic invest­ment in Black and Lat­inx com­mu­ni­ties to let them thrive. This means that:
The Black and Lat­inx neigh­bor­hoods that have his­tor­i­cal­ly been dis­in­vest­ed in and dis­en­fran­chised by City Hall must be the first ones to ben­e­fit from the expand­ed pub­lic ser­vices that new rev­enue streams can provide
City offi­cials must divest from polic­ing and incar­cer­a­tion, which cur­rent­ly accounts for near­ly

40

% of Chicago's bud­get, and invest that mon­ey into pro­grams that will actu­al­ly help keep Black and Brown bod­ies safe
The new may­or and City Coun­cil should insti­tute a vacan­cy tax on lux­u­ry apart­ment build­ings to help keep rents down and fund afford­able hous­ing devel­op­ments on Chicago's South and West Sides to help keep Black and Lat­inx fam­i­lies in the city
Increase tax­pay­er invest­ment in pub­lic ser­vices and keep them pub­licly-con­trolled. Instead of com­mod­i­fy­ing our pub­lic assets — like Chicago's water, schools and tran­sit sys­tems — and sell­ing them to pri­vate investors, we need to ful­ly fund our pub­lic ser­vices and infra­struc­ture and keep them public.
Estab­lish a pub­lic bank and declare our inde­pen­dence from the big banks on Wall Street. A pub­lic bank could help Chica­go and city agen­cies (like Chica­go Pub­lic Schools and the Chica­go Tran­sit Author­i­ty) save more than a bil­lion dol­lars a year on finan­cial fees and inter­est pay­ments by:
Under­writ­ing munic­i­pal bonds for the city and its agencies
Man­ag­ing the city's sev­en pen­sion funds
Refi­nanc­ing the city and its agen­cies' debt at sig­nif­i­cant­ly low­er inter­est rates
A world-class city is one that takes care of the peo­ple who already live there. Chicago's new may­or and City Coun­cil should adopt this new blue­print for pro­gres­sive eco­nom­ic poli­cies to give Chicagoans the city they deserve.
These rec­om­men­da­tions are tak­en from a report put out by the Action Cen­ter on Race and the Econ­o­my (ACRE) that you can read in full here.