Why Chicagoans Just Fired a Judge For the First Time in 28 Years
Taking a cue from progressive lawyers and racial justice activists, Chicago voters ousted longtime judge Matthew Coghlan.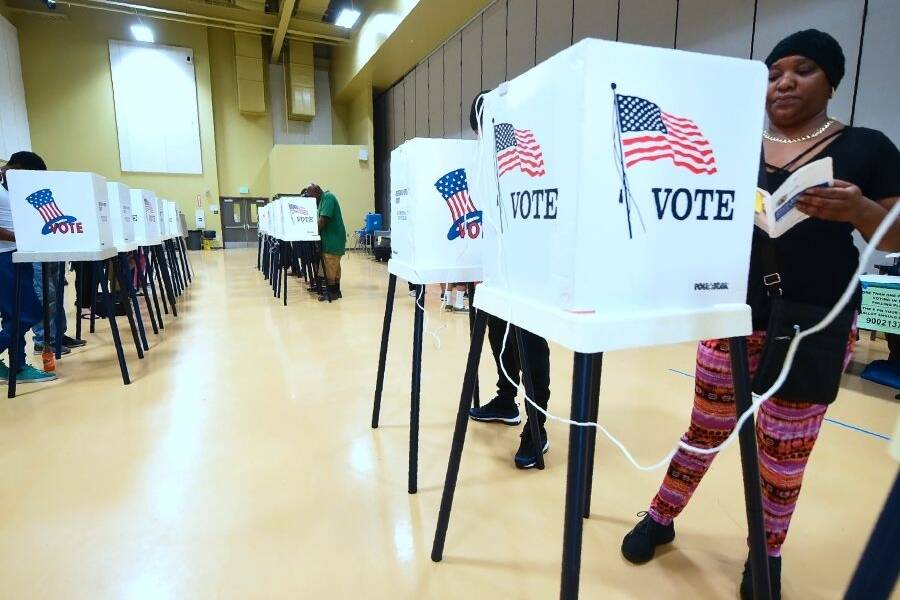 Cook Coun­ty vot­ers broke with tra­di­tion on Tues­day when they deci­sive­ly vot­ed to deny for­mer pros­e­cu­tor Matthew Cogh­lan anoth­er six-year term on the Cir­cuit Court bench.
"We hope it sends a message to people on the bench that the harshness of sentences, and racial disparities and previous activity will be scrutinized."
Cogh­lan became the first Cook Coun­ty judge to lose a reten­tion elec­tion in 28 years, in a race marked by strik­ing­ly high num­bers of elec­tors who cast votes in the race.
Elec­tors in the 13th sub­cir­cuit cov­er­ing the north­west sub­urbs, mean­while, vot­ed onto the bench Shan­non P. O'Malley, who had changed both his name and his par­ty as he ran as a Demo­c­rat in one of the few con­test­ed races Tues­day to fill an open seat. O'Malley, a Hoff­man Estate defense attor­ney, had run unsuc­cess­ful­ly as a Repub­li­can eight years ear­li­er in Will Coun­ty under the name Philip Spiwak.
O'Malley had failed to take part in bar asso­ci­a­tion eval­u­a­tions, and as a result was giv­en neg­a­tive rat­ings by the var­i­ous bar groups.
In high­ly-Demo­c­ra­t­ic Cook Coun­ty, most open seats are decid­ed at the March pri­ma­ry, as Repub­li­cans do not even chal­lenge Democ­rats for coun­ty­wide seats or seats with­in the Chica­go sub­cir­cuits. O'Malley was one of a hand­ful of can­di­dates fac­ing con­tests for sub­cir­cuits in the suburbs.
After win­ning par­ti­san races, Illi­nois judges stand for reten­tion in non­par­ti­san races in which they must win 60 per­cent favor­able vote. That lev­el had in recent years been vir­tu­al­ly assured; until this week, no judge had lost a reten­tion race since 1990.
A judge since 2000, Cogh­lan was receiv­ing the sup­port of about 52.5 per­cent of Cook Coun­ty vot­ers, with more than 95 per­cent of the vote recorded.
The reten­tion elec­tion occurred amidst the back­drop of com­mu­ni­ty mis­trust in impov­er­ished neigh­bor­hoods in the jus­tice sys­tem. Activists and com­mu­ni­ty groups appeared to have suc­cess­ful­ly har­nessed that dis­sat­is­fac­tion Tues­day; a far greater per­cent­age of vot­ers cast votes in the judi­cial races than in past years.
In the four elec­tions between 2010 and 2016, Cook Coun­ty elec­tion board results show, no judge run­ning for reten­tion gath­ered as many as 70 per­cent of the votes cast for the con­test at the top of the bal­lot, and some judges received as few as 60 per­cent. With returns almost com­plete for 2018, more than 77 per­cent of those who cast a vote in the guber­na­to­r­i­al race vot­ed in at least one of the 59 reten­tion races at the bot­tom of the ballot.
"We have start­ed some­thing," said Mal­colm Rich, exec­u­tive direc­tor of the Chica­go Coun­cil of Lawyers. ​"We have ener­gized and ignit­ed the pas­sion of vot­ers in judi­cial races. Now it becomes even more impor­tant that the bar asso­ci­a­tions do the job [of eval­u­at­ing judges] right and timely."
The Coun­cil of Lawyers was the only one of the three major bar asso­ci­a­tions that did not rec­om­mend Coghlan.
A group of pro­gres­sive lawyers built a cam­paign around defeat­ing Cogh­lan, a for­mer assis­tant state's attor­ney who is being sued by two exonerees who con­tend he took part in build­ing a false case against them.
Attor­ney Bren­dan Shiller, who helped lead the effort to defeat Cogh­lan, said he con­sid­ered unseat­ing one judge as a step to cre­at­ing more vot­er atten­tion in future elections.
The coun­ty Demo­c­ra­t­ic chair, Toni Preck­win­kle, said in an inter­view that the par­ty intends to stay involved and scru­ti­nize the records of judges seek­ing to hold their spots on the bench.
Com­mu­ni­ty dis­trust in the crim­i­nal jus­tice sys­tem became more evi­dent after the city was forced three years ago to release the video of Offi­cer Jason Van Dyke shoot­ing to death Laquan McDon­ald, an African Amer­i­can teenag­er, a shoot­ing about which police had ini­tial­ly pro­vid­ed false nar­ra­tives that McDon­ald had lunged at the officer.
Angry protests fol­lowed, and a task force formed by May­or Rahm Emanuel as well as a sep­a­rate report by the U.S. Jus­tice Depart­ment doc­u­ment­ed com­mu­ni­ty mis­trust fueled by years of exces­sive force by police and lax dis­ci­pline for errant officers.
In 2016 Demo­c­ra­t­ic pri­ma­ry vot­ers, encour­aged by a coali­tion of com­mu­ni­ty groups, defeat­ed then-State's Attor­ney Ani­ta Alvarez, who had tak­en no action against Van Dyke until after the video was belat­ed­ly released.
Fol­low­ing that effort, com­mu­ni­ty groups and pro­gres­sive forces this year sought to stir inter­est in the judi­cial races as a way to ener­gize young vot­ers and minor­i­ty vot­ers to cast ballots.
Fol­low­ing the coalition's efforts, the Cook Coun­ty Demo­c­ra­t­ic par­ty, which has tra­di­tion­al­ly urged ​'yes' votes on all reten­tion can­di­dates, vot­ed last month not to sup­port Cogh­lan. The par­ty chair­woman, Preck­win­kle, cre­at­ed a video urg­ing vot­ers to vote against Coghlan.
The par­ty made that deci­sion despite the urg­ing of the reten­tion judges, who had sought to sup­port each other.
Preck­win­kle, in an inter­view Tues­day night, said, of Coghlan's defeat, ​"We hope it sends a mes­sage to peo­ple on the bench that the harsh­ness of sen­tences, and racial dis­par­i­ties and pre­vi­ous activ­i­ty will be scru­ti­nized" as the par­ty decides in the future whom to support.
Attor­ney Shiller, who helped coor­di­nate the move­ment against Cogh­lan, said of Coghlan's defeat, ​"I think what we've seen is that a group of young activists sought change in the crim­i­nal jus­tice sys­tem, and the Demo­c­ra­t­ic par­ty rec­og­nized the impor­tance of the issue." Shiller called the result ​"just the start" of height­ened scruti­ny to judi­cial races.
Cogh­lan was not the only can­di­date to be tar­get­ed by some com­mu­ni­ty groups. Some judges' past con­tro­ver­sies were report­ed in news accounts, includ­ing Injus­tice Watch and the Chica­go Sun-Times. Local bar asso­ci­a­tions neg­a­tive­ly rec­om­mend­ed a hand­ful of can­di­dates. The Chica­go Tri­bune edi­to­ri­al­ized against Cogh­lan and two oth­er judges. And the orga­ni­za­tion ChicagoV­otes pub­lished a guide high­light­ing a hand­ful of judges.
Judge Mau­ra Slat­tery Boyle was near­ly also, like Cogh­lan, reject­ed by vot­ers. Slat­tery Boyle had received less than 63 per­cent favor­able votes, a num­ber low­er than any judge seek­ing reten­tion since at least 2010.

(Ele­na Sucharet­za and Emi­ly Hoern­er of Injus­tice Watch con­tributed to this report.)
Reprint­ed with per­mis­sion from Injus­tice Watch.
Rick Tul­sky
devel­oped a sense of the pow­er of expos­ing social wrongs as a young reporter at the Jack­son, Ms., Clar­i­on Ledger; and has retained his ded­i­ca­tion to that work at The Philadel­phia Inquir­er, the Los Ange­les Times, the San Jose Mer­cury News and the Cen­ter for Inves­tiga­tive Report­ing. His work has received more than two dozen nation­al awards includ­ing a Pulitzer Prize, and has been a nom­i­nat­ed final­ist in two oth­er years. Rick is a lawyer, and has been both a Nie­man fel­low­ship at Har­vard Uni­ver­si­ty and an Ali­cia Pat­ter­son fel­low. He is the for­mer pres­i­dent and long­time board mem­ber of the nation­al orga­ni­za­tion Inves­tiga­tive Reporters and Edi­tor. Rick is the co-direc­tor of Medill Watch­dog, a pro­gram at North­west­ern University's jour­nal­ism school to under­take col­lab­o­ra­tive projects on sys­temic prob­lems while men­tor­ing stu­dents in such work.