"It Is the Young People Who Will Free Us": Resisting Militarized Violence, from Honduras to Chicago
A transnational conversation between organizers.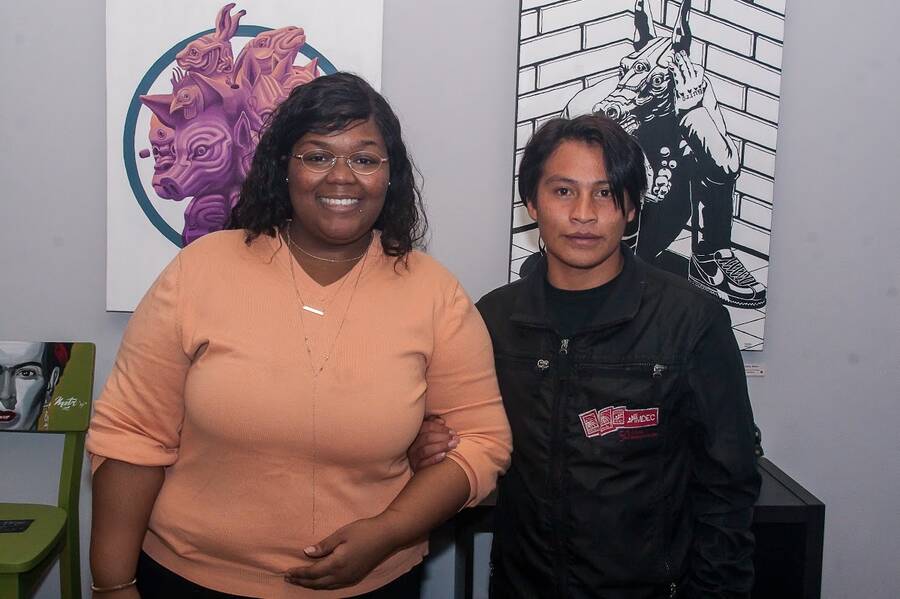 Gas­par Sánchez and Veron­i­ca Mor­ris-Moore are young orga­niz­ers from Hon­duras and Chica­go, respec­tive­ly. Gas­par is a leader of the Civ­il Coun­cil of Pop­u­lar and Indige­nous Orga­ni­za­tions of Hon­duras (COPINH) and a Lenca indige­nous LGBT activist. He was men­tored by the late Berta Cáceres, the COPINH co-founder who was assas­si­nat­ed on March 2, 2016. Veron­i­ca has been on the front lines of youth strug­gles in the era of Black Lives Mat­ter, from win­ning a trau­ma cen­ter to help­ing oust the state's attor­ney who played a role in cov­er­ing up the Chica­go police mur­der of Laquan McDonald.
"It's going to be young people actually making this world a place where people can live and be free and self-determined."
Gas­par recent­ly passed through Chica­go as part of a nation­al speak­ing tour when an inde­pen­dent inter­na­tion­al com­mis­sion of human rights inves­ti­ga­tors released a report with evi­dence direct­ly impli­cat­ing cor­po­rate exec­u­tives and Hon­duran state agents in the assas­si­na­tion of Cáceres. In the back hall­way of the Pilsen Out­post in Chica­go, the two spoke about their par­al­lel strug­gles against mil­i­tary and police vio­lence in Hon­duras and Chica­go. Matt Gins­berg-Jaeck­le, an orga­niz­er with La Voz de los de Aba­jo, inter­pret­ed the con­ver­sa­tion and trans­lat­ed the interview.
Veron­i­ca: The call to de-fund the police comes from the long his­to­ry of cor­rup­tion and involve­ment in vio­lence that the police have in our com­mu­ni­ties. They are paid killers. They come into our com­mu­ni­ty and mur­der our peo­ple for no rea­son — and don't receive any accountability.
Young peo­ple in Chica­go were real­ly impact­ed two years ago when we found out about the con­spir­a­cy to cov­er up the mur­der of Laquan Mcdon­ald, a young per­son who was shot 16 times by a police offi­cer as he was run­ning away. He was run­ning for his life, because young Black men know how much of a threat the police are to them. For a year the city cov­ered it up. The police offi­cer kept his job — he didn't get in trou­ble, like it didn't even hap­pen. Then the media made the police offi­cers release the videos and tell the truth. I was able to help orga­nize to get peo­ple out into the streets and real­ly make sure that there was a response to what was hap­pen­ing. I think that put Chicago's very prob­lem­at­ic his­to­ry with the police back into a cur­rent spotlight.
Com­ing from Chica­go, we know of the his­to­ry of peo­ple like the cop, John Burge, who ran sec­ond dis­trict for years tor­tur­ing peo­ple and forc­ing con­fes­sions. Police tor­ture has always been in Chicago's his­to­ry. It makes no sense to invest $95 mil­lion in a cop acad­e­my. That $95 mil­lion belongs to the com­mu­ni­ties. The may­or has closed down 50-some­thing pub­lic schools and six men­tal health clin­ics. The resources are being snatched away from us. Gen­tri­fi­ca­tion is becom­ing more rapid, and the police are sol­diers in car­ry­ing out the government's inten­tions to take our city away from us and to put us in the outskirts.
And I wit­nessed that when I went to Hon­duras in 2011. In the same way, peo­ple are fight­ing to keep their com­mu­ni­ties, keep their indige­nous lands and keep their homes safe for them­selves and their chil­dren in Hon­duras. It's the same fight that we have to have as Black and Brown peo­ple in Chicago.
A $95-mil­lion invest­ment in a police acad­e­my is only going to lead to more vio­lence, more death of Black and Brown peo­ple, peo­ple who are poor and peo­ple who deserve resources — and not mil­i­tary-trained police offi­cers in their neigh­bor­hoods and schools.
Gas­par: The youth is hit hard­est by these so-called secu­ri­ty poli­cies that they say are to ben­e­fit the pop­u­la­tion but real­ly aren't. Even though we — as coun­tries and peo­ples — are very far apart, it's the same sit­u­a­tion. Every­thing you just said about the dis­place­ment and repres­sion peo­ple are liv­ing through here is the same thing that is hap­pen­ing in Honduras.
One of the things I have heard from peo­ple here is how youth are being used as fod­der for mil­i­ta­riza­tion and polic­ing. In Hon­duras there is a pro­gram called ​"Guardians of the Father­land," where sol­diers and police go to the schools, train the kids and make them think that they are guardians of the father­land and future — the ones who are going to take care of the country's secu­ri­ty. But I don't believe that the police or the mil­i­tary are in any way on the side of the Hon­duran peo­ple. They're real­ly on the side of big busi­ness and large landowners.
Two years ago a landown­er named Miguel Facussé died, and this guy had been part of an asso­ci­a­tion with mil­i­tary Colonels from the Hon­duran armed forces, and he was plun­der­ing entire com­mu­ni­ties. He has vast swaths of land just for African palm. Here in Chica­go it is about hous­ing, and there it is about land access. They were dis­plac­ing com­mu­ni­ties to sow African palm, sug­ar cane and pineap­ples. They were not allow­ing com­mu­ni­ties to pro­duce their own food — corn and beans — which is what we eat there in Hon­duras. Now the com­mu­ni­ties they are repress­ing, that you all saw and vis­it­ed in the Bajo Aguán, con­tin­ue to strug­gle. There are many killings, but the Hon­duran state doesn't want to resolve them.
Also there's the issue of extrac­tive projects. First they have to put sol­diers there to make sure the com­mu­ni­ty won't rise up in protest. The sol­diers are there to intim­i­date, to keep the com­mu­ni­ties sub­mis­sive, and these are the new forms of col­o­niza­tion that we're liv­ing through today. I think it is impor­tant that we start to talk about de-col­o­niz­ing ter­ri­to­ry — here in Chica­go and in Hon­duras. Fund­ing that comes from the Unit­ed States goes to Hon­duras turns into killings and crim­i­nal­iza­tion. In fact, Berta's case has to do with the mil­i­tary, both retired and active duty. They are hit men.
High offi­cials in the army are gang chiefs. They are involved with drug traf­fick­ing, with orga­nized crime, which has tak­en over Hon­duran insti­tu­tions. There is no pun­ish­ment for them, they can do what they want.
But it is impor­tant to rec­og­nize that we as youth have a huge poten­tial. Even if they try to divide us, we have to find ways to orga­nize new lead­ers from our com­mu­ni­ties and our ter­ri­to­ries. If we don't start to do grass­roots work with our broth­ers and sis­ters, this is going to be super hard. The sit­u­a­tion for Black and Lat­inx com­mu­ni­ties here in the Unit­ed States isn't going to change if there is no unity.
In Hon­duras, we are try­ing to bring all of us togeth­er as indige­nous peo­ples to fight the plun­der we are all con­fronting. It is very hard and wears you down — phys­i­cal­ly and men­tal­ly. But as long as we have con­vic­tion and con­scious­ness and are moved by lived injus­tice, I think that this is possible.
Veron­i­ca: I real­ly appre­ci­ate what you just said, because I've been doing this work since I was 17, and I've been able to do some real­ly amaz­ing things, like force the Uni­ver­si­ty of Chica­go to do some shit for poor Black peo­ple that they don't want to do, which is build a trau­ma cen­ter and pro­vide that care for peo­ple. But you're absolute­ly right: That work, it wears you down. It took five years to get that cam­paign where it got to. After it won, I was part of the cam­paign to get the State's Attor­ney who was respon­si­ble for cov­er­ing up Laquan McDonald's mur­der out of office. But now, I'm so worn out, I've had to take the last year and a half for myself. But I real­ly appre­ci­ate you being here, and I appre­ci­ate the mes­sage that you brought with you. It's real­ly re-inspir­ing me and remind­ing me why this work is so impor­tant to me.
And it absolute­ly is about the youth. It was young peo­ple who won that trau­ma cen­ter cam­paign. It was young peo­ple who brought the atten­tion and went out into the streets when they released the video of the Laquan McDon­ald mur­der and oth­er videos that they had to release of oth­er peo­ple that Chica­go police have mur­dered. It's real­ly impor­tant for us to unite young Black and Brown peo­ple of col­or togeth­er. It's so impor­tant for us, espe­cial­ly now, espe­cial­ly with this Black Lives Mat­ter move­ment, to build a very con­crete net­work of sol­i­dar­i­ty. We have this say­ing: ​"None of us are free until we all are free." I think that means out­side of Amer­i­ca. I think it def­i­nite­ly starts with out­side of Amer­i­ca. A lot of the rea­son why our coun­try is able to be the big badass that it is stems from impe­ri­al­ism and the way that it con­quers oth­er nations and oth­er peo­ple. I think we owe it to our­selves as orga­niz­ers who still have a lot of priv­i­lege being from Amer­i­ca to go hard­er, do more and com­pli­cate the work that we're doing.
And we should be work­ing togeth­er, we should be con­nect­ing. I have no doubt in my mind it's going to be the young peo­ple who free us. When the White House gets tak­en over, it's going to be young peo­ple kick­ing in the door. And it's going to be young peo­ple actu­al­ly mak­ing this world a place where peo­ple can live and be free and self-deter­mined. Fred Hamp­ton was 19 when the FBI and the Chica­go Police Depart­ment began spy­ing on him, even­tu­al­ly con­spir­ing to kill him. And that has always been some­thing that I have nev­er for­got through­out all my years of organizing.
I know what the assas­si­na­tion of Berta, how that had to impact the com­mu­ni­ty but you are evi­dence that young peo­ple have risen in that time and are going to con­tin­ue to rise despite how much this régime and how much this machine is deter­mined to destroy us.
Gas­par: Same, I'm thank­ful to be able to lis­ten to you. We need to push for Latin Amer­i­can uni­ty, for Amer­i­can uni­ty. Amer­i­ca is a con­ti­nent, it is not just the Unit­ed States. What moves us is sim­ply injus­tice: The gov­ern­ments aren't real­ly help­ing the pop­u­la­tion, they aren't meet­ing their needs and instead are con­trolled by inter­na­tion­al poli­cies to favor mul­ti-nation­al cor­po­ra­tions. At least in Hon­duras, that's what we are liv­ing through. And it is not a case that is iso­lat­ed from oth­er countries.
In Hon­duras we have real­ly come togeth­er with the stu­dent move­ment, which is also fight­ing for free and qual­i­ty edu­ca­tion. They have achieve­ments, but they also have loss­es. Today 19 of the stu­dent spokes­peo­ple, the peo­ple who came out pub­licly denounc­ing all of the human rights vio­la­tions by the uni­ver­si­ty author­i­ties, are now expelled. But despite what hap­pened, they keep mov­ing forward.
We always know that our strug­gle isn't for us: It is for the future. We are think­ing about the future of oth­er peo­ple. We chil­dren to be able to see and enjoy this ter­ri­to­ry — the water, the for­est — and not have to suf­fer through what we suffered.
Veron­i­ca: It's impor­tant for me to wear my queer iden­ti­ty as I'm doing this work, so that peo­ple can see me. We've seen vis­i­bil­i­ty of queer and par­tic­u­lar­ly trans peo­ple in Amer­i­ca com­ing out as orga­niz­ers and as lead­ers and hold­ing their whole truths. Because it's all con­nect­ed. At the end of the day, the rev­o­lu­tion needs to be led by those who are the mar­gin­al­ized of the mar­gin­al­ized. I don't know who could be more mar­gin­al­ized than queer trans peo­ple of col­or. We should be in the fore­front — w e need to be. I'm so inspired every time I get to meet oth­er queer orga­niz­ers, espe­cial­ly folks who are queer and indige­nous from Latin Amer­i­ca. It's just amaz­ing — the pow­er and the strength and the truth that we bring to the work.
Gas­par: In our grass­roots work, just iden­ti­fy­ing as and rec­og­niz­ing our­selves to be gay or les­bian, that is a polit­i­cal act. And it influ­ences lots of peo­ple. We have to fight against dis­crim­i­na­tion, racism, the church, the state, the police and the sol­diers. We have to strug­gle with all of them. And then we even have to con­front our own fam­i­lies. As more of us accept our­selves, it becomes an exam­ple for oth­ers to do the same. As LGBTI peo­ple, they crim­i­nal­ize us and deny our rights, because they know that we can make change. They say that glob­al­ly we are 10 per­cent of the pop­u­la­tion. But we are more than that, because lots of peo­ple don't iden­ti­fy but they still are — and they are part of our com­mu­ni­ty. And we are chang­ing that and it's good.
Veron­i­ca: I also think it's inter­est­ing that our calls to action are very sim­i­lar. Young peo­ple are call­ing for funds to be re-allo­cat­ed into the com­mu­ni­ty and not invest­ed into the police. Young peo­ple are ask­ing the gov­ern­ment to fund peo­ple and not the mil­i­tary and not the police. It's very sim­i­lar to the Berta Act that you guys are try­ing to get passed for Hon­duras, in ask­ing the Amer­i­can gov­ern­ment to stop fund­ing police, so that peo­ple can get justice.
Gas­par: As COPINH, we believe that pass­ing the Berta Cáceres Act in the Unit­ed States, a law for human rights, will help human rights advo­cates in Hon­duras. It is a law that car­ries our sis­ter Berta Cáceres' name, but it goes way beyond her. It asks for inves­ti­ga­tion of all of the killings through hate crimes, the femi­cides, the killings of human rights defend­ers. These all took place in com­plete impuni­ty, with­out any will from the gov­ern­ment or the state of Hon­duras to try to inves­ti­gate who is real­ly respon­si­ble and com­mits these crimes.
All of that aid that the Unit­ed States gives to Hon­duras to strength­en the mil­i­tary and nation­al secu­ri­ty in Hon­duras should be invest­ed in exact­ly what you are talk­ing about: in edu­ca­tion, in health­care, to cre­ate space for the com­mu­ni­ties from right here in your own coun­try. Mil­i­ta­riza­tion is being imposed on our coun­tries as an ide­ol­o­gy, as an insti­tu­tion, as a way of mak­ing mon­ey and gen­er­at­ing employ­ment. That is because the Unit­ed States wants to have our coun­tries mil­i­ta­rized to be able to plun­der the rich­ness of our lands, as orig­i­nal, autonomous, indige­nous peo­ples, no?
The youth are fight­ing for edu­ca­tion, for the right to hous­ing or for respect. In Hon­duras it is the same. We want to cut off the fund­ing that goes to our coun­try as mil­i­tary and secu­ri­ty aid, until they inves­ti­gate all of these killings. There are cas­es where it is the mil­i­tary, the police, who have been com­mit­ting these crimes, but they're not inves­ti­gat­ed. And even though Hon­duras has so much secu­ri­ty invest­ment, we are still the most inse­cure coun­try and vio­lent coun­try, where they crim­i­nal­ize and assas­si­nate those of us who defend the right to defend rights.
Veron­i­ca: I think it's impor­tant for oth­er peo­ple to under­stand that what's hap­pen­ing in Hon­duras has been hap­pen­ing for years, for decades, like Berta said. This is the fight of our ances­tors, and they've been fight­ing for hun­dreds of years. And I think it's impor­tant for peo­ple to take note that, espe­cial­ly in a time when we want to blame so much on the Trump admin­is­tra­tion, it was the Oba­ma admin­is­tra­tion that ignored and allowed a lot of these police offi­cers to exist in impuni­ty when the Black Lives Mat­ter move­ment start­ed. The Oba­ma admin­is­tra­tion is also respon­si­ble for the coup that took place in Hon­duras. We are doing the work that has been done for hun­dreds and hun­dreds of years. It is time that our peo­ple receive the vic­to­ries that they deserve.