Chicago Is Failing to Enforce Its $10.50 Minimum Wage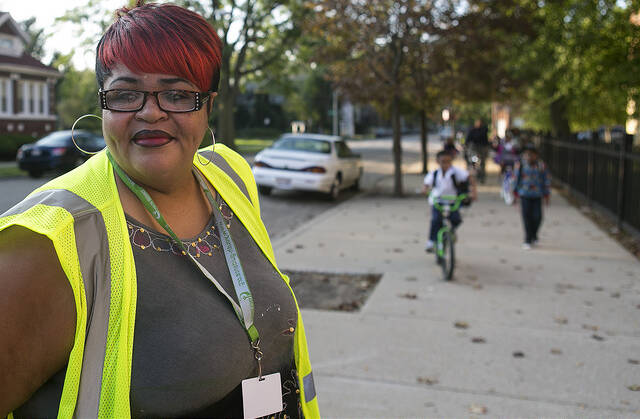 This arti­cle was first post­ed by The Chica­go Reporter.
Sab­ri­na Jack­son looked for­ward to a raise last sum­mer at her job as a cross­ing guard near her children's Engle­wood school.
Chicago's min­i­mum wage was slat­ed to increase from $10 to $10.50 per hour under a city ordi­nance, pro­vid­ing a small but wel­come boost to Jackson's paycheck.
But when the new school year rolled around, Jack­son dis­cov­ered, ​"I didn't get a raise." Chica­go Pub­lic Schools refused to pay the high­er wage for the 1,300 cross­ing guards, telling non­prof­it groups that run the pro­gram that the dis­trict had bud­get prob­lems and claim­ing the work­ers were exempt. The dis­trict nev­er explained why it con­sid­ered the work­ers an exception.
The under­pay­ment of Safe Pas­sage work­ers is just one exam­ple of how the city's min­i­mum wage ordi­nance has fall­en short since it took effect in July 2015. A Reporter analy­sis esti­mates that thou­sands of work­ers have been left behind because of excep­tions in the law, which will raise the city's min­i­mum hourly wage to $13 by 2019.
Mean­while, the city depart­ment respon­si­ble for enforce­ment has inves­ti­gat­ed just a quar­ter of 454 wage com­plaints, recov­ered lost pay for only a few dozen peo­ple and has yet to fine a sin­gle com­pa­ny for vio­lat­ing the ordi­nance. Fol­low­ing repeat­ed ques­tion­ing by The Chica­go Reporter about the department's lax enforce­ment, city offi­cials now say they will levy fines. Also fol­low­ing the Reporter's inquiries, CPS reversed course and said it would cov­er the wage increase, as well as back pay, to its cross­ing guards. ​"CPS is com­mit­ted to meet­ing the city's min­i­mum wage ordi­nance, and we have begun the process of guar­an­tee­ing that all Safe Pas­sage work­ers will be prop­er­ly com­pen­sat­ed this year," said dis­trict spokesman Michael Pass­man in a state­ment in late January.
Oth­er cities that have passed high­er min­i­mum wage laws, like San Fran­cis­co and Seat­tle, have had much greater suc­cess with more rig­or­ous enforcement.
Ald. Car­los Ramirez-Rosa (35th Ward) agreed that Chica­go needs to con­sid­er ramp­ing up its over­sight of the law. He recalled inter­ven­ing last year to resolve a wage dis­pute in his ward between the own­er of an Albany Park ware­house and a work­er, who was undocumented.
"I'm hap­py to use that lever­age," Ramirez-Rosa said. ​"But ulti­mate­ly we need to make sure there are bet­ter enforce­ment oppor­tu­ni­ties. It's extreme­ly impor­tant that the City of Chica­go put teeth behind its exist­ing ordi­nances. And if what we're doing is inad­e­quate, we need to get seri­ous about hav­ing the right resources and enforce­ment mech­a­nisms in place."
For Jack­son, who con­tin­ues to look for high­er-pay­ing work and depends on food stamps and a pub­lic hous­ing sub­sidy to sup­port her four chil­dren, even a small pay increase is significant.
"It will help out a lot. That 50 cents does add up," she said. ​"Maybe it'll be an extra bill that you don't have to wor­ry about, extra things I can now get for my kids."
How Chica­go raised pay — for some workers
In the months lead­ing up to his re-elec­tion cam­paign in 2014, May­or Rahm Emanuel formed a task force to look at rais­ing the city's min­i­mum wage. Com­mu­ni­ty groups, includ­ing those involved in the nation­al Fight for $15 fast food work­ers' wage cam­paign, lob­bied for $15 an hour. Busi­ness groups pushed back, warn­ing that small busi­ness­es would close down or cut workers.
While cities such as Seat­tle, San Fran­cis­co and Los Ange­les adopt­ed a $15 min­i­mum, Chica­go City Coun­cil approved a $13 min­i­mum in Decem­ber 2014. The task force acknowl­edged that $13 fell far short of a liv­ing wage, giv­en the city's high hous­ing costs. (The Liv­ing Wage Cal­cu­la­tor, a project devel­oped by the Mass­a­chu­setts Insti­tute of Tech­nol­o­gy, sets the amount at $24.91 per hour for a sin­gle adult with one child in Cook County.)
Still, Emanuel tout­ed the increase as a way to lift work­ing fam­i­lies out of pover­ty, and sup­port­ers viewed it as just a first step. ​"It's a big part of the puz­zle for peo­ple to be upward­ly mobile, to start get­ting paid fair­ly and have a bet­ter way to make ends meet," said John Bouman, pres­i­dent of the Chica­go-based Sar­gent Shriv­er Nation­al Cen­ter on Pover­ty Law, who co-chaired the task force. (Since Chicago's ordi­nance, Cook Coun­ty passed a $13 min­i­mum wage in 2016. State leg­is­la­tors are con­sid­er­ing a pro­pos­al to raise the Illi­nois min­i­mum to $11 an hour.)
City offi­cials esti­mate that more than 270,000 low-wage work­ers have ben­e­fit­ed from the increase. Yet the Reporter's analy­sis found that more than 20,000 work­ers are exempt, in part because the ordi­nance incor­po­rat­ed a num­ber of excep­tions in state law. The list of exemp­tions includes cer­tain younger work­ers, such as those in the city's One Sum­mer Chica­go pro­gram, oth­er teens under 18, and stu­dent work­ers at pub­lic col­leges and uni­ver­si­ties; dis­abled work­ers; work­ers in tran­si­tion­al employ­ment pro­grams, such as those for the home­less and for­mer-inmates; new employ­ees in their first 90 days on the job; work­ers for cer­tain small busi­ness­es and oth­er groups.
Bouman called that a ​"tac­ti­cal deci­sion" to avoid a big­ger bat­tle over the ordi­nance itself. Nei­ther the city nor the task force came up with its own esti­mates of exempt work­ers. ​"The idea was it was going to be hard enough to get a sub­stan­tial increase in the min­i­mum wage, that it would frac­ture and get more and more com­pli­cat­ed the more of the exemp­tions and sub-pro­vi­sions were includ­ed in the debate," Bouman said.
Yet advo­cates for sev­er­al groups called on the city to use the ordi­nance as a chance to lev­el the play­ing field for all workers.
The exemp­tions make it ​"more dif­fi­cult for peo­ple with dis­abil­i­ties to con­tribute to the work­force and live inde­pen­dent­ly," said Gary Arnold, spokesman for Access Liv­ing, a dis­abil­i­ty rights group.
Oth­er groups, includ­ing those that help place youth in the One Sum­mer Chica­go pro­gram, were sur­prised to learn of the exemp­tions after the ordi­nance took effect.
"They should be get­ting paid the min­i­mum, espe­cial­ly those youth who were placed in busi­ness­es where there are oth­er employ­ees get­ting the min­i­mum wage," said Juli­et de Jesus Ale­jan­dre, youth pro­gram direc­tor for the Logan Square Neigh­bor­hood Asso­ci­a­tion. ​"It was a dis­pro­por­tion­ate num­ber of young peo­ple of col­or, who applied to many dif­fer­ent places and this oppor­tu­ni­ty was the only one that called them back."
Ale­jan­dre sees this as an issue of equi­ty, as white youth from high­er-income fam­i­lies tend to have more con­nec­tions and job oppor­tu­ni­ties in their neigh­bor­hoods. In fact, she recalled that one of the few white par­tic­i­pants in the pro­gram last sum­mer ulti­mate­ly turned down a slot after her moth­er helped her find a high­er-pay­ing intern­ship elsewhere.
Once the ordi­nance passed, the may­or formed a Work­ing Fam­i­lies Task Force to ana­lyze oth­er issues, includ­ing sick leave poli­cies and work­er sched­ul­ing prac­tices. That group heard from fast food work­ers whose hours were cut as their hourly pay rose. They were work­ers like Aiesha Mead­ows McLau­rin, who works at three Burg­er King restau­rants to make ends meet. ​"They cut back on a lot of our work­ers' hours," she said. ​"Now I'm run­ning between three jobs and still rely­ing on pub­lic assistance."
The city's 2016 ordi­nance man­dat­ing paid sick leave for work­ers was rec­om­mend­ed by the Work­ing Fam­i­lies group. But the task force decid­ed to table rec­om­men­da­tions to improve sched­ul­ing, cit­ing the need for more study.
"You can get a huge increase in your hourly rate, but what hap­pens if the hours you work get cut?" said Robert Bruno, direc­tor of the labor edu­ca­tion pro­gram at the Uni­ver­si­ty of Illi­nois at Urbana-Cham­paign and a task force mem­ber. ​"The hon­est answer is nobody knows what the impact of the high­er min­i­mum wage has been. Nobody has done a good, sta­tis­ti­cal­ly com­pre­hen­sive assessment."
The university's Project for Mid­dle Class Renew­al will ana­lyze the impact of the high­er wage on work­ing hours, sched­ul­ing and earn­ings as part of a larg­er study on low-wage work.
Chica­go enforce­ment spotty
As more cities enact mea­sures to raise the local min­i­mum wage or guar­an­tee sick pay, some have cre­at­ed spe­cial­ized depart­ments to police the new labor laws. Chica­go has not. Instead, the city dumped over­sight of three labor ordi­nances — min­i­mum wage, paid sick leave and a 2014 mea­sure that guards against wage theft — onto the Depart­ment of Busi­ness Affairs and Con­sumer Pro­tec­tion with­out hir­ing addi­tion­al employees.
"The scope of this depart­ment has changed and expand­ed, and yet the resourc­ing and sup­ports and restruc­tur­ing of that agency that will be nec­es­sary has not hap­pened," said Adam Kad­er, who directs the work­er cen­ter at the non­prof­it Arise Chica­go. Wary of the city department's capac­i­ty, labor activists like Kad­er often encour­age aggriev­ed work­ers to con­sid­er nego­ti­at­ing with employ­ers or tak­ing oth­er action to resolve pay issues, or even to file law­suits in par­tic­u­lar­ly egre­gious cases.
The depart­ment declined to pro­vide copies of the min­i­mum wage com­plaints or files from its inves­ti­ga­tions, or to allow the Reporter to inspect the doc­u­ments, which would pro­vide more details and iden­ti­fy the busi­ness­es involved. The depart­ment claimed this would be ​"undu­ly bur­den­some" and that all files are kept on paper, scat­tered across dif­fer­ent departments.
But data obtained by the Reporter through a Free­dom of Infor­ma­tion Act request show that the depart­ment received 454 com­plaints from July 2015 (when the ordi­nance took effect) to Decem­ber 2016. So far, only 112 com­plaints, or about 1 in 4, have led to inves­ti­ga­tions, most­ly because work­ers don't sub­mit the required affidavits.
Yet the department's pro­ce­dures appear to dis­cour­age work­ers from doing so. The depart­ment sends employ­ers a copy of the affi­davit, which activists say cre­ates a fear of retal­i­a­tion among work­ers (espe­cial­ly undoc­u­ment­ed immi­grants). Oth­er cities, like San Fran­cis­co and Seat­tle, keep work­er affi­davits con­fi­den­tial and allow employ­ees to give infor­ma­tion over the phone with­out hav­ing to fill out the paperwork.
Depart­ment spokesper­son Angel Hawthorne said the city doesn't hes­i­tate to take action. ​"When we receive com­plaints we ful­ly inves­ti­gate them and take action when nec­es­sary," she said in a state­ment. ​"We have recov­ered tens of thou­sands of dol­lars in wages owed to work­ers and stand ready to shut down any busi­ness found to be vio­lat­ing wage theft laws."
City offi­cials told the Reporter that the depart­ment recov­ered wages for 51 work­ers. The total amount recov­ered: $82,000.
How­ev­er, the city has not issued a sin­gle fine to or revoked the license of any of the com­pa­nies found in vio­la­tion of the ordi­nance, which states that busi­ness­es ​"shall be" sub­ject to fines of $500 to $1,000 per day.
Hawthorne said the department's goal dur­ing the ini­tial 18 months was to ​"edu­cate Chica­go busi­ness­es and ensure prop­er com­pen­sa­tion for workers."
"Going for­ward the depart­ment will take a stronger approach and issue Admin­is­tra­tive Notices of Vio­la­tions to employ­ers who fail to fol­low the law," Hawthorne said. ​"This may result in fines imposed by the admin­is­tra­tive court."
What oth­er cities do
San Fran­cis­co, Seat­tle, New York City and Wash­ing­ton, D.C., are among those cities that cre­at­ed sep­a­rate depart­ments to enforce local labor laws. Their depart­ments also con­duct com­mu­ni­ty out­reach to edu­cate work­ers and busi­ness own­ers about the rules.
There are major dif­fer­ences in approach to enforce­ment in Chica­go when com­pared to cities like Seat­tle and San Fran­cis­co. Inves­ti­ga­tors there auto­mat­i­cal­ly assume that reports from indi­vid­ual work­ers are the result of a sys­temic prob­lem, so inves­ti­ga­tions are com­pa­ny-wide. The premise is that if a com­pa­ny is cheat­ing one work­er, co-work­ers are prob­a­bly being cheat­ed too.
"In most cas­es, it's like­ly to be that the vio­la­tion is across the board," said Dylan Orr, who directs Seattle's Office of Labor Standards.
Seat­tle is one-fourth the size of Chica­go but has an inde­pen­dent, 12-per­son office that enforces near­ly a half-dozen local labor stan­dards. Seattle's civ­il rights depart­ment ini­tial­ly han­dled the work, until city offi­cials and com­mu­ni­ty groups agreed that labor issues demand­ed a spe­cial­ized work­force. The depart­ment is dou­bling in size this year to about 24.
"Peo­ple rec­og­nized that there was a lot of work out there for us to do," Orr said. ​"We were drown­ing in inves­ti­ga­tions. Cas­es were tak­ing a lot longer to con­clude than we want­ed. And we want­ed to be as effec­tive on the enforce­ment piece as possible."
Inves­ti­ga­tions by the Seat­tle office include a review of the employer's com­plete pay­roll, not just records relat­ed to one worker's case as in Chica­go. That pro­tects the con­fi­den­tial­i­ty of the work­er who filed the com­plaint and reduces fear of retal­i­a­tion. Inves­ti­ga­tors have sub­poe­na pow­er and can ask to see pay­roll records and inter­view work­ers on site.
Seat­tle has had sig­nif­i­cant results since tak­ing steps to imple­ment a $15 min­i­mum wage in April 2015. As of Decem­ber 2016, Seattle's labor depart­ment had opened 132 inves­ti­ga­tions; 37 led to set­tle­ments and pay­ment of back wages. Because mul­ti­ple work­ers were affect­ed in almost every case, the depart­ment recouped near­ly $400,000 for 683 work­ers. That's more than 13 times as many work­ers helped in Chicago.
The office impos­es penal­ties on egre­gious vio­la­tors who refuse to set­tle up quick­ly, works in part­ner­ship with oth­er city depart­ments to pull busi­ness licens­es and even brings city attor­neys on board to file suit in court on behalf of workers.
But the vast major­i­ty of employ­ers — about 90 per­cent — pay up before the process gets to that extreme. ​"We've only sent a hand­ful to busi­ness­es through the license revo­ca­tion process," Orr says. ​"So far the threat has been enough."