A Tale of Two Jobs Forums: Rahm Emanuel and Unions Take Contrasting Approaches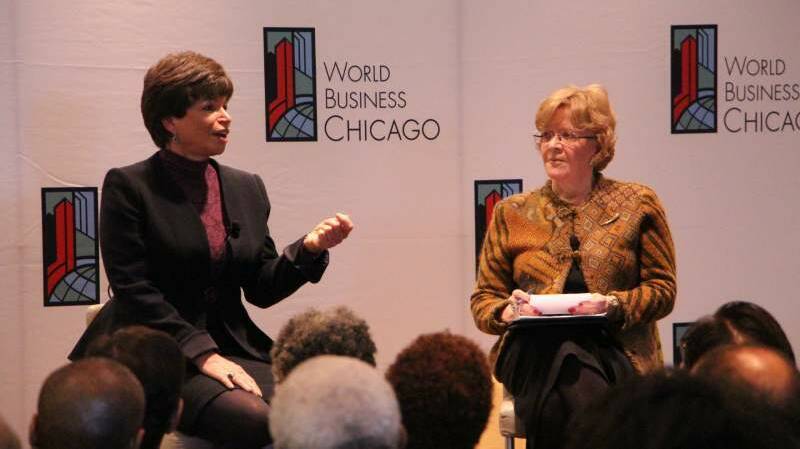 Many Demo­c­ra­t­ic pol­i­cy­mak­ers will read­i­ly agree with low-wage work­er orga­niz­ers on some fun­da­men­tal issues about the state of the econ­o­my: Too many peo­ple are unem­ployed or under­em­ployed, African Amer­i­cans and immi­grants are dis­pro­por­tion­ate­ly affect­ed and fac­tors like the mass incar­cer­a­tion of Black men make the prob­lem worse.
But the fix­es the two groups pro­mote don't nec­es­sar­i­ly look alike. On Mon­day morn­ing, senior pres­i­den­tial aide Valerie Jar­rett and Chica­go May­or Rahm Emanuel talked jobs to a room full of Chicago's civic and busi­ness lead­ers, empha­siz­ing the impor­tance of job-train­ing in bol­ster­ing the city's eco­nom­ic growth and tout­ing sev­er­al high-tech ini­tia­tives intend­ed to bring jobs to Chicago.
Some 33 hours lat­er and a mile south down Michi­gan Avenue, a host of Chicago's top labor and immi­grant orga­niz­ers gath­ered for a forum, orga­nized by Com­mu­ni­ty Media Work­shop, to show­case the vibrant range of pol­i­cy and orga­niz­ing work being done by restau­rant, home­care, car wash and oth­er ser­vice work­ers and their advocates.
The fact is, no mat­ter how many peo­ple are trained to obtain well-pay­ing advanced man­u­fac­tur­ing or high tech jobs, some­one still has to do the work of flip­ping burg­ers, car­ing for the elder­ly or unload­ing pal­lets in a ware­house. So labor orga­niz­ers believe that more atten­tion must be paid to enshrin­ing and pro­tect­ing the rights of work­ers in the ser­vice jobs that can't be out­sourced and will con­tin­ue to make up the base of our economy.
In his typ­i­cal­ly brief remarks at the ​"Strong Cities, Strong Nation" event, which was spon­sored by World Busi­ness Chica­go, May­or Emanuel tout­ed the cre­ation of jobs in Chica­go through high-tech ini­tia­tives, includ­ing the city's plan to insti­tute wide­spread high speed broad­band and the teach­ing of com­put­er cod­ing in pub­lic schools. Emanuel pledged to ​"move our city for­ward," and ​"make sure every indi­vid­ual can par­tic­i­pate" in the city's new economy.
Jar­rett, mean­while, stressed the need for job train­ing, prepar­ing peo­ple for advanced man­u­fac­tur­ing and oth­er skilled jobs and point­ing out that many com­pa­nies offer­ing good jobs have trou­ble find­ing trained peo­ple to fill them.
​"You need a work­force that's skilled — pro­grams begin­ning with ear­ly child­hood edu­ca­tion, and work­ing with our col­leges to make sure they're train­ing peo­ple for jobs of future," she told the audi­ence. ​"Through­out his­to­ry we've always had this burst of inno­va­tion that leads to greater effi­cien­cy, and then you have to retool… We have to work very close­ly with the pri­vate sec­tor to realign all of our edu­ca­tion­al tools to the demands of the marketplace."
Jar­rett laud­ed the role of Chicago's City Col­leges and com­mu­ni­ty col­leges in prepar­ing peo­ple for today's labor mar­ket. And she also stressed the impor­tance of address­ing the high incar­cer­a­tion rates of Black men — rates which trans­late to life­long strug­gles to make a liv­ing. She called for pro­grams and reforms to help for­mer­ly incar­cer­at­ed peo­ple find work.
The grass­roots orga­niz­ers talk­ing to a small­er and less well-dressed crowd of jour­nal­ists and activists at Com­mu­ni­ty Media Workshop's event at Colum­bia Col­lege like­ly also believe that job train­ing is cru­cial to help­ing peo­ple move out of pover­ty and achieve their goals.
But their pre­sen­ta­tion dealt with even more imme­di­ate and prag­mat­ic strug­gles: The fact that peo­ple who fill a wide range of cru­cial jobs — includ­ing restau­rant, retail and home­care work­ers — labor long hours but remain impov­er­ished, earn­ing min­i­mum wage or less in dan­ger­ous and gru­el­ing con­di­tions. The errat­ic and long hours typ­i­cal in such jobs mean that work­ers have trou­ble get­ting job train­ing or more edu­ca­tion even if it is available.
For exam­ple, the Fight for 15 cam­paign high­light­ed the sit­u­a­tion of a woman work­ing two dif­fer­ent fast-food jobs, with con­stant­ly chang­ing work sched­ules that make it almost impos­si­ble for her to suc­ceed in school. And Leah Fried of Ware­house Work­ers for Jus­tice described how work­ers in a Wal-Mart ware­house in Ham­mond, Ind. have been work­ing with­out heat; one man got frost­bite and near­ly lost two toes.
​"Last week we won a huge vic­to­ry — they installed three tor­pe­do heaters," said Fried. ​"Now they just need to fix the dock doors so the heat doesn't just fly out."
A work­er with the Restau­rant Oppor­tu­ni­ty Cen­ter not­ed how restau­rant employ­ees in Illi­nois earn the ​"tipped min­i­mum wage" of less than $5 an hour, with­out paid sick days or oth­er pro­tec­tions. Jorge Muji­ca from Arise Chica­go described sys­tem­at­ic wage theft where­in undoc­u­ment­ed immi­grants and oth­er Chicagoans are short­ed more than a mil­lion dol­lars a day as employ­ers large and small skirt and flout labor laws.
​"There are a thou­sand ways you can steal wages," said Muji­ca. ​"Why do they do it? Because they can get away with it. If I can make an extra buck out of a work­er every hour, I will do it. It's that sim­ple. The Depart­ment of Labor in Illi­nois only has sev­en work­place inspec­tors. And they receive on aver­age 125 claims a week for stolen wages."
Chica­go labor groups advo­cate rais­ing the state min­i­mum wage, an issue that's entered the ongo­ing guber­na­to­r­i­al cam­paign. But Muji­ca and oth­er lead­ers point out that employ­ers reg­u­lar­ly get away with­out pay­ing even the exist­ing min­i­mum wage. For exam­ple, ware­house work­ers are often paid ​"piece meal" for the num­ber of box­es they unload, often adding up to less than min­i­mum wage. Like­wise for domes­tic work­ers who may labor 16 hours or more a day for wages equiv­a­lent to $4 an hour or less.
Job train­ing of the type that Jar­rett advo­cat­ed could open up new oppor­tu­ni­ties and bet­ter stan­dards of liv­ing for scores of Amer­i­cans, and the crim­i­nal jus­tice sys­tem reforms she pro­mot­ed could improve the employ­ment prospects for many Black men. But the ware­house or oth­er low-pay­ing jobs that those men might oth­er­wise have been con­signed to will still be filled by some­one else — be it an undoc­u­ment­ed immi­grant or anoth­er mar­gin­al­ized American.
Thus, no mat­ter how many high-tech, flashy jobs are cre­at­ed in Chica­go, work­ers will still have to strug­gle to ensure that the ser­vice indus­try pro­vides liv­ing-wage and dig­ni­fied work. As the orga­niz­ers at the Com­mu­ni­ty Media Work­shop event explained, this strug­gle involves mul­ti­ple fronts and tac­tics, from enforc­ing exist­ing laws to pass­ing new laws to pres­sur­ing busi­ness­es to treat work­ers bet­ter and encour­ag­ing work­ers to orga­nize and stand up for their rights.
​"It's about cre­at­ing a pub­lic prob­lem for all of them, to shame all of them," Muji­ca said. ​"To cre­ate such a big sound that they have to listen."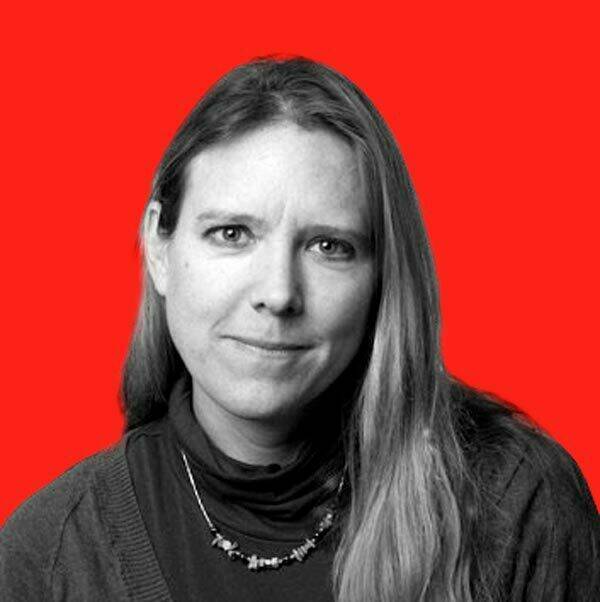 Kari Lyder­sen
is a Chica­go-based reporter, author and jour­nal­ism instruc­tor, lead­ing the Social Jus­tice
&
amp; Inves­tiga­tive spe­cial­iza­tion in the grad­u­ate pro­gram at North­west­ern Uni­ver­si­ty. She is the author of May­or
1
%: Rahm Emanuel and the Rise of Chicago's
99
%.