Both Chicago Mayoral Candidates Claim to Be Progressive. Here's a Close Look Into Their Records.
Lori Lightfoot and Toni Preckwinkle have each run under the "progressive" mantle. Yet their records—and conversations with movement organizers—tell a more complicated story.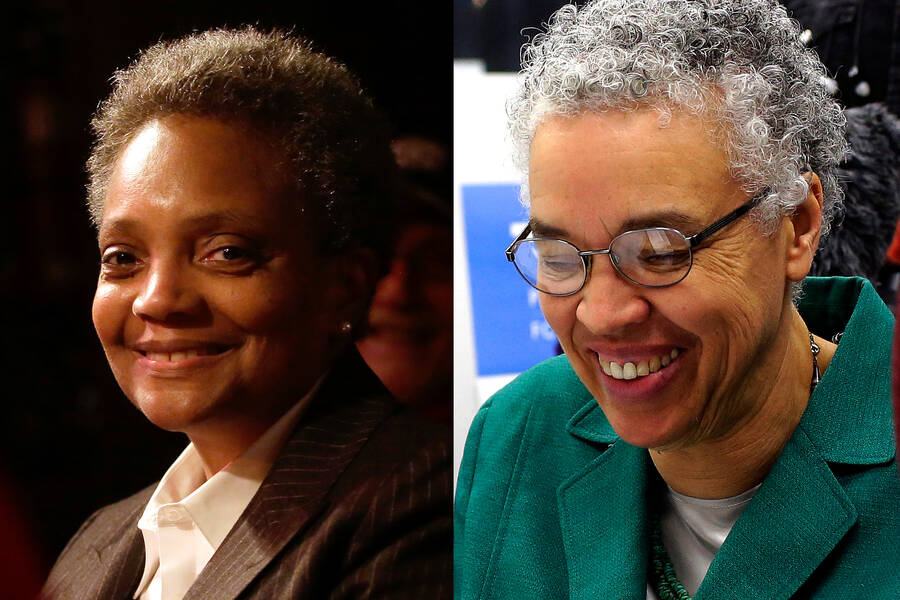 Chica­go is bar­rel­ing into the April 2 may­oral runoff elec­tion, pit­ting for­mer pros­e­cu­tor Lori Light­foot against sea­soned politi­cian Toni Preck­win­kle. Both can­di­dates are cau­tious­ly respond­ing to heat from com­mu­ni­ty orga­niz­ers in a race to win the pro­gres­sive crown. Regard­less of the out­come, Chica­go — the nation's third largest city — will replace Rahm Emanuel with the first Black woman serv­ing as mayor.
To a political outsider, Lightfoot and Preckwinkle's positions may sound nearly identical. But to community organizers with ears to the ground, the candidates' track records say otherwise.
Both may­oral hope­fuls trum­pet what they call pro­gres­sive agen­das, promis­ing sweep­ing crim­i­nal jus­tice reform, equi­table edu­ca­tion and afford­able hous­ing for all Chicagoans. To a polit­i­cal out­sider, Light­foot and Preckwinkle's posi­tions may sound near­ly iden­ti­cal. But to com­mu­ni­ty orga­niz­ers with ears to the ground, the can­di­dates' track records say oth­er­wise. The tight race requires look­ing deeply into their back­grounds for a more accu­rate picture.
As Democ­rats across the coun­try lurch left in order to ben­e­fit from grass­roots pro­gres­sive ener­gy, many have leapt onto issues once con­sid­ered polit­i­cal­ly taboo — abol­ish­ing ICE, tack­ling cli­mate chaos or sup­port­ing uni­ver­sal healthcare.
This nation­al shift left has been mir­rored in Chica­go, where can­di­dates from the city coun­cil to the may­oral lev­el have embraced pro­gres­sive priorities.
"I'm glad that we're at a time in Chica­go when the can­di­dates are fight­ing to get the pro­gres­sive vote," says Tania Unzue­ta, legal and pol­i­cy direc­tor at Mijente, a nation­al Lat­inx orga­ni­za­tion fight­ing to pro­tect immigrants.
But as pro­gres­sive val­ues swim into the main­stream, Can­dis Castil­lo, orga­niz­ing direc­tor at Unit­ed Work­ing Fam­i­lies, says win­ning the pro­gres­sive vote requires more than just lip ser­vice. ​"It's fash­ion­able to be con­sid­ered quote, unquote pro­gres­sive," she says. ​"You can call your­self pro­gres­sive all day, but where is your work?"
The machine
Cur­rent May­or Rahm Emanuel's lega­cy will for­ev­er be stained by the alleged cov­er-up of a video show­ing 17-year-old Black teenag­er Laquan McDonald's mur­der at the hands of white Chica­go Police Depart­ment (CPD) offi­cer Jason Van Dyke. On Sept. 4, 2018, just weeks before a jury found Van Dyke guilty of sec­ond-degree mur­der, Emanuel announced he would not to run for a third term as Chica­go mayor.
Preck­win­kle, 72, jumped into the may­oral race soon after. She has served as pres­i­dent of the Cook Coun­ty Board — which cov­ers Chica­go — since 2010, and before that as a city alder­man rep­re­sent­ing the 4th Ward on the city's South Side for 19 years. But Preckwinkle's long polit­i­cal his­to­ry has large­ly served as a lia­bil­i­ty dur­ing the campaign.
Crit­ics like Dick Simp­son, for­mer Chica­go alder­man and pro­fes­sor of polit­i­cal sci­ence at the Uni­ver­si­ty of Illi­nois at Chica­go (UIC), say that despite Preck­win­kle begin­ning her career as a self-declared inde­pen­dent pro­gres­sive, she is far too entan­gled with the infa­mous ​"Demo­c­ra­t­ic machine."
This same machine helped allow the longest-serv­ing alder­man of 50 years, Edward Burke of the 14th Ward, to get re-elect­ed despite fac­ing an ongo­ing FBI inves­ti­ga­tion. Burke has been tied to Preck­win­kle through­out the cam­paign due to their polit­i­cal relationship.
She also must over­come back­lash for defend­ing for­mer Cook Coun­ty Demo­c­ra­t­ic Chair­man Joe Berrios, who was found respon­si­ble for dis­crim­i­na­to­ry prop­er­ty tax assess­ments dur­ing his time in office.
Bryce Fields, an orga­niz­er with One People's Cam­paign, sup­ports Preck­win­kle. One rea­son, Fields explains, is that they see Preck­win­kle as hav­ing a proven his­to­ry of being open to work­ing with and for com­mu­ni­ty orga­ni­za­tions and the peo­ple they rep­re­sent. ​"In deter­min­ing what is pro­gres­sive means that your track record mat­ters a lot," Fields says. "[It's] not just what you say and what you promise, but what you have done."
Light­foot, 56, a for­mer fed­er­al pros­e­cu­tor for the North­ern Dis­trict of Illi­nois and part­ner at the cor­po­rate law firm May­er Brown, is seen by many of her sup­port­ers, includ­ing Simp­son, as a dis­rup­tor — and just what City Hall needs. Yet she too is no polit­i­cal novice and has her own con­nec­tions to the machine, though they don't run as deep as Preckwinkle's.
In 2002, she was appoint­ed by for­mer May­or Richard M. Daley as the chief admin­is­tra­tor of the CPD's Office of Pro­fes­sion­al Stan­dards. And again in 2015 she was appoint­ed, this time by May­or Emanuel, to head the Police Account­abil­i­ty Task Force. Her record in these roles has also been the cause of much scrutiny.
Crim­i­nal jus­tice and policing
Preck­win­kle sup­port­ers are quick to point out her suc­cess­es in reform­ing a puni­tive crim­i­nal jus­tice sys­tem. She led impact­ful bond reform, allow­ing defen­dants to secure release on recog­ni­zance before tri­al. While she was board pres­i­dent, the Cook Coun­ty Jail pop­u­la­tion fell below 6,000 for the first time in decades. The noto­ri­ous Cook Coun­ty Jail, which Preck­win­kle holds sway over in her posi­tion as board pres­i­dent, is one of the largest jails in the coun­try. A vast major­i­ty of peo­ple incar­cer­at­ed face charges for low-lev­el, non-vio­lent crimes, but sit locked up wait­ing for a day in court sim­ply because they can­not afford bond. She also fought to raise the age chil­dren would be trans­ferred to adult jails from 17 to 18 years old.
As for her plans for office, Preck­win­kle pledges to pump fund­ing into an Office of Crim­i­nal Jus­tice, sup­port a civil­ian over­sight sys­tem for the police depart­ment to increase demo­c­ra­t­ic account­abil­i­ty and advance the city's con­sent decree (a court order mon­i­tored by a fed­er­al judge that requires the city to address CPD's sys­temic pat­tern of abuse).
Preck­win­kle also was a sup­port­er of elim­i­nat­ing Cook County's gang data­base, a sys­tem replete with errors. As of July 2018, it list­ed 25,000 names of over­whelm­ing­ly Black and Lat­inx indi­vid­u­als sus­pect­ed of gang involve­ment, accord­ing to data obtained by ProP­ub­li­ca. Law enforce­ment could turn undoc­u­ment­ed sus­pects on the list over to ICE due to excep­tions out­lined in Chicago's wel­com­ing city ordi­nance. In Jan­u­ary, the county's data­base was offi­cial­ly terminated.
And when it comes to the city's gang data­base, which has attract­ed fierce crit­i­cism for being over-inclu­sive and dis­crim­i­na­to­ry, Preck­win­kle unequiv­o­cal­ly calls for its elim­i­na­tion. Light­foot, for her part, says she will ​"over­haul" or have CPD insti­tute a ​"replace­ment data­base."
In 2017, Wilmer Cata­lan-Ramirez endured a vio­lent arrest by ICE agents. With his name show­ing up on the gang data­base, he was placed in deten­tion for 10 months. But, fol­low­ing out­cry, the city ulti­mate­ly set­tled the case, remov­ing his name from the list.
"If not for that data­base that the police have, I don't think Wilbur would have spent that time in the deten­tion cen­ter," says Rosi Car­ras­co, a Chica­go res­i­dent of 25 years and com­mu­ni­ty orga­niz­er with Orga­nized Com­mu­ni­ties Against Depor­ta­tions (OCAD). Strength­en­ing the wel­com­ing city ordi­nance and elim­i­nat­ing the gang data­base are both imper­a­tive if the next may­or is going to pro­tect immi­grant com­mu­ni­ties, she says.
At a packed forum at Mal­colm X Col­lege on March 19, Preck­win­kle leaned for­ward when answer­ing how she would address pub­lic safety.
"If we're real­ly going to address issues of vio­lence, we have to address the chal­lenges that com­mu­ni­ties suf­fer­ing from the most vio­lence face," Preck­win­kle said. ​"These are com­mu­ni­ties that have the high­est lev­els of unem­ploy­ment, the low­est lev­els of edu­ca­tion­al attain­ment, and they have under-resourced schools. They are often food deserts. We have to look at com­mu­ni­ty needs."
Light­foot says she is also com­mit­ted to crim­i­nal jus­tice and immi­gra­tion reforms, and cites her suc­cess dur­ing her time as co-chair of the Police Account­abil­i­ty Task Force.
At the March 13 forum, Light­foot out­lined her intent to reform police and the prison sys­tem while also increas­ing pub­lic safe­ty. ​"We need to do more, frankly, than send our offi­cers to the DuS­able Muse­um [of African-Amer­i­can His­to­ry]. We have to deal with the prac­ti­cal prob­lem of race and polic­ing," Light­foot said.
But some activists, espe­cial­ly those seek­ing to abol­ish police and pris­ons, con­sid­er her for­mer posi­tion as a fed­er­al pros­e­cu­tor as a red flag.
"When you're a ham­mer, every­thing looks like a nail," says Janaé Bon­su, co-direc­tor of Black Youth Project 100, refer­ring to Lightfoot's his­to­ry rep­re­sent­ing police offi­cers in court.
Bon­su is con­cerned with Lightfoot's faith in cur­rent crim­i­nal jus­tice and polic­ing sys­tems. The city already spends over a third of its bud­get on police and racial jus­tice orga­niz­ers are tired of com­mu­ni­ties of col­or being over-crim­i­nal­ized. Bon­su wants a can­di­date who will invest in schools, afford­able hous­ing, gro­cery stores, after-school pro­grams and men­tal health ser­vices to address pub­lic safe­ty concerns.
Oth­ers are also weary that Lightfoot's pros­e­cu­to­r­i­al back­ground will make her too cozy with the CPD. ​"It makes sense that some­one who was a pros­e­cu­tor believes that pros­e­cut­ing peo­ple is one of the ways in which we resolve prob­lems," Unzue­ta says.
While work­ing in CPD's Office of Pro­fes­sion­al Stan­dards under May­or Daley, Light­foot sus­tained (or found in vio­la­tion of pol­i­cy) very few com­plaints of abuse between her time lead­ing OPS between 2002 and 2004, accord­ing to the Cit­i­zens Police Data Project. And many of her crit­ics have spo­ken out against her deci­sion to declare the shoot­ing of 17-year-old Robert Wash­ing­ton in 2000 by police offi­cer Phyl­lis Clinkscales justified.
In a recent inter­view with ABC7 News, Light­foot respond­ed to crit­i­cism by stat­ing, ​"The super­in­ten­dent reject­ed the find­ing that it was an unjus­ti­fied shoot­ing, so by the time this case got back to me, there was very lit­tle I could do." Rather than fac­ing charges, Clinkscales instead received a 30-day suspension.
Light­foot lat­er tran­si­tioned to head of the Police Account­abil­i­ty Task Force which was launched to ease ten­sion between com­mu­ni­ty and CPD in the wake of McDonald's mur­der. The task force aimed to pro­vide inde­pen­dent over­sight of police misconduct.
In 2016, com­mu­ni­ty activists and fam­i­ly mem­bers attend­ed a police board meet­ing to demand the fir­ing of Dante Servin, a Chica­go detec­tive acquit­ted of invol­un­tary manslaugh­ter charges after killing 22-year-old Rekia Boyd while off duty.
At a 2016 police board meet­ing, Boyd's broth­er Mar­tinez Sut­ton offered an emo­tion­al plea. When he went over the allot­ted two-minute time lim­it, he was escort­ed from the room by secu­ri­ty. Lightfoot's response to the series of events is for­ev­er imprint­ed in Bonsu's mem­o­ry. ​"Instead of respond­ing with empa­thy and under­stand­ing, I saw Light­foot just be stone-face, sto­ic," she says. Servin resigned and con­tin­ues to receive a pen­sion, despite con­tin­ued calls from activists for jus­tice. ​"Peo­ple remem­ber that and have resent­ment around that," Bon­su says.
Still, Light­foot sup­port­ers say her lead­er­ship is key to any sus­tained police reform, cit­ing her claim that when she was the head of the police board, offi­cer fir­ings increased from 37 per­cent to 78 per­cent. Simp­son, who came out in sup­port of Light­foot ear­ly in the race, sees her promi­nent involve­ment in set­ting the stage for Chicago's con­sent decree—intend­ed to rein in the ram­pant abuse in CPD — as evi­dence of her fit­ness for office.
"The con­sent decree is what is legal­ly bind­ing for the city to car­ry out," Simp­son says. ​"Lori would no doubt car­ry out the con­sent decree."
Both Preck­win­kle and Light­foot have voiced oppo­si­tion to a $95 mil­lion police train­ing acad­e­my to be built on Chicago's West Side, approved this month by Emanuel and City Council.
This deci­sion came despite dogged protests by res­i­dents and orga­niz­ers from #NoCo­pAcad­e­my who con­tend the city moved for­ward with­out enough com­mu­ni­ty input. They argue that the fund­ing for the project should be fun­neled to oth­er vital resources such as edu­ca­tion and job training.
While Light­foot crit­i­cized the top-down roll­out of the acad­e­my dur­ing debates, Unzue­ta says her solu­tions to pub­lic safe­ty often involve invest­ing more resources in CPD. At the March 13 forum, Light­foot sug­gest­ed real­lo­cat­ing the $95 mil­lion to con­vert some of the 38 closed Chica­go schools into police acad­e­mies, a pro­pos­al that received imme­di­ate blow­back from many com­mu­ni­ty mem­bers direct­ly hit by the school clo­sures. She lat­er walked backed her state­ment say­ing she would not move for­ward with­out ​"inten­sive com­mu­ni­ty engage­ment." The edi­to­r­i­al staff at the Chica­go Tri­bune—which endorsed Light­foot — cham­pi­oned the pro­pos­al as ​"out of the box thinking."
But her com­ment has stayed on the mind of Castil­lo, a moth­er of an 8‑year-old son.
"I have a real prob­lem with using our closed schools for mini-police acad­e­mies in com­mu­ni­ties that are already over-policed instead of using that for the edu­ca­tion­al enrich­ment for our chil­dren," Castil­lo says. ​"The over-polic­ing of Black and Brown chil­dren, espe­cial­ly boys, has a lot to do with what is wrong in our com­mu­ni­ties, and what is wrong with the city of Chicago."
And despite wide­spread calls for equi­ty and jus­tice for the city's most mar­gin­al­ized res­i­dents, both can­di­dates do believe in the exist­ing crim­i­nal jus­tice sys­tem. Orga­niz­ers with BYP100 keep their eyes on a more seis­mic solu­tion: a city that, accord­ing to Bon­su, ​"no longer needs pris­ons, jails, deten­tion cen­ters or oth­er mech­a­nisms of surveillance."
Tax­es and pensions
On day one in office, the new may­or will have no choice but to con­front Chicago's swelling pen­sion lia­bil­i­ty, not to men­tion a city bud­get in the red.
For decades, the city failed to remit nec­es­sary pay­ments to pen­sion funds and racked up 28 bil­lion dol­lars in pen­sion debt, plac­ing the future lives of pub­lic ser­vice work­ers on the line. Both can­di­dates have made promis­es to pre­serve work­ers' pen­sions and reduce the city's debt, but have pro­vid­ed few specifics.
Amisha Patel is the exec­u­tive direc­tor of Grass­roots Col­lab­o­ra­tive and Grass­roots Illi­nois Action, orga­ni­za­tions fight­ing to win eco­nom­ic and racial jus­tice for Chicagoans. She's been dis­ap­point­ed with the lack of solu­tions pro­posed by both of the can­di­dates to man­age the city's unwieldy budget.
"I think both Preck­win­kle and Light­foot real­ly strug­gle here," Patel says. ​"Nei­ther have been able to artic­u­late a clear pro­gres­sive vision when it comes to eco­nom­ic poli­cies in the city of Chica­go." That inde­ci­sive­ness is cause for con­cern, she says. For decades, an ​"aus­ter­i­ty agen­da" has reigned king in the city and hit work­ing peo­ple, espe­cial­ly peo­ple of col­or, hard.
Emanuel rolled back tax­es for cor­po­ra­tions after tak­ing office with lit­tle regard for low-income com­mu­ni­ties, many activists say. And after his reelec­tion in 2015, Emanuel announced he would tack­le the pen­sion cri­sis by cut­ting ben­e­fits for work­ers and increas­ing prop­er­ty taxes.
Although the Illi­nois Supreme Court ruled cut­ting of ben­e­fits for work­ers uncon­sti­tu­tion­al, efforts are still under­way to either make a con­sti­tu­tion­al amend­ment or gar­ner tax­es from casi­nos and legal­ized mar­i­jua­na, as announced by Emanuel in Decem­ber 2018.
Preck­win­kle pledged to work with the state to cap­ture some rev­enue from gam­bling and mar­i­jua­na, pro­vide dis­count­ed buy­outs for some work­ers or insti­tute a grad­u­at­ed state income tax.
But Patel remains skep­ti­cal. ​"With Preck­win­kle, I think there's a bit of a mud­dy his­to­ry," she says.
Con­front­ed with Cook County's exor­bi­tant bud­get, Preck­win­kle has secured a rep­u­ta­tion as a prag­ma­tist. In 2015, she sup­port­ed pen­sion reform that would have raised the retire­ment age and whit­tled away at work­ers ben­e­fits mul­ti­ple times (the plan did not move for­ward). And though she ini­tial­ly cam­paigned in 2010 on not rais­ing the county's sales tax, in 2015 she attempt­ed to do just that. Preck­win­kle also pushed through a con­tro­ver­sial soda tax in 2016 that fueled furi­ous reac­tions, most­ly from retail­ers and trade inter­ests, to the point that the coun­ty repealed the law.
Light­foot says she aims to keep the promise of a pen­sion for work­ers, but also has sig­naled her intent to over­haul the pen­sion sys­tem for incom­ing work­ers start­ing in 2020. What that means exact­ly remains unclear.
Ulti­mate­ly, Patel says, the can­di­dates missed the oppor­tu­ni­ty to pro­pose cre­ative rev­enue-gen­er­at­ing solu­tions such as a grad­u­at­ed city income tax or a pub­lic bank. Patel also thinks the city needs to rein­state a cor­po­rate head tax so that cor­po­ra­tions stop receiv­ing tax breaks or hand­outs from pools of tax incre­ment financ­ing, or TIF, dollars.
"They know that there isn't an easy way for­ward," Patel says, ​"and they've been very care­ful to not talk about what they're going to do." In the end, she says, what mat­ters is hav­ing a can­di­date will­ing to sit down and lis­ten to orga­niz­ers on the ground who have solu­tions to the crises.
Cam­paign support
Although the Grass­roots Collaborative's Patel believes both can­di­dates are ​"deeply flawed," their posi­tions do diverge dra­mat­i­cal­ly, most notably when it comes to cam­paign con­tri­bu­tions, she says.
"Con­tri­bu­tions tell a pret­ty clear sto­ry and they are very dif­fer­ent sto­ries when it comes to Light­foot and Preck­win­kle," she says.
Preckwinkle's cam­paign has col­lect­ed dona­tions from major donors with sus­pect back­grounds — includ­ing through the afore­men­tioned Ald. Ed Burke — but the major­i­ty of her fund­ing has come from union sup­port, includ­ing from the open­ly left-wing Chica­go Teach­ers Union and SEIU Health­care Illi­nois & Indiana.
Patel is most con­cerned with the num­ber of cor­po­ra­tions and Emanuel-back­ers dol­ing out funds for Lightfoot's cam­paign, includ­ing Craig Duchos­sois, CEO of a $3 bil­lion com­pa­ny called Duchos­sois Group. She also received sup­port from John Can­ning, a pri­vate equi­ty investor who had pre­vi­ous­ly backed Rahm Emanuel as well as a num­ber of Repub­li­can politicians.
Patel is con­cerned that Light­foot will fail to chal­lenge cor­po­rate inter­ests, even when the inter­ests of work­ing peo­ple are at stake, because of the strings such dona­tions car­ry. Light­foot has also received scruti­ny for $40,000 in dona­tions accu­mu­lat­ed in a 501(c)(4) called Change Chica­go, which WBEZ referred to as a ​"dark mon­ey" group.
"It sends a pret­ty clear mes­sage about where busi­ness thinks they've got their best shot of main­tain­ing an agen­da that puts them at the cen­ter and the rest of us on the mar­gins," Patel adds.
Edu­ca­tion
Chica­go Pub­lic Schools have long suf­fered under shoe­string bud­gets and clo­sures. Over the course of just two decades, the city of Chica­go shut­tered or restruc­tured over 200 pub­lic schools.
"Essen­tial­ly we have cre­at­ed a two-tier pub­lic sys­tem," says activist and edu­ca­tor Jesse Mumm. ​"We have bou­tique schools that get lots of fund­ing and atten­tion, are very hard to get into and are increas­ing­ly for the elite and dis­pro­por­tion­ate­ly white fam­i­lies. And then we have neigh­bor­hood schools which spo­rad­i­cal­ly get atten­tion but are essen­tial­ly allowed to rot."
And it's not just pub­lic schools that have come under scruti­ny in recent years. In a span of three months, near­ly 700 char­ter school teach­ers went on strike as char­ter school net­works face height­ened scruti­ny from orga­nized labor over the treat­ment of teach­ers and students.
Orga­niz­ers with CTU have grown hoarse in their calls for reduced class sizes, high­er teacher wages, more spe­cial edu­ca­tion resources and equi­table fis­cal reform with­in Chicago's char­ter school.
"Chicago's fam­i­lies have suf­fered for years under the Rahm/​Rauner/​Daley agen­da of pri­va­ti­za­tion, aus­ter­i­ty and pub­lic sub­si­dies for pri­vate cor­po­rate inter­ests at the expense of work­ing-class fam­i­lies and neigh­bor­hoods," says CTU's Pres­i­dent Jesse Sharkey in a state­ment.
Both Preck­win­kle and Light­foot have pledged to stop the accel­er­at­ed pri­va­ti­za­tion of schools, insti­tute a ful­ly elect­ed school board — rather than the cur­rent may­oral-appoint­ed one — and place a mora­to­ri­um on pub­lic school clo­sures. And in Jan­u­ary, Light­foot released a com­pre­hen­sive 15-point plan for fund­ing and pro­tect­ing pub­lic schools in Chicago.
But as an edu­ca­tor, Mumm remains skep­ti­cal of Light­foot. ​"She has lit­er­al­ly no expe­ri­ence what­so­ev­er deal­ing with the edu­ca­tion sys­tem," he says. ​"That's not sim­ply a mat­ter you can brush up on a cou­ple of weeks in advance."
And CTU says Lightfoot's donors alone are grounds for alarm. Donor John Can­ning, who also con­tributed to for­mer may­oral can­di­date Bill Daley, cham­pi­ons the edu­ca­tion vouch­er pro­gram and pri­va­ti­za­tion. Light­foot would be behold­en to these pri­vate inter­ests at the expense of fam­i­lies, CTU argues.
Before enter­ing elect­ed office, Preck­win­kle served as a teacher for a decade, a qual­i­fi­ca­tion that she's relied on in numer­ous debates. She also received the endorse­ment from the pow­er­ful CTU. But when she wore the hat of alder­man of the 4th Ward, she sup­port­ed the open­ing of char­ter schools under a plan to address under­per­form­ing pub­lic schools. She's defend­ed her deci­sion in an inter­view with Chalk­beat, not­ing that times were dif­fer­ent and it was the best choice she had to address dete­ri­o­rat­ing con­di­tions of pub­lic schools.
Heal­ing ties with Chicago's South and West Sides
Both may­oral can­di­dates' agen­das fall in sharp con­trast to those car­ried out dur­ing May­or Emanuel's tenure. ​"This is a new day for Chica­go," Castil­lo says. ​"Regard­less if it's Lori or Toni, nei­ther of them will have the rolodex of Rahm Emanuel or either of the [for­mer-May­or] Daleys."
UIC's Simp­son calls the elec­tion ​"a har­bin­ger of a new day in Amer­i­can politics."
Emanuel, first elect­ed may­or in 2011, leaves behind a trail of neglect as he pumped mil­lions of dol­lars into Chicago's glit­ter­ing down­town at the expense of poor and work­ing-class com­mu­ni­ties of col­or, many activists say. Pro­gres­sive voic­es across the city point to the city's South and West Sides for proof. Home to the major­i­ty of Chicago's Black and Lan­ti­nx res­i­dents, these neigh­bor­hoods have endured chron­ic dis­in­vest­ment from city gov­ern­ment and often live with high rates of unem­ploy­ment, pover­ty and violence.
Emanuel attempt­ed to rem­e­dy the city's debt by impos­ing aus­ter­i­ty mea­sures that many res­i­dents pil­lo­ried as cru­el — includ­ing the clos­ing of 50 pub­lic schools and half of the city's pub­lic men­tal health clin­ics. His admin­is­tra­tion rein­forced seg­re­gat­ed divi­sions chis­eled deep into Chicago's land­scape, activists say.
OCAD's Rosi Car­ras­co says the city's sys­tem­at­ic neglect of immi­grants and com­mu­ni­ties of col­or has had pro­found con­se­quences. ​"For 25 years, I have seen our neigh­bor­hoods become poor­er," Car­ras­co says. ​"The gov­ern­ment of the city is not pay­ing atten­tion." When Emanuel dis­closed he would not seek a third term, she says she felt hope that change would come.
Under Emanuel's watch, mur­ders in Chica­go jumped by 58 per­cent between 2015 and 2016, accord­ing to the Uni­ver­si­ty of Chica­go Crime Lab, with a sig­nif­i­cant pro­por­tion of homi­cides befalling com­mu­ni­ties of col­or chron­i­cal­ly starved of suf­fi­cient pub­lic ser­vices. And a tee­ter­ing pile of mis­con­duct com­plaints against the Chica­go Police Depart­ment (CPD) led the city to dish out tax­pay­er mon­ey to the tune of over $600 mil­lion for police mis­con­duct set­tle­ments and fees over the span of just 12 years.
Chicago's Black pop­u­la­tion declined by near­ly 25 per­cent between 2000 and 2017, with more expect­ed to leave in com­ing years, accord­ing to the Urban Insti­tute. Mumm blames City Hall for not prop­er­ly serv­ing Black res­i­dents. ​"I think it's also because these com­mu­ni­ties don't see them­selves hav­ing a seat at the table in city gov­ern­ment," he says. ​"They don't see a future for themselves."
The next may­or will have to suture these wounds and rebuild sev­ered ties with com­mu­ni­ties out­side downtown.
A ques­tion of accountability
"Nei­ther can­di­date is per­fect," BYP100's Bon­su says of Light­foot and Preck­win­kle. ​"Regard­less of who wins this elec­tion, they will still have to answer to and work with orga­niz­ers and peo­ple of the community."
It's one thing to promise an all-elect­ed school board or halt the build­ing of a police acad­e­my, as both can­di­dates have said they would sup­port, but it's anoth­er thing to actu­al­ly imple­ment pro­gres­sive promis­es, espe­cial­ly since every may­or must win major­i­ty sup­port of the city's alder­men too.
Orga­niz­ers often have their fin­gers on the pulse of a city's polit­i­cal cli­mate, and their posi­tions on the mayor's race expose the back­bone of pro­gres­sive pol­i­tics: No mat­ter how jus­tice-ori­ent­ed a plat­form, politi­cians must be held accountable.
"I'm excit­ed to say we are going to have our first Black female may­or in the city of Chica­go," says Christo­pher Cook of 100 Black Men, an orga­ni­za­tion men­tor­ing Black youth in Chica­go. ​"But when that's all said and done, what changes are they going to make? We can't real­ly pre­dict right now, but we can hold them accountable."