Chicago Workers Are Close to Winning a New Paid Sick Leave Law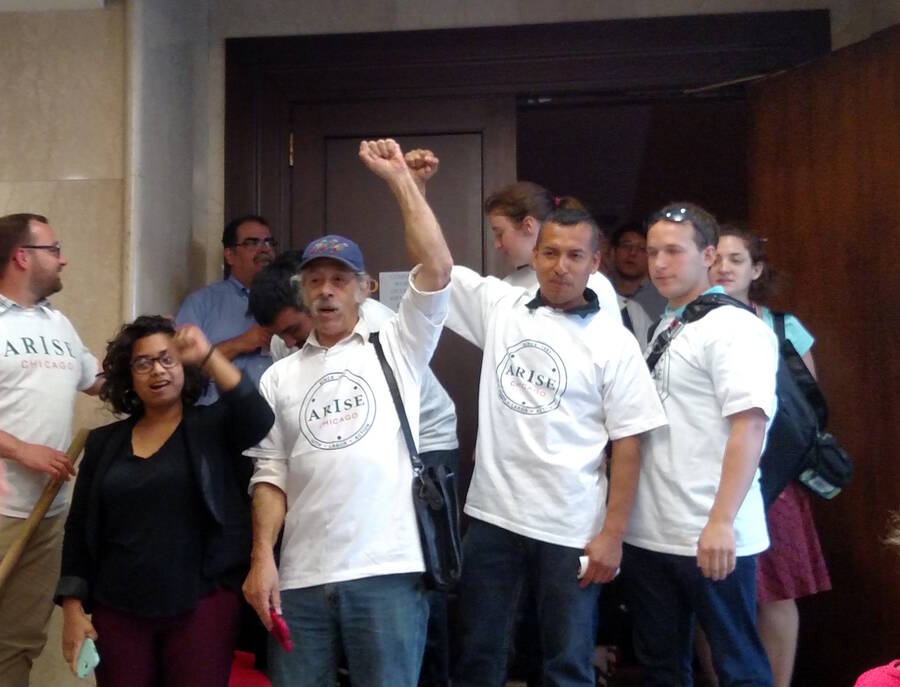 "I've been working maybe 15 years, and I've never had a paid sick day," says Chicago delivery driver Abraham Cabrera. When he has to miss work to take his asthmatic son to the emergency room, he says he doesn't get paid and fears that he could get fired.
Special ed teacher Kahphira Palmer similarly describes her past experience as a telemarketer: ​"You don't get sick time. If you have to take off, you have to make sure someone is covering your shift. If not, you get written up. If you get written up three times, you get fired, plain and simple."
Palmer says she once had to quit a part-time job because she needed to stay home for a week to take care of her sick husband, who also didn't have paid sick leave. ​"That was zero income for a whole week for the both of us. We went from a two-income family to a zero-income family because neither one of us had any earned sick days," she tells In These Times.
Both Palmer and Cabrera are members of Arise Chicago, a workers' rights organization campaigning for a proposed citywide ordinance that would give all employees the opportunity to earn up to five paid sick days per year. It was approved by the City Council's Committee on Workforce and Audit on Thursday after activists from Arise, Restaurant Opportunities Center of Chicago (ROC-Chicago), and allied groups filled the council chamber and testified before aldermen.
The ordinance now goes to a full council vote next Wednesday.
"For the very first time in the history of Chicago, we're close to getting to a point where people will no longer have to choose between their financial health and their physical or mental health," says Adam Kader, director of Arise Worker Center.
Paid sick days are currently unavailable to some 77 percent of Chicago workers earning less than $20,000 per year, according to the Institute for Women's Policy Research. Altogether, 42 percent of Chicago's private sector workers — nearly half a million people — are not allowed paid sick leave by their employers.
Nationally, 39 percent of private sector workers lack paid sick leave. Along with Oman and Papua New Guinea, the United States is one of only three countries in the world without a national law guaranteeing paid sick time to workers.
In recent years, however, workers' rights advocates around the country have successfully pushed lawmakers to pass paid sick time legislation in four states and over 20 cities — including New York, Los Angeles, Washington, D.C., Portland and Newark.
Responding to this, President Obama has been calling on Congress to pass similar legislation at the federal level since his 2015 State of the Union address. On Labor Day last year, the president signed an executive order requiring federal contractors to provide paid sick time to their employees.
For the past three years, the Earned Sick Time Chicago coalition has campaigned for a paid sick leave ordinance in the Windy City. Spearheaded by Arise Chicago, the coalition is comprised of 50 local unions and social justice organizations.
The coalition successfully put a nonbinding referendum on the ballot during Chicago's mayoral election in February 2015, asking voters whether they believed employers should be required to provide paid sick time. The referendum was approved by a whopping 82 percent of voters.
Following the referendum's overwhelming success and an unexpectedly tight reelection race, Mayor Rahm Emanuel convened the Working Families Task Force — made up of labor advocates, employers, and city officials — to investigate the necessity and feasibility of a paid sick time law.
Earlier this year, the task force issued a report in favor of a paid sick leave law. Following the task force's recommendations, in April, the City Council introduced the ordinance now on the table.
Though supported by many employers, the ordinance is vehemently opposed by the Chicagoland Chamber of Commerce and Illinois Retail Merchants Association (IRMA). The powerful business lobbies complain that the law would overregulate employers.
"People do get sick, but you know what? Companies get sick too," 44th Ward Alderman Tom Tunney said at Thursday's committee hearing. Tunney — who owns a chain of Swedish restaurants — says he supports the idea of paid sick time, but expressed strong sympathy with IRMA and the Chamber of Commerce.
Restaurant worker Nataki Rhodes, representing ROC-Chicago, fired back. In her testimony, Rhodes told the ordinance's opponents, ​"If any one of you all get sick, you call in. You don't have to bring in a doctor's statement, you don't have to explain. As a restaurant worker, you need to bring in so many documents to tell your employer why you need to take off, and you're still not getting paid."
"When it comes to low-wage workers and Blacks and Latinos, we have to debate, we have to ask ​'should we do this?'" Rhodes continued, reminding the assembled aldermen of the similarity between this fight and the struggle to raise the city's minimum wage in 2014. ​"If you had started out doing it right in the first place and opened up your heart and your pockets and said, ​'this person is looking out for me and my business, I want to look out for them and their family,' then we wouldn't even be here."
"We still have our work cut out for us," Kader tells In These Times. ​"The Chamber of Commerce and IRMA have been relentless." He urges local supporters of the ordinance to visit the Earned Sick Time Chicago website to see where their aldermen stand. ​"If you're only going to do one thing for this campaign, now is the time. All you have to do is make one call or send one email to your alderman, asking ​'Which side are you on?' They listen."
Jeff Schuhrke has been a Working In These Times contributor since 2013. He has a Ph.D. in History from the University of Illinois at Chicago and a Master's in Labor Studies from UMass Amherst. Follow him on Twitter: @JeffSchuhrke