Chicago Raises Minimum Wage to $13 by 2019, But Strikers Say It's Not Enough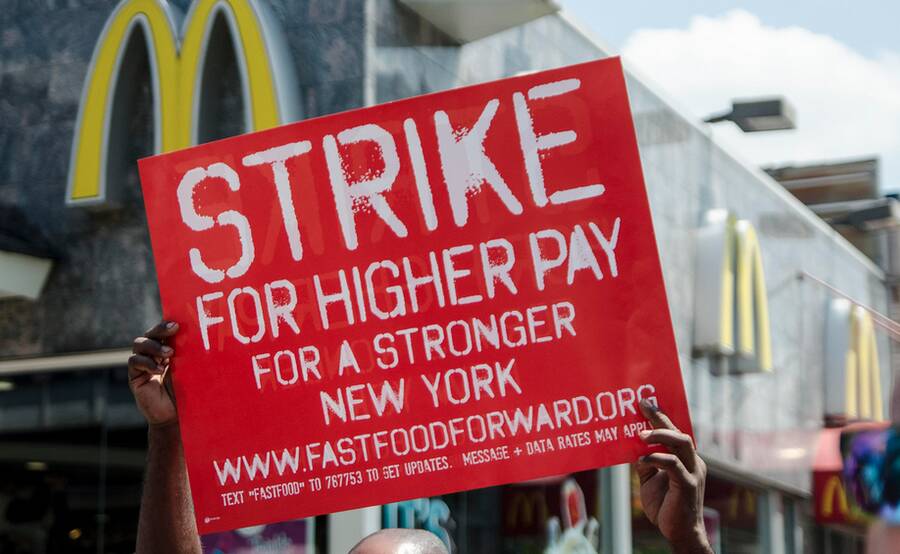 We wanted to make sure you didn't miss the announcement of our new Sustainer program. Once you've finished reading, take a moment to check out the new program, as well as all the benefits of becoming a Sustainer.

The Chicago City Council has approved a bill to raise the city's minimum wage to $13 an hour by 2019. The proposal, put forward by Mayor Rahm Emanuel, will give Chicago the second highest minimum wage in the nation, behind Seattle's $15, set to take effect by 2018.
Approved by a vote of 44 – 5, the vote phases in the increase over the next five years, from the current minimum wage of $8.25 to $10 by July 2015, then $11 by 2017, and $13 by 2019.
The bill comes at a time when minimum wage laws have taken center stage in the ongoing national debate about stagnating wages. American wages have been growing far slower than both productivity and inflation, with low-wage workers earning the lowest effective wages in 50 years.
"On July 8, 2014, the Minimum Wage Working Group released its report, finding, among other things, that rising inflation has outpaced the growth in the minimum wage, leaving the true value of lllinois's current minimum wage of $8.25 per hour 32 percent below the 1968 level of $10.71 per hour (in 2013 dollars)," the text of the bill reads.
The increase is not, as usual, without opponents, with some business leaders arguing that by splitting Illinois into two regions, Chicago and everywhere else, with different minimum wages, the increase will drive businesses just outside the city, where the minimum wage will remain $8.25. Momentum to increase the Illinois minimum wage seems to be growing — voters approved a nonbinding referendum in favor of raising the minimum wage during the midterm elections — but current proposals at the state level still fall short of Chicago's $13 increase, and the anti-labor Governor-Elect Bruce Rauner is highly unlikely to emerge as a champion of the increase..
Mayor Emanuel has also been accused of using the minimum wage proposal as a political opportunity. Some of his opponents ran on a platform of raising the minimum wage, and have said the proposal is an act of political opportunism.
"For a mayor who is fond of saying he makes tough decisions, I think we have a right to ask why he did not make an easy one. Why didn't he support a minimum wage hike during his first year in office?" Cook County Commissioner Jesus Garcia, who pushed for a $15 minimum wage, said in a statement about the hike.
Regardless of the motives behind Mayor Emanuel's actions, there is no doubt this is a win for workers. The move raises the wages for nearly a third of the city's workers, according to NPR, meaning that over 400,000 people will see their wages increase.
But the wage increase falls short of the $15 minimum that fast food workers have been fighting for and went on strike for again today.
"The workers I've been with chant, ​'Show me $15,' not '$13 by 2019,'" 2nd Ward Ald. Bob Fioretti said in a statement, according to the Chicago Tribune. ​"That means fighting for a $15-an-hour minimum wage today, which will both lift up Chicago working families and stop the state from limiting our ability to do the right thing."
Be a Sustainer
We surveyed thousands of readers and asked what they would like to see in a monthly giving program. Now, for the first time, we're offering three different levels of support, with rewards at each level, including a magazine subscription, books, tote bags, events and more—all starting at less than 17 cents a day. Check out the new Sustainer program.
Will Craft
is a fall
2014
intern with In These Times, and is a political science major at The University of Chicago. He has previously worked for The Cancer Letter and The Triple Helix. He is also a devout member of Le Vorris
&
Vox;, the University of Chicago circus. He is on twitter @craftworksxyz.