Chicago Teachers Are Trying to Organize the Biggest Charter School Union in the U.S.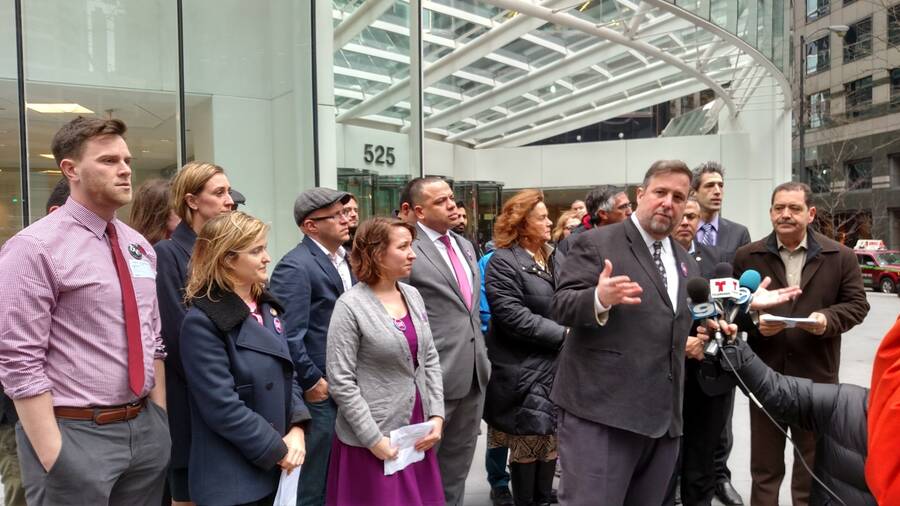 As Edu­ca­tion Sec­re­tary Bet­sy DeVos calls for expand­ing char­ter schools and vouch­er pro­grams in the name of ​"choice," teach­ers at Chicago's largest char­ter school have declared their choice to form a union.
Announc­ing the cre­ation of the Union of Noble Edu­ca­tors last Fri­day, work­ers from Noble Network's 17 char­ter high schools hope to fol­low in the foot­steps of teach­ers and staff from 32 oth­er Chica­go char­ter schools who have already union­ized with the help of the Chica­go Alliance of Char­ter Teach­ers and Staff (Chica­go ACTS), Local 4343 of the Amer­i­can Fed­er­a­tion of Teach­ers (AFT).
If suc­cess­ful, the 800 or so edu­ca­tors and staff at Noble would com­prise the largest union­ized char­ter school net­work in the country.
Noble, which boasts that more than 90 per­cent of its grad­u­at­ing stu­dents enroll in col­lege, is finan­cial­ly and polit­i­cal­ly sup­port­ed by Chicago's busi­ness elite, includ­ing Gov. Bruce Rauner and for­mer U.S. Com­merce Sec­re­tary Pen­ny Pritzk­er. Each have Noble cam­pus­es named in their hon­or. But teach­ers say their voic­es often go unheard by the Noble admin­is­tra­tion, lead­ing to a high turnover rate that is detri­men­tal to students.
"I've seen a lot of real­ly great teach­ers come and go, because Noble hasn't been the most sus­tain­able place for peo­ple to work," Mariel Race, who has taught Span­ish at Noble's Gold­er Col­lege Prep for six years, told In These Times. She added that for admin­is­tra­tors, teacher recruit­ment appears to be a big­ger pri­or­i­ty than teacher retention.
"Retain­ing teach­ers is incred­i­bly impor­tant for stu­dent suc­cess," Mary Sweeney, an Eng­lish teacher at Noble's Pritzk­er Col­lege Prep, said at a press con­fer­ence this week. ​"This union will serve class­rooms, build bet­ter rela­tion­ships with stu­dents, retain teach­ers and fos­ter trust."
Ivy McDaniel, a biol­o­gy teacher at Gold­er, agreed: ​"As long the staff are not empow­ered to sit with admin­is­tra­tors at the table to advo­cate for our stu­dents, our schools are losing."
Race, who has seen the num­ber of Noble schools near­ly dou­ble since she was hired, believes that form­ing a union would ​"unite staff across the net­work" and ​"help us main­tain some con­sis­ten­cy with best prac­tices across the net­work" in order to ​"real­ly walk the walk when we say we are one Noble school."
Launched in 2009, Chica­go ACTS is at the fore­front of the move­ment to orga­nize char­ter schools. Its mem­bers are not only win­ning union recog­ni­tion across the city, but also show­ing a will­ing­ness to with­hold their labor to win fair con­tracts, much like their coun­ter­parts in the Chica­go Teach­ers Union.
Teach­ers with A Coun­cil of Edu­ca­tors, the Chica­go ACTS affil­i­ate at ASPI­RA char­ter school, recent­ly vot­ed to strike over stalled con­tract nego­ti­a­tions and could walk off the job as soon as March 17. Last Octo­ber, a planned strike by union­ized teach­ers at UNO Char­ter Net­work Schools was only nar­row­ly avert­ed by a last-minute agreement.
Nation­al­ly, AFT has made orga­niz­ing teach­ers at char­ter schools a pri­or­i­ty since 2007, sup­port­ing edu­ca­tors in cities like New York, Los Ange­les, Philadel­phia and New Orleans. Accord­ing to the Cen­ter for Edu­ca­tion Reform, 10 per­cent of char­ter schools in the Unit­ed States are now union­ized, up from 7 per­cent just five years ago.
Last month, Wash­ing­ton, D.C. became the newest city to join this grow­ing move­ment, with work­ers at Paul Pub­lic Char­ter School announc­ing their inten­tion to form a union. Mean­while, in Los Ange­les, edu­ca­tors at the 28-cam­pus Alliance Col­lege-Ready Pub­lic Schools char­ter net­work are con­tin­u­ing their fight to orga­nize despite a union-bust­ing cam­paign by their employer.
At this week's press con­fer­ence in Chica­go, activists from the Union of Noble Edu­ca­tors were joined by about a dozen local elect­ed offi­cials who expressed sup­port and called on Noble's board of direc­tors to remain neu­tral dur­ing the union­iza­tion effort. Among those on hand were Alder­man Car­los Ramirez-Rosa, Chica­go Trea­sur­er Kurt Sum­mers and State Rep. There­sa Mah.
"The Noble board is con­front­ed with the eas­i­est deci­sion imag­in­able," said State Sen. Daniel Biss. ​"They get to choose between, on the one hand, edu­cat­ing chil­dren in the best way pos­si­ble, or on the oth­er hand, advanc­ing a pro­gram of union-busting."
"The chil­dren of schools in Chica­go need teach­ers who are going to be there for the long haul," not­ed Cook Coun­ty Com­mis­sion­er and for­mer may­oral can­di­date Jesus ​"Chuy" Gar­cia, who empha­sized increas­ing teacher reten­tion through col­lec­tive bar­gain­ing. "[Teach­ers] ought to be able to have the oppor­tu­ni­ty to see gen­er­a­tions of stu­dents grad­u­at­ing from their schools and com­ing back to their com­mu­ni­ties to be productive."
In a state­ment to teach­ers and staff last week, Noble CEO Michael Milkie warned that ​"a restric­tive union con­tract could elim­i­nate the cur­ricu­lum and flex­i­bil­i­ty we have to best serve our stu­dents' needs."
"Mr. Milkie trusts us every day in our class­rooms with the stu­dents, so I hope he'll trust teach­ers to make our own deci­sion [regard­ing union­iza­tion]," Race told In These Times. She stressed that the Union of Noble Edu­ca­tors is not a ​"third par­ty" rep­re­sent­ing out­side inter­ests, but rather ​"our own union." ​"The prin­ci­pal voice in all of this has been Noble teach­ers," she said.
Jeff Schuhrke has been a Work­ing In These Times con­trib­u­tor since 2013. He has a Ph.D. in His­to­ry from the Uni­ver­si­ty of Illi­nois at Chica­go and a Master's in Labor Stud­ies from UMass Amherst. Fol­low him on Twit­ter: @JeffSchuhrke