Chicago Teachers Are Trying to Organize the Biggest Charter School Union in the U.S.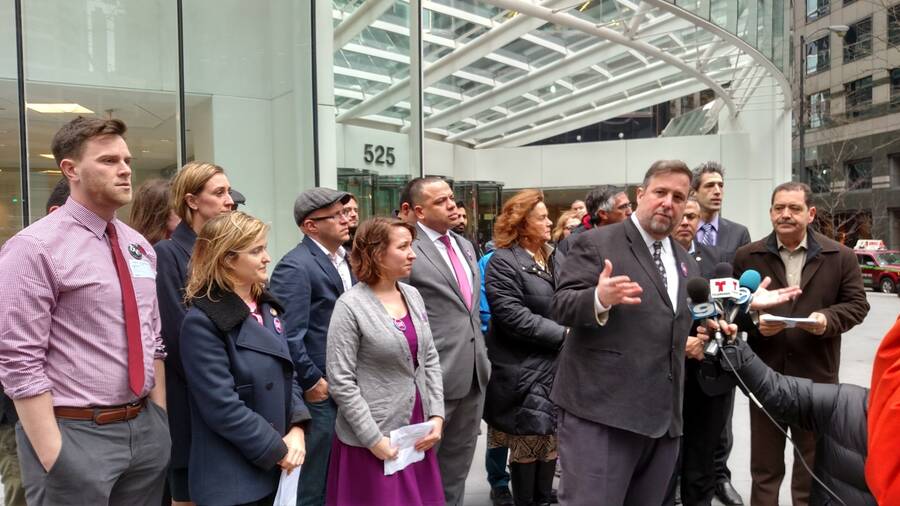 As Education Secretary Betsy DeVos calls for expanding charter schools and voucher programs in the name of ​"choice," teachers at Chicago's largest charter school have declared their choice to form a union.
Announcing the creation of the Union of Noble Educators last Friday, workers from Noble Network's 17 charter high schools hope to follow in the footsteps of teachers and staff from 32 other Chicago charter schools who have already unionized with the help of the Chicago Alliance of Charter Teachers and Staff (Chicago ACTS), Local 4343 of the American Federation of Teachers (AFT).
If successful, the 800 or so educators and staff at Noble would comprise the largest unionized charter school network in the country.
Noble, which boasts that more than 90 percent of its graduating students enroll in college, is financially and politically supported by Chicago's business elite, including Gov. Bruce Rauner and former U.S. Commerce Secretary Penny Pritzker. Each have Noble campuses named in their honor. But teachers say their voices often go unheard by the Noble administration, leading to a high turnover rate that is detrimental to students.
"I've seen a lot of really great teachers come and go, because Noble hasn't been the most sustainable place for people to work," Mariel Race, who has taught Spanish at Noble's Golder College Prep for six years, told In These Times. She added that for administrators, teacher recruitment appears to be a bigger priority than teacher retention.
"Retaining teachers is incredibly important for student success," Mary Sweeney, an English teacher at Noble's Pritzker College Prep, said at a press conference this week. ​"This union will serve classrooms, build better relationships with students, retain teachers and foster trust."
Ivy McDaniel, a biology teacher at Golder, agreed: ​"As long the staff are not empowered to sit with administrators at the table to advocate for our students, our schools are losing."
Race, who has seen the number of Noble schools nearly double since she was hired, believes that forming a union would ​"unite staff across the network" and ​"help us maintain some consistency with best practices across the network" in order to ​"really walk the walk when we say we are one Noble school."
Launched in 2009, Chicago ACTS is at the forefront of the movement to organize charter schools. Its members are not only winning union recognition across the city, but also showing a willingness to withhold their labor to win fair contracts, much like their counterparts in the Chicago Teachers Union.
Teachers with A Council of Educators, the Chicago ACTS affiliate at ASPIRA charter school, recently voted to strike over stalled contract negotiations and could walk off the job as soon as March 17. Last October, a planned strike by unionized teachers at UNO Charter Network Schools was only narrowly averted by a last-minute agreement.
Nationally, AFT has made organizing teachers at charter schools a priority since 2007, supporting educators in cities like New York, Los Angeles, Philadelphia and New Orleans. According to the Center for Education Reform, 10 percent of charter schools in the United States are now unionized, up from 7 percent just five years ago.
Last month, Washington, D.C. became the newest city to join this growing movement, with workers at Paul Public Charter School announcing their intention to form a union. Meanwhile, in Los Angeles, educators at the 28-campus Alliance College-Ready Public Schools charter network are continuing their fight to organize despite a union-busting campaign by their employer.
At this week's press conference in Chicago, activists from the Union of Noble Educators were joined by about a dozen local elected officials who expressed support and called on Noble's board of directors to remain neutral during the unionization effort. Among those on hand were Alderman Carlos Ramirez-Rosa, Chicago Treasurer Kurt Summers and State Rep. Theresa Mah.
"The Noble board is confronted with the easiest decision imaginable," said State Sen. Daniel Biss. ​"They get to choose between, on the one hand, educating children in the best way possible, or on the other hand, advancing a program of union-busting."
"The children of schools in Chicago need teachers who are going to be there for the long haul," noted Cook County Commissioner and former mayoral candidate Jesus ​"Chuy" Garcia, who emphasized increasing teacher retention through collective bargaining. "[Teachers] ought to be able to have the opportunity to see generations of students graduating from their schools and coming back to their communities to be productive."
In a statement to teachers and staff last week, Noble CEO Michael Milkie warned that ​"a restrictive union contract could eliminate the curriculum and flexibility we have to best serve our students' needs."
"Mr. Milkie trusts us every day in our classrooms with the students, so I hope he'll trust teachers to make our own decision [regarding unionization]," Race told In These Times. She stressed that the Union of Noble Educators is not a ​"third party" representing outside interests, but rather ​"our own union." ​"The principal voice in all of this has been Noble teachers," she said.
Jeff Schuhrke is a labor historian, educator, journalist and union activist who teaches at the Harry Van Arsdale Jr. School of Labor Studies, SUNY Empire State College in New York City. He has been an In These Times contributor since 2013. Follow him on Twitter @JeffSchuhrke.