What Other Unions Can Learn from the Historic Gains We Won in the Chicago Teachers Strike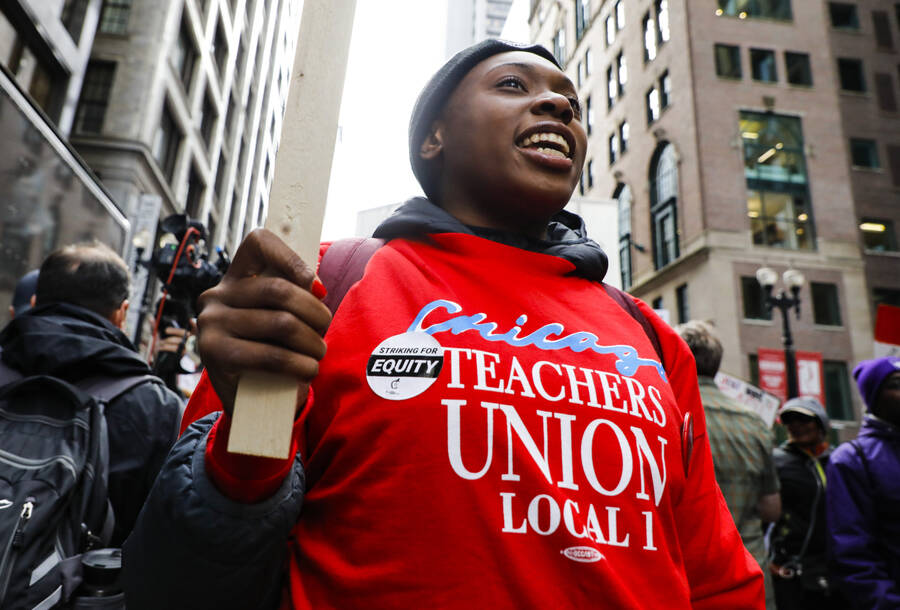 As a Chica­go Pub­lic Schools (CPS) stu­dent from first grade through high school, and in my 17 years of teach­ing in the sys­tem, none of my schools ever had a full-time social work­er or nurse every day of the week.
In the first con­tract the Chica­go Teach­ers Union (CTU) secured in the era of legal­ized pub­lic sec­tor bar­gain­ing, in 1967, the lan­guage states: ​"a plan shall be devised to make avail­able to teacher nurs­es a list of vacan­cies to which they may indi­cate their desire to trans­fer." That lan­guage, pro­vid­ing no firm guar­an­tee of staffing ratios, remained vir­tu­al­ly unchanged for half a cen­tu­ry. All sub­se­quent con­tracts until 2019 include no ref­er­ences to bilin­gual edu­ca­tion, ded­i­cat­ed staff and resources for our home­less stu­dents, case man­ag­er posi­tions for our diverse learn­er pop­u­la­tion, sanc­tu­ary lan­guage to pro­tect undoc­u­ment­ed stu­dents from ICE, liv­ing wages for our low­est-paid para­pro­fes­sion­al mem­bers, or a ded­i­cat­ed arti­cle on ear­ly child­hood edu­ca­tion. Now, that's all changed.
After 52 years of strug­gle, and an 11-day city­wide strike, we were final­ly able to secure these crit­i­cal demands — and more. We won 180 case-man­ag­er posi­tions, 20 Eng­lish lan­guage pro­gram teach­ers, full-time staff for home­less stu­dents, up to $35 mil­lion to low­er exces­sive class size and even nap time for our lit­tle ones. This ded­i­cat­ed effort to win sem­i­nal staffing sup­ports and edu­ca­tion­al jus­tice for CPS stu­dents did not hap­pen overnight — it's been a long and pro­tract­ed fight for the schools they deserve.
Dur­ing the lead up to the 2019 strike, the edi­to­r­i­al pages of the two major news­pa­pers in town, the Chica­go Tri­bune and the Chica­go Sun-Times, took turns slam­ming us for intran­si­gence, greed and ide­al­ism, often in the same sen­tence. The Sun-Times ran an edi­to­r­i­al in the days before the strike that demand­ed we ​"Take the deal" and stat­ed we ​"should accept the lat­est con­tract offer from the Board of Edu­ca­tion, a sweet deal that most Chicagoans would just love to get." Pri­or to the strike, May­or Lori Light­foot offered a 16% raise over a 5‑year agree­ment, a salary offer that the CTU even­tu­al­ly accept­ed. How­ev­er, none of the cen­tral issues raised from when the strike began to when it end­ed had any­thing to do with that ini­tial salary offer.
In the last months of 2018, the CTU col­lect­ed hun­dreds of pro­pos­als from our 27,000 mem­bers. Of the hun­dreds of sub­mis­sions, many described how to fix a bro­ken and anx­i­ety-rid­den teacher eval­u­a­tion sys­tem, how to ramp up prepa­ra­tion and col­lab­o­ra­tion time, ade­quate pay and ben­e­fits, and more. There were also a num­ber of ideas that went well beyond a tra­di­tion­al col­lec­tive bar­gain­ing agree­ment. One pro­pos­al demand­ed the school dis­trict pro­vide hous­ing for all 18,000 home­less stu­dents in the dis­trict by cre­at­ing afford­able hous­ing through a real estate trans­fer tax, cor­po­rate head tax and uti­liz­ing the city's Tax Incre­ment Financ­ing (TIF) pro­gram. Despite May­or Lightfoot's claims to sup­port a pro­gres­sive agen­da that reflect­ed the CTU's vision for schools, real­i­ty proved more complicated.
Light­foot cam­paigned on a promise to pre­vent a strike by address­ing our key con­cerns and demands. Yet, dur­ing nego­ti­a­tions, her team refused time and again to meet them.
Once CTU went out on strike on Octo­ber 17, Light­foot claimed the con­tract was not the ​"appro­pri­ate place" to address the needs of home­less stu­dents. While she promised to add more social work­ers and nurs­es to the school bud­get, she refused to put it in writ­ing and make those com­mit­ments explic­it with­in the col­lec­tive bar­gain­ing agree­ment. By the end of the strike, we made sure that both sup­ports for home­less stu­dents and guar­an­tees for more social work­ers and nurs­es were indeed put in writ­ing. At the incep­tion of the strike, May­or Light­foot was adamant that there was no more mon­ey for our con­tract. But by the end, we won tens of mil­lions more dol­lars in the new contract.
This con­tract fight wasn't the first time the CTU raised ​"com­mon good" pro­pos­als to ele­vate broad­er demands not typ­i­cal­ly asso­ci­at­ed with a union contract.
In 2010, we sug­gest­ed that the Chica­go Board of Edu­ca­tion tap into the TIF pro­gram — a sys­tem where decades worth of prop­er­ty tax­es are fre­quent­ly divert­ed from schools, parks and libraries to sup­port devel­op­ments in the wealth­i­est parts of the city. At the time, May­or Richard M. Daley's chief nego­tia­tor for the teach­ers' con­tract, Jim Franczeck, told us that ​"TIF is too com­pli­cat­ed" and that the funds were unavail­able to schools due to a fire­wall between the city and school budgets.
By 2016, we cracked the pur­port­ed TIF fire­wall and forced then-May­or Rahm Emanuel to unleash a record $87.5 mil­lion to stave off a strike. This year, May­or Light­foot, fol­lowed suit and released anoth­er record TIF sur­plus of $163 mil­lion to the pub­lic schools.
On top of win­ning new fund­ing streams, our broad­er social jus­tice demands built upon vic­to­ries in the recent Los Ange­les teacher strike, as well as Boston's teacher con­tract cam­paign that won lan­guage on class size restric­tions. In no small way, the 2019 CTU strike was con­nect­ed to a ris­ing move­ment of teach­ers nation­al­ly that has fun­da­men­tal­ly altered the polit­i­cal and labor land­scape in the Unit­ed States.
When we struck in 2012, the action was large­ly defen­sive in nature and came on the heels of Scott Walker's attack on col­lec­tive bar­gain­ing rights in Wis­con­sin. This year's strike rep­re­sent­ed a move into offense — beyond efforts to stop school clos­ings, vouch­ers, bank­rupt­cies, pen­sion liq­ui­da­tion or state take-overs. Instead, we've added about 750 new posi­tions into our schools, staffing that will dra­mat­i­cal­ly increase invest­ments into our class­rooms for the first time in decades. We've also added new lan­guage that estab­lish­es ​"sanc­tu­ary schools," requir­ing CPS to pro­hib­it the entry of ICE agents into our build­ings unless they have a war­rant. The new agree­ment also pro­vides crit­i­cal immi­gra­tion and legal ser­vices to our stu­dents and their families.
The labor move­ment will look back on the 2019 strikes in Chica­go and LA as the time when #Red­ForEd began to sup­plant aus­ter­i­ty and cor­po­rate reform with edu­ca­tion­al equi­ty and invest­ments into our Black and Lat­inx school com­mu­ni­ties. While we have a way to go before pub­lic schools in Chica­go match the school fund­ing received by wealthy sub­ur­ban dis­tricts, this agree­ment gets us closer.
One of the keys to our vic­to­ry was labor sol­i­dar­i­ty. Chica­go teach­ers struck along­side the 7,000 school employ­ees in SEIU Local 73, which did not occur in 2012. These school work­ers also won large-scale vic­to­ries in their con­tract, and by stand­ing with us on the pick­et lines, they showed the pow­er of true col­lec­tive action.
The vic­to­ries in our strike built upon years-long efforts to bring Chica­go char­ter school teach­ers into the CTU, align­ing 11 char­ter school con­tracts. This strate­gic choice led to the first char­ter school strikes in the nation's his­to­ry, and won pro­vi­sions on class-size and sanc­tu­ary schools that set the stage to win them through­out the district.
To win more, we teach­ers should con­sid­er part­ner­ing with pri­vate sec­tor union strug­gles. Imag­ine if we had been able to join forces with the Unit­ed Auto Work­ers in their labor strug­gle with GM, or coor­di­nat­ed with ware­house work­ers to shut down the region's sup­ply chains? Such an approach could help build the social pow­er nec­es­sary to advance a set of region­al work­er demands to sig­nif­i­cant­ly alter the polit­i­cal and eco­nom­ic land­scape for all workers.
When I was a first-grad­er in CPS in 1984, there weren't social work­ers or nurs­es in every school, no case man­agers, no coor­di­na­tors for home­less stu­dents, and lim­it­ed adher­ence to legal lim­its on spe­cial edu­ca­tion, bilin­gual and ear­ly child­hood state laws. On Novem­ber 16, over 81% of CTU mem­bers rat­i­fied a con­tract that pos­sess­es all of those com­po­nents. While there are many demands we were unable to win, we made mas­sive strides toward equi­ty in the classroom.
Through­out his­to­ry, social move­ment strug­gles have always been pro­tract­ed. It's tak­en three con­tract cycles for the CTU to turn back near­ly 40 years of attacks on our pub­lic schools. It's a shift made pos­si­ble through strike action cou­pled with a bur­geon­ing nation­al teach­ers move­ment — and tak­ing risks to lift up work­ing-class demands that go far beyond tra­di­tion­al col­lec­tive bargaining.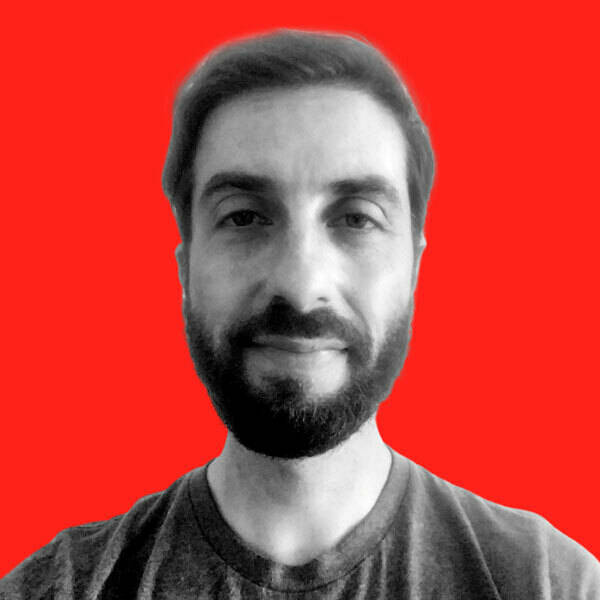 Jack­son Pot­ter
is a Chica­go Teach­ers Union trustee, mem­ber of the Big Bar­gain­ing Team and a teacher at Back of The Yards Col­lege Prep.