Why Are Chicago Teachers Striking Against Mayor Lori Lightfoot? They've Been "Lied To" Before.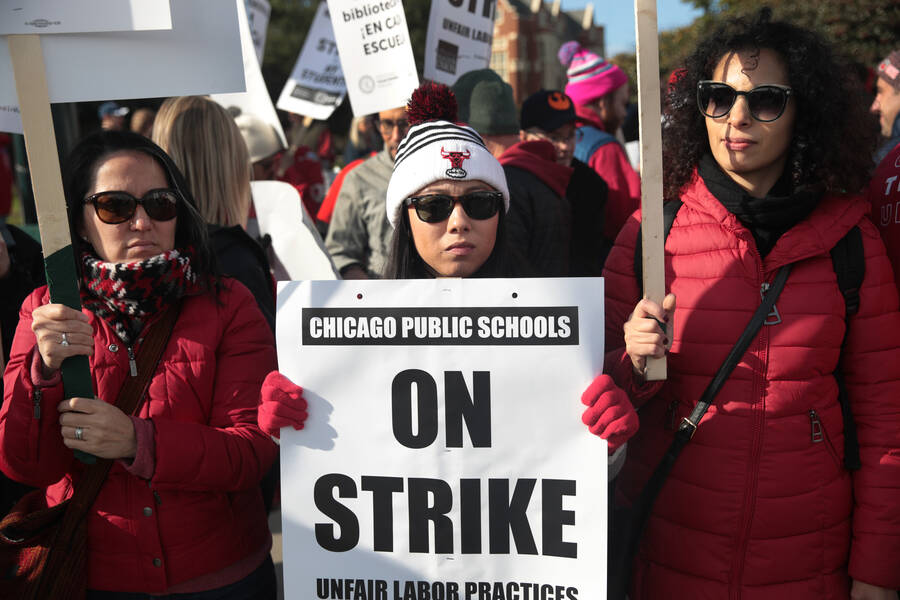 As a pink sun­rise paint­ed the sky on Thurs­day morn­ing, horns blared seem­ing­ly non­stop from semi trucks, com­muters' cars, a con­crete mix­er and count­less oth­er vehi­cles. They were all sup­port­ing mem­bers of the Chica­go Teach­ers Union (CTU) and SEIU Local 73, which rep­re­sents school sup­port staff, on the pick­et line before dawn out­side John A. Walsh Ele­men­tary School in Chicago's heav­i­ly immi­grant Pilsen neighborhood.
At schools across the city, teach­ers and staff waved signs, blew whis­tles, chant­ed and cheered to a cacoph­o­ny of sup­port­ive honk­ing from morn­ing traf­fic. Teach­ers said they're dis­ap­point­ed that the admin­is­tra­tion of May­or Lori Light­foot has not yet fol­lowed through on cam­paign promis­es to increase school staffing, shrink class sizes, cre­ate an elect­ed school board and oth­er­wise bol­ster pub­lic edu­ca­tion. But with the sup­port of the pub­lic — and a whop­ping 94% of mem­ber­ship vot­ing to strike — they are hopeful.
"Peo­ple in the schools every day can't bear to see what's hap­pen­ing," said Walsh coun­selor Kristy Brooks. ​"Kids in Chica­go have tough lives, they're deal­ing with pover­ty, immi­gra­tion fears, vio­lence, and we're ask­ing them to put all that aside when they come here. That's a lot to ask. That's why we need these sup­port systems."
Brooks, who has been in the school sys­tem for 14 years, pre­vi­ous­ly worked at a school on the West Side that was closed dur­ing for­mer May­or Rahm Emanuel's shut­ter­ing of almost 50 schools. She said stu­dents, fam­i­lies and teach­ers still haven't recov­ered from the impacts of those school clos­ings, not to men­tion the gen­tri­fi­ca­tion, vio­lence and oth­er trau­ma that caus­es stu­dents to need far more access to coun­selors, nurs­es and social work­ers than is cur­rent­ly avail­able. Most schools have a nurse on site only once a week, and CPS's ratios of stu­dents to nurs­es and social work­ers are about four and five times high­er than rec­om­mend­ed by those pro­fes­sions' nation­al asso­ci­a­tions, accord­ing to the union.
Ear­li­er this sum­mer, Light­foot announced the hir­ing of hun­dreds of nurs­es and social work­ers, and said in a state­ment last week that her admin­is­tra­tion is com­mit­ting $400,000 to ​"devel­op­ing a pipeline of nurs­es, coun­selors and case man­agers." But the union wants spe­cif­ic bench­marks writ­ten into their con­tract — a demand the admin­is­tra­tion has resisted.
On Thurs­day morn­ing, coun­selor Mary Jane Nykiel pick­et­ed out­side Richard T. Crane Med­ical Prep High School on the Near West Side, a neigh­bor­hood with a large African-Amer­i­can population.
"Because of the lack of oth­er clin­i­cians, coun­selors are spread very thin and asked to do oth­er duties that aren't coun­selor duties," Nykiel said. ​"We're pulled in many directions."
She said that the school, which was con­sid­ered for clo­sure by Emanuel's admin­is­tra­tion, ​"has a beau­ti­ful library but hasn't had a librar­i­an in 15 years." Nykiel serves 450 stu­dents, and the school has a nurse twice a week and a social work­er once a week, she said, which isn't near enough ​"espe­cial­ly on the West Side where there's so much inequity and pover­ty and trauma."
Nykiel not­ed that even after the teach­ers gar­nered impor­tant con­tract gains and mas­sive pub­lic sup­port dur­ing the 2012 strike, the admin­is­tra­tion still car­ried out among the largest mass school clos­ings in U.S. his­to­ry soon after.
To Daniel Wash­co, a ninth-grade Eng­lish teacher at Richard T. Crane Med­ical Prep High School on the city's West Side, those clos­ings under­scored that promis­es from the admin­is­tra­tion — like Lightfoot's pledges to hire more nurs­es and social work­ers — are not enough. ​"Now put it in writ­ing," he said.
Wash­co was excit­ed and hope­ful when Light­foot was elect­ed, and still feels ​"her heart is in the right place." The out­come of the strike will be telling, he said: ​"This is where the rub­ber meets the road."
At Walsh, Brooks serves 302 stu­dents, a small­er num­ber than coun­selors at many schools, though still above the Amer­i­can School Coun­selor Association's rec­om­mend­ed lev­el of 250 stu­dents per coun­selor. And her rel­a­tive­ly light load is in part because of gen­tri­fi­ca­tion in the neigh­bor­hood. The school has lost about 50% of its stu­dent body in the six years Brooks has been there, she said, with immi­grant fam­i­lies dis­placed as the neigh­bor­hood becomes more expen­sive. Across the street from the school, new­ly built, still-unoc­cu­pied con­dos cov­er an entire city block.

The impacts of gen­tri­fi­ca­tion and lack of afford­able hous­ing on stu­dents, teach­ers and espe­cial­ly school para­pro­fes­sion­als like clerks are among the rea­sons CTU has demand­ed the admin­is­tra­tion agree to endorse rent con­trol and spe­cif­ic afford­able hous­ing pro­vi­sions. Near­ly a quar­ter of para­pro­fes­sion­als make less than $32,000 a year, accord­ing to the union. One pick­et sign said, ​"My bar job paid for this sign."
"It's incred­i­bly dif­fi­cult for par­ents and teach­ers to be able to live near their schools and be part of their com­mu­ni­ty" because of ris­ing hous­ing prices, said Washco.
In a state­ment, Light­foot said CTU want­ed to ​"set the city's afford­able hous­ing pol­i­cy through their col­lec­tive bar­gain­ing agree­ment," which would side­line oth­er stake­hold­ers. She said she ​"appoint­ed the city's first hous­ing com­mis­sion­er in a decade," while also announc­ing a plan for low-income hous­ing tax credits.
Esther Valen­ciano raised her kids in Pilsen and they grad­u­at­ed from Walsh, just around the cor­ner from their home. Valen­ciano has worked at Walsh as a preschool teach­ing assis­tant for 23 years, but when she decid­ed to buy a home, she couldn't afford to stay in Pilsen. Now her son and daugh­ter also work in Chica­go Pub­lic Schools (CPS) as teach­ing assis­tants, and are study­ing to become teachers.
Valen­ciano and the teacher she assists are often in charge of more than 40 preschool­ers, includ­ing some with spe­cial needs. ​"They're lit­tle kids, so we have to be fast," she said. ​"Espe­cial­ly in gym, it becomes a safe­ty issue. It should not be that way."
Valen­ciano finds her­self, teach­ers, par­ents and grand­par­ents all work­ing togeth­er ​"as our own social work­ers" to try to help kids with prob­lems when no case man­agers are avail­able. ​"We do what we can do togeth­er," she said.
Mean­while, coun­selors say they're often doing the jobs of social work­ers, plus help­ing in the class­room, lunch­room or recess, along with their pri­ma­ry respon­si­bil­i­ty of advis­ing stu­dents about aca­d­e­mics, col­lege and careers.
Out­side Nixon Ele­men­tary on the city's large­ly His­pan­ic, work­ing-class North­west Side, librar­i­an and union del­e­gate Leslie West­er­berg pick­et­ed with her shel­ter res­cue dog, Milo, wear­ing a home­made union dog jack­et. A CPS school West­er­berg pre­vi­ous­ly worked at closed its library and dis­man­tled the book­shelves to turn it into a class­room, she said. She doesn't know what hap­pened to all the books she fundraised to buy.
At Nixon, West­er­berg said she's lucky to have a prin­ci­pal who pri­or­i­tizes the library, but she notes many schools can't do that as the system's stu­dent-based bud­get­ing for­mu­la means prin­ci­pals have to make tough choic­es when allo­cat­ing scarce resources.
"We want stu­dents to know how to research and be ready for col­lege, and we want them to excel at read­ing and have a love of read­ing, but how can we do that with­out libraries and librar­i­ans?" she asked. She said the union under­stands that high­er staffing lev­els of librar­i­ans, coun­selors, social work­ers and nurs­es may need to be phased in over time, but she still wants the posi­tions man­dat­ed in the con­tract and fund­ed through the cen­tral office so that can­di­dates can be hired when they are found.
"It's unfair to our stu­dents that we have to beg for this," she said. ​"It's con­cern­ing that [Light­foot] is offer­ing things but not putting them in writ­ing, so we could poten­tial­ly be lied to, and CPS has lied to us so many times. They still need to earn our trust."
Across the street from West­er­berg, fifth-grade math teacher Saman­tha Gill and spe­cial edu­ca­tion assis­tant Diana Morales wore uni­corn and tiger one­sies as they danced Zum­ba and Gill waved a glit­tery microphone.
"City offi­cials don't under­stand the rela­tion­ships we have with kids, that we are lit­er­al­ly doing all of this for them," said Morales, an SEIU Local 73 mem­ber. ​"It's not fair to kids not to have nurs­es, librar­i­ans, coun­selors. We owe them the best, and this isn't the best."
Gill said kinder­garten­ers have told her that it's hard for them to be suc­cess­ful with more than 40 kids in a class. ​"The kids under­stand it," she said. ​"Why can't the politi­cians under­stand it?"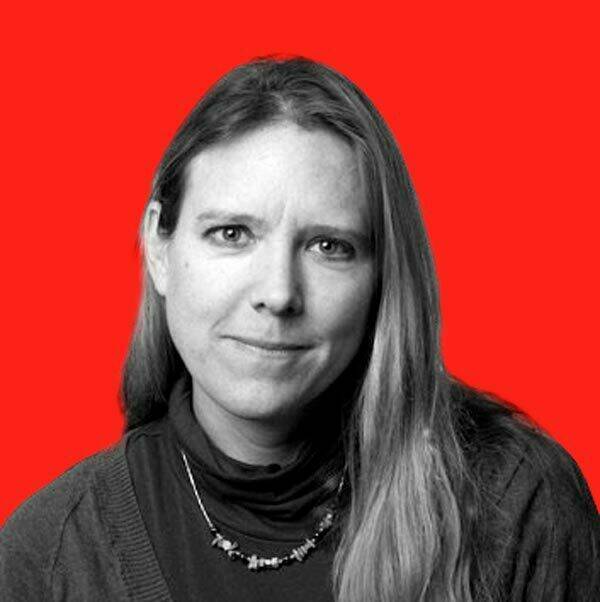 Kari Lyder­sen
is a Chica­go-based reporter, author and jour­nal­ism instruc­tor, lead­ing the Social Jus­tice
&
amp; Inves­tiga­tive spe­cial­iza­tion in the grad­u­ate pro­gram at North­west­ern Uni­ver­si­ty. She is the author of May­or
1
%: Rahm Emanuel and the Rise of Chicago's
99
%.