How to Resolve the Chicago Teachers Strike? Tax the Rich.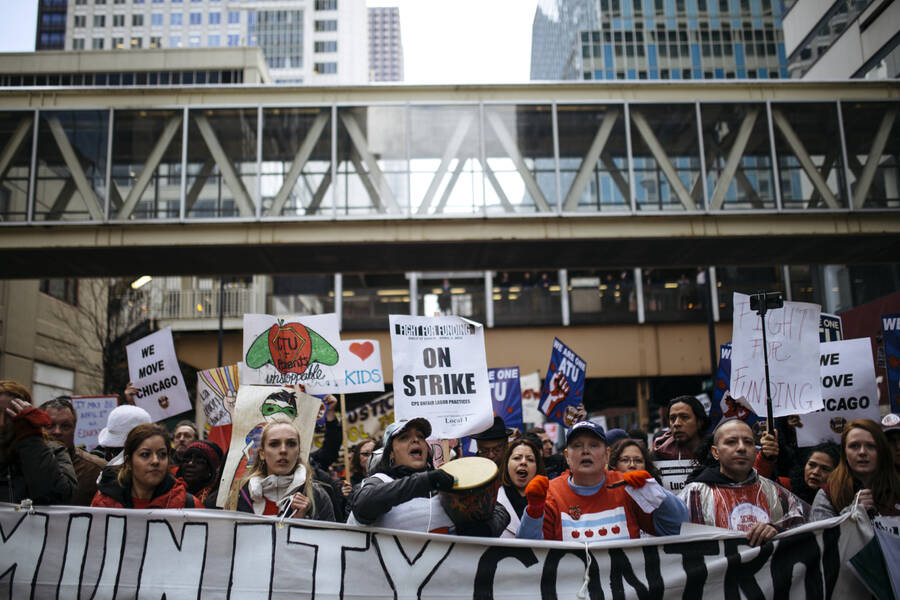 The past year of bold work­er action in Chica­go — which includ­ed the nation's first char­ter school strikes — is now head­ed towards a crescen­do as teach­ers and sup­port staff pre­pare to walk off the job on Thursday.
Despite the city's attempt to box nego­ti­a­tions into being just about salary, the Chica­go Teach­ers Union (CTU) is bring­ing a holis­tic approach to bar­gain­ing to ben­e­fit both their mem­bers and stu­dents. This means bring­ing com­mon good demands such as afford­able hous­ing and sanc­tu­ary schools into the con­tract nego­ti­a­tions, because CTU knows that the crises out­side of the class­room direct­ly affect stu­dent learning.
This approach also means mak­ing demands about how the schools our stu­dents deserve can be paid for, which is why com­mu­ni­ty orga­ni­za­tions, labor unions such as CTU and elect­ed offi­cials have worked togeth­er to put for­ward the #Reimag­ineChica­go bud­get pro­pos­al. Our plan does not rely on increas­ing fines, fees, sales tax­es, and prop­er­ty tax­es on the work­ing poor and mid­dle class — as has so often been the norm in Chica­go. Instead, we have laid out a pack­age of pro­gres­sive rev­enue solu­tions to counter decades of dis­in­vest­ment in Black and Brown com­mu­ni­ties, and ensure that the wealthy and cor­po­ra­tions pay their fair share.
This pro­pos­al amounts to a sharp break from how Chica­go finances have long been han­dled — and a fun­da­men­tal shift in who is pri­or­i­tized in the bud­get. Nowhere is this clear­er than in our fight for the rein­state­ment of the cor­po­rate head tax.
A head tax is a city tax on cor­po­ra­tions that scales to the size of the com­pa­ny. Chica­go pre­vi­ous­ly had a head tax in place from 1973 to 2014, but it was elim­i­nat­ed by then-May­or Rahm Emanuel, mak­ing clear his eco­nom­ic pri­or­i­ties. Part­ly to help make up for the lost rev­enue from elim­i­nat­ing the head tax, Emanuel closed half of the city's pub­lic men­tal health clin­ics, dev­as­tat­ing thou­sands of patients, among oth­er cuts to vital city ser­vices. Our improved ver­sion of the head tax would gen­er­ate more than enough mon­ey to reopen all of the pub­lic clin­ics, while help­ing expand afford­able hous­ing and cre­at­ing jobs on the South and West sides.
As we wait to hear what May­or Lori Light­foot puts for­ward in her first bud­get, we know that the may­or and city coun­cil have the pow­er to act on our pro­pos­als right now — which could gen­er­ate $771 mil­lion in new rev­enue. Oth­er pro­gres­sive tax­a­tion pro­pos­als would require coor­di­na­tion with the state gov­ern­ment, but they could bring in up to $3.9 bil­lion, total­ing $4.6 bil­lion in new rev­enue. These solu­tions include a Real Estate Trans­fer Tax which would raise $150 mil­lion, a Lux­u­ry Goods and Ser­vices Tax which would raise $300 mil­lion, and a city income tax on incomes over $100,000, which would bring in a whop­ping $1.4 bil­lion. This fund­ing could address Chicago's grow­ing hous­ing cri­sis, enable a full-time nurse in every school and cre­ate racial­ly equi­table con­di­tions that would allow all Chicagoans to thrive.
The ​"bar­gain­ing for the com­mon good" approach being tak­en up by CTU rep­re­sents a two-fist­ed strat­e­gy to win the schools and neigh­bor­hoods that Chica­go work­ing fam­i­lies deserve. On one hand, Chica­go teach­ers are forc­ing the city and the school sys­tem to cod­i­fy com­mit­ments to improve Chica­go schools by writ­ing them into their con­tract. On the oth­er, unions are work­ing with com­mu­ni­ty groups to win the mon­ey to pay for those improve­ments through pro­gres­sive rev­enue solu­tions that make the wealthy pay their fair share, instead of regres­sive tax­es and fines on work­ing families.
May­or Light­foot has resist­ed on both fronts, claim­ing CTU should only bar­gain over salary and that the union's demands to cre­ate equi­ty in the school sys­tem would drain city resources. She's also resist­ed com­mit­ting to rais­ing the rev­enue need­ed through our pro­pos­als. Yet her new­ly appoint­ed school board passed a spend­ing increase that near­ly dou­bled the amount of mon­ey spent on Chica­go Police Depart­ment (CPD) offi­cers in the pub­lic schools, and for the first time put into writ­ing a con­tract between the school sys­tem and CPD that man­dates more police access to our schools with­out detail­ing where this new spend­ing would come from.
Can­di­date Light­foot ran on a pro­gres­sive plat­form, espe­cial­ly around edu­ca­tion, but as may­or, she's act­ing in oppo­si­tion to that agen­da on a num­ber of issues. Cre­at­ing task forces instead of putting afford­able hous­ing com­mit­ments in writ­ing is not enough. Tak­ing the side of wealthy devel­op­ers like Ster­ling Bay, and fight­ing orga­ni­za­tions like ours—Grass­roots Col­lab­o­ra­tive—that are orga­niz­ing to win rad­i­cal changes to the city's bro­ken Tax Incre­ment Finance sys­tem flies in the face of her pro­gres­sive commitments.
Tak­ing on entrenched wealthy elites requires pro­gres­sives in Chica­go to fight on mul­ti­ple fronts. This teach­ers strike is about more than just a con­tract — it's about reimag­in­ing what is pos­si­ble for our city if we tax the wealthy and put those resources into the hands of work­ing peo­ple instead of the polit­i­cal­ly con­nect­ed. As Chica­go teach­ers and sup­port staff take bold work­er action to win a just city for all, we should rise to the moment and join them in the fight for a more just future.
Amisha Patel is the Exec­u­tive Direc­tor of the Grass­roots Col­lab­o­ra­tive and Grass­roots Illi­nois Action. Nathan Ryan is Com­mu­ni­ca­tions Direc­tor at Grass­roots Collaborative.