Charter School Educators Just Voted to Join the Most Militant Teachers' Union in the Country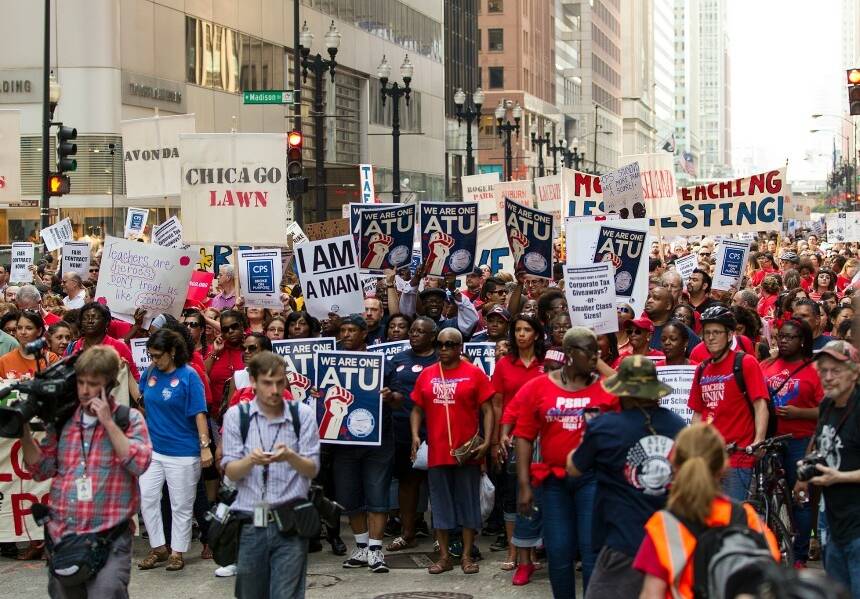 Union­ized teach­ers at Chicago's char­ter schools are one step clos­er to uni­fy­ing with their coun­ter­parts in the city's pub­lic school dis­trict, a his­toric move that would strength­en oppo­si­tion to aus­ter­i­ty and neolib­er­al edu­ca­tion reform.
Last week, mem­bers of the Chica­go Alliance of Char­ter Teach­ers and Staff (Chi­ACTS) — the Amer­i­can Fed­er­a­tion of Teach­ers local rep­re­sent­ing about 1,000 edu­ca­tors at 32 char­ter schools — vot­ed to merge their local with the near­ly 30,000-member Chica­go Teach­ers Union (CTU).
The uni­fi­ca­tion vote passed with the approval of 84 per­cent of vot­ing mem­bers, Chi­ACTS said. Before the merg­er can move for­ward, CTU mem­bers will also have to vote on the mea­sure this fall.
"Our over­whelm­ing vote for uni­ty affirms that char­ter edu­ca­tors are edu­ca­tors first, and ser­vants of the pub­lic with a shared com­mit­ment to the futures of our stu­dents across the city," Chi­ACTS pres­i­dent Chris Baehrend told In These Times.
Char­ter lob­by­ists attempt­ed to dis­suade Chi­ACTS mem­bers from approv­ing the merg­er by describ­ing the CTU as ​"anti-char­ter school." But union lead­ers dis­pute this characterization.
"CTU has been very clear that they do not have a prob­lem with our schools. They have a prob­lem with the char­ter mod­el of pub­lic school man­age­ment," Baehrend told In These Times.
Not­ing that Chi­ACTS teach­ers near­ly had to go on strike three times since last Octo­ber in order to win fair con­tracts, Baehrend added that even char­ter edu­ca­tors ​"have got lots of prob­lems with the char­ter mod­el of school gov­er­nance. It's an extra lay­er of unac­count­able bureau­cra­cy between us and the resources we need in our classrooms."
Though CTU undoubt­ed­ly oppos­es the expan­sion of char­ter schools, as demon­strat­ed by the union's suc­cess­ful effort to win a mora­to­ri­um on the open­ing of new char­ters last fall, Baehrend said Chi­ACTS shares this goal.
"Char­ter pro­lif­er­a­tion does not help the char­ter schools that already exist. It actu­al­ly spreads the pot of mon­ey more thin­ly," he explained. ​"We've been see­ing the nasty effects of it late­ly. This year, we've had bud­get cuts, lay­offs and enroll­ment decline in the major­i­ty of the schools we represent."
Since Chi­ACTS was launched in 2009, it has fre­quent­ly part­nered with CTU. Mem­bers of both locals often come to each other's ral­lies and dis­cuss shared con­cerns through a joint com­mit­tee. The CTU also sup­ports con­tract nego­ti­a­tions and enforce­ment for Chi­ACTS through a 2015 ser­vice agree­ment.
Baehrend told In These Times the deci­sion to for­mal­ly merge the two locals came in response to the elec­tion of Don­ald Trump. Real­iz­ing that edu­ca­tion and work­ers' rights were under threat, lead­ers and activists from both locals felt it was the right time to pur­sue a for­mal merger.
"The answer to every cri­sis labor has ever faced has been more sol­i­dar­i­ty and more col­lec­tive action," he said. ​"The boss always wants to divide us one way or anoth­er and we know that's because they don't want us to be strong."
"If you go into a char­ter school, it doesn't look an awful lot dif­fer­ent from a dis­trict school, in terms of the class­room," Baehrend explained. ​"Schools are good. Schools are essen­tial­ly teach­ers and stu­dents. ​'Char­ter' is some­thing that hap­pens out­side of the school. ​'Char­ter' is some­thing that hap­pens in how bud­gets get spent, in who has con­trol over decisions."
In addi­tion to uni­fy­ing with CTU, Chi­ACTS also hopes to build more uni­ty among char­ter teach­ers. Nine out of 10 Chi­ACTS con­tracts are set to expire at the end of the next school year, which the union sees as an oppor­tu­ni­ty for edu­ca­tors at mul­ti­ple char­ter schools to come togeth­er and fight for com­mon goals at the same time.
Baehrend said that he and oth­er Chi­ACTS activists look to the CTU and its anti-aus­ter­i­ty, rank-and-file pol­i­tics as a mod­el of ​"social jus­tice union­ism" and ​"bar­gain­ing for the pub­lic good."
"If this merg­er hap­pens, I will be so proud to be a Chica­go Teach­ers Union mem­ber and try to not just main­tain, but extend that tra­di­tion and choose more ambi­tious fights for the fam­i­lies we serve," he said. ​"What bet­ter union to join?"
Jeff Schuhrke has been a Work­ing In These Times con­trib­u­tor since 2013. He has a Ph.D. in His­to­ry from the Uni­ver­si­ty of Illi­nois at Chica­go and a Master's in Labor Stud­ies from UMass Amherst. Fol­low him on Twit­ter: @JeffSchuhrke