Chicago Teachers Won Public Support for Their Strike. Here's How.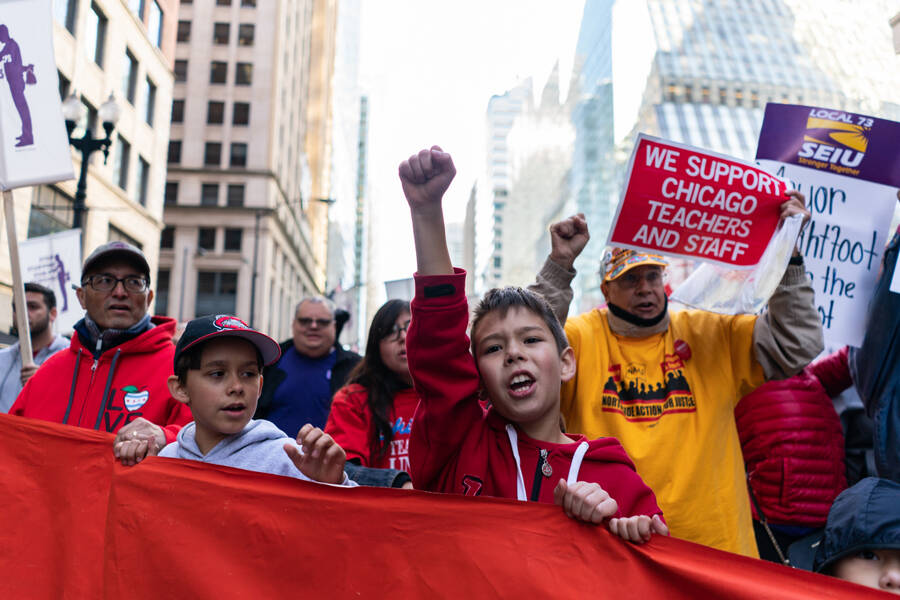 As 35,000 Chica­go teach­ers, school sup­port staff, and park dis­trict work­ers are set to begin a major strike on Octo­ber 17, they boast the back­ing of stu­dents, par­ents, com­mu­ni­ty orga­ni­za­tions, and local unions who see the poten­tial work stop­page as a cru­cial bat­tle in the fight for a more just and equi­table city. Thanks to the sol­i­dar­i­ty efforts of com­mu­ni­ty and labor groups, more Chicagoans sup­port the pos­si­ble strike than oppose it, accord­ing to a recent poll by the Chica­go Sun-Times.
The Chica­go Teach­ers Union (CTU) and SEIU Local 73 are call­ing on May­or Lori Light­foot — who was elect­ed this year on a pro­gres­sive plat­form — to put in writ­ing her cam­paign promis­es to improve the learn­ing con­di­tions of the city's major­i­ty Black and Brown pub­lic school stu­dents. Among oth­er things, the unions are fight­ing to have a full-time nurse, librar­i­an and social work­er in every school, caps on class sizes, afford­able hous­ing for stu­dents and their fam­i­lies, an end to out­side con­tract­ing of school ser­vices, and bet­ter pay and benefits.
For their part, May­or Light­foot and Chica­go Pub­lic Schools (CPS) have urged the CTU to give up demands for bet­ter resourced schools and accept a 5‑year con­tract that pri­mar­i­ly includes wage increas­es. The edi­to­r­i­al boards for the city's two major dai­ly news­pa­pers have lined up behind the may­or, telling teach­ers to ​"take the deal," though a whop­ping 94% of CTU mem­bers vot­ed to autho­rize a strike.
"It's so vital we not allow CPS or the may­or to divide the crit­i­cal peo­ple in this equa­tion — which are stu­dents and par­ents — from the unions, which they would like to do," said Eliz­a­beth Lalasz, co-chair of the Chica­go Teach­ers and Staff Sol­i­dar­i­ty Cam­paign (CTSSC)'s labor committee.
"If CPS and the may­or are able to cre­ate a wedge between the union and the com­mu­ni­ty, it's going to be a far less suc­cess­ful strike, so it's about bring­ing those forces togeth­er," con­tin­ued Lalasz, who is also a stew­ard with Nation­al Nurs­es United.
To bol­ster sup­port for the CTU and SEIU Local 73, the CTSSC has held mul­ti­ple events to bring teach­ers and com­mu­ni­ty mem­bers togeth­er by hav­ing dis­cus­sions about the con­di­tions in the schools and the impor­tance of the unions' demands. One such event was an Octo­ber 10 town hall fea­tur­ing speak­ers from over a dozen com­mu­ni­ty orga­ni­za­tions and local unions.
One of the speak­ers was Cather­ine Henchek, mem­ber of the advo­ca­cy group Par­ents 4 Teach­ers. She explained that when her son enrolled in CPS as a kinder­gart­ner 12 years ago, she was told that he wouldn't be able to get his med­ica­tion every day because the school only had a nurse once per week.
"Twelve years lat­er, we're still fight­ing for this," Henchek said. ​"So many schools do not have a nurse, or they have agency nurs­es that are com­ing in, a dif­fer­ent nurse every day. That's not help­ful for kids with com­plex med­ical needs. They need some­one who knows them."
At an Octo­ber 14 ral­ly of union mem­bers and sup­port­ers, high school senior Mir­a­cle Boyd talked about why union demands for improved wrap­around ser­vices mat­ter to stu­dents like her. ​"We as CPS stu­dents have to deal with the trau­ma of los­ing a loved one to gun vio­lence every day," said Boyd. ​"We need trau­ma-informed schools, social work­ers, and therapists."
Boyd is an orga­niz­er with Good­Kids Mad­C­i­ty, a youth-led anti-vio­lence, restora­tive jus­tice group. ​"I have friends who miss school on the dai­ly because… no one can help them with the hurt and pain of los­ing a class­mate," she said. ​"The resources stu­dents don't have won't allow them the oppor­tu­ni­ty to heal from past or con­tin­u­ous trauma."
The CTSSC has exist­ed since CTU's his­toric 2012 strike, when it mobi­lized com­mu­ni­ty turnout at ral­lies and pick­ets, coor­di­nat­ed the union's strike head­quar­ters, and served as an infor­ma­tion hub. Since then, and increas­ing­ly over the past 20 months, a wave of mas­sive teacher strikes has rocked the coun­try — offer­ing inno­v­a­tive exam­ples of com­mu­ni­ty sol­i­dar­i­ty that are now being repli­cat­ed in Chicago.
One such exam­ple is Bread for Ed, a fundrais­ing and sol­i­dar­i­ty project to pro­vide meals to stu­dents and teach­ers for the dura­tion of the strike. This pro­gram would pro­vide a crit­i­cal ser­vice, as over 400,000 Chica­go stu­dents depend on school meal pro­grams for break­fast and lunch.
Pio­neered by the East Bay, Cal­i­for­nia chap­ter of Demo­c­ra­t­ic Social­ists of Amer­i­ca dur­ing the 7‑day Oak­land teacher strike this Feb­ru­ary, the Bread for Ed mod­el has been adopt­ed by Chica­go DSA and Chica­go Jobs with Jus­tice. The two groups recent­ly set up a Bread for Ed GoFundMe page, sur­pass­ing the orig­i­nal fundrais­ing tar­get of $10,000 in only three days. If a strike hap­pens, food will be pre­pared and served at neigh­bor­hood orga­ni­za­tions, alder­man­ic offices, church­es, and local restau­rants, as well as on pick­et lines.
"So far the response [to Bread for Ed] has been over­whelm­ing­ly pos­i­tive. Tons of peo­ple are reach­ing out want­i­ng to get involved," Abby Agri­esti, co-chair of the Chica­go DSA Labor Work­ing Group, told In These Times. ​"We want to make sure that the media and city can't use the lack of food for stu­dents as a cud­gel against the teach­ers and staff, blam­ing them."
Com­mu­ni­ty sup­port­ers also worked with the unions to hold an Art Build from Octo­ber 4 to 6 — anoth­er mod­el bor­rowed from this year's Oak­land teacher strike. Held at CTU head­quar­ters, the Art Build brought rank-and-file union mem­bers togeth­er with par­ents, stu­dents, allies, and artists to put their cre­ativ­i­ty to work by mak­ing pick­et signs, ban­ners (includ­ing para­chute ban­ners), and posters to be used at strike pick­ets and rallies.
The CTSSC has orga­nized week­ly call-ins to the mayor's office and draft­ed an online sol­i­dar­i­ty state­ment for indi­vid­ual union mem­bers around the coun­try to sign onto, which gar­nered near­ly 500 sig­na­tures with­in a week. The sol­i­dar­i­ty cam­paign is also cir­cu­lat­ing a state­ment of sup­port pledg­ing to join CTU and SEIU mem­bers on the pick­et lines, which has been signed by over 60 com­mu­ni­ty and labor orga­ni­za­tions across the city.
Mean­while, mem­bers of Chica­go DSA's Labor Work­ing Group have can­vassed at CTA stops to talk with com­muters about the impor­tance of the unions' demands and to inoc­u­late them against anti-union talk­ing points.
"The unions aren't just bar­gain­ing for bet­ter wages or pen­sions; they're bar­gain­ing for vital things that we need in our com­mu­ni­ties." Agri­esti explained. ​"We see this as hand-in-hand with our mis­sion as social­ists to build a bet­ter world."
Efforts to build com­mu­ni­ty sup­port appear to be work­ing, as indi­cat­ed by the Sun-Times poll. The poll found that 49% of Chicagoans were like­ly to back the strike, while 38% would be opposed. A quar­ter of those polled are CPS par­ents, who over­whelm­ing­ly sup­port the unions and would blame May­or Light­foot if there is a walkout.
If the work stop­page hap­pens, the CTSSC plans to mobi­lize turnout on the pick­et lines through its email and text mes­sage list, as well as its social media accounts, which reach thou­sands of peo­ple. For par­ents, the coali­tion Raise Your Hand for Illi­nois Pub­lic Edu­ca­tion has cre­at­ed a web­page with infor­ma­tion on what fam­i­lies can do dur­ing the strike, includ­ing how to sup­port the unions.
"Most par­ents don't want a strike, we want our chil­dren to be in school, to be learn­ing," Henchek said. ​"But we know that if we're going to have the wrap­around ser­vices, the class sizes, the social jus­tice that our chil­dren deserve, then there may need to be a strike."
Jeff Schuhrke has been a Work­ing In These Times con­trib­u­tor since 2013. He has a Ph.D. in His­to­ry from the Uni­ver­si­ty of Illi­nois at Chica­go and a Master's in Labor Stud­ies from UMass Amherst. Fol­low him on Twit­ter: @JeffSchuhrke