The Coming Chicago Teachers Union Strike Could Be a Watershed Moment for a City in Crisis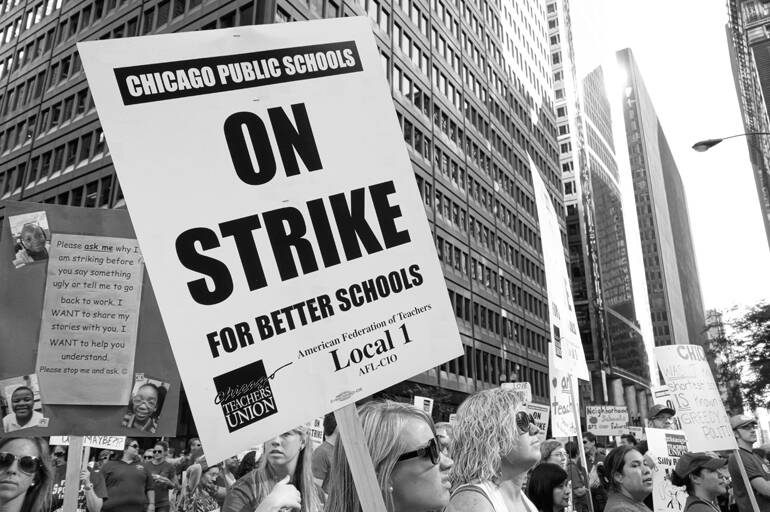 The Chica­go Teach­ers Union cur­rent­ly finds itself in strange ter­ri­to­ry for a 21st-cen­tu­ry U.S. labor union: defend­ing a recent victory.
Labor has lost so often in recent decades that defeat has become most unions' default posi­tion. So the CTU's 2012 strike was a breath of fresh air for many Amer­i­can union­ists: when union­ized work­ers around the coun­try were nego­ti­at­ing over the terms of their defeat, Chica­go teach­ers fought back and actu­al­ly won.
But such vic­to­ries are nev­er per­ma­nent. The con­tract the union nego­ti­at­ed dur­ing that strike has expired, and CTU mem­bers began vot­ing Wednes­day on whether to autho­rize anoth­er walk­out. Giv­en the strong inter­nal push to vote ​"yes" and assum­ing the union meets the legal­ly required yes vote thresh­old of 75% of its mem­bers, we will like­ly see anoth­er Chica­go teach­ers strike some­time next year.
Yet a vic­to­ry this time around will require more than prov­ing that a strike can be a gal­va­niz­ing tool for work­ers in the 21st cen­tu­ry, or a pub­lic embar­rass­ment of May­or Rahm Emanuel and his hand­picked, unelect­ed school board. If the CTU is to win this bat­tle, they will have to lay the foun­da­tions to end the city's aus­ter­i­ty régime.
It won't be enough to pub­licly rebuke the rich and their polit­i­cal emis­saries; Chica­go teach­ers now have to fig­ure out how to force them to give up their money.
The 2012 CTU strike was a crit­i­cal bat­tle for Amer­i­can labor, and unlike most sim­i­lar­ly crit­i­cal bat­tles in recent decades, the teach­ers man­aged to win. That strike, as I've recount­ed else­where, was the result of over a decade's worth of orga­niz­ing, mul­ti­ple failed union reform efforts, a com­mit­ment to union democ­ra­cy and mil­i­tan­cy, a com­mit­ment to mak­ing com­mu­ni­ty and par­ent groups cen­tral to the union's agen­da, and much more. None of it was easy, but the strike proved it could be done and was uni­ver­sal­ly acknowl­edged as a vic­to­ry for the union.
But with labor as beat­en down as it was in 2012, the bar for what qual­i­fied as a vic­to­ry was low. That the CTU sim­ply man­aged to go on strike with­out alien­at­ing poor and work­ing-class Chicagoans and with­out pro­duc­ing a 21st-cen­tu­ry equiv­a­lent of PAT­CO was enough to get Amer­i­can union­ists' blood pump­ing; the actu­al details of the con­tract that was nego­ti­at­ed dur­ing that strug­gle seemed sec­ondary. At a time of wide­spread demor­al­iza­tion, the 2012 strike was a des­per­ate­ly need­ed moral victory.
But that moral vic­to­ry has not pro­duced enough tan­gi­ble ones. The union has lost more often than it has won in the strike's after­math: despite mas­sive out­cry, Emanuel's school board closed 50 pub­lic schools in most­ly poor, African-Amer­i­can neigh­bor­hoods in 2013; union mem­bers have seen round after round of mass fir­ings, with the imme­di­ate threat of 5,000 more hang­ing over the cur­rent con­tract nego­ti­a­tions; spe­cial edu­ca­tion has been cut to the bone, with 500 lay­offs over the sum­mer; bus stops have been elim­i­nat­ed through­out the city; class­rooms are so packed that teach­ers often report focus­ing on pure crowd con­trol. What­ev­er con­fi­dence teach­ers gained from the strike, it has been smashed by an unend­ing onslaught of bru­tal aus­ter­i­ty measures.
Strikes offer work­ers, par­tic­u­lar­ly in the pub­lic sec­tor, an oppor­tu­ni­ty to cre­ate a cri­sis for elites. When a union like the CTU can estab­lish itself as a body that fights not just for its mem­bers' own nar­row inter­ests but for the entire work­ing class, it can become the vehi­cle for a much broad­er left­ist agenda.
For the CTU, a repeat of 2012's strike, as a kind of 27,000-person mid­dle fin­ger to the may­or and the neolib­er­al project he rep­re­sents, won't be enough. The nov­el­ty of such a win has long dis­si­pat­ed; this time around — either in the ear­ly months of the spring or as late as the begin­ning of next school year — the union has to fig­ure out how to use a strike to halt the for­ward march of austerity.
To pre­vent more clo­sures and fir­ings and threats to pub­lic sec­tor work­ers' pen­sions, Chica­go needs new, pro­gres­sive sources of rev­enue. It needs, in oth­er words, to force a cri­sis for the city and the state around tax­ing the rich.
The union has insist­ed that the afore­men­tioned aus­ter­i­ty mea­sures aren't unavoid­able, but that the dis­trict is delib­er­ate­ly cre­at­ing a fis­cal cri­sis in order to wring con­ces­sions from pub­lic-sec­tor unions and gut social services.
Exam­ples of this abound. The city is pay­ing incred­i­ble amounts of mon­ey on bad­ly nego­ti­at­ed deals with Wall Street for auc­tion-rate bonds, ​"tox­ic" inter­est-rate swaps, and oth­er exot­ic finan­cial instru­ments. Researcher Saqib Bhat­ti esti­mates that the city has paid more than a bil­lion dol­lars for swaps through 2014; the Chica­go Tri­bune esti­mates the auc­tion-rate bonds will cost the city in excess of $100 mil­lion more than if they had stuck to tra­di­tion­al bonds. The city could sue to rene­go­ti­ate some of these deals, but May­or Emanuel has stead­fast­ly refused.
Though Emanuel promised reform on the city's $1.4 bil­lion tax incre­ment financ­ing (TIF) pro­gram, it still serves as a mas­sive slush fund con­trolled by the may­or with no out­side over­sight, and has been repeat­ed­ly used to give away mil­lions to wealthy cor­po­ra­tions like Unit­ed Air­lines and down­town real estate devel­op­ers. (The Chica­go Mer­can­tile Exchange, a cen­tral play­er in the city's finan­cial sec­tor, was infa­mous­ly approved for $15 mil­lion in TIF funds to car­ry out ren­o­va­tions for, among oth­er things, new bathrooms.)
And there are major pos­si­ble sources of rev­enue from the city's rich­est that are cur­rent­ly going untapped. Firms on LaSalle Street, Chicago's equiv­a­lent of Wall Street, like the CME and the Chica­go Board Options Exchange are mak­ing absurd amounts of mon­ey (the CME brings in over $3 bil­lion a year and is the most prof­itable cor­po­ra­tion in Illi­nois); they could eas­i­ly pay a finan­cial trans­ac­tions tax on each of their trades.
The union has made these issues cen­tral to much of its recent orga­niz­ing. They will have to be cen­tral to the strike.
But an over­haul of the city's finan­cial sys­tem can't be won at the bar­gain­ing table. As with the rest of US labor, the CTU's ene­mies have suc­cess­ful­ly whit­tled down the scope of the union's legal­ly per­mis­si­ble bar­gain­ing and strike­able sub­jects. The union can't stay on the pick­et line, say, until the city pro­duces a finan­cial trans­ac­tions tax or a rene­go­ti­a­tion of inter­est rate swaps — not legal­ly, any­way. As it did dur­ing the pre­vi­ous strike, the union will have to walk the del­i­cate line between upping the ante on tax­ing the rich with­out run­ning afoul of the absurd­ly cir­cum­scrib­ing law.
The union's strike vote also coin­cides with Emanuel's most seri­ous polit­i­cal cri­sis since assum­ing office — the fall­out from the city's alleged sup­pres­sion of the grue­some video show­ing Chica­go Police Depart­ment (CPD) offi­cer Jason Van Dyke shoot­ing Laquan McDon­ald, a black 17-year-old, 16 times (as well as sev­er­al oth­er recent­ly released videos show­ing high­ly ques­tion­able police killings of African-Amer­i­can men and the con­tin­ued furor over the 2012 killing of 22-year-old Rekia Boyd).
These cas­es are only the lat­est in the shock­ing­ly depraved, racist his­to­ry of the CPD, which ranges from near­ly two decades of phys­i­cal tor­ture of black men by a white police com­man­der to the recent rev­e­la­tions about a West Side ​"black site," Homan Square, where pris­on­ers would some­times dis­ap­pear for days at a time with­out being charged and were alleged­ly abused. The city has spent over half a bil­lion dol­lars in pay­outs to vic­tims of police bru­tal­i­ty over the last decade alone.
With the con­tin­ued unrest in the wake of the video's release, the union has an open­ing both to advance its own con­tract fight and to tie its orga­niz­ing to the strug­gle against racist police bru­tal­i­ty in the city.
The CTU has long made racial inequal­i­ty in Chicago's pub­lic school sys­tem and beyond cen­tral to their orga­niz­ing. (The gen­e­sis of the union's cur­rent rad­i­cal lead­er­ship lies, in part, in rank-and-file mem­bers' dis­con­tent with the pre­vi­ous leadership's inac­tion on orga­niz­ing along­side com­mu­ni­ties of col­or.) Since the release of the McDon­ald video, the union has remained true to form.
Union lead­ers encour­aged mem­bers to join the mil­i­tant and mas­sive­ly dis­rup­tive Black Fri­day protests in the city's down­town shop­ping dis­trict and recent­ly passed a res­o­lu­tion in favor of a new, demo­c­ra­t­i­cal­ly elect­ed police review board. Giv­en the union's pre­vi­ous­ly friend­ly rela­tion­ship with the CPD — for­mer Chica­go Fra­ter­nal Order of Police pres­i­dent Michael Shields has spo­ken at CTU ral­lies, and Lewis pledged to put more police on the street when she was briefly flirt­ing with a run for may­or — and the exis­tence of a small but vocal pro-cop seg­ment of the union's mem­ber­ship, these steps are sig­nif­i­cant and not with­out risk.
The out­rage over the Emanuel administration's cov­er-up of the tape, which was clear­ly delayed to save his reelec­tion cam­paign, has been wide­spread. Protests at City Hall and across down­town Chica­go have become dai­ly occur­rences. Police chief Gar­ry McCarthy was asked to resign, and oth­er CPD lead­ers have ten­dered their own res­ig­na­tions; State's Attor­ney Ani­ta Alvarez will prob­a­bly not be reelect­ed in March's pri­ma­ry. Emanuel's own approval rat­ing stands at 18 per­cent; and incred­i­bly, a major­i­ty (51 per­cent) said in the same poll that he should resign because of the scandal.
The like­li­hood that Emanuel will step down — bar­ring any new rev­e­la­tions of gross, ille­gal mis­con­duct — is minute. But he is incred­i­bly vul­ner­a­ble. Giv­en the over­whelm­ing num­ber of CPS par­ents of col­or that backed the union over Emanuel dur­ing the last strike, a walk­out that also spoke to the con­tin­ued anger over the Laquan McDon­ald cov­er-up would be dev­as­tat­ing for the mayor.
The last time Chica­go Teach­ers Union mem­bers were on the pick­et line, they remind­ed Amer­i­can work­ers that it's still pos­si­ble to wage class strug­gle and win — not through timid­i­ty and col­lab­o­ra­tion with elites but through mil­i­tant action, demo­c­ra­t­ic orga­niz­ing, and com­mu­ni­ty sup­port. In the next year, they will have a chance to do so again. It won't be easy, but it may be as good of an oppor­tu­ni­ty as the union will ever get.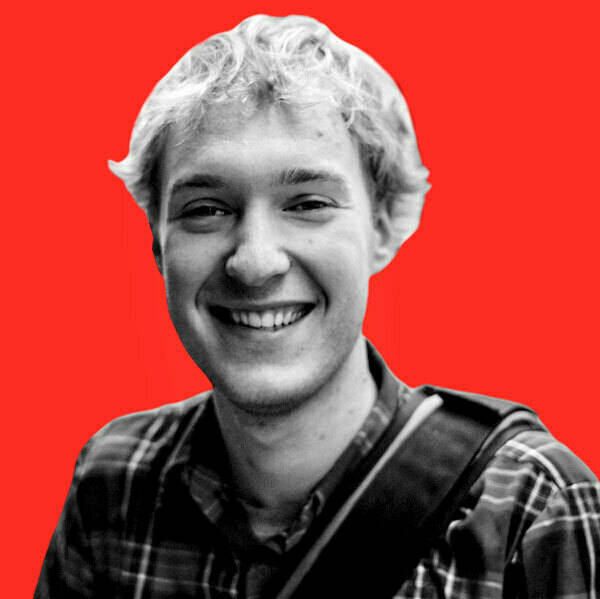 Mic­ah Uet­richt is the deputy edi­tor of Jacobin mag­a­zine and host of its pod­cast The Vast Major­i­ty. He is a con­tribut­ing edi­tor and for­mer asso­ciate edi­tor at In These Times. He is the author of Strike for Amer­i­ca: Chica­go Teach­ers Against Aus­ter­i­ty (Ver­so 2014), coau­thor of Big­ger Than Bernie: How We Go From the Sanders Cam­paign to Demo­c­ra­t­ic Social­ism (Ver­so 2020), and is cur­rent­ly at work on a book on New Left­ists who ​"indus­tri­al­ized." He pre­vi­ous­ly worked as a labor orga­niz­er. Fol­low him on Twit­ter at @micahuetricht.