Chicago Teachers Are Threatening To Strike Against New Mayor Lori Lightfoot. Here's Why.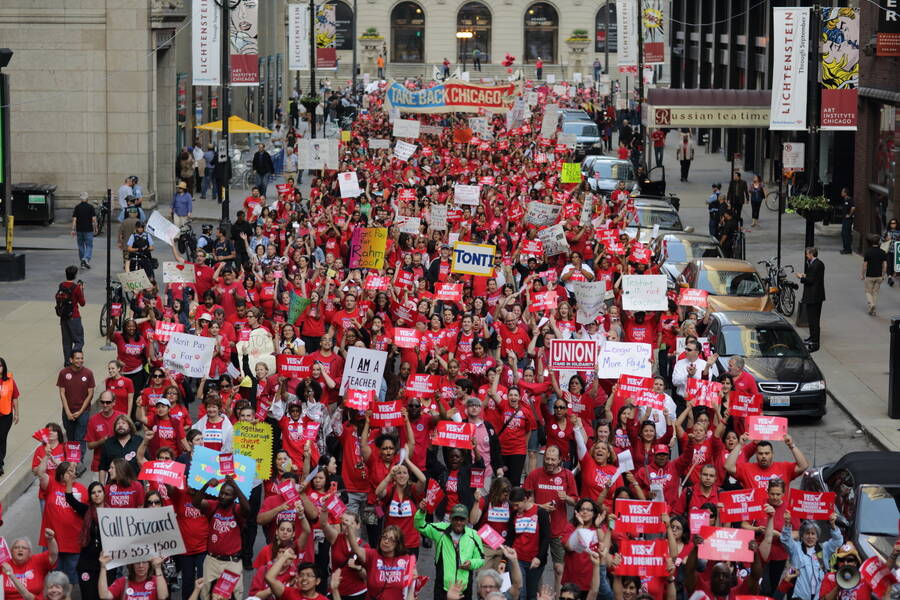 In 2012, the Chica­go Teach­ers Union (CTU) took to the streets with thou­sands of sup­port­ers in a sev­en-day strike that was ulti­mate­ly seen as a vic­to­ry against ​"May­or 1%" Rahm Emanuel.
A lot has changed since then. The recent wave of teach­ers strikes and walk­outs across the coun­try — from West Vir­ginia to Cal­i­for­nia — has won sig­nif­i­cant gains, not only in com­pen­sa­tion for teach­ers but also in stu­dent resources and over­all respect for pub­lic edu­ca­tion. Back in Chica­go, Emanuel and his hand-picked cor­po­rate school board have been replaced by May­or Lori Light­foot, a black les­bian whose cam­paign plat­form on edu­ca­tion large­ly mir­rored the CTU's agen­da, and a school board com­prised large­ly of edu­ca­tors and com­mu­ni­ty leaders.
Still, after months of nego­ti­a­tions with Chica­go Pub­lic Schools (CPS), the pow­er­ful teach­ers' union may again go on strike in the fall, with the union demand­ing Light­foot make good on her promis­es. Union lead­ers say that con­tract talks have changed lit­tle since Emanuel's depar­ture, with the Light­foot admin­is­tra­tion con­tin­u­ing a ​"uni­lat­er­al" approach, in CTU Pres­i­dent Jesse Sharkey's words, even when tak­ing pos­i­tive steps like announc­ing the hir­ing of hun­dreds of more nurs­es and social workers.
More nurs­es, coun­selors, social work­ers, librar­i­ans and para­pro­fes­sion­al staff such as clerks and teach­ers' aides are among the key demands of the union, which wants those changes quan­ti­fied and enshrined in the con­tract. In a sys­tem with over 500 schools, the union notes that there are only 128 librar­i­ans, down from 454 in 2013, and schools with a full-time librar­i­an are con­cen­trat­ed on the wealth­i­er, whiter North Side.
There are only 108 school nurs­es, and most schools have a nurse present only one day per week, accord­ing to a fact-find­ing doc­u­ment pro­duced by the union as part of the con­tract nego­ti­a­tions. The Nation­al Asso­ci­a­tion of School Nurs­es rec­om­mends one nurse for every 750 stu­dents, accord­ing to the doc­u­ment, while CPS has one nurse per 2,859 stu­dents. School social work­ers sim­i­lar­ly han­dle five times as many stu­dents as rec­om­mend­ed by the Nation­al Asso­ci­a­tion of Social Work­ers. The union says the recent­ly-announced hir­ing will only make a small dent in the school system's need, and that the move needs to be nego­ti­at­ed and cod­i­fied with the union.
"As a can­di­date, Lori Light­foot put out a bold vision for trans­form­ing pub­lic edu­ca­tion in Chica­go, one that was large­ly cut­ting and past­ing from the work we've been doing over the last decade," said CTU Vice Pres­i­dent Sta­cy Davis-Gates. ​"The may­or though has not set up the infra­struc­ture to make that hap­pen. Her team at the nego­ti­at­ing table is the same team that Rahm Emanuel had at the nego­ti­at­ing table. I think it's pret­ty impos­si­ble to have a trans­for­ma­tive lens but employ some of the same peo­ple who have been respon­si­ble for clos­ing 50 schools and dis­man­tling spe­cial edu­ca­tion services."
Most of the union's key demands are aimed at bol­ster­ing the qual­i­ty of pub­lic schools and stu­dents' expe­ri­ence, includ­ing by increas­ing the bud­get for school sports and trades pro­grams as well as improv­ing spe­cial edu­ca­tion. The union is also demand­ing CPS take a stand on larg­er issues that affect stu­dents, par­ents and edu­ca­tors, by curb­ing char­ter school expan­sion, sup­port­ing cam­paigns for afford­able hous­ing poli­cies and offi­cial­ly des­ig­nat­ing the school sys­tem a ​"sanc­tu­ary" for undoc­u­ment­ed peo­ple. The CTU gained sanc­tu­ary school pro­vi­sions in con­tracts this year at a num­ber of char­ter schools the union rep­re­sents, after strik­ing at three dif­fer­ent char­ter networks.
The Light­foot admin­is­tra­tion, which did not return requests for com­ment, has so far large­ly ignored such issues in its offers and its write-up to an inde­pen­dent fact-find­er meant to inform the nego­ti­a­tions. That fact-find­er is expect­ed to release its offi­cial report on Aug. 26.
The admin­is­tra­tion has empha­sized what it frames as gen­er­ous rais­es for teach­ers. How­ev­er, the union says the pro­posed raise of just under 3 per­cent per year is unim­pres­sive, not­ing that the administration's pro­pos­al would also force union mem­bers to pay more for health ben­e­fits, par­tial­ly negat­ing the impact of the raise. Thanks to a state law that changes fund­ing for­mu­las and oth­er sources, CPS has about a bil­lion more dol­lars avail­able annu­al­ly than in recent years, accord­ing to the union, which cites a study by the Cen­ter for Tax and Bud­get Account­abil­i­ty and a July 2018 school board finan­cial out­look pre­sen­ta­tion. Yet stu­dents and teach­ers have not seen ben­e­fits from the addi­tion­al funds.
CPS teacher com­pen­sa­tion has lagged behind all oth­er com­pa­ra­ble large dis­tricts in the nation, accord­ing to data in the union's report for the inde­pen­dent fact-find­er. The report cites a 2012 study by the Uni­ver­si­ty of Illi­nois show­ing that CPS teach­ers work on aver­age 58 hours a week, includ­ing prep time in the evenings and on week­ends. The medi­an salary for CPS teach­ers stands at $75,180.
The union argues that the para­pro­fes­sion­als it rep­re­sents are par­tic­u­lar­ly under­paid. Near­ly a quar­ter of para­pro­fes­sion­als make less than $31,980 a year and around two-thirds make less than $45,510 per year, the fed­er­al qual­i­fi­er for free and reduced-price school lunch­es, respec­tive­ly, for a fam­i­ly of four. And CPS has over­seen mas­sive lay­offs of para­pro­fes­sion­als in recent years, leav­ing teach­ers and the remain­ing para­pro­fes­sion­als with heav­ier workloads.
The union is also call­ing for bet­ter pay and pro­tec­tions for sub­sti­tute teach­ers, to help address a chron­ic short­age — espe­cial­ly in the most trou­bled schools, where dif­fi­cult work­ing con­di­tions make sub­sti­tutes reluc­tant to take assign­ments. A ​"use-it-or-lose-it" pol­i­cy for teach­ers' time off also exac­er­bates the need for sub­sti­tutes, since teach­ers can't be com­pen­sat­ed for days off they don't take.
And the union wants reform of eval­u­a­tion pro­ce­dures that tend to penal­ize teach­ers of col­or and teach­ers in the most eco­nom­i­cal­ly chal­lenged neighborhoods.
Dick Simp­son, a for­mer alder­man and polit­i­cal sci­en­tist at the Uni­ver­si­ty of Illi­nois at Chica­go who endorsed Light­foot, sees the administration's hard­ball approach as a ​"nego­ti­at­ing tac­tic" that ​"stems most­ly from the Rahm Emanuel peri­od." He hopes things will change once Light­foot her­self switch­es gears from the ethics reform work she has pri­or­i­tized so far and gets more involved in the negotiations.
"There just isn't enough mon­ey to do things that you might have agreed to," Simp­son added. ​"The issue is going to be: Can they find a com­pro­mise posi­tion that rec­og­nizes the finan­cial lim­its but at the same time makes the teach­ers feel val­ued and that they're get­ting some finan­cial help from the system?"
When the admin­is­tra­tion makes a final offer, the union will bring it to their mem­bers and poten­tial­ly take a strike vote, with Sept. 25 the ear­li­est date they could legal­ly strike, accord­ing to Sharkey. The school year is set to begin Sept. 3.
Sharkey said that the admin­is­tra­tion is cur­rent­ly ​"on a col­li­sion course" with the union. Whether through a strike or not, he's hope­ful that Chica­go will see the kinds of vic­to­ries that teach­ers recent­ly gained in oth­er states, includ­ing in Los Ange­les where a week-long strike in Jan­u­ary led to com­mit­ments to hire nurs­es and librar­i­ans, cap class sizes and raise salaries by 6 percent.
Davis-Gates added that the union's cur­rent fight in Chica­go is part of an ongo­ing nation­al trend ​"because racism is a nation­al trend."
"Stu­dents are told to grin and bear it because we do not find val­ue in their com­mu­ni­ties," said Davis-Gates. ​"Teach­ers — because it is a pro­fes­sion dom­i­nat­ed by women — are told to grin and bear it, because nev­er in the his­to­ry of our soci­ety have we respect­ed the work women do. So I think yes, we will con­tin­ue to see teacher rebel­lions across this coun­try because sex­ism is still what it is, racism is still what it is. It's my hope teach­ers every­where con­tin­ue to see their voice as an asset, and their abil­i­ty to with­hold their labor as their power."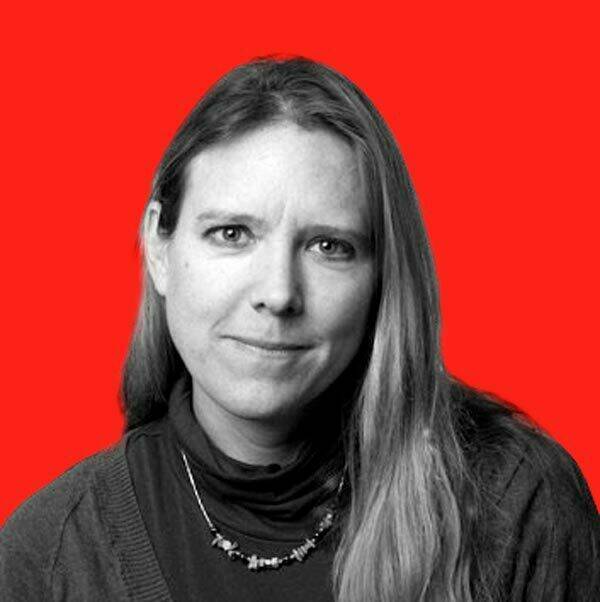 Kari Lyder­sen
is a Chica­go-based reporter, author and jour­nal­ism instruc­tor, lead­ing the Social Jus­tice
&
amp; Inves­tiga­tive spe­cial­iza­tion in the grad­u­ate pro­gram at North­west­ern Uni­ver­si­ty. She is the author of May­or
1
%: Rahm Emanuel and the Rise of Chicago's
99
%.