Chicago Teamsters Strike for Healthcare and Steady Wage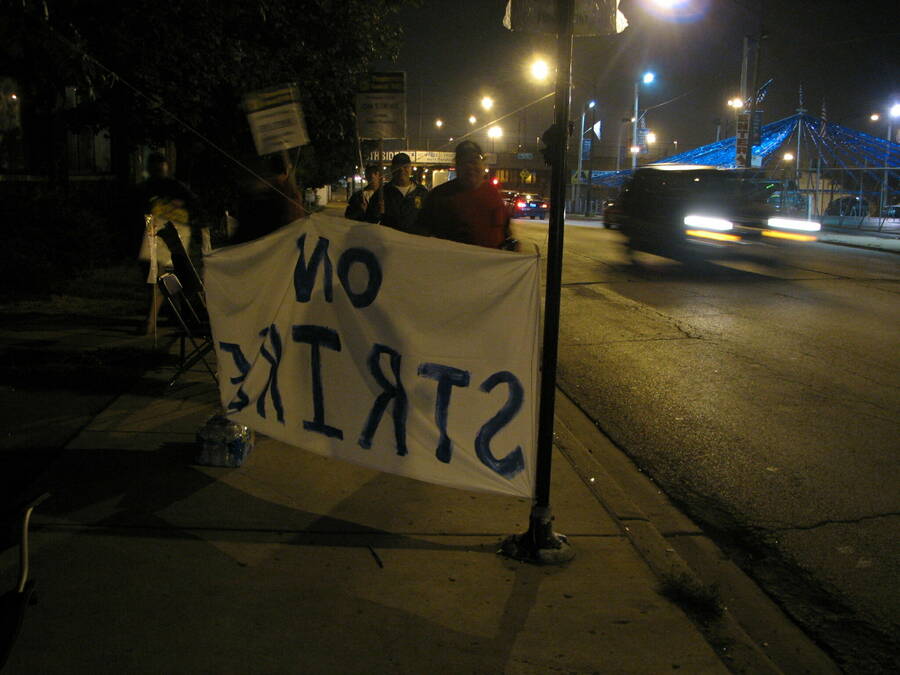 It is dif­fi­cult to hold a con­ver­sa­tion on a cool Fri­day night out­side the brick S‑K Hand Tools fac­to­ry on Chicago's South Side, because of the din of horns blar­ing con­stant­ly from the cars, semi-trucks and city bus­es that speed past on the busy street.
Near­ly every vehi­cle is respond­ing to the ban­ners, held by a small crowd of machin­ists, say­ing ​"Honk for Health Care." Even with the cacoph­o­ny, their mes­sage gets through loud and clear.
Since May, these work­ers have been asked to pay their own med­ical bills: for dia­betes, high blood pres­sure, children's med­ical tests and even a $20,000 her­nia surgery. That's since S‑K Hand Tools, squeezed by the eco­nom­ic cri­sis, sud­den­ly stopped pay­ing their insur­ance pre­mi­ums, with­out even noti­fy­ing them for sev­er­al weeks.
Last win­ter and spring, work­ers knew things were rough at the com­pa­ny that makes sock­et wrench­es, ratch­ets, screw­drivers and about 3,500 oth­er tools. Rolling par­tial lay-offs that start­ed around the 2008 hol­i­days saw many of the 80 or so skilled union machin­ists work­ing only a week or two per month.
Con­tract nego­ti­a­tions that start­ed in Jan­u­ary were high­ly con­tentious, with man­age­ment ask­ing the Team­sters Local 743 lead­ers to accept $4 an hour pay cuts (from $14 an hour to $10) and oth­er major concessions.
Even giv­en the grim out­look, in May, the work­ers got a nasty sur­prise. When they went to the doc­tor or tried to fill pre­scrip­tions, they were told their health insur­ance, through Blue Cross Blue Shield, was no longer valid. Final­ly, after sev­er­al weeks of this, they got let­ters from the com­pa­ny telling them their health insur­ance was cut off.
Work­ers say that in meet­ings since then, man­age­ment has tried to blame the insur­ance com­pa­ny. But as not­ed in Unfair Labor Prac­tice charges filed with the Nation­al Labor Rela­tions Board, the union says the com­pa­ny is to blame for ceas­ing to pay their pre­mi­ums. (Com­pa­ny CEO Claude Fuger, leav­ing the build­ing on a Fri­day night, declined to talk for this story).
Juan Nieves, 57, has high blood pres­sure and cho­les­terol. As luck would have it, dia­betes which Nieves thought he had beat years ago flared up in May.
The 10- to 12-hour days he used to work when busi­ness was good kept him in shape and his dia­betes at bay, Nieve thinks, but the idle hours since busi­ness slowed took a toll on his health.
When Nieves tried to order his pre­scrip­tions in May, ​"They said, ​'Hey you don't have any health­care, your insur­ance card isn't good any­more,'" he said. ​"I didn't know what to do. My sug­ar was so high, but where could I go?"
His sis­ter-in-law helped him find an afford­able clin­ic on the city's north side. But he knows many don't have such luck. The union spent weeks try­ing to nego­ti­ate with the com­pa­ny to restore health­care, includ­ing try­ing to insti­tute a union-backed plan that would have been less expen­sive for the company.
But with no progress, on August 19 they vot­ed to strike. After giv­ing the com­pa­ny a ​"last chance" to make amends on August 24, the next day they hit the pick­et line. The work­ers are out 24 hours a day, not want­i­ng to give man­age­ment a chance to bring in replace­ment work­ers or remove equipment.
Work­ers at the small­er S‑K Hand Tools loca­tion far­ther west are also on strike. Machin­ist John McHale, 38, not­ed that he is one of the younger employ­ees. The major­i­ty of work­ers in their 50s and 60s are experts at machines that aren't wide­ly used anymore.
"With the way the job mar­ket it is, no one's going to hire them," he said. The strik­ers have gar­nered sig­nif­i­cant sup­port from oth­er unions and res­i­dents in gen­er­al. UPS, Fed-Ex and anoth­er union deliv­ery com­pa­ny are refus­ing to make deliveries.
Retirees with almost 40 decades at the plant stop by for moral sup­port. Bob Cartwright, who worked there for 35 years, notes that once upon a time it was a great place to work, and he ​"loved" com­ing in to the job. McHale says it is like a fam­i­ly, ​"every­one loves each other."
The strik­ing work­ers are not opti­mistic about the com­pa­ny agree­ing to restore their health­care, but they are deter­mined to ​"stay out here as long as it takes," in McHale's words.
Julio Cobar, 51, is up for the chal­lenge. He came to the U.S. flee­ing the bloody civ­il war in his native Guatemala. ​"In my coun­try if you were out on strike like this they would send some­one to kill you," he noted.
The S‑K work­ers are proud of their fac­to­ry, which was orig­i­nal­ly found­ed in the ear­ly 1900s on Har­ri­son Street to sup­ply tools for World War I. Most of the work­ers just want to go back to their jobs – but with health­care and their pre­vi­ous wages.
"We aren't ask­ing for any­thing we didn't already have," Nieves said.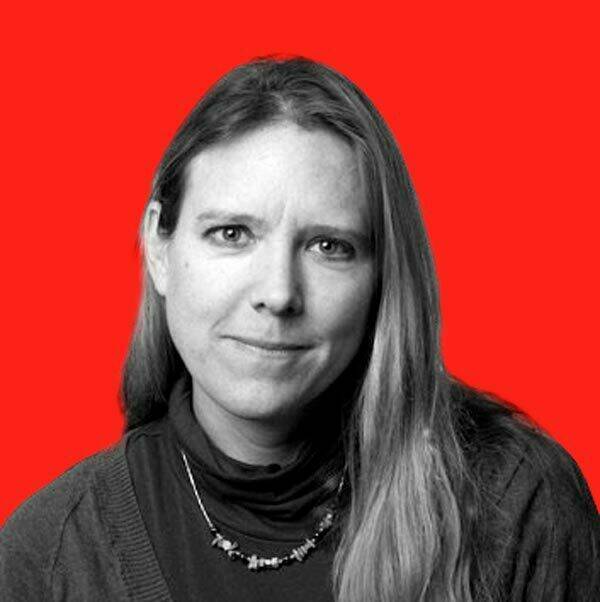 Kari Lyder­sen
is a Chica­go-based reporter, author and jour­nal­ism instruc­tor, lead­ing the Social Jus­tice
&
amp; Inves­tiga­tive spe­cial­iza­tion in the grad­u­ate pro­gram at North­west­ern Uni­ver­si­ty. She is the author of May­or
1
%: Rahm Emanuel and the Rise of Chicago's
99
%.