The Chicago Tribune Is Finally Union as the Media Organizing Wave Intensifies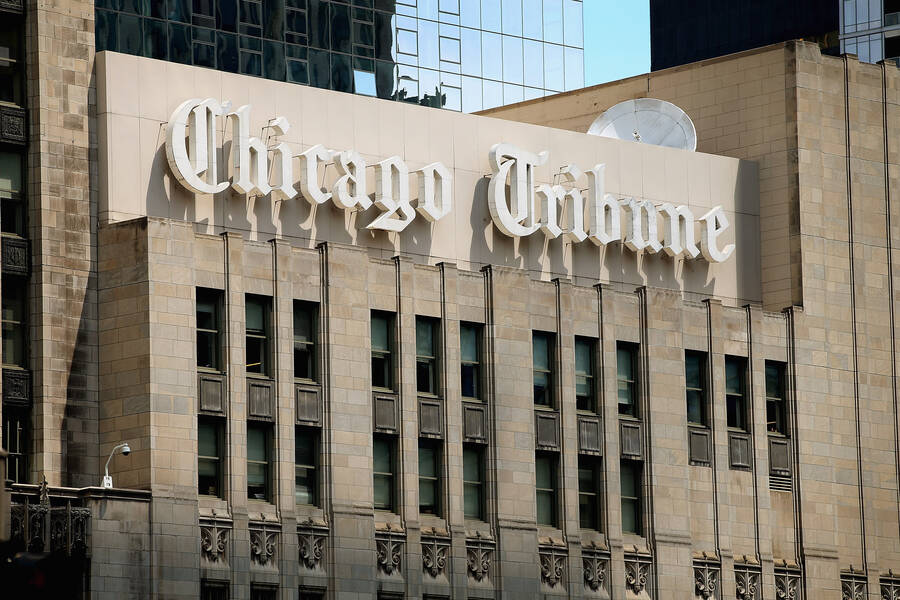 On May 7, glass­es clanked and cheers echoed across a down­town Chica­go bar as jour­nal­ists open­ly cel­e­brat­ed what would have been a whis­pered fan­ta­sy just a few short months ago. The Chica­go Tri­bune, the moth­er of all major anti-union news­pa­pers — both in its edi­to­r­i­al phi­los­o­phy and news­room pol­i­cy — had just bowed to its employ­ees' desire to form a union.
Mary Wis­niews­ki, sidling up to a table, beamed broad­ly as she recalled receiv­ing a colleague's phone call a day before inform­ing her that the com­pa­ny had relent­ed and agreed to rec­og­nize the NewsGuild.
"I was so hap­py. I did a lit­tle dance and took a shot of vod­ka. Pol­ish, of course," chuck­led Wis­niews­ki, a vet­er­an jour­nal­ist and mem­ber of the orga­niz­ing com­mit­tee that had worked for months in vir­tu­al sub­ma­rine silence while gath­er­ing support.
In April, union orga­niz­ers won a stun­ning 85 per­cent sup­port from poten­tial bar­gain­ing unit mem­bers. While con­tract talks have yet to begin, union offi­cials say they will like­ly to focus on the issues raised in the orga­niz­ing dri­ve: job secu­ri­ty, con­trol­ling health care pre­mi­ums, pay equi­ty and build­ing a diverse news­room that reflects the community.
The jour­nal­ists' jubi­la­tion is shared by the two unions that in recent years have been sign­ing up mem­bers in the print and dig­i­tal media indus­try in droves — the News­Guild and the Writ­ers Guild of Amer­i­ca East (WGAE). ​"I com­pare it to what it must have been like in the ear­ly 30s' when the Guild was found­ed," said News­Guild Pres­i­dent Bernie Lunzer.
High pub­lic­i­ty vic­to­ries at name­plate pub­li­ca­tions like the Chica­go Tri­bune and the Los Ange­les Times—anoth­er long-time rock of anti-union fer­vor — have helped replen­ish the NewsGuild's ranks, which have fall­en to about 25,000, down from a high water mark of 34,000 in the late 1980s.
Low­ell Peter­son, exec­u­tive direc­tor of the WGAE and an attor­ney with near­ly 30 years of union expe­ri­ence, mar­vels at ​"the pal­pa­ble sense of move­ment" among work­ers. Over 1,200 dig­i­tal media work­ers have joined the near­ly 5,000-member WGAE over the last three years, a stark rise of union­iza­tion for the industry.
So, what accounts for this rapid growth in union­iza­tion? Have news unions mint­ed a new orga­niz­ing elixir?
Not exact­ly. Rather, media work­ers have shown a new­found will­ing­ness to fight for their rights on the job, and as more and more news­rooms have suc­cess­ful­ly orga­nized, oth­er jour­nal­ists have been moti­vat­ed to union­ize their own work­places. At the Chica­go Tri­bune, for exam­ple, jour­nal­ists say the orga­niz­ing vic­to­ry a few months ear­li­er at the Los Ange­les Times helped ignite their own effort.
There are also mod­ern-day real­i­ties about orga­niz­ing these work­ers. For exam­ple, much of what dri­ves the orga­niz­ing among dig­i­tal media work­ers is how con­nect­ed media work­ers are and how reg­u­lar­ly they com­mu­ni­cate, accord­ing to Megan McRobert, an orga­niz­er for the WGAE. ​"I'll get a call from some­body who will say ​'my friend is with Fusion and so can we talk.'" A for­mer orga­niz­er for the SEIU, she recalls in the past wait­ing for hours in hos­pi­tal cafe­te­rias to meet poten­tial members.
Not so long ago it was also thought that dig­i­tal jour­nal­ists were loath to join unions because their youth makes them uncon­cerned about long-term careers, or because they flit from one site to anoth­er, or because unions are just not in their cul­tur­al DNA.
Kim Bell­ware, a Chica­go based jour­nal­ist who served on the WGAE nego­ti­at­ing com­mit­tee at Huff­Post — anoth­er recent­ly union­ized news­room — dis­agrees. Dig­i­tal jour­nal­ists do care about job sta­bil­i­ty, she explained. ​"If they had job sta­bil­i­ty, you wouldn't see so much mov­ing. They move because they are unhap­py, because they are not well paid, because they are not being treat­ed well or not being developed."
Four months after the union signed a con­tract with Huff­Post, how­ev­er, Bell­ware lost her job as part of a wave of lay­offs. But that didn't change her feel­ings about the union. The cut­back was long expect­ed, she said, and the union sig­nif­i­cant­ly helped smooth out her lay­off. ​"It was more gen­er­ous than any­thing I had ever heard of except an exec­u­tive get­ting a gold­en para­chute. I've been laid off before and nev­er received salary and ben­e­fits," said Bell­ware, who still belongs to the union.
Anoth­er dri­ving force for the rise in media union­iz­ing has been the dis­parate direc­tions tak­en by print and dig­i­tal news media outlets.
While print jour­nal­ism is van­ish­ing like so many pud­dles in the sun, dig­i­tal news oper­a­tions are plugged in and explod­ing. Over­all employ­ment in the news­pa­per indus­try has plum­met­ed from 455,000 jobs in 1990 to 183,000 in 2016, fed­er­al fig­ures show. Over the same time peri­od, inter­net pub­lish­ing and broad­cast­ing jobs have leaped from 28,800 to 197,800.
These declines have wrought dire con­se­quences for print reporters.
News­room staffing is down 40 per­cent over the last decade among news­pa­pers, and as much as 60 to 70 per­cent among news­pa­pers owned and man­aged by hedge funds and pri­vate equi­ty funds, accord­ing to Pene­lope Muse Aber­nathy, the Knight Chair of Jour­nal­ism and Dig­i­tal Media Eco­nom­ics in the School of Media and Jour­nal­ism at the Uni­ver­si­ty of North Car­oli­na. She recent­ly led a major study of Amer­i­can newsrooms.
Five of the 10 largest news­pa­per chains are owned by invest­ment enti­ties such as hedge funds and pri­vate equi­ty funds, which has changed the land­scape for jour­nal­ists. These new own­ers rely on ​"aggres­sive cost-cut­ting" and ​"miser­ly" wage increas­es, she added.
Dean Olsen can tell you what it's like to work in a news­room full of ghosts. He's a health­care reporter at the State Jour­nal Reg­is­ter in Spring­field, Ill., a news­pa­per with roots going back to 1831. Since the NewGuild orga­nized his paper in 2012, the news­room has shrunk from 33 to 17, leav­ing only ​"three to four (news) reporters," he said.
There has not been a pay raise in 11 years, though the News­Guild recent­ly nego­ti­at­ed for a one per­cent raise in Sep­tem­ber and anoth­er 1.7 per­cent increase next year for the 16 Gate­House news­pa­pers it rep­re­sents. In 2016, Olsen also helped orga­nize two oth­er Gate­house papers in Flori­da, the Lake­land Ledger and the Sara­so­ta Her­ald-Tri­bune, but they have yet to sign a con­tract with the com­pa­ny. Gate­House Media pub­lish­es 144 dai­ly news­pa­pers and is part of New Media Invest­ment Group.
In recent years, amid hard times at the Chica­go Tri­bune, the News­Guild had made sev­er­al pass­es at orga­niz­ing but gained lit­tle trac­tion. ​"I made some inquiries. I knocked on a few doors but didn't get much of a response. There was a lot of ​'not now, it won't hap­pen here, I'm not going to get involved in any­thing like this,'" recalled Dave Roed­er, a for­mer Chica­go Sun-Times busi­ness reporter and now a part-time orga­niz­er with the NewsGuild.
But the clouds lift­ed, so to speak, when the Los Ange­les Times orga­niz­ing effort got under­way. The Chica­go Tri­bune​'s cam­paign built upon long-term gripes about cor­po­rate spend­ing, the lack of rais­es, lay­offs and the fail­ure to fill emp­ty jobs at the paper. ​"They had a sense of urgency because of the ongo­ing changes at TRONC (the Tribune's par­ent com­pa­ny). Peo­ple were afraid. They felt that they need­ed some sta­tus quo pro­tec­tions as quick­ly as they could get them," he said
At a recent com­mu­ni­ty meet­ing set up by City Bureau, a fast-grow­ing and inno­v­a­tive grass­roots jour­nal­ism orga­ni­za­tion in Chica­go, sev­er­al Chica­go Tri­bune work­ers explained what happened.
Once they got start­ed, secre­cy was key, they said, so the com­pa­ny would not be able to keep track of the orga­niz­ing dri­ve. They cat­e­go­rized work­ers by their like­li­hood to embrace a union. But there were ​"very few who would not talk to us." In role-play­ing ses­sions with the News­Guild, orga­niz­ers learned how to pitch the union to col­leagues. They set up a Twit­ter page, dis­cussed media strat­e­gy and ulti­mate­ly reached out to NPR reporter David Folken­flik, think­ing that nation­al cov­er­age would help the cam­paign gain steam.
And they were in a hur­ry, fear­ing loom­ing layoffs.
One of the orga­niz­ing committee's mem­bers was vet­er­an pho­tog­ra­ph­er Abel Uribe, who was skep­ti­cal of the union at first. ​"I felt I need­ed more infor­ma­tion, so I went back home and start­ed research­ing unions," he recalled. He saw that unions reached set­tle­ments that improved con­di­tions and pro­tect­ed workers.
Accord­ing to Roed­er of the News­Guild, the lack of news­room diver­si­ty and advance­ment for minori­ties was a con­cern raised by orga­niz­ers, and it prompt­ed work­ers to make sure their effort was diverse.
It was an issue that has deeply touched Uribe, who has often shared his feel­ings that he hasn't been treat­ed the same as oth­ers in the news­room. ​"I fig­ured as a per­son of col­or that I would be one of the first to get let go in a lay­off," he explained.
As the orga­niz­ing sped up and he learned more about unions, Uribe's view of the effort changed, lead­ing him to join the orga­niz­ing committee.
"We were not just fight­ing for bet­ter pay," he said, ​"but for the future of jour­nal­ism in Chicago."
Stephen Franklin is a for­mer labor and work­place reporter for the Chica­go Tri­bune, was until recent­ly the eth­nic media project direc­tor with Pub­lic Nar­ra­tive in Chica­go. He is the author of Three Strikes: Labor's Heart­land Loss­es and What They Mean for Work­ing Amer­i­cans (2002), and has report­ed through­out the Unit­ed States and the Mid­dle East.