Chicago Youth Theater Refuses To Be Silenced
Teens in Chicago are overcoming censorship to share their perspectives on the city's social issues.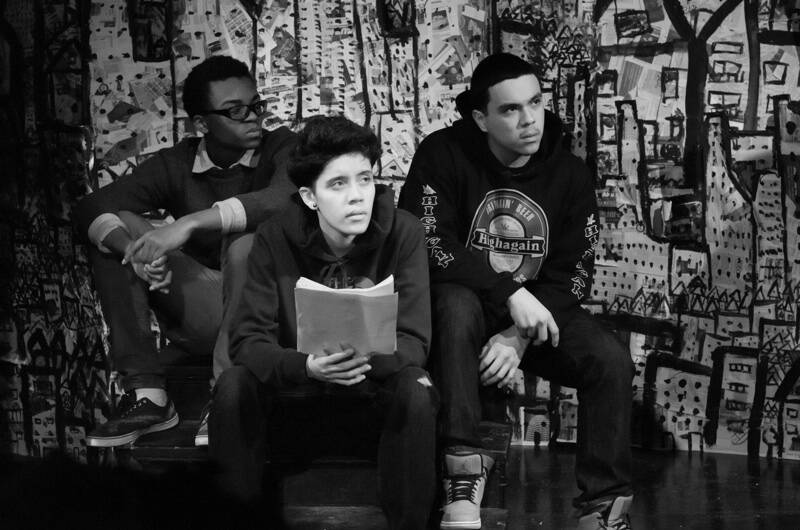 ​"Make sure you are in con­tact with some­one, even if it's a pinky fin­ger," per­for­mance artist Ricar­do Gam­boa tells a group of teenage actors rehears­ing at Free Street The­ater in Chica­go one frigid Sat­ur­day after­noon in Jan­u­ary. The actors move into a new for­ma­tion, rear­rang­ing them­selves to cre­ate a more dra­mat­ic tableau.
One reason the teens decided to re-stage the play, Garcia says, was to 'get our voices out there and show us in a positive light—that we're not just running the streets like adults think we are.'
Then the mem­bers of the Young Fugi­tives ensem­ble launch into the rapid-fire bursts of dia­logue — based on their per­son­al expe­ri­ences and impres­sions — that make up the back­bone of ​"Cold Sum­mer," their cur­rent production.
They're explor­ing issues like gun vio­lence, fail­ing schools, seg­re­ga­tion and pover­ty — con­cerns that have been stud­ied and talked to death by the nation's top aca­d­e­mics and pol­i­cy-mak­ers. But their voic­es impart a per­spec­tive that is poet­ic, con­found­ing, dis­com­fit­ing, reveal­ing and inspir­ing all at once.
And that per­spec­tive needs to be heard, Gam­boa says. An accom­plished per­for­mance artist pur­su­ing a doc­tor­ate at New York Uni­ver­si­ty and work­ing at a Brook­lyn the­ater com­pa­ny, Gam­boa fre­quent­ly returns to his native Chica­go to work with these young actors, whom he sees as being on the cut­ting edge of gen­uine social change.
In fact, the very stag­ing of this par­tic­u­lar play is an act of empow­er­ment and resistance.
For sev­er­al years, Gam­boa has been pro­duc­ing plays with young Chicagoans as part of After School Mat­ters, a city­wide pro­gram that pays stu­dents to par­tic­i­pate in a vari­ety of cre­ative endeav­ors. Last sum­mer, Gam­boa led pro­gram par­tic­i­pants at Chicago's Nation­al Mex­i­can Muse­um in craft­ing their own script based on the mes­sages and nar­ra­tives they want­ed to con­vey. The result­ing pro­duc­tion includ­ed a seg­ment about Chica­go May­or Rahm Emanuel and his high­ly con­tro­ver­sial move to close almost 50 pub­lic schools last year, pre­dom­i­nant­ly in poor African-Amer­i­can neighborhoods.
One day, as Gam­boa recounts it, a rep­re­sen­ta­tive from After School Mat­ters hap­pened to come by rehearsal. After­wards, Gam­boa says he was told that the neg­a­tive por­tray­al of Emanuel and the school clos­ings had to go. The stu­dents decid­ed to per­form the play for After School Mat­ters with­out the flagged mate­r­i­al, so as to not jeop­ar­dize Gamboa's future work with the pro­gram. How­ev­er, the actors tell In These Times, they would not be silenced.
That sum­mer, they staged the orig­i­nal ver­sion of the play with Free Street The­ater, an inde­pen­dent social jus­tice-mind­ed com­pa­ny based at a park dis­trict field house in Chicago's Wick­er Park neigh­bor­hood. There was an over­flow crowd, so they did a sec­ond per­for­mance. Then they decid­ed to take it a step fur­ther — expand­ing, rewrit­ing and re-stag­ing the play to be per­formed the next season.
Dur­ing the fall and win­ter, the cast devot­ed 10 or more hours each week to the pro­duc­tion. As the stu­dents dis­cussed how Chicago's press­ing issues affect­ed their own lives, Gam­boa took copi­ous notes. Lat­er, he helped them turn the live­ly, free­wheel­ing con­ver­sa­tions into a script. Gam­boa also added broad­er con­text by talk­ing with the actors about how their per­son­al expe­ri­ences fit in with wide-rang­ing strug­gles like immi­gra­tion and incarceration.
While the stu­dents were paid for their time with After School Mat­ters, the restag­ing of the play has been a pure­ly vol­un­teer effort. The group raised about $700 for bus fare to rehearsals and sup­plies to build the set; they hope tick­et sales will allow them to pay the set designer.
Through their per­se­ver­ance, says Daniela Perez, 16, in a back­stage dis­cus­sion with fel­low cast mem­bers Omari Fer­rell, Tyran Free­man and Vale­ria Nava, ​"We showed how invest­ed in this we are, how much it means to us."
​"We showed teens actu­al­ly can make a dif­fer­ence," adds David Dixon, 16.
Julis­sa Gar­cia, 18, feels that ​"Cold Sum­mer" pro­vides a vital point of view for those who may only be famil­iar with Chicago's youth cul­ture through vio­lent news sto­ries. One rea­son the teens decid­ed to re-stage the play, Gar­cia says, was to ​"get our voic­es out there and show us in a pos­i­tive light — that we're not just run­ning the streets like adults think we are."
Eliseo Real, 18, says that forums like ​"Cold Sum­mer" where youth can tru­ly express them­selves are all too rare. Grow­ing up in the low-income immi­grant neigh­bor­hood of Lit­tle Vil­lage on Chicago's West Side, he says, ​"you just expect­ed to not be heard, to just do sim­ple things so peo­ple won't get mad at you."
"[Gam­boa] start­ed break­ing down bar­ri­ers," he con­tin­ues. ​"We're not just the voice for the ​'Young Fugi­tives' now but for every kid. So we have a big responsibility."
And the actors take that respon­si­bil­i­ty very seri­ous­ly. They don't just want to raise aware­ness about Chicago's prob­lems, they say; they want to chal­lenge view­ers to con­front the sys­tem that pro­duces them in the first place.
​"Vio­lence isn't just about the indi­vid­ual; it's about the seg­re­ga­tion of the city, and gen­tri­fi­ca­tion, and push­ing the poor out of their homes, polic­ing and clos­ing schools and men­tal health clin­ics, the things that Rahm Emanuel is doing," says Seline Racey, 17. ​"Vio­lence is framed as the ​'bad apples' the­o­ry, but you need to cri­tique author­i­ty and hier­ar­chi­cal structures."
Patrick Blan­ton, 16, thinks the seg­ment on school clos­ings is espe­cial­ly impor­tant because many peo­ple ​"give up on the schools and try to turn away instead of fac­ing the prob­lems." As the cast ​"pieced togeth­er all these tragedies, we formed a bond onstage and off­stage," he notes. And the intense per­son­al sto­ries con­veyed in the play ​"are not to make peo­ple feel sor­ry for us. We want peo­ple to speak out."
In response to In These Times' query about the inci­dent, After School Mat­ters spokesper­son Michael Crow­ley sent a state­ment that said, in part:
We encour­age our pro­grams to teach teens the impor­tant pro­fes­sion­al skill of cre­at­ing their work prod­ucts with poten­tial audi­ences, part­ners and col­lab­o­ra­tors in mind. To that end, After School Mat­ters strong­ly dis­cour­ages any con­tent, includ­ing but not lim­it­ed to pro­fan­i­ty and defama­tion, which could be con­sid­ered dis­turb­ing or inap­pro­pri­ate for such audi­ences. These poli­cies and guide­lines are com­mu­ni­cat­ed direct­ly to pro­gram providers pri­or to the start of all pro­gram ses­sions and includ­ed in pro­gram con­tracts. Addi­tion­al­ly, our pro­gram staff works direct­ly with pro­gram providers on an ongo­ing basis to ensure that they are aware of and that teen work reflects these parameters.
Gam­boa feels that the pro­gram direc­tors' order to remove parts of the orig­i­nal play rep­re­sents a larg­er and more trou­bling reflec­tion of what soci­ety con­sid­ers ​"appro­pri­ate" mate­r­i­al for young people.
​"There's a pater­nal­is­tic log­ic that goes through­out our whole polit­i­cal sys­tem," Gam­boa explains. ​"It's about the gov­ern­ment spy­ing on every­day cit­i­zens, it's about rep­re­sen­ta­tives mak­ing deci­sions against pop­u­lar sen­ti­ment, with the idea that they have exper­tise and they know bet­ter. … What's most impor­tant is demon­strat­ing how young peo­ple — and not just young peo­ple, every­day peo­ple that don't have badges, polit­i­cal titles or aca­d­e­m­ic cre­den­tials or celebri­ty sta­tus — can be involved in the con­ver­sa­tion about what is hap­pen­ing in the city and in their communities."
Jesse Mur­phy, 17, saw last summer's cen­sor­ship as a sign of the pow­er youth can have when they speak out. ​"The rea­son some­one tries to stop you is that they're afraid. To think we could make them quake in their boots like that … [Cen­sor­ship] has hap­pened through­out his­to­ry, and it's going to keep hap­pen­ing unless we do some­thing about it."
The Young Fugi­tives' per­for­mance ​"Cold Sum­mer" runs Fri­days at 6:30pm and Sat­ur­days at 2:30pm through Feb­ru­ary 15 at Free Street The­ater, 1419 W. Black­hawk in Chica­go, with slid­ing scale admis­sion. (773) 772‑7248.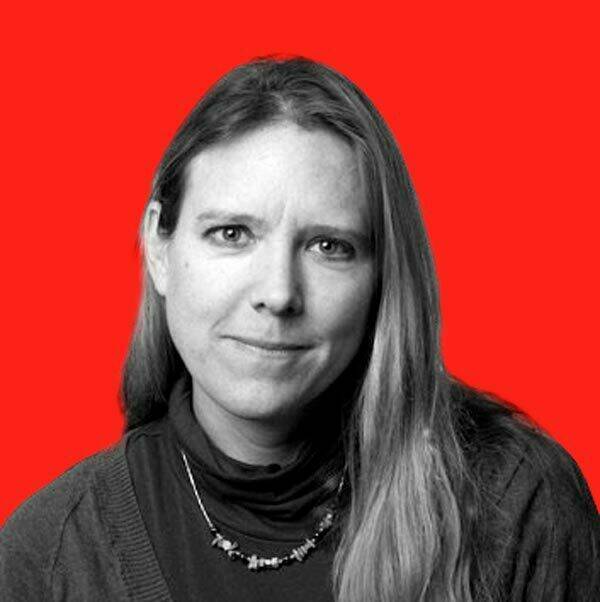 Kari Lyder­sen
is a Chica­go-based reporter, author and jour­nal­ism instruc­tor, lead­ing the Social Jus­tice
&
amp; Inves­tiga­tive spe­cial­iza­tion in the grad­u­ate pro­gram at North­west­ern Uni­ver­si­ty. She is the author of May­or
1
%: Rahm Emanuel and the Rise of Chicago's
99
%.