Chicagoland, Episode 5: Startups vs. Shootouts
The latest episode of the CNN miniseries ultimately lets Mayor Rahm Emanuel off the hook for Chicago's rifts.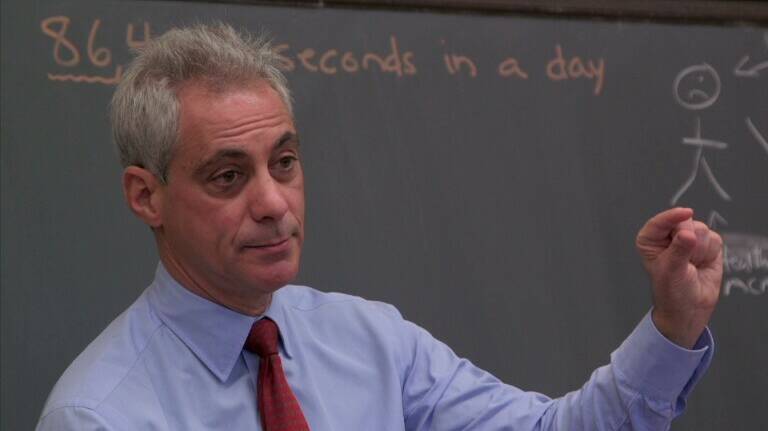 There is a world where you wor­ry about whether drink­ing reg­u­lar or diet soda will have a big­ger effect on your sex life.
Even beginning to solve real problems like violence, disinvestment and recidivism is exponentially more difficult than the realms where Emanuel has seemingly excelled—like creating buzz around flashy startup companies or using taxpayer subsidies to lure major corporate headquarters.
And there is a world where you wor­ry about whether you will make it through the first day of school with­out being shot.
Both of these worlds exist with­in 20 miles of each oth­er in Chica­go, as the ongo­ing CNN docu­d­ra­ma series Chicagoland shows view­ers this week.
Chica­go is often described as a ​"tale of two cities." There's the North Side, full of glis­ten­ing sky­scrap­ers, tree-lined streets, Gold Coast man­sions, trendy side­walk cafes and night­clubs. Then there are the burned-out build­ings, over­grown lots, barred win­dows, trash bar­rel fires and men­ac­ing street cor­ners of the South and West Sides.
Chicagoland has invoked the ​"two cities" leit­mo­tif repeat­ed­ly through­out the series, which is cur­rent­ly on its fifth episode. But in this week's install­ment, air­ing tonight, the trope is on par­tic­u­lar­ly vivid dis­play as film­mak­ers con­trast prepa­ra­tions for the first day of school at Fenger High in the Rose­land neigh­bor­hood and for the ​"Demo Day" start­up extrav­a­gan­za downtown.
In Rose­land, on the city's South Side, staff, stu­dents and hero­ic prin­ci­pal Liz Dozi­er are wor­ry­ing about threats of gang blood­shed and about city, state and fed­er­al bud­get cuts that threat­en the very sur­vival of their school. Down­town, dig­i­tal start­up entre­pre­neurs are sweat­ing it out as they pre­pare to unveil their online dat­ing, weight loss and brand­ing ven­tures for an audi­ence of poten­tial investors.
As school staff weighs the odds of lethal gang vio­lence break­ing out in Rose­land, a start­up team stress­es out because their guy is botch­ing his pitch about the fact that Diet Coke drinkers have four times more sex than those who quaff reg­u­lar Coke.
The dis­so­nance is jar­ring and almost com­i­cal, espe­cial­ly giv­en that May­or Rahm Emanuel has framed high-tech and dig­i­tal star­tups as the bedrock of an eco­nom­i­cal­ly thriv­ing and glob­al­ly sig­nif­i­cant ​"new Chica­go." A new ven­ture, he says, launch­es every 24 hours, and the tech­nol­o­gy sec­tor as a whole has brought thou­sands of new jobs to the city. The start­up rev­o­lu­tion may be revamp­ing parts of Chica­go; but as Chicagoland vivid­ly shows, vast stretch­es of the city remain struc­tural­ly crum­bling and social­ly distressed.
Film­mak­ers Marc Levin and Mark Ben­jamin say Chicagoland is a social jus­tice project in the same vein as their pre­vi­ous, often award-win­ning, work. Levin's films include treat­ments of the Tri­an­gle Shirt­waist Fac­to­ry Fire and the L.A. riots; Benjamin's wide-rang­ing resume encom­pass­es the film ver­sion of per­for­mance artist-activist Dan­ny Hoch's Jails, Hos­pi­tals and Hip-Hop and exten­sive col­lab­o­ra­tions with Bill Moy­ers. In Chica­go, they're turn­ing their cam­eras on a major Amer­i­can city that is mak­ing the tran­si­tion from a man­u­fac­tur­ing-based econ­o­my to an infor­ma­tion-based one. In the process, though, it's leav­ing many peo­ple behind.
​"Chica­go is known as the city that works — the city of work­ing peo­ple. And the his­to­ry of the labor move­ment is all so ingrained" in Chicago's his­to­ry, Levin tells me as I talk with the pair halfway through Chicagoland​'s eight-week run. ​"Chica­go always ven­er­at­ed the blue-col­lar work­er and it's always been a union town," he says. But now, when indus­try has dwin­dled, the labor move­ment has with­ered and unem­ploy­ment has risen, he says, ​"that is changing."
With state and nation­al capi­tols polit­i­cal­ly par­a­lyzed, Levin says, Chicagoland is explor­ing the ques­tion of whether a may­or like Emanuel can make a dif­fer­ence on a met­ro­pol­i­tan lev­el. Can he, Levin won­ders, use the brute force of his per­son­al­i­ty and his con­nec­tions to solve the eco­nom­ic prob­lems — and, by exten­sion, the vio­lence — killing many of the city's neighborhoods?
Emanuel's many crit­ics believe the answer is no. They counter that his poli­cies — slash­ing and pri­va­tiz­ing pub­lic-sec­tor jobs and ser­vices; quash­ing forums for com­mu­ni­ty input; attack­ing unions — are mak­ing inequal­i­ty and pover­ty worse, not bet­ter. They see Emanuel as more con­cerned with pol­ish­ing his own and the city's images than tru­ly solv­ing deep-seat­ed prob­lems. And they see Chicagoland as serv­ing that mis­sion all too well.
Indeed, though episode five can be read as a point­ed jab at Emanuel's ​"sav­ior" star­tups, much of the series comes across like a slick extend­ed cam­paign com­mer­cial. Upcom­ing episodes offer an African-Amer­i­can man call­ing out ​"I'm vot­ing for you bud­dy!" as Emanuel dash­es by him out­side a school; there's also a cloy­ing class­room scene where the only ​"ques­tion" a stu­dent asks about the high­ly con­tro­ver­sial school clos­ings turns out to be a set­up for Emanuel to praise his appoint­ed school board for not clos­ing high schools. The scenes that do crit­i­cize Emanuel almost always end with the may­or get­ting the last word, arch­ly writ­ing off his detrac­tors with­out actu­al­ly respond­ing to them.
So what about the rumors that Chicagoland was Emanuel's elec­tion-year brain­child, or that his Hol­ly­wood agent broth­er Ari had undue influ­ence over the series?
Levin and Ben­jamin claim that nei­ther Rahm nor Ari Emanuel had any­thing to do with the project's incep­tion. Instead, in the wake of their award-win­ning series Brick City about Newark under Cory Book­er, pro­fil­ing a quin­tes­sen­tial Amer­i­can metrop­o­lis with anoth­er ​"rock star" may­or was a no-brain­er, the film­mak­ers say.
How­ev­er, they do admit that get­ting access to the mayor's office took care­ful nego­ti­a­tion. ​"There is a trade­off between access and how you han­dle some of these things, there's no doubt about this," Levin acknowl­edges. ​"Chica­go lit­er­al­ly is a city that has been locked down to media —for years — under the [for­mer May­ors Richard M. and Richard J.] Daley Machine. There's an open­ing hap­pen­ing in Chica­go now … there's a dance there, and City Hall is final­ly begin­ning to open up and let go."
Mean­while, Levin says the crit­ics of the may­or whom they inter­viewed, or tried to, ​"were sur­pris­ing­ly unco­op­er­a­tive or resis­tant to open­ing up … almost nobody want­ed to go on cam­era and real­ly take on City Hall."
Those hop­ing for a more inci­sive take on the mayor's reign in the sec­ond stretch of the eight-part series will like­ly be dis­ap­point­ed. Start­ing in episode five, Chicagoland delves a bit deep­er into the his­tor­i­cal and sys­temic nature of the city's urban vio­lence and decay. It accu­rate­ly notes that the mur­der rate was actu­al­ly much high­er in decades past, even though ​"Chi­raq" has made inter­na­tion­al head­lines for vio­lence in recent years. This is impor­tant con­text for seri­ous­ly under­stand­ing the vio­lence issue; in Chicagoland, how­ev­er, the inclu­sion comes off as anoth­er way to let Rahm off the hook.
Like­wise, police super­in­ten­dent Gar­ry McCarthy opines to the cam­era that crime is root­ed in deep­er prob­lems like entrenched pover­ty and bro­ken fam­i­lies. He's right, of course, but his demeanor and his words come off as stri­dent­ly defen­sive, mak­ing him appear more con­cerned with shift­ing the blame away from him­self and the may­or than with the tragedy he is describing.
I asked Ben­jamin and Levin if their report­ing has led them to see to any pos­si­ble solu­tions to Chicago's vio­lence and inequal­i­ty. They say that beyond small bright spots like their hero Liz Dozi­er, they don't fore­see sweep­ing change any time soon.
​"I'm not opti­mistic we'll solve urban vio­lence," says Ben­jamin. ​"If a job can stop a bul­let, that's a solu­tion," he con­tin­ues, ref­er­enc­ing Chicagoland's empha­sis on ways to increase employ­ment oppor­tu­ni­ties through­out the city. ​"But that's not nec­es­sar­i­ly attain­able in a con­tract­ing econ­o­my. That's the nightmare."
Mean­while, Emanuel, brash and cocky as ever, has trum­pet­ed incre­men­tal vic­to­ries like a falling mur­der rate and a record high school grad­u­a­tion rate; recent­ly, he's also stepped up his out­reach to the African-Amer­i­can community.
On March 31, the may­or gave a rous­ing speech at the Union League Club in down­town Chica­go at a sem­i­nar called ​"The $2 Bil­lion Ques­tion: Can Illi­nois Spend Less on Incar­cer­a­tion and Improve Pub­lic Safety?"
He promised to unite the two Chica­gos, invok­ing the ​"majes­tic sky­line" and sparkling waters of Lake Michi­gan, and lament­ing the impov­er­ished youth who have nev­er been down­town or who (accord­ing to him) don't even know they live near a lake. With all Chicago's promise, he said, ​"The ques­tion we have to ask is whether that ener­gy, that opti­mism, that city on a move includes them or excludes them."
To his cred­it, the may­or has under­tak­en some con­crete mea­sures to address the epi­dem­ic of incar­cer­a­tion and unem­ploy­ment par­tic­u­lar­ly affect­ing Black men. At the Union League Club, he described his efforts to help pass a bill through the state leg­is­la­ture that would mean auto­mat­ic expunge­ment of juve­nile arrest records if for­mal charges are nev­er filed. Cur­rent­ly, peo­ple must go through a lengthy and cost­ly process to clean their records of arrests, even if they were nev­er actu­al­ly charged. That means poor Black and Lati­no men in low-income neigh­bor­hoods have sure­ly lost count­less jobs, apart­ments or oth­er oppor­tu­ni­ties because of arrest records that could have more to do with their vio­lence-plagued, heav­i­ly-policed sur­round­ings than their own behavior.
Emanuel also recent­ly announced the immi­nent expan­sion of a city pro­gram pro­vid­ing tran­sit and parks jobs to ex-offend­ers, as well as an ini­tia­tive that starts to roll back poli­cies bar­ring ex-offend­ers from pub­lic housing.
At the sem­i­nar, Emanuel trot­ted out one of his sig­na­ture sto­ries, also told at length in a pre­vi­ous episode of Chicagoland: the time he struck up a con­ver­sa­tion with an engag­ing young man named Martell Cow­an at a city-spon­sored bas­ket­ball game, wrote a com­pli­men­ta­ry note to his mom and then gave the youth a ride home, invit­ed him to City Hall and ulti­mate­ly became his per­son­al mentor.
Emanuel prob­a­bly was tru­ly impressed by Cow­an, who land­ed an intern­ship at City Hall, and the mayor's inter­est sure­ly did change the course of the young man's life. But whether they are moti­vat­ed by cold-eyed polit­i­cal cal­cu­lus, gen­uine empa­thy or both, such indi­vid­ual acts of doing good can nev­er atone for the injus­tices of a sys­tem where peo­ple are marked as crim­i­nals because of their looks and loca­tion alone.
While the atten­dees who gave Emanuel a stand­ing ova­tion at the "$2 Bil­lion" sem­i­nar may have been charmed, sea­soned observers chalk the mayor's recent focus on crim­i­nal-jus­tice reform up to prag­ma­tism and pol­i­tics as usu­al. Con­ve­nient­ly, after all, the ini­tia­tives come just as the may­oral con­test is start­ing to ramp up. While one poll shows Emanuel regain­ing ground with African-Amer­i­can vot­ers, anoth­er shows him los­ing the race as a whole — and los­ing among Black vot­ers espe­cial­ly — should Cook Coun­ty board pres­i­dent Toni Preck­win­kle jump in.
Skep­tics also note Emanuel's key role in the Clin­ton White House dur­ing the craft­ing and pas­sage of the 1996 crime bill that is wide­ly held respon­si­ble for the mod­ern incar­cer­a­tion boom; he was also at Clinton's side on the wel­fare reform leg­is­la­tion that shred­ded the safe­ty net upon which many low-income Black fam­i­lies depended.
More recent­ly, Emanuel was vice chair of the board of the Chica­go Hous­ing Author­i­ty in the 1990s as it draft­ed the sweep­ing and con­tro­ver­sial ​"Plan for Trans­for­ma­tion," under which the pub­lic hous­ing rolls were cleansed of peo­ple with crim­i­nal con­vic­tions and even their fam­i­ly mem­bers — the very same poli­cies he now pledges to rein in.
If Emanuel is seri­ous about using his clout and exec­u­tive pow­er to address incar­cer­a­tion impacts in the long term, even his harsh­est crit­ics may be able to hold their noses and work with him. But even begin­ning to solve real prob­lems like vio­lence, dis­in­vest­ment and recidi­vism is expo­nen­tial­ly more dif­fi­cult than the realms where Emanuel has seem­ing­ly excelled — like cre­at­ing buzz around flashy start­up com­pa­nies or using tax­pay­er sub­si­dies to lure major cor­po­rate headquarters.
Emanuel's expan­sion of the ex-offend­er job pro­gram, for exam­ple, will offer posi­tions and job train­ing to 700 more for­mer­ly incar­cer­at­ed peo­ple . The tri­al pub­lic hous­ing pro­gram will bring just 50 ex-offend­ers into hous­ing over a three-year peri­od — and only if they are work­ing. But some 21,000 for­mer inmates return to Chica­go each year. Hence, Emanuel's new ini­tia­tives amount to bare­ly a drop in the bucket.
There are of course no sim­ple ways to revi­tal­ize com­mu­ni­ties that have been dev­as­tat­ed by decades of dis­in­vest­ment and seg­re­ga­tion. But numer­ous com­mu­ni­ty groups have draft­ed var­i­ous plans and pro­pos­als for revamp­ing schools and enhanc­ing neigh­bor­hoods — pro­pos­als that often fall on deaf ears in the mayor's office. Mean­while, they say he is mak­ing the prob­lems worse by clos­ing schools and health clinics.
Chicagoland tells one tale show­ing just how hard it is to escape social and eco­nom­ic ruin in neigh­bor­hoods like Rose­land. Prin­ci­pal Dozi­er goes to great lengths to help a for­mer stu­dent get released from jail, only to have him fall back into the crim­i­nal street life in order to survive.
In the world of brand­ing and ven­ture cap­i­tal in which Emanuel thrives, flashy announce­ments by politi­cians and entre­pre­neurs may get you fund­ing. But as the res­i­dents of Rose­land know, they don't put food on the table.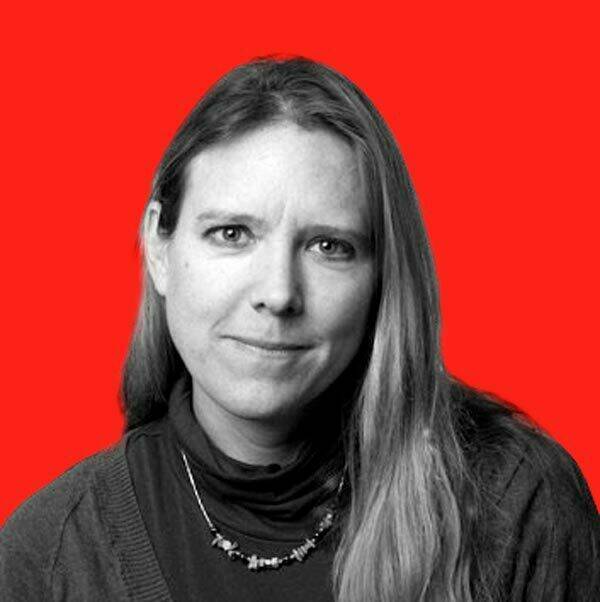 Kari Lyder­sen
is a Chica­go-based reporter, author and jour­nal­ism instruc­tor, lead­ing the Social Jus­tice
&
amp; Inves­tiga­tive spe­cial­iza­tion in the grad­u­ate pro­gram at North­west­ern Uni­ver­si­ty. She is the author of May­or
1
%: Rahm Emanuel and the Rise of Chicago's
99
%.