Chicago's Hidden Stop-and-Frisk
A lack of data makes police profiling difficult to prove in Chicago, but the arrest of two Latino outreach workers suggests it's alive and well.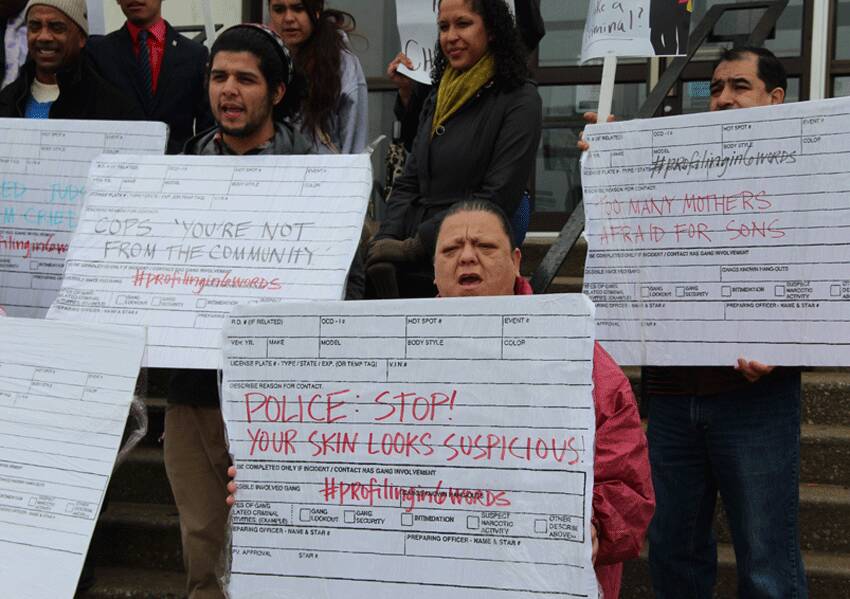 With the dead­line for sign­ing up for health insur­ance under the Afford­able Care Act (ACA) less than a week away, Kevin Tapia and Felipe Her­nan­dez were hard at work get­ting the word out. The two young men were work­ing for Grass­roots Col­lab­o­ra­tive, a coali­tion of faith, labor and com­mu­ni­ty groups in Chica­go, which had received a pri­vate grant to help spread aware­ness about Oba­macare and con­nect peo­ple with health nav­i­ga­tors to sign up for coverage.
'Police should be forced to answer two very simple questions,' says the ACLU's Miller. 'Why is someone being stopped on the streets of Chicago, and why are they being searched by the police?'
On March 26 as they had many times, Tapia and Her­nan­dez — Lati­no men aged 19 and 20, respec­tive­ly — were going door to door ask­ing peo­ple a series of ques­tions about their health insur­ance sit­u­a­tion and giv­ing them infor­ma­tion about the ACA. They were in Garfield Ridge, a most­ly white neigh­bor­hood on Chicago's south­west side, when four police offi­cers approached and began ques­tion­ing them aggres­sive­ly, telling them to take their hands out of their pock­ets, frisk­ing them and mak­ing them put their hands up on the car.
The two were arrest­ed and charged with unlaw­ful­ly solic­it­ing busi­ness. ​"They were mak­ing us feel like crim­i­nals even though we had all the infor­ma­tion to prove we were try­ing to do good for the com­mu­ni­ty," said Her­nan­dez. (Police say they were respond­ing to a 911 call from res­i­dents who sus­pect­ed the two men were attempt­ing to per­pe­trate a scam tar­get­ing the elder­ly, accord­ing to the Chica­go Sun-Times.)
In the view of the Grass­roots Col­lab­o­ra­tive and oth­er groups that have tak­en up the issue, the case was a clear exam­ple of racial pro­fil­ing. Though the charges against the two men were dropped today, advo­cates are using the inci­dent to high­light this broad­er issue and push for­ward mea­sures that would lead to greater police accountability.
On Fri­day, sup­port­ers gath­ered out­side a South Side cour­t­house as the two men pre­pared to face a judge. Lead­ers from the Amer­i­can Civ­il Lib­er­ties Union (ACLU), the Grass­roots Col­lab­o­ra­tive and the com­mu­ni­ty orga­ni­za­tion Action Now alleged that racial pro­fil­ing by Chica­go police is a sys­tem­at­ic problem.
Last month, Attor­ney Gen­er­al Eric Hold­er pledged to begin col­lect­ing data about stops, search­es and arrests nation­wide as part of an effort to curb racial pro­fil­ing. But the scarci­ty of such data in Chica­go obscures the city's own ver­sion of stop-and-frisk. Activists are demand­ing that the Chica­go Police alter its ​"con­tact cards," the paper­work that tracks inter­ac­tions between police and the pub­lic, to require more infor­ma­tion on why offi­cers stop or search some­one. This addi­tion­al data, activists say, would allow cit­i­zens and lawyers to bet­ter track and prove instances of racial profiling.
On the cour­t­house steps, Tapia, Her­nan­dez and sup­port­ers held enlarged exam­ples of Chicago's con­tact cards, which include rel­a­tive­ly lit­tle infor­ma­tion. They com­pared those to the much more detailed cards used by police in New York, a city has been at the fore­front of the nation­al debate over racial pro­fil­ing and stop and frisk poli­cies. New York May­or Bill De Bla­sio made it an issue dur­ing his suc­cess­ful cam­paign last year, and has set­tled law­suits against the police regard­ing the tactic.
​"For Chica­go it's a blank piece of paper that says, ​'Offi­cer you're in con­trol, tell us what hap­pened,'" said Tapia, who came to Chica­go from Ecuador at age nine.
After talk­ing with reporters, Tapia and Her­nan­dez went before a judge who swift­ly dropped the charges, but then chas­tised sup­port­ers in the court­room for clap­ping. The group had expect­ed the charges would be dropped, but they said the whole thing was still a trou­bling mis­car­riage of jus­tice. For one thing, the arrest is still on Tapia's and Hernandez's records, and they'll have to go through a cost­ly and bureau­crat­ic process to get the arrests expunged. Her­nan­dez said they plan to demand the city pay the expunge­ment costs. May­or Rahm Emanuel has backed state leg­is­la­tion that would mean auto­mat­ic expunge­ment of juve­nile arrests when charges are dropped.
Tanue David is a youth orga­niz­er for Action Now. He told the crowd at the cour­t­house how he has him­self been racial­ly pro­filed, includ­ing a time when he was stopped by police in the upscale, most­ly white Lin­coln Park neigh­bor­hood where he was vis­it­ing friends.
​"They put me in hand­cuffs, say­ing I'm try­ing to bur­glar­ize," he said. ​"They start ask­ing me all these ques­tions, took down all my infor­ma­tion, ran my name, and they're like, ​'Man yeah he's clean, we can't get him on anything.'
​"The prob­lem is the police have so much pow­er, they can plant drugs, they can plant any­thing on peo­ple, they can basi­cal­ly choose someone's des­tiny," David con­tin­ued. ​"And I don't want them to be able to choose my destiny."
David and oth­ers said polit­i­cal lead­ers includ­ing Emanuel are respon­si­ble for racial pro­fil­ing by police.
​"It's com­ing from the top," said David. ​"It's the politi­cians who are train­ing the police essen­tial­ly to racial pro­file young Black and young Lati­no men."
Illi­nois ACLU staff attor­ney Lind­say Miller said, ​"We know stop-and-frisk is per­va­sive in Chica­go today, just as it has been for the past sev­er­al decades." The result, she said, is the ​"arrest and deten­tion of thou­sands of young men of col­or on ques­tion­able grounds."
She adds that the ACLU has col­lect­ed a ​"small amount" of data which indi­cates racial pro­fil­ing in Chica­go, but the con­tact cards that Chica­go police cur­rent­ly use make it very dif­fi­cult to ana­lyze the problem.
​"Police should be forced to answer two very sim­ple ques­tions," Miller said. ​"Why is some­one being stopped on the streets of Chica­go, and why are they being searched by the police?"
The cards are cur­rent­ly used in sit­u­a­tions that don't involve stop-and-frisk, Miller said, mean­while they are not used every time some­one is stopped, frisked and arrest­ed; so the cards are not very help­ful in ana­lyz­ing racial profiling.
​"The ACLU of Illi­nois calls upon the Chica­go Police Depart­ment to main­tain a sep­a­rate stop-and-frisk data­base with thor­ough doc­u­men­ta­tion that is pub­licly acces­si­ble, so that stop and frisk pat­terns can be tracked," she said. ​"The record of this data­base will allow the pub­lic to have an open con­ver­sa­tion and a trans­par­ent dis­cus­sion in our city about the use and the mis­use of this tactic."
David said he now feels he has to dress nice­ly all the time to avoid racial pro­fil­ing. Tapia said it should not be that way.
​"I should not be wor­ried about what I'm wear­ing and what my skin looks like," he said. ​"I should not be defined by my race."
Though the charges have been dropped, Grass­roots Col­lab­o­ra­tive exec­u­tive direc­tor Amisha Patel said the group will con­tin­ue to build its cam­paign against racial pro­fil­ing through ongo­ing com­mu­ni­ty dia­logues and demands.
​"It nev­er should have got­ten to this place. These are two young men who have been work­ing real­ly hard on behalf of the com­mu­ni­ty and now they have a record," Patel said. ​"Beyond that, it's made it very clear how often young peo­ple and young men of col­or in par­tic­u­lar are being stopped and frisked and arrest­ed in the city of Chica­go for very ques­tion­able rea­sons. There's a lot of work to do to make sure we're hold­ing the police accountable…The effect of this real­ly is, in com­mu­ni­ties of col­or there's grow­ing mis­trust of the police. That's not in the inter­est of safe com­mu­ni­ties and safe streets."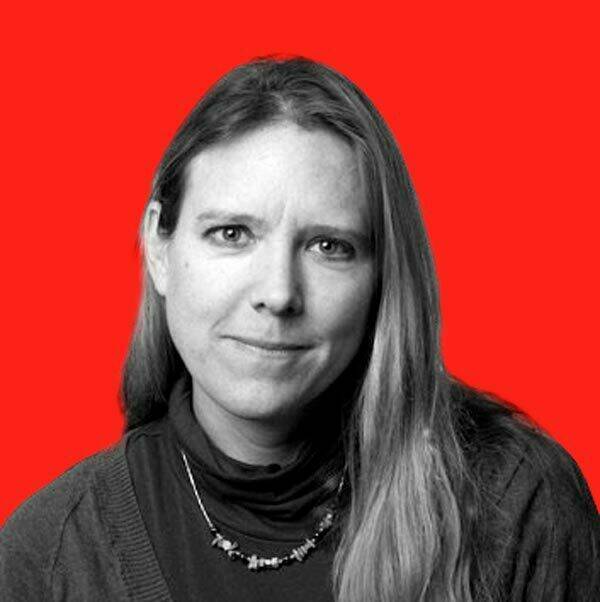 Kari Lyder­sen
is a Chica­go-based reporter, author and jour­nal­ism instruc­tor, lead­ing the Social Jus­tice
&
amp; Inves­tiga­tive spe­cial­iza­tion in the grad­u­ate pro­gram at North­west­ern Uni­ver­si­ty. She is the author of May­or
1
%: Rahm Emanuel and the Rise of Chicago's
99
%.