Salvador Allende's Final Speech on Sept. 11, 1973
Chilean President Salvador Allende was the first democratically-elected Marxist president in Latin America. Here is his final speech before his death in the U.S.-backed coup by Augusto Pinochet.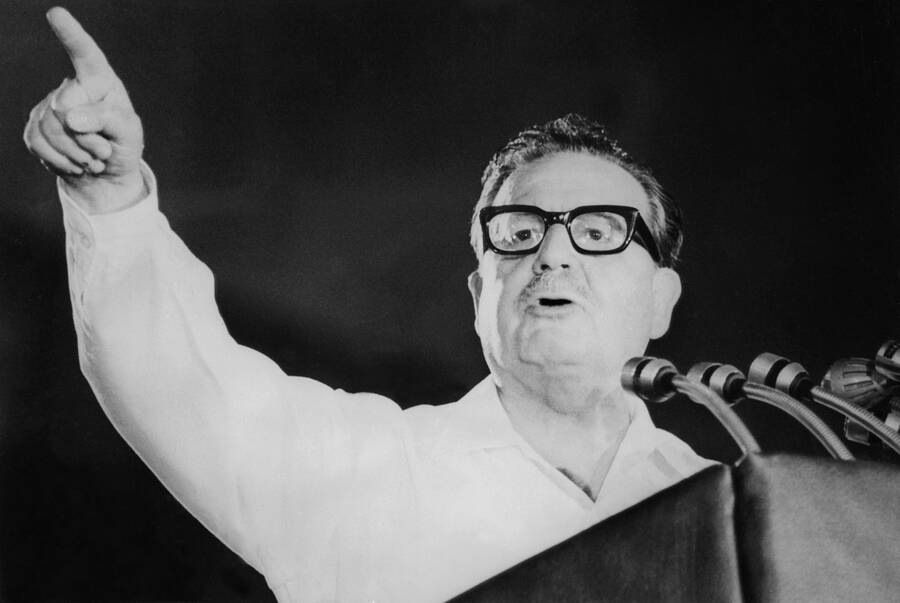 On Sep­tem­ber 11, 1973, a U.S.-backed coup over­threw the demo­c­ra­t­i­cal­ly-elect­ed social­ist gov­ern­ment of Sal­vador Allende in Chile. At 9:10 am on this date, pri­or to his death, Allende made a final radio broad­cast to the peo­ple of Chile. This last mes­sage is pre­sent­ed here in full.
They have strength and will be able to dominate us, but social processes can be arrested neither by crime nor force. History is ours, and people make history.
My friends,
Sure­ly this will be the last oppor­tu­ni­ty for me to address you. The Air Force has bombed the tow­ers of Radio Por­tales and Radio Corporación.
My words do not have bit­ter­ness but dis­ap­point­ment. May they be a moral pun­ish­ment for those who have betrayed their oath: sol­diers of Chile, tit­u­lar com­man­ders in chief, Admi­ral Meri­no, who has des­ig­nat­ed him­self Com­man­der of the Navy, and Mr. Men­doza, the despi­ca­ble gen­er­al who only yes­ter­day pledged his fideli­ty and loy­al­ty to the Gov­ern­ment, and who also has appoint­ed him­self Chief of the Cara­bineros [nation­al police].
Giv­en these facts, the only thing left for me is to say to work­ers: I am not going to resign!
Placed in a his­toric tran­si­tion, I will pay for loy­al­ty to the peo­ple with my life. And I say to them that I am cer­tain that the seed which we have plant­ed in the good con­science of thou­sands and thou­sands of Chileans will not be shriv­eled forever.
They have strength and will be able to dom­i­nate us, but social process­es can be arrest­ed nei­ther by crime nor force. His­to­ry is ours, and peo­ple make history.
Work­ers of my coun­try: I want to thank you for the loy­al­ty that you always had, the con­fi­dence that you deposit­ed in a man who was only an inter­preter of great yearn­ings for jus­tice, who gave his word that he would respect the Con­sti­tu­tion and the law and did just that. At this defin­i­tive moment, the last moment when I can address you, I wish you to take advan­tage of the les­son: for­eign cap­i­tal, impe­ri­al­ism, togeth­er with the reac­tion, cre­at­ed the cli­mate in which the Armed Forces broke their tra­di­tion, the tra­di­tion taught by Gen­er­al Schnei­der and reaf­firmed by Com­man­der Araya, vic­tims of the same social sec­tor which will today be in their homes hop­ing, with for­eign assis­tance, to retake pow­er to con­tin­ue defend­ing their prof­its and their privileges.
I address, above all, the mod­est woman of our land, the campesina who believed in us, the work­er who labored more, the moth­er who knew our con­cern for chil­dren. I address pro­fes­sion­als of Chile, patri­ot­ic pro­fes­sion­als, those who days ago con­tin­ued work­ing against the sedi­tion spon­sored by pro­fes­sion­al asso­ci­a­tions, class-based asso­ci­a­tions that also defend­ed the advan­tages which a cap­i­tal­ist soci­ety grants to a few.
I address the youth, those who sang and gave us their joy and their spir­it of strug­gle. I address the man of Chile, the work­er, the farmer, the intel­lec­tu­al, those who will be per­se­cut­ed, because in our coun­try fas­cism has been already present for many hours – in ter­ror­ist attacks, blow­ing up the bridges, cut­ting the rail­road tracks, destroy­ing the oil and gas pipelines, in the face of the silence of those who had the oblig­a­tion to pro­tect them. They were com­mit­ted. His­to­ry will judge them.
Sure­ly Radio Mag­a­l­lanes will be silenced, and the calm met­al instru­ment of my voice will no longer reach you. It does not mat­ter. You will con­tin­ue hear­ing it. I will always be next to you. At least my mem­o­ry will be that of a man of dig­ni­ty who was loy­al to [inaudi­ble] the workers.
The peo­ple must defend them­selves, but they must not sac­ri­fice them­selves. The peo­ple must not let them­selves be destroyed or rid­dled with bul­lets, but they can­not be humil­i­at­ed either.
Work­ers of my coun­try, I have faith in Chile and its des­tiny. Oth­er men will over­come this dark and bit­ter moment when trea­son seeks to pre­vail. Go for­ward know­ing that, soon­er rather than lat­er, the great avenues will open again where free men will walk to build a bet­ter society.
Long live Chile! Long live the peo­ple! Long live the workers!
These are my last words, and I am cer­tain that my sac­ri­fice will not be in vain, I am cer­tain that, at the very least, it will be a moral les­son that will pun­ish felony, cow­ardice, and treason.
—San­ti­a­go de Chile, 11 Sep­tem­ber 1973