Chiquita Made a Killing From Colombia's Civil War. Will Their Victims Finally See Justice?
A long-running case against the banana giant is moving forward in U.S. court.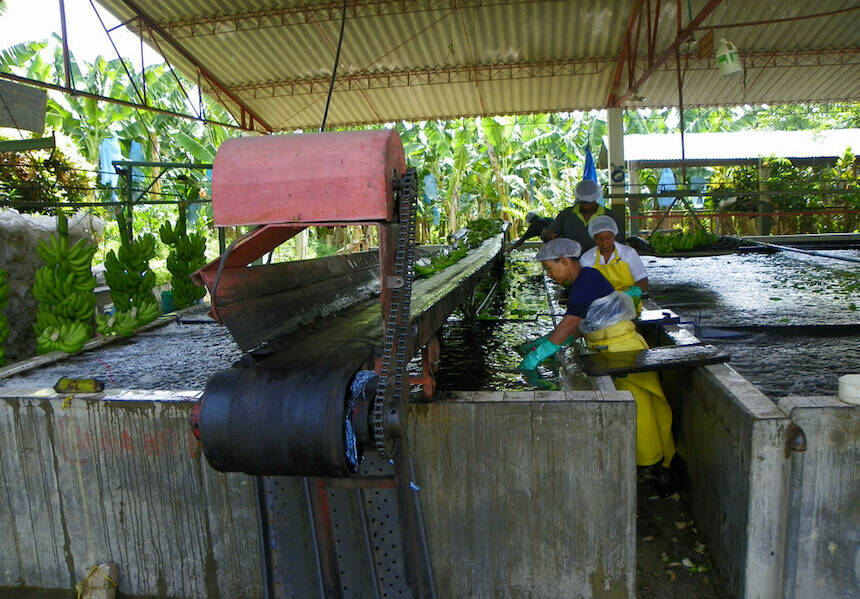 Get­ting an inter­view with Anabel (not her real name) is not easy. In Colom­bia, wit­ness­ing para­mil­i­tary vio­lence against your fam­i­ly gen­er­al­ly means you keep qui­et about it — it's too dan­ger­ous to speak about what you've seen. Anabel tells us, after an extend­ed peri­od of nego­ti­a­tion, to meet her at her place of work near the trendy El Pobla­do dis­trict of down­town Medel­lín. We are told we can­not name her: What she saw and the pow­er­ful peo­ple who are impli­cat­ed mean her own life is still not safe.
"There is almost total impunity for the security forces and their paramilitary allies who target land activists and community leaders."
Anabel is part of a class action law­suit brought by the Wash­ing­ton, D.C.-based NGO Earth­Rights Inter­na­tion­al against the food com­pa­ny Chiq­ui­ta for alleged human rights abus­es in Colom­bia. Accord­ing to Earth­Rights, Anabel's inter­view with In These Times is the first media done by any of the suit's plaintiffs.
Anabel's trau­ma began in 1997, when she was around 10 years old, an Afro-Colom­bian child liv­ing with her par­ents in the town of Apartadó in Antio­quia, not far from the bor­der with Pana­ma. Even at a young age she felt the weight of the vio­lence hap­pen­ing all around her. ​"There were a lot of mas­sacres, too many deaths," she tells In These Times. ​"You could see the man­ner in which they left them as well. Often dis­mem­bered. It was a hor­ri­ble war."
Her fam­i­ly, she says, had long been receiv­ing threats from local para­mil­i­taries who want­ed the land occu­pied by her stepfather's banana farm. Land-grab­bing by para­mil­i­taries in this region — and much of the coun­try — was and still is ram­pant. Land judged to be valu­able to cor­po­ra­tions would be bought or forcibly seized by para­mil­i­taries and sold to rich indi­vid­u­als or cor­po­ra­tions. When some­one refused to buck­le under the weight of threats, the para­mil­i­taries resort­ed to violence.
Colombia's right-wing para­mil­i­tary groups ini­tial­ly devel­oped dur­ing the Colom­bian civ­il war as pri­vate mili­tias to defend land­ed inter­ests. They pro­lif­er­at­ed in the 1970s, often backed covert­ly by the polit­i­cal class, which was intent on defeat­ing the left-wing insur­rec­tion. And in 1997, these para­mil­i­taries were intim­i­dat­ing enough that Anabel's step­fa­ther, aware of the dan­gers, even­tu­al­ly agreed to sell his land.
When Anabel and her fam­i­ly met with the buy­er, he said he had to go to anoth­er town, and they all got in a wait­ing taxi. But the taxi soon pulled to an unex­pect­ed stop. The buy­er exit­ed and anoth­er man came in, pulled a gun and start­ed dri­ving. Accom­pa­nied by oth­er men on motor­bikes, they con­tin­ued on until reach­ing the end of a dirt road, where Anabel's moth­er and step­fa­ther were ordered to leave the car. The men beat and then shot her step­fa­ther, killing him. Her moth­er tried to run; she was shot and killed, too. The men took the papers they need­ed for own­er­ship of the land, then had the taxi dri­ver bring Anabel into town.
Anabel's life nev­er got easy. ​"As I didn't have par­ents, it was very hard to con­front the world," she tells In These Times. ​"Peo­ple made fun of me, I had to see psy­chol­o­gists. I couldn't go out in the street because I'd see a taxi and run off."
Anabel report­ed the mur­ders to the police and they were able to iden­ti­fy the taxi dri­ver, who she believes was involved. But as far as she knows, no case against him or the mur­der­ers was ever made, and she has still not been able to recov­er her stepfather's land.
"There is a lot of dis­trust," Anabel says. ​"I still have night­mares. I can­not say that the issue doesn't dom­i­nate. You can­not imag­ine the effort I'm mak­ing to not cry now. It's extreme­ly hard." She then breaks down and cries. In each of four inter­views In These Times con­duct­ed with sur­vivors of para­mil­i­tary vio­lence in Colom­bia, the sur­vivors did the same.
On our way out of the offices, anoth­er woman stops us and asks we inter­view her about her fam­i­ly killed by para­mil­i­taries. Like Anabel, she claims the police — and Colombia's labyrinthine judi­cial sys­tem — have done noth­ing to help her. No one in the com­mu­ni­ty of un-peo­ple in Colom­bia — the poor, the peas­ants, the indige­nous, the black — has escaped the ter­ri­ble toll of war.
But there may be hope on the hori­zon. In Novem­ber 2016, after nine years of lit­i­ga­tion, fed­er­al judge Ken­neth Mar­ra ruled that Earth­Rights' case against Chiq­ui­ta would con­tin­ue in U.S. court. Chiq­ui­ta, which has admit­ted to fund­ing the ultra right-wing Unit­ed Self-Defense Forces of Colom­bia (AUC), had argued the case should be heard in Colom­bia, where the banana com­pa­ny would be unlike­ly to be found guilty. But Marra's deci­sion means that Anabel and the oth­er vic­tims of para­mil­i­tary vio­lence will go to tri­al in the some­what more favor­able U.S. court system.
These legal devel­op­ments occurred as the Colom­bian gov­ern­ment of Juan Manuel San­tos and the country's old­est guer­ril­la insur­gency, the Rev­o­lu­tion­ary Armed Forces of Colom­bia (FARC), nego­ti­at­ed a his­toric peace deal to end over half a cen­tu­ry of con­flict. Fol­low­ing the orig­i­nal deal's shock rejec­tion in a nation­al ref­er­en­dum, the two sides swift­ly redraft­ed an agree­ment that in Novem­ber was unan­i­mous­ly passed in the Colom­bian con­gress (with many anti-peace politi­cians boy­cotting the vote). Under its terms, thou­sands of guer­ril­las will vol­un­tar­i­ly demo­bi­lize in des­ig­nat­ed zones before inte­grat­ing into civ­il soci­ety. Oppo­nents of the deal, chiefly the con­ser­v­a­tive Demo­c­ra­t­ic Cen­ter par­ty of for­mer pres­i­dent Álvaro Uribe, com­plain that it allows human rights vio­la­tors to go free. But while Uribe tends to focus on the crimes of the FARC, right-wing para­mil­i­taries leave a vio­lent lega­cy of their own — a lega­cy inex­tri­ca­bly tied to U.S. multinationals.
Tak­ing Chiq­ui­ta to Court
Urabá, in the north­west part of Colom­bia, is the major banana-grow­ing region of the coun­try. Multi­na­tion­al com­pa­nies have long cov­et­ed its land and resources. One of the most promi­nent of the com­pa­nies work­ing there is Chiq­ui­ta — a cor­po­ra­tion with a long his­to­ry in Latin America.
In Colom­bia, on Dec. 6, 1928, Chiq­ui­ta — then the Unit­ed Fruit Com­pa­ny (UFC) — got the police and army to mas­sacre hun­dreds of banana work­ers strik­ing for bet­ter con­di­tions. Colom­bians still refer to the so-called ​"masacre de las bananeras."
UFC is infa­mous through­out the region for its intense lob­by­ing effort in Wash­ing­ton, which even­tu­al­ly helped lead to a CIA-insti­gat­ed mil­i­tary coup d'état in Guatemala in 1954, over­throw­ing the demo­c­ra­t­i­cal­ly elect­ed reformist social demo­c­ra­t­ic pres­i­dent Jacobo Arbenz and installing mil­i­tary dic­ta­tor Car­los Castil­lo Armas. This helped unleash a civ­il war that end­ed with a quar­ter of a mil­lion dead, and what the Unit­ed Nations has termed ​"geno­cide" against the indige­nous Maya population.
By the 1990s Chiq­ui­ta had sig­nif­i­cant oper­a­tions in Urabá, the sub­re­gion where Anabel was liv­ing with her moth­er and step­fa­ther. They were giv­ing mil­lions of dol­lars to mass-mur­der­ing para­mil­i­taries, who had been embold­ened by polit­i­cal pro­tec­tion dur­ing the civ­il war, to help pro­tect their assets from dis­si­dents and their oper­a­tions from union­ists. The major para­mil­i­tary group in Colom­bia, the AUC, has a long his­to­ry of vio­lence against peas­ants, trade union­ists, Afro-Colom­bians and indige­nous com­mu­ni­ties. Chiq­ui­ta has admit­ted that it made at least 100 pay­ments to the AUC in the peri­od from 1997 to 2004, a total of $1.7 million.
Court depo­si­tions like that of for­mer AUC com­man­der Jesús Igna­cio Roldán Pérez (also known as ​"Monoleche") in August 2015 as part of the Earth­Rights case, along with Free­dom of Infor­ma­tion Act requests made by Earth­Rights and oth­ers, have revealed even more evi­dence of the involve­ment of a long list of U.S.-based indi­vid­u­als in the atroc­i­ties car­ried out by Chiq­ui­ta-fund­ed paramilitaries.
Sev­er­al of the AUC com­man­ders in the peri­od are now in U.S. pris­ons, includ­ing Sal­va­tore Man­cu­so, who, accord­ing to Monoleche's depo­si­tion, has more exten­sive knowl­edge about the fund­ing Chiq­ui­ta pro­vid­ed to the AUC, which is need­ed if the case is to be heard in its entire­ty. Man­cu­so was sen­tenced on drugs traf­fick­ing charges in June 2015.
Hebert Veloza, alias ​"H.H.," was in the mid-1990s the com­man­der of the AUC's Bloque Bananero, which worked in Urabá and was impli­cat­ed in many gris­ly mur­ders. He was extra­dit­ed to the Unit­ed States in 2009 on drug traf­fick­ing charges. Anabel now believes Veloza to be one of the para­mil­i­tary lead­ers behind her par­ents' death.
A diplo­mat­ic cable sent from the U.S. embassy in Bogotá back to Wash­ing­ton on May 18, 2007, titled ​"Man­cu­so alleges para­mil­i­tary ties to politi­cians, retired gen­er­als and busi­ness­es," gives fur­ther insight into the role multi­na­tion­als play in the para­mil­i­tary vio­lence in Colom­bia. Accord­ing to the cable, ​"Among the multi­na­tion­al orga­ni­za­tions that Man­cu­so said made reg­u­lar pay­ments to the para­mil­i­taries were Chiq­ui­ta, Dole, Del Monte, and Hyundai."
John Ord­man, who cur­rent­ly lives free in the Unit­ed States, is anoth­er with ques­tions to answer. He was, accord­ing to a March 2016 court doc­u­ment filed by Earth­Rights, a high-rank­ing exec­u­tive at Chiq­ui­ta respon­si­ble for much of the company's Colom­bia oper­a­tions. He ​"was involved in the approval of ​'sen­si­tive' pay­ments to the con­vivirs"—legal ​"self-defense" groups cre­at­ed osten­si­bly to pro­tect pri­vate estates from guer­ril­la incur­sion. Con­vivirs deploy civil­ians under mil­i­tary com­mand, and crit­ics have argued they are essen­tial­ly legal­ized para­mil­i­taries, and that they have com­mit­ted mas­sacres and oth­er human rights abus­es. The doc­u­ment goes on: "[Ord­man] tes­ti­fied that he had exten­sive con­ver­sa­tions with Chiq­ui­ta per­son­nel in Colom­bia about the dif­fer­ent vio­lent groups Chiq­ui­ta was paying."
In March 2000, inter­nal Chiq­ui­ta com­mu­ni­ca­tions not­ed the con­nec­tion between the con­vivirs and the AUC, reveal­ing that Chiq­ui­ta chose to ​"con­tin­ue mak­ing the pay­ments [because they] can't get the same lev­el of sup­port from the mil­i­tary." At the time these para­mil­i­taries were reg­u­lar­ly killing and dis­mem­ber­ing peo­ple all over Colom­bia. Often the peo­ple they killed were oppo­nents of big resource projects. Chiq­ui­ta claims it did­n't know what its mon­ey was being used for.
In the fan­fare around the peace deal signed by the Colom­bian state and the FARC gueril­las, the role of multi­na­tion­al cor­po­ra­tions in the vio­lence was large­ly ignored. The unstat­ed truth in Wash­ing­ton, D.C., is that many peo­ple have become incred­i­bly rich by instru­men­tal­iz­ing the vio­lence of the Colom­bia civ­il war to fight their own wars against oppo­nents of their projects or com­pa­ny policy.
"Some multi­na­tion­als have direct­ly col­lab­o­rat­ed with ille­gal para­mil­i­tary groups, but many oth­ers have turned a blind eye to human rights abus­es," says Grace Liv­ing­stone, the author of Inside Colom­bia: Drugs, Democ­ra­cy and War and America's Back­yard: The Unit­ed States and Latin Amer­i­ca From the Mon­roe Doc­trine to the War on Ter­ror. ​"Multi­na­tion­al com­pa­nies have ben­e­fit­ed as para­mil­i­taries have vio­lent­ly evict­ed thou­sands of peo­ple from their land, clear­ing the way for large-scale min­ing, oil or agro-indus­tri­al projects. These com­pa­nies are know­ing­ly oper­at­ing in a coun­try where death squads sup­press dis­sent by tar­get­ing com­mu­ni­ty activists and trade unionists."
She adds, ​"There is almost total impuni­ty for the secu­ri­ty forces and their para­mil­i­tary allies who tar­get land activists and com­mu­ni­ty lead­ers and those who have protest­ed against large-scale min­ing, oil and agro-indus­tri­al projects."
In fact, accord­ing to Gime­na Sánchez, an ana­lyst at the Wash­ing­ton Office on Latin Amer­i­ca, ​"The impuni­ty rate is over 95 per­cent for [killings of] trade union­ists and for the oth­ers prob­a­bly close to that. Colom­bian author­i­ties, when pres­sured by [Colom­bian civ­il soci­ety and inter­na­tion­al NGOs], may begin inves­ti­ga­tions but very few of the per­pe­tra­tors are brought to justice."
In 2003, under then-Pres­i­dent Uribe, the AUC ini­ti­at­ed a demo­bi­liza­tion process, which saw tens of thou­sands of men rein­te­grate into Colom­bian soci­ety, where many regrouped in armed gangs and con­tin­ued to coor­di­nate ter­ror net­works. In 2006 and 2007, Colombia's Supreme Court unearthed the ​"para­pol­i­tics" scan­dal, which by 2012 had placed 139 elect­ed politi­cians under inves­ti­ga­tion for links to para­mil­i­tary organ­i­sa­tions, includ­ing pay­ments. For­mer Sen­a­tor Mario Uribe Esco­bar — Álvaro Uribe's cousin — was among those con­vict­ed and sent to prison.
Fol­low­ing the sup­posed AUC demo­bil­i­sa­tion, for­mer com­man­ders were pro­vid­ed spe­cial treat­ment, receiv­ing lit­tle to no puni­tive action for their crimes. But then they start­ed admit­ting what they'd done — and with whom. In 2008, Uribe had thir­teen senior para­mil­i­tary com­man­ders, includ­ing Sal­va­tore Man­cu­so and oth­ers named in the Chiq­ui­ta law­suit, extra­dit­ed to the U.S. where they are now in prison on drugs charges. Many sus­pect Uribe did this for his own pro­tec­tion, as sev­er­al of the com­man­ders claim to have direct­ly col­lab­o­rat­ed with the for­mer president.
No one at Chiq­ui­ta has paid for this with a prison spell, and no rel­a­tives of vic­tims have received com­pen­sa­tion. But in 2007, Earth­Rights filed a fed­er­al class-action law­suit against Chiq­ui­ta on behalf of Colom­bian fam­i­lies who had lost loved ones killed by para­mil­i­taries in the pay of the com­pa­ny. Por­tions of the case were brought under the Alien Tort Statute (ATS), which allows human rights claims to be brought from vic­tims of U.S. multi­na­tion­al com­pa­nies with­in the U.S. court sys­tem, even if the crimes were com­mit­ted in anoth­er country.
But this poten­tial­ly pro­gres­sive piece of leg­is­la­tion often fails the peo­ple it is meant to serve, espe­cial­ly in the case of Colom­bia. In recent decades, a num­ber of suits brought by Colom­bian plain­tiffs against U.S. cor­po­ra­tions such as Dole and Coca-Cola have been dis­missed from the U.S. courts due to lack of jurisdiction.
Chiq­ui­ta filed a motion to dis­miss the Earth­Rights case in 2008, on the grounds that the ATS claims lacked suf­fi­cient con­nec­tion to the Unit­ed States to be heard in U.S. courts. After a num­ber of back and forths, this motion was grant­ed in 2014. A peti­tion to the Supreme Court filed by Earth­Rights, ask­ing to recon­sid­er, was also dismissed.
D.C.-based lawyer Ter­ry Collingsworth, who has been lead coun­sel on many cas­es involv­ing the ATS, filed some of the ear­li­er motions on behalf of Colom­bian com­mu­ni­ties in the Chiq­ui­ta case. ​"The Chiq­ui­ta and Drum­mond [a coal com­pa­ny also in a court bat­tle over deal­ings in Colom­bia] cas­es both have great facts that should have been per­fect vehi­cles for bring­ing suc­cess­ful claims under the Alien Tort Statute," Collingsworth tells In These Times.
But the ATS remains dif­fi­cult to imple­ment, large­ly due to the con­ser­v­a­tive U.S. Supreme Court. In a 5 – 4 deci­sion, Kio­bel v. Roy­al Dutch Petro­le­um (2013) held that the ATS could only apply extrater­ri­to­ri­al­ly if there are alle­ga­tions that ​"touch and con­cern the ter­ri­to­ry of the Unit­ed States." This 2013 deci­sion is flex­i­ble enough to make it easy for cor­po­ra­tions with their sig­nif­i­cant war chests to argue to dis­miss every time.
The argu­ment made by Roy­al Dutch (and many in the inter­na­tion­al busi­ness com­mu­ni­ty) in that case was that it had no con­nec­tion to the Unit­ed States because it involved for­eign plain­tiffs and a for­eign nation­al busi­ness as defen­dant (even though the busi­ness has oper­a­tions in the U.S), and all rel­e­vant deci­sions took place out­side the U.S. The five right-wing jus­tices on the Supreme Court jumped at the chance to lim­it the ATS, and left a fuzzy ​"touch and con­cern" test that pro­vid­ed more than enough dis­cre­tion to low­er courts to essen­tial­ly gut the ATS.
"The ATS needs to be rede­fined," Collingsworth says. But ​"Con­gress … is very unlike­ly to cham­pi­on a law that will be strong­ly opposed by the major busi­ness orga­ni­za­tions, like the U.S. Cham­ber of Com­merce and the U.S. Coun­cil for Inter­na­tion­al Busi­ness." And with the ascen­sion of Trump to pow­er, it is unlike­ly that the Supreme Court will become more progressive.
Colombia's domes­tic sys­tem holds lit­tle hope either. Sev­er­al legal pro­fes­sion­als tell In These Times that the Colom­bian judi­cial set­up is so cor­rupt that jus­tice can't be served through it. 57 com­pa­nies, includ­ing Chiq­ui­ta, were recent­ly charged with sup­port­ing the AUC — but the lawyers In These Times spoke to sus­pect the gov­ern­ment won't take any action to pros­e­cute or oth­er­wise hold these com­pa­nies accountable.
"The cor­rup­tion is not just nor­mal bribery. Colom­bian cor­rup­tion is rela­tion­ships," says Collingsworth. For exam­ple, Jaime Bernal Cuél­lar, a lawyer on retain­er for Drum­mond in Colom­bia, was a law part­ner for years with for­mer Colom­bia Attor­ney Gen­er­al Eduar­do Mon­teale­gre Lynett. They have writ­ten books togeth­er and, Collingsworth tells In These Times, Bernal is the god­fa­ther to at least one of Montealegre's kids. It's hard to see Mon­teale­gre launch­ing a case against Drummond.
Despite the bar­ri­ers to suc­cess­ful pros­e­cu­tion, the Novem­ber 2016 deci­sion ensures that non-ATS claims against Chiq­ui­ta (as well as claims against cer­tain Chiq­ui­ta exec­u­tives under the Tor­ture Vic­tim Pro­tec­tion Act) will move for­ward in the Unit­ed States. ​"Chiq­ui­ta prof­it­ed from its rela­tion­ship with the AUC," says Mar­co Simons of Earth­Rights. While Chiq­ui­ta paid a $25 mil­lion fine in 2007 for fund­ing a ter­ror group, he adds, ​"the vic­tims of their con­duct have received noth­ing. It is past time Chiq­ui­ta com­pen­sates the fam­i­lies in Colombia."
Chiq­ui­ta has not yet replied to a request for comment.
Con­tem­po­rary Struggles
The most mil­i­tant strug­gles against cor­po­ra­tions in Colom­bia right now are around min­ing, and its effects on local com­mu­ni­ties and the envi­ron­ment. In 2014, Dutch NGO PAX pub­lished a report on the col­lu­sion of min­ing multi­na­tion­als Drum­mond and Glen­core with para­mil­i­taries in Colombia's Cesar region between 1996 and 2006. Para­mil­i­taries killed over 2,000 peo­ple in Cesar dur­ing those ten years, with the com­pa­nies alleged to be pro­vid­ing finan­cial and logis­ti­cal support.
In an office of campesino (peas­ant) orga­ni­za­tion The Human­i­tar­i­an Action Cor­po­ra­tion for Coex­is­tence and Peace in North­east Antio­queño (Cahu­co­pana) in Medel­lín, we meet Yoladis Cer­pa, a 26-year-old from El Bagre, one of the more vio­lent munic­i­pal­i­ties in Colom­bia. ​"My fam­i­ly lives in Bagre but because of my work in social orga­ni­za­tions I can't go there," she tells In These Times. ​"Two days ago they killed my broth­er. In fact, my moth­er is call­ing me right now, they're in the ceme­tery as we speak."
As we speak, Cer­pa shows us her phone. What­sApp mes­sages with pic­tures of her brother's cof­fin pop up as rel­a­tives send her pic­tures of the funer­al she can't attend. She tells us of the huge cul­ture of fear that runs through the area because of para­mil­i­tary vio­lence. ​"We are threat­ened dai­ly by email, by tele­phone, by any means. The prob­lem now is they killed one of the social lead­ers on March 7, and there's dis­place­ment in the vil­lages. They dis­mem­bered one of them total­ly, the oth­ers were forced to leave. They threat­ened them. There are deaths every day."
Cer­pa thinks the orga­niz­ers are being tar­get­ed due to the social work they do. ​"They are defend­ing the campesinos, defend­ing human rights and mak­ing it hard­er for the multi­na­tion­als to enter campesino regions."
El Bagre has large deposits of gold and has been sub­ject to intense resource extrac­tion. This has made the human rights sit­u­a­tion worse. ​"Uribe is one of the own­ers of a com­pa­ny called Munici­pio de El Bagre Minero," says Cer­pa. ​"It's work­ing in a … very rich region for min­ing for gold. Uribe is fight­ing to sell these lands to multi­na­tion­als. And the campesinos, coor­di­nat­ed by social organ­i­sa­tions, are fight­ing to defend their rights."
She con­tin­ues, ​"Anoth­er multi­na­tion­al tried to enter the region but the campesinos, we didn't allow it. It was amaz­ing. So the threats are main­ly due to the orga­ni­za­tion­al work we're doing as social orga­ni­za­tions. Para­mil­i­tarism is erad­i­cat­ing these social organizations."
As an exam­ple, she says, ​"They mur­dered Com­rade William Castil­lo … on March 7." Castil­lo worked for Asso­ci­a­tion of Agroe­co­log­i­cal and Min­ing Fra­ter­ni­ties of Guamocó (Aheramigua), the same group as Cerpa.
"They shot him. He was meet­ing with the pres­i­dents of some local com­mu­ni­ties. He was train­ing them about their rights, that they orga­nize com­mit­tees, for motor­bike taxis, for min­ers, and all that. When … the meet­ing fin­ished … they killed him."
Prov­ing that multi­na­tion­als work along­side para­mil­i­taries to achieve their aims ​"is impos­si­ble," she says. (Chiq­ui­ta is unusu­al for admit­ting it.) But still she feels con­fi­dent that this is in fact what is hap­pen­ing. ​"We are liv­ing the con­flict," she says. ​"And the threats we receive from para­mil­i­taries are always for this, that they're going to kill us because we're work­ing with campesinos, because we're train­ing them [to defend their land], for these kinds of things."
But while the prob­lem con­tin­ues, the Chiq­ui­ta case offers a chance for hun­dreds, per­haps thou­sands, of loved ones of those killed in the Urabá region — peo­ple like Anabel — to attain justice.
Trav­el sup­port for this arti­cle was pro­vid­ed by the Pulitzer Cen­ter on Cri­sis Reporting.
Matt Ken­nard is the direc­tor of the Cen­tre for Inves­tiga­tive Jour­nal­ism. He was pre­vi­ous­ly a reporter for the
Finan­cial Times
and is the author of two books,
Irreg­u­lar Army
and
The Rack­et
. Nick MacWilliam is an inde­pen­dent jour­nal­ist and co-edi­tor of
Alb­o­ra­da mag­a­zine
, which focus­es on Latin Amer­i­can pol­i­tics, cul­ture and media