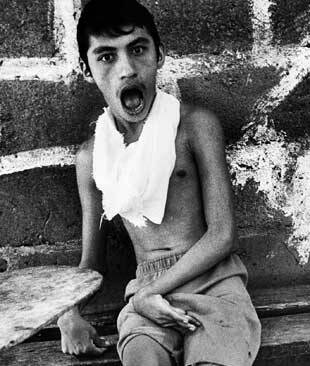 In the ​'70s and ​'80s, the banana com­pa­nies Dole, Del Monte and Chiq­ui­ta used a car­cino­genic pes­ti­cide, Nemagon, to pro­tect their crops in Nicaragua. Today, the men and women who worked on those plan­ta­tions suf­fer from incur­able ill­ness­es. Their chil­dren are deformed. The com­pa­nies feign innocence.
CHI­NAN­DE­GA, Nicaragua — Car­los Alber­to Rodriguez sits pros­trate in his rock­ing chair all day, from dawn to dusk. At first view it looks like this ex-plan­ta­tion work­er — young to be retired, at the age of 55 — is giv­ing his body a much-deserved rest after a life­time of hard work, in which 14-hour days and six-day weeks were the norm. But when he took his retire­ment nine years ago, Rodriguez's health quick­ly dete­ri­o­rat­ed. First he lost his mem­o­ry, then his abil­i­ty to speak, and final­ly, his capac­i­ty to engage in any way with the peo­ple around him.
Today, Rodriguez, reput­ed to have been a jovial bon vivant, is unable to walk or take care of him­self. His wife Mem­breño stopped work­ing in order to care for him. She spoon feeds him and wash­es him dai­ly; she address­es him like one would a newborn.
For 23 years, Rodriguez irri­gat­ed the fields of the Chi­nan­de­ga area, the most impor­tant banana region in Nicaragua. His job was to ensure that the pes­ti­cide used at the time, Nemagon, was dis­trib­uted uni­form­ly over the entire sur­face of the fields. It was a metic­u­lous assign­ment that he per­formed duti­ful­ly, with­out think­ing for one minute that the fine whitish mist that fell atop the banana plants every dawn was in fact one of the most dan­ger­ous poi­sons ever cre­at­ed. A pes­ti­cide so tox­ic that it was banned from use in its coun­try of con­cep­tion, the Unit­ed States, where today those respon­si­ble for pub­lic health believe it should nev­er have been put into circulation.
"When he'd come home from work he'd have it all over him," explains Mem­breño, who her­self worked for the plan­ta­tions from 1972 to 1984, and who was oper­at­ed on last year for uter­ine can­cer. ​"On his skin, all over his clothes, in his hair — he was always cov­ered with Nemagon."
In Chi­nan­de­ga, a two-hour dri­ve from Man­agua and one of the poor­est provinces of the coun­try, Rodriguez's case is no sur­prise to any­one. The ail­ments suf­fered by the banañeros, or banana plan­ta­tion work­ers, are famil­iar to all in this region of earth­en streets and cement-block houses.
Most­ly in their fifties, the banañeros suf­fer from kid­ney fail­ure, dimin­ish­ing eye­sight and bones that are weak­en­ing at the rate of octo­ge­nar­i­ans. They can man­age sleep only with the assis­tance of med­ica­tion that saps both their morale and their mon­ey. The sick­est among them have can­cer of the repro­duc­tive sys­tem, tes­tic­u­lar in the men, uter­ine in the women; their days are num­bered because treat­ment is as expen­sive as their wal­lets are empty.
Dr. Fran­cis­co López of Hos­pi­tal España in Chi­nan­de­ga has per­son­al­ly exam­ined more than 3,000 ex-plan­ta­tion work­ers suf­fer­ing from dis­eases direct­ly relat­ed to their expo­sure to Nemagon in the ​'70s. ​"The most com­mon effects are steril­i­ty, chron­ic kid­ney fail­ure and skin dis­ease," he says. ​"Some see their ner­vous sys­tem dete­ri­o­rate. The women exposed show abnor­mal­ly high num­bers of mis­car­riages, and many of their chil­dren are born with con­gen­i­tal deformities."
López esti­mates the num­ber of affect­ed banañeros at about 15,000. In the ​'70s, when Nemagon was used, there were 28,000 peo­ple work­ing in the plantations.
Nemagon — also known as dibro­mochloro­propane, or DBCP — was devel­oped in the ear­ly ​'50s in the Unit­ed States by Dow Chem­i­cal Co. and Shell Chem­i­cals and mar­ket­ed as a mir­a­cle product.
Used to pro­tect banana and pineap­ple plants, Nemagon destroys the micro­scop­ic worms that attack banana tree roots. Nemagon makes the trees grow and stay health­i­er, longer.
Today, we know that the com­pa­nies had rea­son to wor­ry about the poten­tial dan­ger of their prod­uct from the start. Lab­o­ra­to­ry tests con­duct­ed in the ​'50s revealed that Nemagon caused tes­tic­u­lar atro­phy in rats. Regard­less, sci­en­tists defend­ed the prod­uct and in 1961 it was giv­en the green light by the Depart­ment of Agri­cul­ture. The pes­ti­cide was instant­ly suc­cess­ful with Amer­i­can fruit com­pa­nies, which export­ed it to their plan­ta­tions in Cen­tral Amer­i­ca and all over the world.
The health prob­lems caused by Nemagon were first observed in 1977. That year, a third of the work­ers in a Cal­i­for­nia fac­to­ry that pro­duced the chem­i­cal were declared ster­ile. They sued Occi­den­tal Petro­le­um Cor­po­ra­tion, their employ­er, which was forced to pay mil­lions in com­pen­sa­tion to the affect­ed workers.
That same year, the Envi­ron­ment Pro­tec­tion Agency ordered Amer­i­can com­pa­nies to stop using Nemagon, judg­ing it too nox­ious for human con­tact. But the ordi­nance was valid only for the Unit­ed States. Stan­dard Fruit Co. (now known as Dole Food Co. in the Unit­ed States) con­tin­ued to use Nemagon in Hon­duras as late as Decem­ber 1978, a year after the dis­clo­sure of the steril­i­ty prob­lem, as well as at its Philip­pine plan­ta­tions until well into the late ​'80s. The result: Tens of thou­sands of work­ers con­tin­ued to be exposed to the nefar­i­ous chem­i­cal for years.
Shock­ing symptoms
Pabla de la Con­cep­ción Núñez, 68, worked in the Chi­nan­de­ga region plan­ta­tion from 1970 to 1980. From 6 a.m. to 11 p.m., five days a week, she worked in the field cut­ting off banana bunch­es, prun­ing the flow­ers off the banana trees and stick­ing ​"Dole" stick­ers onto the bananas.
"We would only get half an hour to eat lunch," she says. ​"We had to be fast. We didn't have time to go and wash our hands. The water we drank came direct­ly from the runoff from the fields."
Years of expo­sure to Nemagon have left their mark. Núñez now has kid­ney prob­lems, and the skin of her legs is cracked and reg­u­lar­ly infect­ed. In the ear­ly ​'80s, she gave birth to a still­born child. Then she had a son who was born with­out his left hand.
The work­ers' chil­dren are often those most affect­ed by the pes­ti­cide. When Sim­coa Pani­agua and Mer­cedes Alvarez, both of whom were exposed to Nem­gaon dur­ing the ​'70s, tried to have a child, they first had a son with such extreme defor­mi­ties he died at the age of 2, and then they had José Alber­to. He is 24 today, and unable to either walk or talk. His gaze is per­ma­nent­ly haunt­ed by a look of ter­ror, as if he were wit­ness­ing a nev­er-end­ing sequence of hor­rif­ic images.
The most strik­ing case, though, remains Rober­to Fran­cis­co, who at 11 is a like­able, smi­ley and bright boy, born with his four limbs so atro­cious­ly deformed that he is unable to move. Rober­to is con­fined to his wheel­chair, which his friends manip­u­late to get him to school and back. ​"I can't do sports, but I like watch­ing my friends play soc­cer," he says when asked what he likes to do in his free time. When he grows up he hopes to become ​"a deputy, an engi­neer or a lawyer." Roberto's father worked in the plan­ta­tion from 1971 to 1992. For now, his grand­moth­er is rais­ing him; she makes a liv­ing sell­ing corn pat­ties that she cooks in her own wood stove.
Accord­ing to Dr. Bar­ry Levy, for­mer pres­i­dent of the Amer­i­can Pub­lic Health Asso­ci­a­tion, Nemagon is so dan­ger­ous that it should nev­er have been put into cir­cu­la­tion. ​"The product's cre­ators should have become alarmed as ear­ly as the mid-'50s, when lab tests revealed it was mak­ing rats ster­ile," he says. ​"But that didn't stop it being put on the market."
"The most amaz­ing thing about the Nemagon cat­a­stro­phe is that it could have been avoid­ed," Levy con­tin­ues. ​"The com­pa­nies went for­ward. And then when the Amer­i­can gov­ern­ment abol­ished the prod­uct here, they expe­dit­ed it to oth­er countries."
Who made the deci­sion to ignore the alarm­ing effects of Nemagon on lab­o­ra­to­ry rats? What eth­i­cal prin­ci­ples guid­ed those involved in the product's devel­op­ment? The answers may nev­er be clear, but a com­ment by Clyde McBeth, one of the chemists behind Nemagon, is telling. In response to a ques­tion about the steril­i­ty caused by the pes­ti­cide in cer­tain Cen­tral Amer­i­can work­ers, he told a Moth­er Jones reporter: ​"From what I hear, they could use a lit­tle birth con­trol down there."
Bat­tling for restitution
Dawn is break­ing in El Viejo, a vil­lage near Chi­nan­de­ga, and dozens of peo­ple are head­ing toward an emp­ty lot. Dressed in rags and dirty dress­es, bare­foot, the mass­es walk under the heavy man­go tree branch­es and enter a large straw hut that pro­tects them from the sun. Some sip on Coca-Cola, oth­ers pull a cou­ple of cor­dobas from their pock­ets to treat them­selves to a corn pat­ty. After an hour, a crowd of 200 work­ers has gath­ered to dis­cuss the mil­lions of dol­lars they are owed.
Vic­tori­no Espinales, 51, an ex-San­din­ista war­rior sport­ing a bel­ly, a hard stare and the gift of gab, takes hold of a micro­phone and wel­comes every­one. ​"Thank you for com­ing," he says, smil­ing. ​"It is essen­tial that we remain unit­ed in this, the most impor­tant bat­tle of our lives."
Espinales was 25 in 1979 when he enrolled in the rev­o­lu­tion­ary forces that threw out dic­ta­tor Anas­ta­sio Somoza that year. He took up arms again a few years lat­er, in 1983, to lead a 2,700-man divi­sion to bat­tle the Con­tras, the right-wing mili­tia sup­port­ed by the CIA that aimed to top­ple the San­din­istan government.
Now he uses the court­room as his bat­tle­ground. Since the mid-'90s, he has been the head of an asso­ci­a­tion of banañeros unit­ed in their suit against the Amer­i­can com­pa­nies. A slew of cas­es con­cern­ing the 8,000 vic­tims in the Chi­nan­de­ga region are cur­rent­ly in the works.
Two major agree­ments made in the ​'90s fueled the banañeros' hope. In 1997, all the con­cerned com­pa­nies, with the excep­tion of Dole, agreed to give the approx­i­mate­ly 26,000 work­ers from Cen­tral Amer­i­ca, the Philip­pines and Africa $41.5 mil­lion, a sum that, once divid­ed among the work­ers and their lawyers, brought $1,500 to each. In Cos­ta Rica, an ear­li­er 1992 agree­ment had allot­ted $20 mil­lion to 1,000 affect­ed workers.
Him­self the son of a banañero, Espinales began work­ing inter­mit­tent­ly in the banana plan­ta­tions at the age of 18. Today he suf­fers pain through­out his body, espe­cial­ly in his kid­neys. A sperm exam per­formed a few years ago revealed that 60 per­cent of his sper­ma­to­zoids were dead, and part of the remain­ing per­cent­age were seri­ous­ly defective.
Since then, he has refused to con­sult a physi­cian. ​"I am resist­ing," he says. ​"I'm afraid of what the doc­tor would tell me. I'm afraid it will be the end."
In the mean­time, he and his asso­ci­a­tion have accu­mu­lat­ed quite a few judi­cial vic­to­ries, which nev­er­the­less remain sym­bol­ic. In Decem­ber 2002, as a result of one of the most elab­o­rate court cas­es ever seen in Nicaragua, a nation­al tri­bunal sen­tenced the Amer­i­can multi­na­tion­als Shell, Dole and Dow to pay $489 mil­lion in dam­ages and inter­est to 450 work­ers affect­ed by Nemagon.
The com­pa­nies, how­ev­er, refused to appear in court dur­ing the tri­al and still refuse to pay a pen­ny of the fine. In fact, the com­pa­nies in ques­tion joined togeth­er to reject the work­ers' accu­sa­tions. They deem the Nicaraguan court sys­tem to be cor­rupt, and there­fore inca­pable of deter­min­ing a fair sentence.
Accord­ing to Freya Mane­ki, direc­tor of cor­po­rate com­mu­ni­ca­tions for Dole, no study has proved that work­ers have suf­fered health prob­lems after hav­ing been exposed to Nemagon. ​"We believe that the major­i­ty of the plain­tiffs have not been affect­ed by Nemagon," she says.
Scot Wheel­er, spokesman for Dow, says that his com­pa­ny did its share by stick­ing warn­ing labels on the vats of Nemagon, encour­ag­ing work­ers to read them and ask­ing that employ­ers pro­vide their work­ers with the nec­es­sary safe­ty equipment.
These are incen­di­ary words to Dr. Arthur L. Frank, direc­tor of the envi­ron­men­tal health depart­ment of Philadelphia's Drex­el Uni­ver­si­ty and a researcher at the Nation­al Can­cer Insti­tute. ​"The labels were writ­ten in Eng­lish," Frank says. ​"Even if they had been writ­ten in Span­ish, there's no guar­an­tee the work­ers could have read them, since many among them are illit­er­ate. And it isn't as if the com­pa­nies weren't aware that the prod­uct was dan­ger­ous. If the prod­uct was mak­ing peo­ple sick here in the States, it's only log­i­cal that it would also make peo­ple sick else­where in the world."
In 2003, the ex-work­ers joined forces with a Cal­i­for­nia law firm in order to sue the com­pa­nies on Amer­i­can soil, where they would be forced to attend the tri­al. But the doc­u­ment pre­sent­ed in court con­tained a hand­ful of tech­ni­cal errors, result­ing from the trans­la­tion from Span­ish to Eng­lish, and was not admitted.
In Decem­ber 2003, the com­pa­nies con­cerned — Shell, Dow and Dole — fought back by bring­ing a $17 bil­lion coun­ter­suit against the ex-plan­ta­tion work­ers. In this law­suit, Dole referred to the Rack­e­teer Influ­enced and Cor­rupt Orga­ni­za­tions Act (RICO), a law usu­al­ly used in defense of vic­tims of crimes com­mit­ted by the Mafia.
The com­pa­nies accused the 4,200 work­ers, their lawyers and the doc­tors who exam­ined them of fraud. They accused them of includ­ing names on their lists of vic­tims of peo­ple who have nev­er worked on the plan­ta­tions. They accused them of try­ing to get rich at the com­pa­nies' expense.
A vic­tims' march
In Nicaragua, the ex-work­ers aren't giv­ing up. In the last two years they've orga­nized three march­es from Chi­nan­de­ga to Man­agua, more than 84 miles. The last of these march­es, begun on Jan­u­ary 31, 2004, attract­ed more than 5,000 peo­ple, many of whom are sick and weak.
"We walked for 10 days," says Espinales, who was one of the march's orga­niz­ers. ​"Once we were there we were made to camp in front of the Nation­al Assem­bly for days before the pres­i­dent would pay us any attention."
The march gar­nered nation­al inter­est thanks to its size and length. The big Nicaraguan dailies ded­i­cat­ed full pages to the vic­tims of Nemagon, a prod­uct dubbed ​"death's dew."
The results were unprece­dent­ed. Pres­i­dent Enrique Bolaños named a min­is­te­r­i­al com­mis­sion to inves­ti­gate the con­se­quences of Nemagon use. And Espinales' lob­by­ing enabled Nemagon vic­tims to get free med­ical treat­ment, though it could take years before the promise is implemented.
Until then, the law­suits con­tin­ue, and the work­ers pray every day for jus­tice. As for Espinales, he intends to fight ​"to his very last breath."
"The com­pa­nies have already offered me $20,000 to stop the pro­ceed­ings, to let the case slide," he says. ​"I refused. I told them I was fight­ing not for mon­ey, but to cre­ate a prece­dent that could help the oth­er work­ers in the world con­front­ed with sim­i­lar problems."
López, who has fol­lowed the banañeros saga for many years, would like to believe that the work­ers will even­tu­al­ly be com­pen­sat­ed. But he fears it will be impossible.
"The peo­ple are sick, but things are at a stale­mate, legal­ly speak­ing," he says. ​"I don't want to play devil's advo­cate, but I don't think these work­ers will ever be com­pen­sat­ed. It's a thought that sad­dens me very much."
Nico­las Bérubé,
28
, is a reporter for the Mon­tréal-based dai­ly news­pa­per La Presse. He cov­ers inter­na­tion­al as twell as local sto­ries.Benoit Aquin,
42
, is a free­lance pho­tog­ra­ph­er. His work has been pub­lished in var­i­ous mag­a­zines, includling Wired, Cana­di­an Geo­graph­ic and Macleans. He lives in Montréal.