With Chicago Tired of "Mayor 1%," Chuy García Could Actually Win His Runoff with Rahm Emanuel
While money poured into the recent mayoral and aldermanic elections, voters showed that they are tired of business as usual.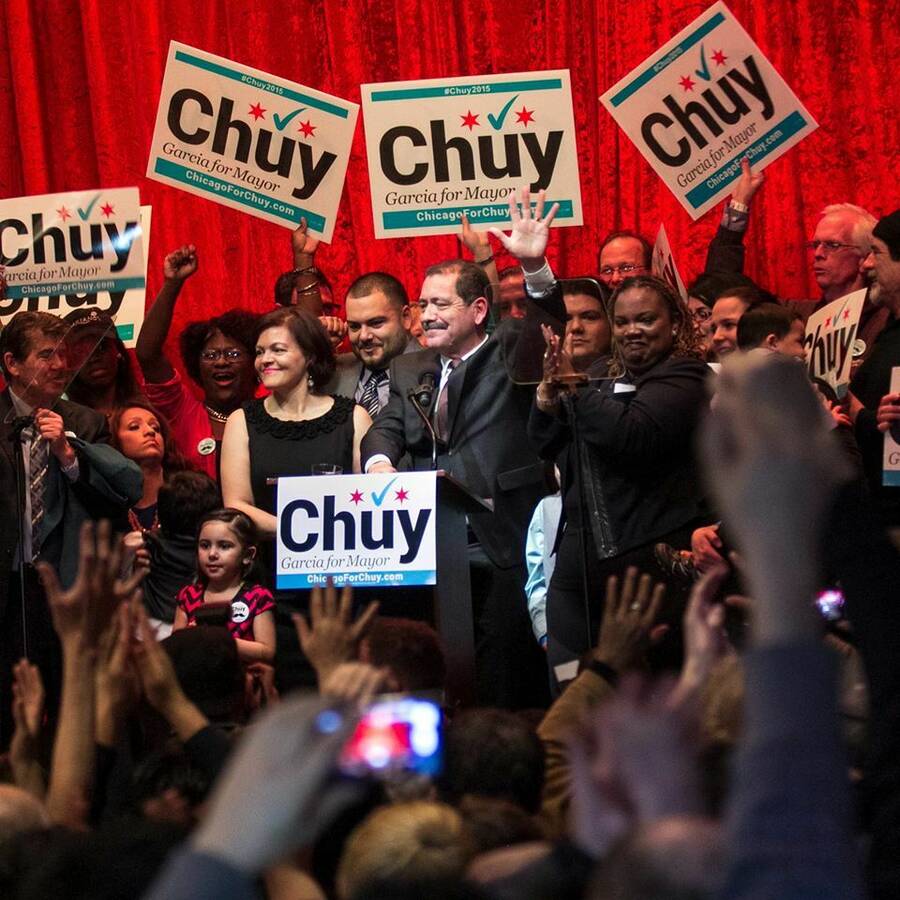 "He's like a heli­um bal­loon," Mar­cos Muñoz told me last week, speak­ing about Chica­go May­or Rahm Emanuel. ​"He keeps ris­ing and ris­ing, and he doesn't even know he's popped."
The City Council elections drive home a larger point: that Chicagoans are indeed sick of leadership that caters to private investors and tries to boost Chicago's international profile while ignoring the needs and the voices of regular people and eroding the public institutions, like schools, that sustain their communities.
Muñoz was with Cesar Chavez in the Cen­tral Val­ley in Cal­i­for­nia in 1965, part of a sem­i­nal labor move­ment demand­ing rights and respect for farm­work­ers. After a stint orga­niz­ing for the Unit­ed Farm­work­ers in Boston, where he met his wife, Muñoz set­tled four decades ago in the Lit­tle Vil­lage neigh­bor­hood of Chica­go. That's where he met Jesus ​"Chuy" Gar­cía, a polit­i­cal activist with the vibrant, inde­pen­dent move­ment then push­ing for immi­grants rights, labor rights and basic ser­vices in black and Lati­no neighborhoods.
Muñoz described how he was skep­ti­cal of Gar­cía at first, but was won over when Gar­cía joined the grass­roots brigade of locals who would sweep the alleys of trash and bro­ken glass.
Last night Gar­cía made his­to­ry, forc­ing Emanuel into the Chicago's first-ever may­oral elec­tion run-off by win­ning 34 per­cent of the vote to Emanuel's 45 percent.
This moment can be seen as a vic­to­ry not only for Cook Coun­ty Com­mis­sion­er Gar­cía, a Mex­i­can immi­grant who still lives in Lit­tle Vil­lage, but for Muñoz and the count­less oth­er Chicagoans who make the city what it is through their hard work, their cre­ativ­i­ty, their very existence.
The nation­al media and pun­dits have turned their atten­tion to Chica­go in the lead-up to the elec­tion, tak­en with the nov­el­ty of Rahm Emanuel — con­fi­dante of two Amer­i­can pres­i­dents, dar­ling of Hol­ly­wood and Wall Street — fac­ing the ​"embar­rass­ment" of being forced into a run-off by a sup­posed mot­ley crew of opponents.
Chica­go has been por­trayed inter­na­tion­al­ly as a sym­bol of the grow­ing chasm between America's haves and have-nots, the 1% and the 99%, a ​"tale of two cities." The impli­ca­tion has often been that the lib­er­al elite as sym­bol­ized by Rahm Emanuel are tone-deaf, that they need to do more to reach out to their black and brown con­stituents, to acknowl­edge their gripes and lift more of them into the charmed parts of the city.
What's appar­ent­ly assumed is that the 1% should stay in pow­er, but do a bet­ter job of respond­ing to the 99%, rather than that a true rep­re­sen­ta­tive of the peo­ple should be elected.
Even as recent polls showed that a run-off was like­ly, there has been lit­tle doubt among the pun­dits, nation­al and civic lead­ers that Emanuel will ulti­mate­ly win in the April 7 elec­tion. The pre­vail­ing sen­ti­ment seems to be that this expe­ri­ence will hum­ble Emanuel and per­haps make him a bet­ter may­or, more respon­sive and more aware of the needs and real­i­ties of reg­u­lar people.
But that idea miss­es the mark.
If Emanuel does indeed win in April, there's no rea­son to believe he will be a kinder, gen­tler or more demo­c­ra­t­ic chief exec­u­tive. If his man­date to lead is renewed, he'll have no rea­son to con­tin­ue to win over the peo­ple of Chica­go who expressed their oppo­si­tion and dis­ap­proval in this elec­tion. It will be four years before he's up for elec­tion again, and per­haps unlike­ly he will even seek the seat a third time. And Emanuel is not known as a gra­cious los­er. After he was wide­ly seen as ​"los­ing" a stand­off with the Chica­go Teach­ers Union that includ­ed a sev­en-day strike in 2012, he came back swing­ing with the clos­ing of almost 50 pub­lic schools and the lay­offs of thou­sands of union members.
The con­cept worth con­tem­plat­ing now is that Gar­cía could actu­al­ly win. It would be a sto­ry for the ages. A hard-work­ing Mex­i­can immi­grant fam­i­ly, a kid who hangs tough in the face of racism and bul­ly­ing, who makes alliances across col­or lines and who joins the dream team of leg­endary African Amer­i­can May­or Harold Wash­ing­ton. Who suc­ceeds in pol­i­tics and yet con­tin­ues to be seen as a true neigh­bor­hood guy and cham­pi­on of the under­dog. Who resist­ed pleas to run for may­or until Karen Lewis, the out­spo­ken, inspir­ing teach­ers union pres­i­dent, recruit­ed him to take her place in this race after she was diag­nosed with brain cancer.
Skep­tics said that Gar­cía could not win over enough black and white vot­ers, that he didn't have enough name recog­ni­tion, and that he had no hope in the face of Emanuel's $30 mil­lion war chest and endorse­ment from Pres­i­dent Barack Obama.
It's wide­ly accept­ed that mon­ey and influ­ence rule pol­i­tics. But yes­ter­day, all Emanuel's mon­ey and con­nec­tions didn't snag him a vic­to­ry. Recent moves like rais­ing the min­i­mum wage, apol­o­giz­ing to vic­tims of police tor­ture and pro­tect­ing sin­gle-room-occu­pan­cy afford­able hous­ing did not per­suade Chicagoans alien­at­ed by Emanuel's clos­ing of pub­lic schools and men­tal health clin­ics, slash­ing of city jobs and ser­vices, attack­ing teach­ers and patron­iz­ing parents.
Emanuel has ruled with an arro­gance and elit­ism that is not lost on peo­ple like Mar­cos Muñoz. Unlike oth­er politi­cians in a state infa­mous for cor­rup­tion, there's no evi­dence Emanuel has tried to lever­age his pub­lic role for per­son­al wealth and lux­u­ry. But his way of gov­ern­ing could be con­sid­ered more offen­sive and dam­ag­ing than a leader help­ing her­self to the spoils of her office. Emanuel seems to see the whole city as a social and eco­nom­ic exper­i­ment, ripe for remak­ing in his own sleek, effi­cient image, no mat­ter if many exist­ing res­i­dents don't have a place in the new Chicago.
The run-off would not have hap­pened with­out Willie Wil­son, the mul­ti-mil­lion­aire African-Amer­i­can busi­ness­man with a sev­enth grade edu­ca­tion. Wilson's inco­her­ent answers to edi­to­r­i­al page ques­tion­naires, down-home mono­logues and sim­plis­tic procla­ma­tions made him both a laugh­ing stock and a folksy favorite of some well-edu­cat­ed white vot­ers. His 11 per­cent of the pri­ma­ry vote might be seen as sim­ple nov­el­ty. But it rep­re­sents the very real and impor­tant sense of alien­ation and anger with Emanuel among African Amer­i­cans, who have suf­fered the brunt of his poli­cies even as he has tried to mol­li­fy them with often clum­sy gestures.
The oth­er African-Amer­i­can can­di­date in the race, William ​"Dock" Walls, has been mocked as a ​"peren­ni­al can­di­date" and non-con­tender. No mat­ter that his answers in debates and his pol­i­cy state­ments often offered more con­crete detail and prag­mat­ic think­ing than the oth­er can­di­dates. The idea that some­one is a joke because they have the gump­tion to run for office mul­ti­ple times with­out the back­ing of a polit­i­cal machine should be seen in and of itself as an affront to democracy.
How Wilson's sup­port­ers cast their votes on April 7 will be cru­cial to the out­come. García's cam­paign has stressed his long-time com­mit­ment to African-Amer­i­can com­mu­ni­ties, includ­ing his time as Harold Washington's key ally in the City Coun­cil. While Chicago's racial divi­sions are in some ways per­haps more bit­ter and entrenched than in those days, the elec­tion offers hope that vot­ers tired of Rahm Emanuel's rule could still unite behind an alter­na­tive vision and style.
The City Coun­cil races on Feb­ru­ary 24 also show the grass­roots polit­i­cal upheaval under­way in Chica­go and bode well for García's chances in six weeks. Emanuel's well-fund­ed PAC failed to unseat any pro­gres­sive alder­men, although vocal may­oral crit­ic John Are­na was forced into a run-off, after a bru­tal cam­paign includ­ing ads by a school reform group tied to Emanuel blam­ing Are­na for the clos­ing of men­tal health clin­ics that Emanuel him­self in fact orches­trat­ed. The oth­er alder­man Emanuel had tar­get­ed with par­tic­u­lar vig­or, Scott Wagues­pack, won in a land­slide. And a non-bind­ing ref­er­en­dum for an elect­ed school board, as opposed to Emanuel's hand-picked board, got over­whelm­ing sup­port in all 37 wards where it appeared on the ballot.
At least five inde­pen­dent can­di­dates backed by labor unions and pro­gres­sive coali­tions pushed incum­bents into run-offs. One such can­di­date, Car­los Ramirez-Rosa, eas­i­ly won a seat out­right in a ward that also fea­tured a wide mar­gin of vic­to­ry for Gar­cía. Chicago's City Coun­cil has long been known as a rub­ber stamp for the may­or, with very few alder­men ever vot­ing in oppo­si­tion to him. How­ev­er, even the influx of inde­pen­dents doesn't guar­an­tee pro­gres­sive leg­is­la­tion will get passed, since ordi­nances not sup­port­ed by the may­or are typ­i­cal­ly buried in a com­mit­tee with­out ever being called for a vote.
But the City Coun­cil elec­tions dri­ve home a larg­er point: that Chicagoans are indeed sick of lead­er­ship that caters to pri­vate investors and tries to boost Chicago's inter­na­tion­al pro­file while ignor­ing the needs and the voic­es of reg­u­lar peo­ple and erod­ing the pub­lic insti­tu­tions, like schools, that sus­tain their communities.
Rahm Emanuel's stance on the Oba­ma pres­i­den­tial library is one of the many exam­ples of this atti­tude. Locals made it clear that they do not want large swaths of their beloved pub­lic parks on the South Side tak­en over for the library. But even dur­ing a cam­paign where he des­per­ate­ly need­ed the approval of these vot­ers, Emanuel brushed aside their con­cerns in his haste to please the Uni­ver­si­ty of Chica­go — whose library bid depends on the park land — and secure the nation­al pres­tige attached to the library.
At Karen Lewis's peti­tion-gath­er­ing launch last sum­mer, I talked to many African-Amer­i­can vot­ers who said they vot­ed for Rahm Emanuel the first time around because of Obama's endorse­ment. But, they all said, even Oba­ma wouldn't con­vince them to back the may­or now. Chica­go has a long and curi­ous his­to­ry of peo­ple seem­ing resigned to retain­ing the may­or — name­ly, the two Richard Daleys who ruled for 43 years com­bined — despite wide­spread dis­il­lu­sion and dis­ap­proval. The feel­ing seemed to be that at least Daley could run the place. But the Feb­ru­ary 24 elec­tion indi­cates Chicagoans have reached their lim­it in terms of tol­er­at­ing the dai­ly inequities, humil­i­a­tions and injus­tices met­ed out by this admin­is­tra­tion, from red light cam­era tick­ets to closed schools to cor­po­rate give­aways. A mes­sage was sent that the mass­es can­not be ignored, insult­ed, abused and then won over at the eleventh hour with plat­i­tudes and token gestures.
Before the elec­tion, Muñoz declared that Gar­cía was ​"already a win­ner" because of the way he'd can­vassed the city lis­ten­ing to the con­cerns of reg­u­lar peo­ple. The run-off pos­es a new chal­lenge to Gar­cía, the City Coun­cil can­di­dates and the peo­ple of Chica­go. Dis­plea­sure with the incum­bents has been made clear, by the Feb­ru­ary 24 results and also by the very low vot­er turnout, of around 33 per­cent. The next six weeks will pro­vide a crit­i­cal ref­er­en­dum on whether peo­ple real­ly want to ​"take back" their city, and give Gar­cía and oth­er inde­pen­dents the chance — beyond lis­ten­ing and crit­i­ciz­ing — to begin the hard work of build­ing a city that works for everyone.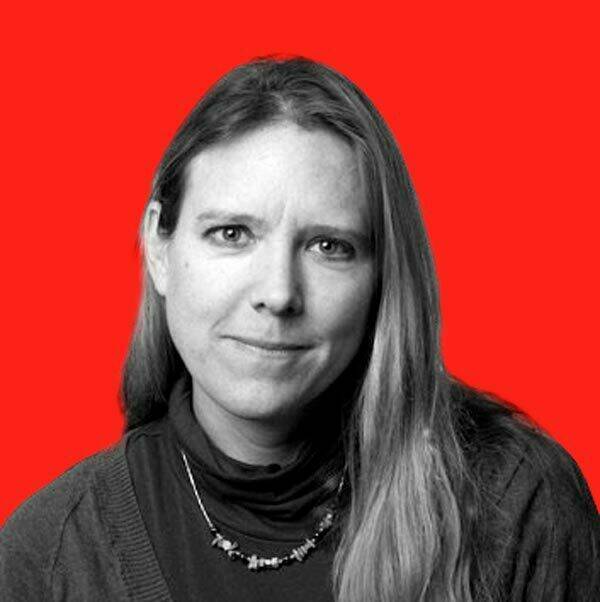 Kari Lyder­sen
is a Chica­go-based reporter, author and jour­nal­ism instruc­tor, lead­ing the Social Jus­tice
&
amp; Inves­tiga­tive spe­cial­iza­tion in the grad­u­ate pro­gram at North­west­ern Uni­ver­si­ty. She is the author of May­or
1
%: Rahm Emanuel and the Rise of Chicago's
99
%.