'City of Trees' Provides a Look Into the Promise of Urban Green Jobs Programs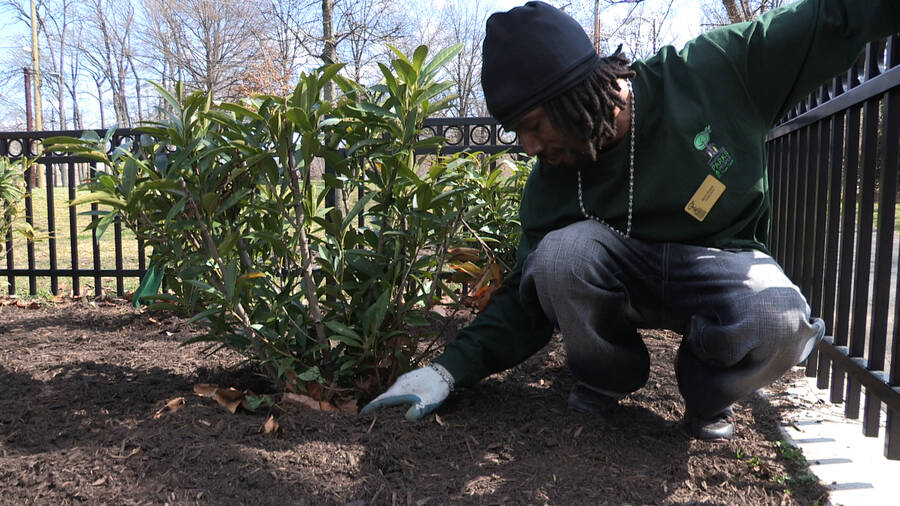 A film occasionally blindsides every self-professed cinephile with the depth and complexity with which it treats its subjects and themes. For me, this transpired when I saw a trailer for Brandon and Lance Kramer's film City of Trees at the 2014 Global Labor Film Festival Organizers Conference in Washington, D.C..
A nuanced view into an urban green jobs program in our capitol, the trailer impressed me with its richness and underlying humanity enough to watch the full-length film. City of Trees is a subtly powerful, insightful, and at times poignant social and environmental documentary, blending social and environmental themes.
Beautifully filmed, the film traces the efforts of Washington Parks & People, a D.C.-based nonprofit, to administer a $2.7 million grant by simultaneously providing green jobs training to some of the city's long-term unemployed, many of whom are African American, and improving some of the capital's ignored and blighted public spaces. Awarded as part of the federal stimulus package during the Great Recession, the allotment runs out by mid-2012, and Parks & People directors Steve Coleman and Karen Loeschner struggle in its final months to stretch the grant's funds and maintain the morale of those receiving them.
In this, City of Trees evokes in microcosm what federal planners during the Great Depression hastily initiated and implemented through the Civilian Conservation Corps (CCC). The brainchild of President Franklin D. Roosevelt and a highly successful temporary jobs program from 1933 to 1942, the CCC employed roughly three million men — most of whom were under 25, single and mandated to send $25 of their $30 total monthly stipend back to their families — in a vast array of primarily rural work projects on parks, camps, farms, forests, dams, airports, power lines, roads and bridges that ultimately and permanently transformed America's landscape. Its echoes, if on a much smaller, more inclusive and locally administered level without the mandate to remit salaries, ring throughout the film — short-term jobs training for the long-term unemployed to acquire durable skills, achieve personal gains and improve public spaces.
The initial sounds overlaying the opening credits, of shovels uprooting earth, provide the essence of urban greenscaping work. Yet City of Trees yields far more fruit than the worthwhile explication of implementing a grant-funded jobs program. The Kramers skillfully immerse viewers in the challenging workplace and home lives of several staffers and the manual laborers they employ. We learn about the struggles and aspirations of Charles Holcomb, who strives to support his newborn daughter and incarcerated brother by being the father and male role model he lacked; Michael Samuels, who yearns for stable employment after his lengthy incarceration for selling drugs to support his ill mother; and James Magruder, a resourceful community organizer grappling with unemployment who grows in confidence and finds his voice before our eyes.
From the straightforward, heartfelt perspectives of these African-American workers, what emerges is not merely the story of people receiving much-needed paychecks through training. The filmmakers wisely allow participants in Parks & People, and the community groups and residents they encounter, to tell their own stories that provide a look into parts of the Ward 8 community in Southeast Washington DC.
In daily encounters over workplace issues, we see Holcomb, Samuels and Magruder — sometimes quietly, sometimes directly — convey honesty toward and command respect from their peers and supervisors. Similarly, some Ward 8 political leaders and community members, as well as his African-American staff who also live in the city's Southeast, resent that Coleman, an earnest environmentalist and employer who is white, failed to either include or consult them before planting trees in Oxon Run Park. This creates tension between them and the nonprofit over public space, for it reinforces Parks & People's outsider status to a community wary of unfulfilled promises, and illustrates that effective community empowerment is most effective through mutual respect and trust.
The filmmakers eschew the neatness of a happy ending or another patronizing story of white-led uplift within black urban experiences. For Parks & People trainees, the dialectics of realizing success and failure, feeling elation and dejection, often hinge upon their time with or absence from loved ones, news or silence about their scores of pending job applications, and their palpable efforts to provide for others and their communities through their work.
Some of the most powerful scenes reveal how hard the contemporary precariat labors to attain and maintain employment. Often alone, trainees traverse the city and frequently call prospective employers for jobs. At the same time, they display strength and mutual support as they convene to conduct thorough peer-reviewed practice job interviews and lay bare their fears about barriers in job searches.
City of Trees so brilliantly succeeds not because it is an environmental film (though it clearly is) but rather because, as a terrific labor film, it uses an environmental program as a prism into the interconnected intricacies of work, race, class, urban space, male breadwinner gender roles and community politics. It belies the long-standing, pernicious and often racist stereotypes about the indifferent ​"undeserving poor" and the politicized tropes about allegedly irresponsible community organizers emerging from the 2008 presidential campaign. And it does so at a time when academics, pundits and public intellectuals are awakening to the yawning chasm of inequality in our society, and the socioeconomic effects for growing numbers of people that inequality threatens to engulf.
Even wonderful films leave us wanting more, seeking answers to our questions that the filmmakers, with their own objectives and inquiries, may have prompted but did not fully answer. Viewers get a clear look into the structural poverty and problems afflicting many residents of Ward 8's primarily African-American population, and their efforts to surmount them. I sought answers to how this unfolded historically, politically and institutionally. To an extent, this snapshot in time sets aside some questions about how these conditions emerged and were enforced over time, particularly in a city with persistent segregation. I also wondered how the black female trainees we see but hear little from in City of Trees might have complemented the primarily male perspectives we receive on class, race and urban life from a different gendered experience.
But such unanswered questions don't detract from this remarkable documentary — viewers like me will just have to wait until the Kramer Brothers and Meridian Hill Pictures release their next feature film. If it is half as engrossing and inspiring as City of Trees, it will have done much to shed keen insights into our tumultuous times, and help us learn from organizations like Parks & People and communities such as Ward 8.
You can watch City of Trees online for free from until June 18, 2016, at world​chan​nel​.org/​a​m​e​r​i​c​a​r​e​f​ramed.