The Year in "Civility": The 6 Worst Appeals to Norms and Good Manners of 2018
As the Right went on the offensive, these Democrats called for appeasement.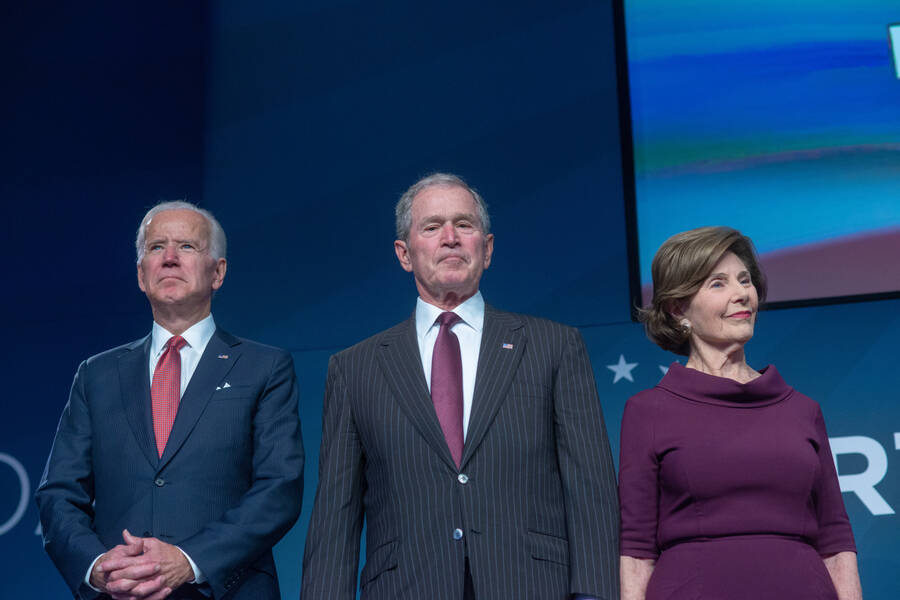 In 2018, the U.S. Right esca­lat­ed its war on unions, tear gassed and mass-jailed fam­i­lies seek­ing asy­lum at the south­ern bor­der, con­firmed an accused rapist to the Supreme Court and advanced a plan to dra­mat­i­cal­ly erode the rights of trans­gen­der peo­ple. The Repub­li­can Par­ty also ral­lied behind a pres­i­dent who threat­ened to anni­hi­late the Kore­an penin­su­la with nuclear weapons, called Haiti, El Sal­vador and African nations ​"shit­hole coun­tries," and said he doesn't ​"believe" an alarm­ing new cli­mate report com­piled by his own administration.
Of course, there is no compromising with the far right, and in today's climate, "civility" is just another word for capitulation.
This polit­i­cal land­scape demands fierce oppo­si­tion from the Left, but, pre­dictably, estab­lish­ment Democ­rats are deliv­er­ing the oppo­site: broad denun­ci­a­tions of the lack of good man­ners and calls for a return to a more friend­ly and ami­ca­ble order. Under this frame­work of ​"civil­i­ty," the ene­my becomes immod­er­a­tion and lack of restraint, rather than the Trump administration's pol­i­tics of racism and death. Democ­rats' search for com­mon ground push­es the entire polit­i­cal spec­trum to the right, so that war crim­i­nals like George W. Bush and John McCain are cast as the rea­son­able cen­ter — while out­raged pro­test­ers are deemed out of bounds.
Of course, there is no com­pro­mis­ing with the far right, and in today's cli­mate, ​"civil­i­ty" is just anoth­er word for capit­u­la­tion. In that spir­it, here are the six worst ​"civil­i­ty" stunts from 2018.
1. Michelle Oba­ma and George W. Bush
Michelle Oba­ma and George W. Bush received fawn­ing media cov­er­age in ear­ly Sep­tem­ber when the for­mer pres­i­dent passed a cough drop to the for­mer first lady dur­ing the funer­al of Sen. John McCain. Count­less arti­cles were writ­ten about the ​"sweet moment," which includ­ed pro­files of a friend­ship that USA Today called ​"BFF Goals." When asked about the cough drop exchange, Oba­ma described Bush as a ​"won­der­ful man." The ges­ture was such a hit that Bush reen­act­ed it at his father's funer­al in ear­ly Decem­ber, to sim­i­lar media fan­fare.
The stunts — now referred to as a ​"tra­di­tion" — played into the reha­bil­i­tat­ed image of George W. Bush as America's adorable and quirky grand­fa­ther. The friend­ly media cov­er­age, of course, omit­ted any men­tion of the 1 mil­lion Iraqis who were killed as a result of Bush's 2003 inva­sion of Iraq.
2. Beto O'Rourke
Dur­ing Beto O'Rourke's unsuc­cess­ful cam­paign to unseat Texas Sen. Ted Cruz, he had the dis­tinc­tion of receiv­ing an award — along­side Rep. Will Hurd (R‑Texas) — for ​"civil­i­ty."
In July, the duo won the Alleghe­ny Col­lege Prize for Civil­i­ty in Pub­lic Life for live stream­ing the 1,600-mile road trip they took togeth­er from Texas to Wash­ing­ton, D.C. in March 2017 after the two were strand­ed by flight delays and can­cel­la­tions. The com­mit­tee praised O'Rourke and Hurd for their ​"col­le­gial dis­cus­sions on the divi­sive issues of the day," with the Hous­ton Chron­i­cle gush­ing about the pair's ​"unlike­ly ​'bro­mance.'"
This ​"bro­mance" helped re-elect Hurd, who vot­ed to cut tax­es for the wealth­i­est Amer­i­cans, sup­port­ed the Key­stone XL Pipeline and recent­ly vot­ed to block a House effort to end the dev­as­tat­ing war on Yemen. O'Rourke, who has attract­ed the atten­tion of for­mer Oba­ma staffers as a poten­tial pres­i­den­tial can­di­date, pub­licly refused to lend his star pow­er to sup­port Hurd's oppo­nent, Demo­c­rat Gina Ortiz Jones. In Novem­ber, Ortiz Jones lost that race by rough­ly 1,000 votes.
3. Joe Biden
For­mer Vice Pres­i­dent Joe Biden spent much of 2018 set­ting up a poten­tial run for pres­i­dent, and so far has posi­tioned him­self as the van­guard of per­son­al civil­i­ty. This pos­tur­ing reached its zenith on Veteran's Day 2018 when Biden pre­sent­ed for­mer pres­i­dent George W. Bush and for­mer first lady Lau­ra Bush with the Nation­al Con­sti­tu­tion Center's ​"Lib­er­ty Medal" for their ​"com­mit­ment to veterans."
Biden praised ​"the incred­i­ble work" that Bush did for vet­er­ans, mak­ing no men­tion of the fact that the for­mer pres­i­dent is respon­si­ble for plac­ing vet­er­ans in harm's way in the first place — result­ing in the deaths of thou­sands of U.S. troops, and leav­ing count­less more wound­ed and psy­cho­log­i­cal­ly scarred. This is not to men­tion the peo­ple liv­ing in the coun­tries Bush invad­ed: While death totals are dif­fi­cult to cal­cu­late, one report found that, by 2015, the War on Ter­ror had killed at least 1.3 mil­lion peo­ple in Iraq, Afghanistan and Pakistan.
Thank­ful­ly, anti-war vet­er­ans with the group About Face: Vet­er­ans Against the War took notice and protest­ed the event. Chants of ​"No awards for end­less wars!" could be heard in the back­ground as the cer­e­mo­ny took place. ​"These wars are hurt­ing every sin­gle one of us except for the politi­cians and cor­po­ra­tions that prof­it," said one vet­er­an, shout­ing through a bullhorn.
4. Joe Manchin
In Feb­ru­ary, Sen. Joe Manchin (D- W. Va.) tried to estab­lish bipar­ti­san deco­rum in the Sen­ate by issu­ing a ​"civil­i­ty pledge" in which sen­a­tors promised not to cam­paign against their colleagues.
Manchin, the most con­ser­v­a­tive Demo­c­ra­t­ic sen­a­tor, argued in favor of mak­ing donat­ing to cam­paigns oppos­ing sit­ting sen­a­tors a vio­la­tion of Sen­ate ethics. ​"I don't see any­body in pub­lic ser­vice that's will­ing to put their name on the bal­lot as my ene­my," he said. ​"If you're will­ing to serve, then I'm your com­rade. I'm will­ing to work with you."
Manchin extend­ed this ami­ca­ble spir­it to the most white nation­al­ist wing of the Trump admin­is­tra­tion, break­ing with Democ­rats to vote in career racist Jeff Ses­sions for attor­ney general.
Yet, he had harsh words for his con­gres­sion­al col­leagues who refused to stand dur­ing Trump's State of the Union address in 2018 — in the after­math of Trump's racist ref­er­ence to Haiti, El Sal­vador and African nations as ​"shit­hole coun­tries." Manchin told Fox & Friends, ​"That's the way I was raised in West Vir­ginia. We have respect. There is some civil­i­ty still yet. There should be civil­i­ty in this place."
5. Cory Booker
On a snowy March day in Wash­ing­ton, D.C., sev­er­al media out­lets pub­lished cheer­ful arti­cles about a snow­ball fight between New Jer­sey Sen. Cory Book­er and Ari­zona Sen. Jeff Flake.
"The day after a snow­storm shut down most of Wash­ing­ton, D.C., the two sen­a­tors decid­ed to get their Alexan­der Hamil­ton-Aaron Burr on," USA Today play­ful­ly quipped. Both politi­cians glee­ful­ly tweet­ed about the match, with Cory Book­er win­ning P.R. points with a lit­tle self-dep­re­cat­ing humor: ​"I should have known this was a set­up… lost this morn­ing's snow­ball duel to a guy named Flake from Snowflake, Arizona!"
Crit­ics were quick to point out that the fight played into Jeff Flake's pos­tur­ing as a rea­son­able Repub­li­can in the Trump era while vot­ing for the president's far-right pol­i­cy agen­da 81 per­cent of the time. Flake backed the con­fir­ma­tion of Brett Kavanaugh to the Supreme Court and played a crit­i­cal role in pass­ing the GOP tax bill — by sell­ing out DACA recipients.
6. Nan­cy Pelosi
Soon after Democ­rats won a major­i­ty of seats in the House of Rep­re­sen­ta­tives in the Novem­ber midterms, House Minor­i­ty Leader Nan­cy Pelosi said she will try to find ​"com­mon ground" with the Trump admin­is­tra­tion when she becomes Speak­er of the House, ref­er­enc­ing her abil­i­ty to col­lab­o­rate with George W. Bush.
"I worked very pro­duc­tive­ly with Pres­i­dent Bush when we had the major­i­ty and he had the pres­i­den­cy," she said in ref­er­ence to her first stint as House speak­er in 2007. Unfor­tu­nate­ly, this ​"pro­duc­tive" rela­tion­ship enabled Bush to main­tain his bloat­ed bud­get for the Iraq War, send more troops to Afghanistan and dodge con­se­quences for post‑9/​11 torture.
This is not the only civil­i­ty stunt Pelosi pulled in 2018. In June, the Demo­c­ra­t­ic leader pub­licly rebuked Rep. Max­ine Waters (D‑Calif.) for call­ing for direct action to stop Trump admin­is­tra­tion offi­cials from sep­a­rat­ing and jail­ing immi­grant fam­i­lies at the bor­der. By appeal­ing to an idyl­lic — and fic­tion­al — past, Pelosi's con­dem­na­tion encap­su­lat­ed how civil­i­ty pol­i­tics echoes the slo­gans of Trump. ​"In the cru­cial months ahead," she said, ​"we must strive to make Amer­i­ca beau­ti­ful again."
Mar­co Car­tolano is an edi­to­r­i­al intern at In These Times. Sarah Lazare is web edi­tor at In These Times. She comes from a back­ground in inde­pen­dent jour­nal­ism for pub­li­ca­tions includ­ing The Inter­cept, The Nation, and Tom Dis­patch. She tweets at @sarahlazare.