How Unions and Climate Organizers Learned To Work Together in New York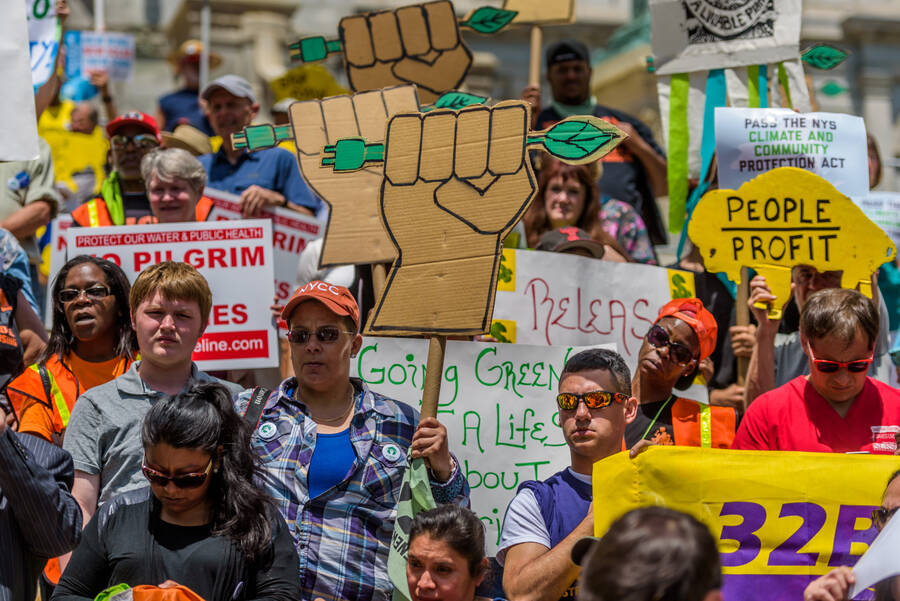 Sev­er­al years before Rep. Alexan­dria Oca­sio-Cortez (D‑N.Y.) ele­vat­ed the cli­mate, jobs and jus­tice frame­work to the nation­al lev­el, a coali­tion of labor, envi­ron­men­tal and com­mu­ni­ty groups joined togeth­er to push for a pio­neer­ing cli­mate bill in New York.
The idea for the leg­is­la­tion came in the imme­di­ate after­math of the 2014 People's Cli­mate March, when orga­niz­ers decid­ed to build on the momen­tum of the his­toric demon­stra­tion. In 2016 the Cli­mate and Com­mu­ni­ty Pro­tec­tion Act (CCPA) was born, an expan­sive bill that would require New York to gen­er­ate half of its elec­tric­i­ty from renew­able sources by 2030, and elim­i­nate all green­house gas emis­sions by 2050. The bill would also man­date that 40 per­cent of New York's cli­mate fund­ing go towards projects in low-income, vul­ner­a­ble com­mu­ni­ties, and require all green projects to have high labor stan­dards, includ­ing the require­ment for a pre­vail­ing wage.
"It's among the most aggres­sive decar­boniza­tion pro­pos­als in the nation," said Arielle Swer­noff, the com­mu­ni­ca­tions coor­di­na­tor for New York Renews, a coali­tion of over 170 state groups back­ing the leg­is­la­tion. ​"The only state that has real­ly done some­thing com­pa­ra­ble is Hawaii."
New York Renews offers an encour­ag­ing exam­ple of how labor and envi­ron­men­tal groups can work togeth­er to act on cli­mate change. The coali­tion has the back­ing of unions like 32BJ Ser­vice Employ­ees Inter­na­tion­al Union — a prop­er­ty ser­vice work­ers union, the New York State Nurs­es Asso­ci­a­tion, the New York State Amal­ga­mat­ed Tran­sit Union, Team­sters Joint Coun­cil 16 and the Com­mu­ni­ca­tions Work­ers of Amer­i­ca Local 1108. It also has the sup­port of a vast num­ber of envi­ron­men­tal groups, includ­ing the Sier­ra Club, Envi­ron­men­tal Advo­cates of New York and GreenFaith.
The bill's strong lan­guage around labor — such as requir­ing that gov­ern­ment con­tracts include mech­a­nisms for resolv­ing dis­putes and ensur­ing labor har­mo­ny — has helped quell oppo­si­tion from build­ing trade unions that typ­i­cal­ly fight robust cli­mate pro­pos­als. The New York AFL-CIO, a labor fed­er­a­tion rep­re­sent­ing 3,000 state affil­i­ates, has notably stayed qui­et on the bill.
Nel­la Pine­da-Mar­con, the chair of the Cli­mate Jus­tice and Dis­as­ter Relief com­mit­tee with the New York State Nurs­es Asso­ci­a­tion, told In These Times that it was an easy deci­sion for her union to back the CCPA. Her union, which rep­re­sents 43,000 nurs­es statewide, got very involved with the cli­mate cri­sis fol­low­ing Hur­ri­cane Sandy in 2012. The fol­low­ing year, Pine­da-Mar­con trav­eled to the Philip­pines as a first-respon­der to Typhoon Haiyan. ​"We are on the front lines of this cri­sis, we see first-hand the destruc­tion it has," she explained. ​"And the mas­sive amounts of pol­lu­tants in our air are dri­ving up rates of chron­ic asth­ma in our most vul­ner­a­ble com­mu­ni­ties… We need to lead now and the rest of the world can fol­low us."
The pol­i­tics of the CCPA are com­ing to a head as the dead­line for pas­sage ends June 19. The bill passed the state Assem­bly in 2016, 2017 and 2018 — and last year a major­i­ty of state sen­a­tors signed on in sup­port. But the Sen­ate Leader nev­er allowed it to come to the floor for a vote. After the 2018 midterms, how­ev­er, when pro­gres­sive Democ­rats oust­ed a group of cen­trists who often cau­cused with Repub­li­cans, advo­cates felt the stars were align­ing more favor­ably for the CCPA's pas­sage this year.
Indeed, in Jan­u­ary the new Sen­ate Major­i­ty Leader Andrea Stew­art-Cousins released a state­ment call­ing the CCPA ​"the main vehi­cle through which we will address cli­mate change." The state sen­ate held its first-ever hear­ing on cli­mate change in Feb­ru­ary, led by Sen. Todd Kamin­sky (D), the new Envi­ron­men­tal Con­ser­va­tion Com­mit­tee chairman.
Var­i­ous sci­en­tists tes­ti­fied, includ­ing Math­ias Vuille, a pro­fes­sor of cli­mate and atmos­pher­ic sci­ences at the Uni­ver­si­ty of Albany and a mem­ber of the Inter­gov­ern­men­tal Pan­el on Cli­mate Change. Vuille explained that the most sig­nif­i­cant impact result­ing from a chang­ing cli­mate in New York so far has been the rise of intense storms, which have increased in fre­quen­cy in the North­east more than any oth­er region in the Unit­ed States. Sea lev­els along the mid-Atlantic and New Eng­land coasts have also risen much high­er than the glob­al aver­age, he said, point­ing to a rise in New York sea lev­els by 280 mil­lime­ters over the 20th cen­tu­ry, com­pared to a glob­al aver­age increase of 170 millimeters.
While Vuille cau­tioned that he's nei­ther a renew­able ener­gy spe­cial­ist nor an econ­o­mist, he said ​"we owe it to future gen­er­a­tions" to con­tin­ue lead­ing the tran­si­tion off fos­sil fuels, and empha­sized a need to reduce emis­sions in the trans­porta­tion sec­tor in par­tic­u­lar. ​"I think this can be done if we real­ly have the will," he said.
Some labor advo­cates, like Mike Gen­dron, the exec­u­tive vice pres­i­dent of Com­mu­ni­ca­tions Work­ers of Amer­i­ca Local 1108, also tes­ti­fied in sup­port of the CCPA. ​"As we tran­si­tion from fos­sil fuel based ener­gy to renew­able ener­gy, we must make sure that the jobs cre­at­ed, are good pay­ing union jobs with prop­er train­ing, for both new work­ers and tran­si­tion­ing work­ers," he said. ​"The New York State Cli­mate and Com­mu­ni­ty Pro­tec­tion Act will help make that happen."
Oth­er unions offered more qual­i­fied sup­port, endors­ing spe­cif­ic sec­tions of the leg­is­la­tion. Ellen Red­mond, rep­re­sent­ing the Inter­na­tion­al Broth­er­hood of Elec­tri­cal Work­ers (IBEW), tes­ti­fied that her union does in fact believe the CCPA con­tains com­mend­able lan­guage around work­ers' rights. ​"We do believe the labor pro­tec­tions are strong," she said, though sug­gest­ed it could be even bet­ter if there were more teeth and real dol­lars behind it. IBEW rep­re­sents about 50,000 mem­bers in New York, many of whom work in the util­i­ties industry.
Mark Brueggen­jo­hann, a spokesper­son for the IBEW, told In These Times that his union didn't have any­thing new to add to Redmond's Feb­ru­ary tes­ti­mo­ny and doesn't ​"antic­i­pate any fur­ther state­ments" this month.
State sen­a­tors also heard from indus­try groups that raised con­cerns, like Mitch Paley, tes­ti­fy­ing on behalf of the New York State Builders Asso­ci­a­tion. Paley said while his col­leagues sup­port some aspects of the CCPA, they object to the pre­vail­ing wage require­ments which would, by their own esti­mate, increase res­i­den­tial projects by 35 to 45%. The man­dat­ed solar require­ments for new homes, he added, could increase the cost of each project by $10,000. This would ​"dra­mat­i­cal­ly affect the abil­i­ty to pro­mote afford­able homes in our region," he argued.
Dar­ren Suarez, the senior direc­tor of gov­ern­ment affairs for the Busi­ness Coun­cil of New York State tes­ti­fied against the bill, argu­ing that the pro­posed leg­is­la­tion would ​"increase ener­gy costs, oper­a­tional costs, and cre­ate uncer­tain­ty, com­pro­mis­ing the glob­al com­pet­i­tive­ness of ener­gy-inten­sive, trade-exposed indus­tries." He insist­ed the bill's goals are not prac­ti­cal, and that the man­u­fac­tur­ing sec­tor should be includ­ed in devel­op­ing the state's cli­mate policies.
A study by the Polit­i­cal Econ­o­my Research Insti­tute at the Uni­ver­si­ty of Mass­a­chu­setts — Amherst found that New York tran­si­tion­ing to a 100 per­cent renew­able econ­o­my could sup­port 160,000 direct and indi­rect jobs ini­tial­ly and an aver­age of about 150,000 in each year over the first decade. The insti­tute also esti­mates that New York's fos­sil fuel work­force is rel­a­tive­ly small, com­prised of rough­ly 13,000 indi­vid­u­als, out of a statewide work­force of around 9 million.
A threat­en­ing fac­tor for CCPA sup­port­ers is that the state's gov­er­nor, Andrew Cuo­mo, has intro­duced his own more mod­er­ate cli­mate bill—the Cli­mate Lead­er­ship Act. His leg­is­la­tion calls for the elec­tric­i­ty sec­tor to be car­bon-free by 2040, but does not lay out a con­crete plan for oth­er sec­tors that emit green­house gas, like trans­porta­tion. The two bills are divid­ing Democ­rats in Albany. Advo­cates for CCPA say Cuomo's bill does not go far enough, and it's imper­a­tive to leg­is­late spe­cif­ic cli­mate goals, so they are not ​"at the whim of the exec­u­tive" anymore.
Swer­noff of New York Renews says the governor's office has expressed dis­com­fort specif­i­cal­ly with the pre­vail­ing wage stan­dard for all green projects, the 40% invest­ment into vul­ner­a­ble and low-income com­mu­ni­ties, and set­ting a time­line for the whole econ­o­my, as opposed to just for electricity.
New York fed­er­al leg­is­la­tors are ramp­ing up pres­sure on state law­mak­ers to pass the CCPA. On June 4, eleven Con­gres­sion­al rep­re­sen­ta­tives from New York, includ­ing Reps. Oca­sio-Cortez and Nydia Velázquez, sent a let­ter in sup­port of the bill. ​"We believe the peo­ple-led Cli­mate and Com­mu­ni­ty Pro­tec­tion Act before you in Albany presents…an oppor­tu­ni­ty for New York," they wrote. ​"An oppor­tu­ni­ty to cure the injus­tices of the past and to secure, with intent, a just tran­si­tion into the future." On June 5, New York sen­a­tor Kirsten Gilli­brand sent her own let­ter in sup­port of the bill.
Mar­itza Sil­va-Far­rell, exec­u­tive direc­tor of ALIGN, a steer­ing com­mit­tee mem­ber of New York Renews and the New York affil­i­ate of Jobs with Jus­tice, said she knows law­mak­ers are tak­ing the CCPA very seri­ous­ly right now, and she's ​"hope­ful this year its pas­sage will become a reality."

When it comes to the gov­er­nor sign­ing the bill, Sil­va-Far­rell says she is less sure. ​"You nev­er know where he's going to be on an issue," she said. ​"But one thing that is very clear is that if he wants to leave a strong lega­cy for his fam­i­ly, for his kids, and his grand­kids, he should get behind this."