Minnesota Must Say "No" to Enbridge's Line 3 Pipeline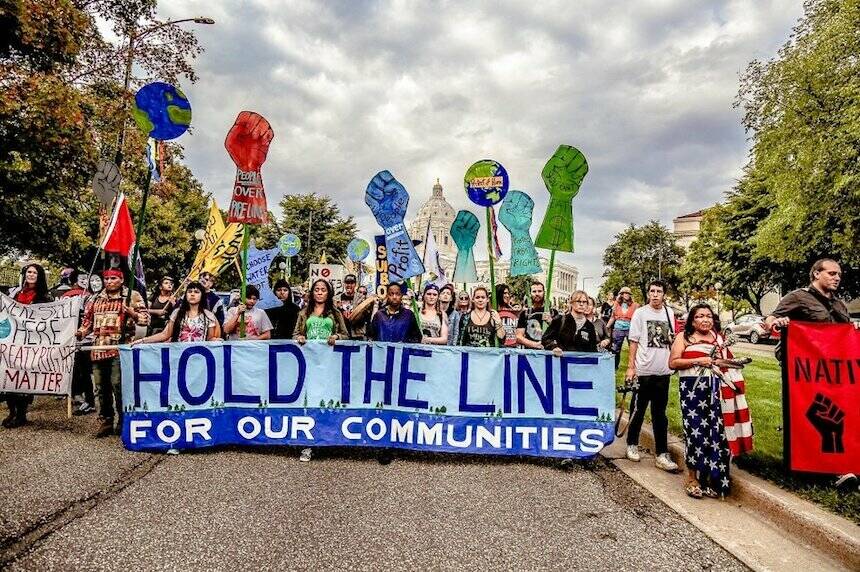 Min­neso­ta has tak­en sig­nif­i­cant steps to devel­op its renew­able ener­gy resources. Begin­ning more than 20 years ago, the state has pro­mot­ed ener­gy effi­cien­cy, wind, and solar pow­er, to reduce green­house gas emis­sions while cre­at­ing jobs and clean­ing the envi­ron­ment. The state is com­mit­ted, by law, to sharp reduc­tions in green­house gas emissions.
The pro­posed Enbridge pipeline project would be a big step in the oppo­site direc­tion. It is a lit­mus test of whether Min­neso­ta is seri­ous about cli­mate change. Before explain­ing why, it is impor­tant to be clear on the urgency of the issue. A recent report pub­lished by the Nation­al Acad­e­my of Sci­ences said that there is a 1‑in-20 chance that human-caused cli­mate change will have an impact that is ​"beyond cat­a­stroph­ic" by the end of the cen­tu­ry, threat­en­ing the very sur­vival of our descendants.
Ignor­ing the risk of cli­mate change caused by human green­house gas emis­sions is gam­bling with the lives of young Min­nesotans and all future generations.
In that con­text, the Min­neso­ta Pub­lic Util­i­ties Com­mis­sion (PUC) will make a for­mal deci­sion on whether to allow Enbridge to con­struct its pro­posed multi­bil­lion-dol­lar Line 3 Replace­ment Pipeline project. The pipeline, which would be used to trans­port heavy crude oil extract­ed from tar sands in Cana­da, would trav­el across lake coun­try in North­ern Minnesota.
The Depart­ment of Commerce's analy­sis of the pro­pos­al con­clud­ed that the pipeline is not need­ed for our ener­gy needs and stat­ed that ​"Min­neso­ta would be bet­ter off if Enbridge pro­posed to cease oper­a­tions of the exist­ing Line 3, with­out any new pipeline being built."
Cer­tain­ly, the econ­o­my will con­tin­ue to use fos­sil fuels as we tran­si­tion to a clean ener­gy future. How­ev­er, this pipeline project will make our cli­mate-alter­ing green­house gas emis­sions even worse than they already are, work­ing against the green­house gas reduc­tion goals in law. It facil­i­tates the extrac­tion of addi­tion­al tar sands oil — the dirt­i­est of fuels, with a green­house gas impact as much as 37 per­cent high­er than con­ven­tion­al oil. We need to min­i­mize green­house gas emis­sions as we phase out the use of fos­sil fuels over the next few decades, not encour­age the use of the most harm­ful of those fuels.
With­out this pipeline, the eco­nom­ics of tar sands extrac­tion — already cost­ly — sim­ply don't make sense, and the oil and gas com­pa­nies will leave the tar sands in the ground. Expand­ing rail capac­i­ty for trans­port­ing tar sands is too expen­sive and can­not be sustained.
Many of the peo­ple most affect­ed by the pro­posed pipeline are native peo­ple, whose fam­i­lies have lived here for hun­dreds of years or longer. For them, the impact of the pipeline mat­ters not only while it is under con­struc­tion and while it is trans­port­ing tar sands, but also 100 years from now, decades after it is no longer in use. The envi­ron­men­tal review stat­ed that ​"dis­pro­por­tion­ate and adverse impacts would occur to Amer­i­can Indi­an pop­u­la­tions" regard­less of the route chosen.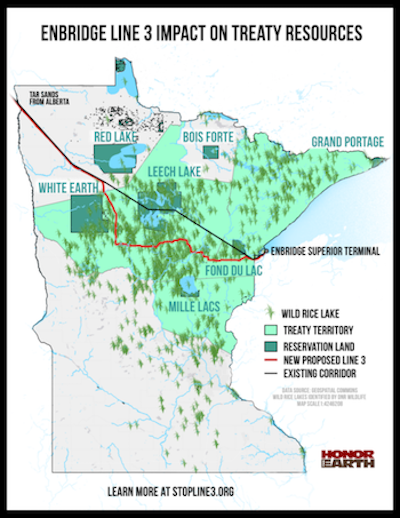 To add insult to injury, the Enbridge pro­pos­al would aban­don the old pipeline after drain­ing the oil and tak­ing oth­er steps to reduce harm. Landown­ers who were forced to host the exist­ing pipeline deserve the chance to deter­mine what hap­pens to their prop­er­ty. Rather than respect­ing the inter­ests of local landown­ers, Enbridge wants to decide this ques­tion based sole­ly on its cor­po­rate interests.
Leav­ing an aging pipeline in place is like buy­ing a new car and leav­ing the old, rust­ing car in the back­yard, slow­ly drip­ping rem­nants of tox­ic flu­ids into the ground. Flu­ids do con­tin­ue to leak out even if the tanks have been drained. In this case the anal­o­gy is even worse. It is like leav­ing your rust­ing car in some­body else's back­yard, with­out their con­sent, to pol­lute their soil and water.
In addi­tion to the dis­pro­por­tion­ate impact on native peo­ple and those who own land crossed by the pipeline, the chil­dren, grand­chil­dren, and future gen­er­a­tions of all Min­nesotans will be harmed by the cli­mate impacts. Reg­u­la­to­ry deci­sions like this one before the PUC are often a bal­anc­ing act. Much of the polit­i­cal pres­sure in sup­port of the project comes from the need for jobs like those that would con­struct the mas­sive pipeline. How­ev­er, the deci­sion in this case is not a close call.
Although those jobs do not jus­ti­fy build­ing a pipeline that fails to meet the legal cri­te­ria for grant­i­ng approval, we must take seri­ous­ly the need to cre­ate jobs for the build­ing trades. In that regard, remov­ing the exist­ing pipeline would cre­ate a sig­nif­i­cant por­tion of the jobs that would have been cre­at­ed if the pro­posed pipeline was built.
To restate the urgency of the cli­mate issue, the new report pub­lished by the Nation­al Acad­e­my of Sci­ences esti­mat­ed a 1‑in-20 chance that glob­al tem­per­a­tures could rise by five degrees Cel­sius by the end of the cen­tu­ry—far worse than the two degree rise that the Paris Cli­mate Accords com­mit­ted to pre­vent­ing. Worse even than the cat­a­stroph­ic impacts that the report said a three degree rise would trig­ger. The report described a five degree increase as ​"beyond cat­a­stroph­ic" because it threat­ens the very exis­tence of humanity.
One of the sci­en­tists involved said, ​"To put [it] in per­spec­tive, how many of us would choose to buck­le our grand­chil­dren to an air­plane seat if we knew there was as much as a 1‑in-20 chance of the plane crashing?"
With that sober­ing image in mind, the Enbridge pipeline deci­sion is tru­ly a lit­mus test of whether Min­neso­ta is seri­ous about address­ing cli­mate change.
For the sake of the chil­dren of today and tomor­row, we dare not fail this test.
("Tar Sands Pipeline: Lit­mus Test of Whether Min­neso­ta is Seri­ous about Cli­mate Change" was first pub­lished on the Apple Pie Alliance web­site and is repost­ed on Rur­al Amer­i­ca In These Times with per­mis­sion from the author.)
John Mar­ty is a Min­neso­ta State Sen­a­tor. He has authored numer­ous con­sumer pro­tec­tion, gov­ern­ment ethics and envi­ron­men­tal ini­tia­tives. He is an out­spo­ken leader in the fight to remove spe­cial inter­est mon­ey from the polit­i­cal process.