Climate Change Is Already a Public Health Crisis—Just Look at Puerto Rico
Being poor and trapped by a hurricane can become a deadly condition.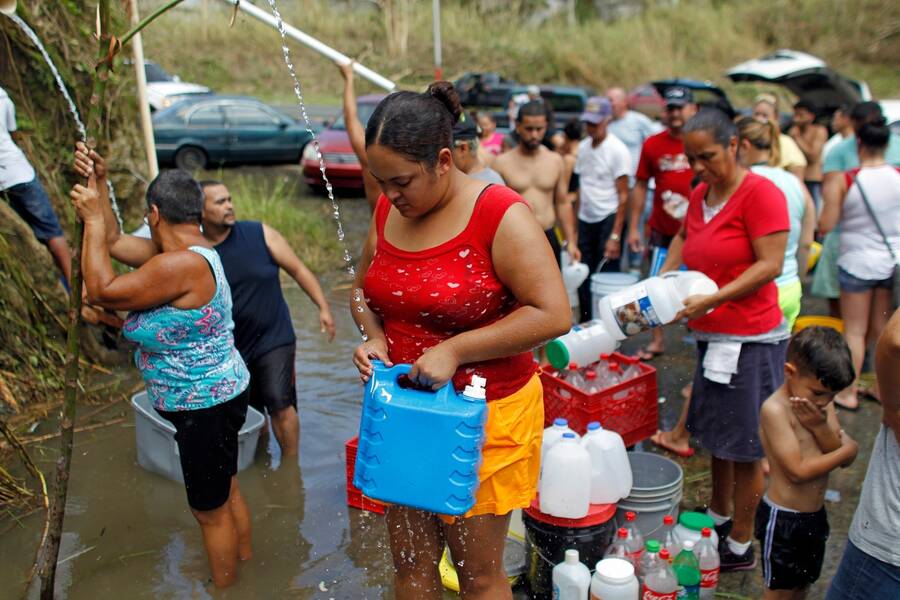 As Puer­to Rico marked the one-year anniver­sary of Hur­ri­cane Maria, with its com­mu­ni­ties still hob­bled by cat­a­stroph­ic dam­age and lack of access to basic ser­vices like elec­tric­i­ty and health­care, Hur­ri­cane Flo­rence hov­ered over the Car­oli­nas, wreak­ing extra hav­oc due to slow­er storm movement.
Thanks to climate change, natural disasters are claiming even more lives — and poorer neighborhoods are disproportionately paying the price.
Thanks to cli­mate change, storm sys­tems like Flo­rence are stay­ing for longer in one geo­graph­ic area, deal­ing even fur­ther dam­age to already-suf­fer­ing com­mu­ni­ties. The health con­se­quences have been dead­ly, and for poor­er com­mu­ni­ties, even deadlier.
This is the new real­i­ty: Nat­ur­al dis­as­ters like hur­ri­canes are increas­ing in inten­si­ty thanks to glob­al warm­ing and ris­ing sea lev­els, and they have even more poten­tial to harm the com­mu­ni­ties they hit.
We know how much nat­ur­al dis­as­ters can harm com­mu­ni­ties. New Orleans still feels the impact of Hur­ri­cane Kat­ri­na over a decade lat­er. Com­mu­ni­ties are still recov­er­ing from Sandy, Har­vey and oth­er cat­a­stroph­ic storms that tore through neigh­bor­hoods and dev­as­tat­ed already under­served, under­priv­i­leged and vul­ner­a­ble families.
We often talk about the after­math of hur­ri­canes in terms of eco­nom­ic plight, lack of access to food and clean water, har­row­ing scenes of towns under water and homes com­plete­ly gut­ted or reduced to rub­ble. We need to talk more about the impact of cli­mate-fueled nat­ur­al dis­as­ters on people's health. What will the increased inten­si­ty of nat­ur­al dis­as­ters due to cli­mate change mean for low-income and under­priv­i­leged communities?
All too often, affect­ed com­mu­ni­ties face more than one dis­as­ter, some­times with lit­tle-to-no time to recov­er. For chil­dren, the elder­ly, and peo­ple with pre-exist­ing con­di­tions, the con­se­quences of even just one dis­as­ter can be par­tic­u­lar­ly dead­ly. Take the har­row­ing sto­ry of a man whose wife expe­ri­enced com­pli­ca­tions after surgery dur­ing Hur­ri­cane Har­vey and was unable to get life-sav­ing help. Or a woman's sto­ry about the ter­ri­ble con­se­quences of being poor and liv­ing in pub­lic hous­ing when a nat­ur­al dis­as­ter strikes.
Con­sid­er how many Amer­i­can com­mu­ni­ties are locat­ed in high-risk, flood-prone, fire-prone or oth­er­wise vul­ner­a­ble areas, and already face lim­it­ed access to health and med­ical resources. Weath­er-relat­ed dis­as­ters exac­er­bate prob­lems with access­ing health ser­vices, par­tic­u­lar­ly emer­gency ser­vices. Floods, for instance, can cause drown­ings and phys­i­cal injuries and height­en the risk of water-borne dis­eases. They can also turn mild health scares into life-threat­en­ing emer­gen­cies when access to sup­plies of dai­ly neces­si­ties like insulin, oxy­gen tanks or heart med­i­cine becomes impossible.
Stud­ies have doc­u­ment­ed how liv­ing in pover­ty or being a poor per­son of col­or can exac­er­bate med­ical con­di­tions like dia­betes or can­cer and impact access to health­care and treat­ment. Add to that the com­pli­ca­tions of get­ting access to a doc­tor or clin­ic or emer­gency room dur­ing a storm, and the risk grows exponentially.
Thanks to cli­mate change, nat­ur­al dis­as­ters are claim­ing even more lives — and poor­er neigh­bor­hoods are dis­pro­por­tion­ate­ly pay­ing the price. Recent­ly, a study by the George Wash­ing­ton Uni­ver­si­ty Milken Insti­tute of Pub­lic Health not­ed the extent to which low-income res­i­dents in poor­er areas of Puer­to Rico were dis­pro­por­tion­ate­ly at risk of health com­pli­ca­tions or death dur­ing Hur­ri­cane Maria.
Accord­ing to a report by the World Health Orga­ni­za­tion, ​"Ris­ing sea lev­els and increas­ing­ly extreme weath­er events will destroy homes, med­ical facil­i­ties and oth­er essen­tial ser­vices. More than half of the world's pop­u­la­tion lives with­in 60 km of the sea. Peo­ple may be forced to move, which in turn height­ens the risk of a range of health effects, from men­tal dis­or­ders to com­mu­ni­ca­ble diseases."
Around the world, health orga­ni­za­tions are already see­ing a dras­tic rise in the num­ber of ​"cli­mate refugees," peo­ple who are dis­placed by the effects of cli­mate change on their com­mu­ni­ties. Imag­ine what it's like for peo­ple in sim­i­lar­ly des­per­ate sit­u­a­tions who can't even evac­u­ate because they can't afford to.
We'd like to think that this is a prob­lem for oth­er coun­tries, but our fel­low Amer­i­cans are fac­ing this head on. Right now, dis­placed Puer­to Rican fam­i­lies are still stuck in tem­po­rary hous­ing sit­u­a­tions in Flori­da and oth­er states. Many of them have been kicked out of hotels by FEMA, and many are strug­gling to find new jobs and places to stay. Back in Puer­to Rico, the noto­ri­ous blue tarp can­vass­es still cov­er homes, and repairs to util­i­ty out­ages are still slow. Hos­pi­tals still report incred­i­ble short­ages of resources.
Cli­mate change is not going away, and the nat­ur­al dis­as­ters that hit are going to get worse and worse. There will be more Marias and Har­veys and Katri­nas. People's health is at stake, and we need to address the health cri­sis that is already emerg­ing. Bet­ter fund­ing for dis­as­ter pre­pared­ness resources at the fed­er­al and state lev­el will be crit­i­cal, and so, too, will be expand­ing access to health­care in the poor­est com­mu­ni­ties, so when dis­as­ter strikes, it's eas­i­er to save lives in the com­mu­ni­ties that are inevitably hit the hardest.
Olivia Alper­stein
is the Media Rela­tions Man­ag­er for Physi­cians for Social Responsibility.