The Climate Strikers Walked Out of School. Next, Let's Walk Off the Job.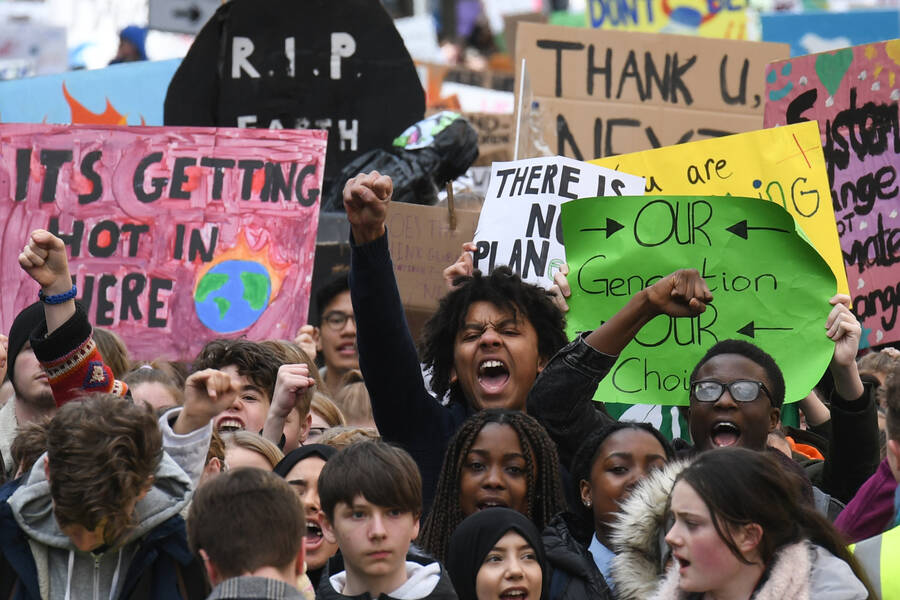 This Sep­tem­ber, the world erupt­ed when over 7 mil­lion peo­ple — young and old — poured into the streets for the Glob­al Cli­mate Strike. The mass action, which made a Green New Deal a top demand, was sparked in the lead-up to Sweden's 2018 gen­er­al elec­tion, when teen activist Gre­ta Thun­berg began ditch­ing school to protest Sweden's inac­tion on cli­mate change. Gre­ta, who was already inspir­ing more stu­dent strikes through social media, cat­alyzed the Fri­days for Future move­ment when she decid­ed to con­tin­ue strik­ing on Fri­days after the gen­er­al elec­tion. Over the past year, young lead­ers —par­tic­u­lar­ly youth of col­or—have been on the fore­front of build­ing Fri­day Cli­mate Strikes into a world­wide stu­dent civ­il dis­obe­di­ence move­ment, tak­ing aim at the polit­i­cal fail­ure to address the cli­mate emergency.
The log­ic of the Cli­mate Strike move­ment was sum­mat­ed by Gre­ta at the World Eco­nom­ic Forum in Davos in Jan­u­ary 2019. ​"Some say that we should not engage in activism, instead we should leave every­thing to our politi­cians and just vote for change instead," she said. ​"But what do we do when there is no polit­i­cal will? What do we do when the pol­i­tics need­ed are nowhere in sight?"
In oth­er words, Cli­mate Strikes are hap­pen­ing for the same rea­son labor strikes often hap­pen: Nego­ti­a­tions have bro­ken down. CEOs prof­it­ing from the exploita­tion of work­ers and the Earth are unwill­ing to cede to demands that would improve the lives of those affect­ed by their prac­tices. And politi­cians are unwill­ing to put the good of ordi­nary peo­ple first.
Like labor strikes, cli­mate strikes are premised on the prin­ci­ple that orga­niz­ers won't get what they want just by ask­ing: They have to cre­ate the polit­i­cal will for their demands by caus­ing dis­rup­tion that is impos­si­ble to ignore. The use of this tac­tic sig­nals a shift away from the evi­dent­ly floun­der­ing strate­gies of online peti­tions and behind-the-scenes talks with key decision-makers.
How­ev­er, labor strikes are more like­ly than stu­dent strikes to be suc­cess­ful for a key rea­son: Work­ers are strate­gi­cal­ly posi­tioned to lever­age their col­lec­tive pow­er because labor strikes halt pro­duc­tion and there­fore prof­it-mak­ing by employ­ers, which forces their boss­es to cede to their demands or lose out. Unlike stu­dent strikes, work­er strikes cause direct eco­nom­ic impact, which affects what key deci­sion-mak­ers care about most: prof­it-mak­ing and eco­nom­ic con­di­tions that are favor­able for re-elec­tion. The path­way to vic­to­ry for Cli­mate Strik­ers is build­ing an inter­na­tion­al move­ment of peo­ple act­ing in their capac­i­ty as work­ers to dis­rupt the econ­o­my sig­nif­i­cant­ly enough that politi­cians are forced to cave to the demand for a Green New Deal.
The chal­lenge is to turn the pow­er­ful move­ment for cli­mate strikes into a move­ment capa­ble of orga­niz­ing actu­al work­ers' strikes.
Build­ing towards labor strikes
Teach­ers have been on the fore­front of the recent strike wave, and the Mass­a­chu­setts Teach­ers Asso­ci­a­tion (MTA) may have advanced the move­ment fur­ther when its mem­bers passed a res­o­lu­tion stat­ing ​"that the MTA del­e­ga­tion to the 2019 NEA [Nation­al Edu­ca­tion Asso­ci­a­tion] Rep­re­sen­ta­tive Assem­bly pro­pose a nation­al teach­ers strike in sup­port of the Green New Deal." Unfor­tu­nate­ly, NEA del­e­gates vot­ed down the pro­pos­al — but that doesn't mean it's the end.
One pos­si­ble route for­ward comes from Fran­cis­co Cen­de­jas, a long-time labor orga­niz­er who helped start Nation­al Union of Health­care Work­ers (NUHW). He sug­gests that unions could resolve to strike for a Green New Deal if a num­ber of oth­er nation­al unions agreed to do so as well. The sim­ple expla­na­tion for this ​"strike pact" approach is that there is safe­ty in num­bers, but the rea­son­ing goes deep­er. The Nation­al Labor Rela­tions Board (NLRB) and U.S. labor laws overt­ly favor employ­ers over work­ers — and place strict para­me­ters around strik­ing. This imbal­ance has cre­at­ed a moun­tain of legal bar­ri­ers pre­vent­ing an entire union from going on strike — espe­cial­ly for a Green New Deal or oth­er demands for the com­mon good.
How­ev­er, there are no ille­gal strikes, just unsuc­cess­ful ones. We make them ​"legal" by win­ning our demands. West Vir­ginia teach­ers did this when they launched a suc­cess­ful wild­cat strike last year. If many large unions with high-stakes dis­rup­tive pow­er can agree to strike in sol­i­dar­i­ty with each oth­er and their com­mu­ni­ties, we could have the pow­er to win.
If you belong to a union, you can start orga­niz­ing sup­port for Cli­mate Strikes and a Green New Deal by intro­duc­ing a local union res­o­lu­tion in sup­port of each. Pass­ing this res­o­lu­tion will fur­ther align the Labor and Cli­mate Move­ments, and could move your union toward endors­ing pro­gres­sive cli­mate can­di­dates, col­lec­tive­ly bar­gain­ing for green con­tract pro­vi­sions, and show­ing up to cli­mate actions. Once you pass a res­o­lu­tion in your local union, you can move toward pass­ing a sim­i­lar res­o­lu­tion at high­er lev­els, like city and coun­ty labor councils.
Get­ting your union to sup­port a Green New Deal or Cli­mate Strikes will not nec­es­sar­i­ly be straight­for­ward. Unions have dif­fer­ent pol­i­tics, dif­fer­ent struc­tures for mem­ber par­tic­i­pa­tion, and some have been hos­tile toward the Green New Deal. Addi­tion­al­ly, many unions have set­tled for oper­at­ing in accor­dance to a ​"ser­vice mod­el," mean­ing they aim to sat­is­fy their mem­bers' demands through han­dling griev­ances, lob­by­ing and secur­ing ben­e­fits rather than direct pres­sure on their employ­ers — which dimin­ish­es the pow­er a union could have against threats to work­ing class inter­ests. Turn­ing Cli­mate Strikes into a win­ning strat­e­gy will require turn­ing unions into a fight­ing force. For lessons in how to achieve this, we can exam­ine the suc­cess­ful tac­tics of Cau­cus of Rank-and-File Edu­ca­tors (CORE) with­in the Chica­go Teach­ers Union (CTU).
Towards social jus­tice unionism
When CORE mem­bers were elect­ed as CTU lead­ers in 2010, they for­feit­ed CTU's ser­vice mod­el for a social move­ment union­ism approach, which they first demon­strat­ed in a 2012 strike that cen­tered on the improve­ment of pub­lic edu­ca­tion and form­ing alliances with par­ents and stu­dents. The union's ded­i­ca­tion to bar­gain­ing for the com­mon good was on full dis­play dur­ing its recent strike, in which union mem­bers won a con­tract secur­ing sup­port staff for home­less stu­dents, a dec­la­ra­tion of Chica­go schools as sanc­tu­ary spaces, a cap on class sizes, and a nurse and social work­er for every school.
CORE's con­tin­ued mil­i­tan­cy and suc­cess has spread to teach­ers' unions around the coun­try through UCORE, includ­ing MTA — the union that passedthe res­o­lu­tion to pro­pose a gen­er­al strike for a Green New Deal. If work­ers orga­nize their unions to fol­low CORE's approach of rank-and-file democ­ra­cy, com­mu­ni­ty alliances, and using bar­gain­ing pow­er to win demands for the com­mon good, they could build labor sup­port for a Green New Deal and even align unions around a ​"Cli­mate Strike Pact."
If you are not part of a union, you can gain inspi­ra­tion from the 2006 ​"Day With­out an Immi­grant" mass strike. Immi­grants and sol­i­dar­i­ty strik­ers were able to par­tic­i­pate due to the pro­tec­tion of ​"con­cert­ed activ­i­ty" includ­ed in the Nation­al Labor Rela­tions Act. Legal pro­tec­tion of con­cert­ed activ­i­ty allows union and non-union work­ers to act col­lec­tive­ly to improve the terms and con­di­tions of their work, which is some­thing a Green New Deal could do. With less than 12% of U.S. work­ers belong­ing to a union, this pro­tec­tion holds par­tic­u­lar impor­tance. How­ev­er, some employ­ers might still try to fire work­ers for par­tic­i­pat­ing, which means we would need to mobi­lize work­ers and the broad­er com­mu­ni­ty around protests, pub­lic sham­ing and boy­cotts tar­get­ing the offend­ing employ­ers until they cave and rehire the workers.
The bot­tom line is this: Cli­mate Strikes can win a Green New Deal by build­ing com­mu­ni­ty and Labor alliances around demands for the com­mon good. We can lever­age our pow­er as work­ers through high-impact, dis­rup­tive labor strikes that halt the economy's gears until politi­cians can no longer ignore us, and are forced to cede to demands that will save the world.
Syd­ney Ghaz­ar­i­an
start­ed the Nation­al Demo­c­ra­t­ic Social­ists of Amer­i­ca (DSA) Ecoso­cial­ist Work­ing Group and is a mem­ber of its cur­rent Steer­ing Com­mit­tee. She is also a cli­mate orga­niz­er and an advi­so­ry board mem­ber for The Trou­ble. You can fol­low her on Twit­ter @SydneyAzari