Climate Change-Fighting Youth Need Adult Allies. Their Teachers Should Be First in Line.
A striking Chicago teacher explains how educators can add climate to their curriculum—and stand with their students.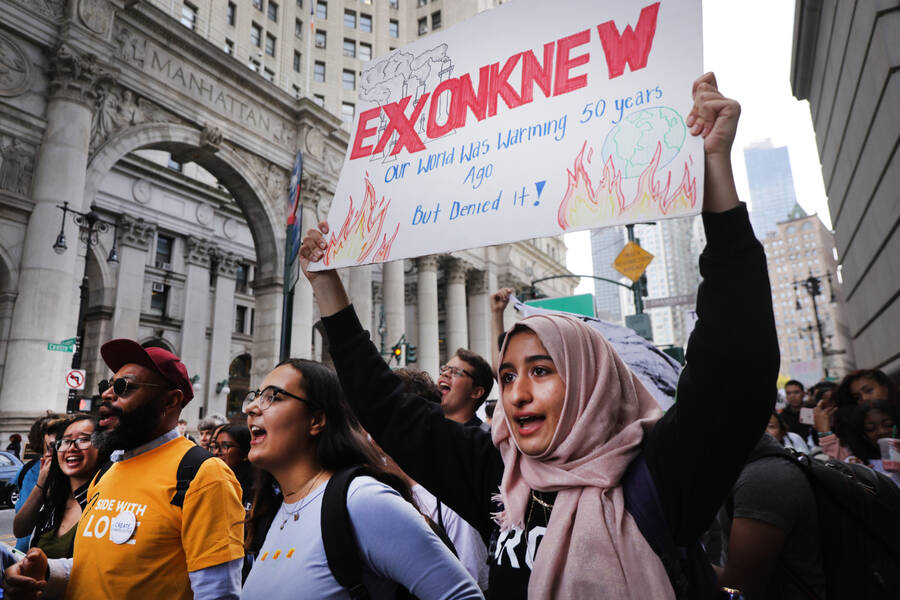 On Sep­tem­ber 20, mil­lions of young peo­ple staged a world­wide strike to demand gov­ern­ment action on cli­mate change. The New York Times report­ed, ​"Rarely, if ever, has the mod­ern world wit­nessed a youth move­ment so large and wide, span­ning across soci­eties rich and poor, tied togeth­er by a com­mon if inchoate sense of rage."
With mere years left before it's too late, the time is now for teachers to follow their students' lead and help carry their message into the classrooms, the streets and the halls of power.
Some­thing unprece­dent­ed is hap­pen­ing among the world's young peo­ple. The youth-led cli­mate move­ment suc­cess­ful­ly ramped up the pres­sure on polit­i­cal lead­ers at the UN Cli­mate Action Sum­mit on Sep­tem­ber 23, and it only con­tin­ues to grow. But young peo­ple can't do it alone. They need adult allies, and their teach­ers should be the first to join them. After all, teach­ers have gone through a sim­i­lar expe­ri­ence find­ing their voice through a wave of strikes for pub­lic edu­ca­tion that have rocked the coun­try — includ­ing my union, the Chica­go Teach­ers Union, that cur­rent­ly has over 25,000 work­ers on the pick­et line.
Teach­ers are the peo­ple who are sup­posed to be edu­cat­ing our chil­dren about the dan­gers of cli­mate change. With mere years left before it's too late, the time is now for teach­ers to fol­low their stu­dents' lead and help car­ry their mes­sage into the class­rooms, the streets and the halls of power.
Ener­gy behind the cli­mate move­ment surged as a result of a young girl from Swe­den named Gre­ta Thun­berg, who decid­ed to take dra­mat­ic action for cli­mate jus­tice. She describes in her TED talk that after learn­ing about the cli­mate cri­sis at the age of 8, she fell into a deep depres­sion and refused to eat, talk or go to school. She couldn't under­stand how noth­ing was being done to solve this hor­rif­ic prob­lem. Instead of solu­tions big enough to address the prob­lem, she only heard the com­mon refrain: reduce, reuse, recy­cle.
At that time, Thun­berg was diag­nosed with Asperger's Syn­drome, obses­sive-com­pul­sive dis­or­der, and selec­tive mutism. Nev­er­the­less, in August of 2018, at age 15, Gre­ta began protest­ing out­side the Swedish Par­lia­ment. By Novem­ber of that year, her School Strike for Cli­mate had spread to 112 coun­tries involv­ing an esti­mat­ed 1.4 mil­lion peo­ple. Since then, the move­ment has only con­tin­ued to grow, with the most recent strike in Sep­tem­ber bal­loon­ing to an esti­mat­ed 4 mil­lion participants.
Part of Thunberg's appeal is that she fear­less­ly speaks truth to pow­er. In one of her speeches ahead of the recent UN Cli­mate Action Sum­mit, she patient­ly explained that if we con­tin­ue our cur­rent lev­el of CO2 emis­sions, we will like­ly reach a tip­ping point by 2030, mak­ing it impos­si­ble to undo a cli­mate cat­a­stro­phe. Most of us have heard about what this cat­a­stro­phe will look like: dev­as­tat­ing flood­ing, hur­ri­canes, droughts and wild­fires that will lead to mass-extinc­tions, wide-spread crop fail­ure, famine, mil­lions of cli­mate refugees and unan­tic­i­pat­ed mil­i­tary con­flicts around the world.
Of course, many of these cli­mate impacts are already begin­ning to take shape. That's when many of us fall into despair and get stuck. What can we do to counter a prob­lem so immense? For Thun­berg and mil­lions of young peo­ple, there is no oth­er choice but to join togeth­er to demand gov­ern­ment solu­tions on the scale nec­es­sary to solve the prob­lem. That means work­ing to pass a Green New Deal.
Our stu­dents deserve to under­stand what Thun­berg has learned. They have the right to know what's at stake and how they can join with oth­ers to solve this cri­sis before it's too late. To peo­ple young and old around the world, Thun­berg is a cli­mate hero. But it was only once she found a way to take action that she was able to over­come her depres­sion and trans­form her per­son­al adver­si­ties into strengths in the fight that has become her call­ing. It is our job to teach our stu­dents about the cri­sis, but also what they can do about it.
Imag­ine a cur­ricu­lum that engages stu­dents by study­ing the life of Gre­ta Thun­berg and oth­er inspir­ing youth lead­ers like Isra Hir­si, the 16-year-old daugh­ter of Rep. Ilhan Omar (D‑Minn.). Hir­si is the direc­tor of US Youth Cli­mate Strike and a lead­ing orga­niz­er of the recent mobi­liza­tions. Stu­dents can watch the activists' videos, ana­lyze their speech­es and grap­ple with the data they use. A num­ber of texts have come out that could come in handy, includ­ing Thunberg's book No One Is Too Small to Make a Dif­fer­ence and Greta's Sto­ry: The School­girl Who Went on Strike to Save the Plan­et, also avail­able in Spanish.
By learn­ing about these young activists mak­ing his­to­ry, stu­dents will ask, What needs to be done to stop cli­mate change? But also, What qual­i­ties enable them to be such effec­tive lead­ers for the cli­mate? and in Thunberg's case, How might being dif­fer­ent­ly abled actu­al­ly be an extra­or­di­nary asset? These are the types of dis­cus­sions that move kids from cli­mate despair toward action for cli­mate justice.
Here are some more ideas for how teach­ers can join the move­ment for cli­mate justice:
Try plan­ning a few lessons on cli­mate change and cli­mate jus­tice for your stu­dents. With a lit­tle help from the inter­net, this could lead to a unit of study or a school-wide Earth Day event. Use the recent news to strike up a con­ver­sa­tion with a col­league and get the ball rolling.
Start a cli­mate edu­ca­tion work­ing group in your school, union or dis­trict. Search out pro­fes­sion­al devel­op­ment on teach­ing cli­mate change and cli­mate jus­tice. Ask the impor­tant ques­tions: What are peo­ple doing to fight for a just tran­si­tion to a car­bon-free future? What are the pub­lic poli­cies we need to make it hap­pen? How can we make sure all teach­ers feel equipped to teach about the cli­mate prob­lem and solution?
Push for laws to put com­pre­hen­sive cli­mate edu­ca­tion in every school. Work with your union to push for leg­is­la­tion and dis­trict poli­cies that man­date cli­mate edu­ca­tion across the grades and sub­jects. Bor­row tac­tics from the vic­to­ry in Port­land, OR where the school board passed the first com­pre­hen­sive cli­mate jus­tice ini­tia­tive of a major city in the Unit­ed States.
Sup­port sub­stan­tive cli­mate leg­is­la­tion. In Illi­nois, cli­mate orga­niz­ers are work­ing to pass the Clean Ener­gy Jobs Act: a bill that would lead to

100

% clean renew­able ener­gy in the state, decar­boniz­ing the elec­tric grid by

2030

. Learn about the Green New Deal and get your union behind it.
Make a plan with your union for the next time stu­dents mobi­lize for cli­mate jus­tice. Call on dis­tricts to fol­low the lead of school dis­tricts in New York and Chica­go and allow stu­dents to protest with­out the threat of punishment.
Con­nect cli­mate jus­tice to the fight for racial and eco­nom­ic jus­tice. As pub­lic school teach­ers, we are already active in efforts for edu­ca­tion­al equi­ty, jus­tice for immi­grants and com­mu­ni­ties of col­or. Look beyond the school walls and you'll find that peo­ple are also com­ing togeth­er to fight against big pol­luters that are endan­ger­ing many work­ing-class com­mu­ni­ties of col­or. These fights are direct­ly linked to the fight for cli­mate jus­tice and bring the peo­ple most impact­ed by envi­ron­men­tal degra­da­tion into the strug­gle for a cli­mate solution.
Orga­nize a protest that your friends and cowork­ers would actu­al­ly attend. You shouldn't have to call in sick to protest for cli­mate action. The choice can't be strike or do noth­ing. Let's low­er the bar­ri­er to entry for work­ing adults and hold large after-work ral­lies the next time stu­dents call us to action. This can build for even more dra­mat­ic forms of protest in the future.
Teach­ers have always put their heart and soul into help­ing nuture the next gen­er­a­tion. That pas­sion has led us to rise up in the hun­dreds of thou­sands across the coun­try to improve con­di­tions in our nation's pub­lic schools. We've found that when we take to the streets and speak direct­ly to the pub­lic with one clear voice, mean­ing­ful change is pos­si­ble. This new­found pow­er can also be lever­aged for cli­mate jus­tice. Our future and the future of our young peo­ple depend on it.
Nick Lim­beck
is a bilin­gual fourth grade teacher in Chica­go and an exec­u­tive board mem­ber of the Chica­go Teach­ers Union.