We Produce Too Much Food. The Green New Deal Can Stop This.
Overproduction spurs environmental degradation while the poor get left behind.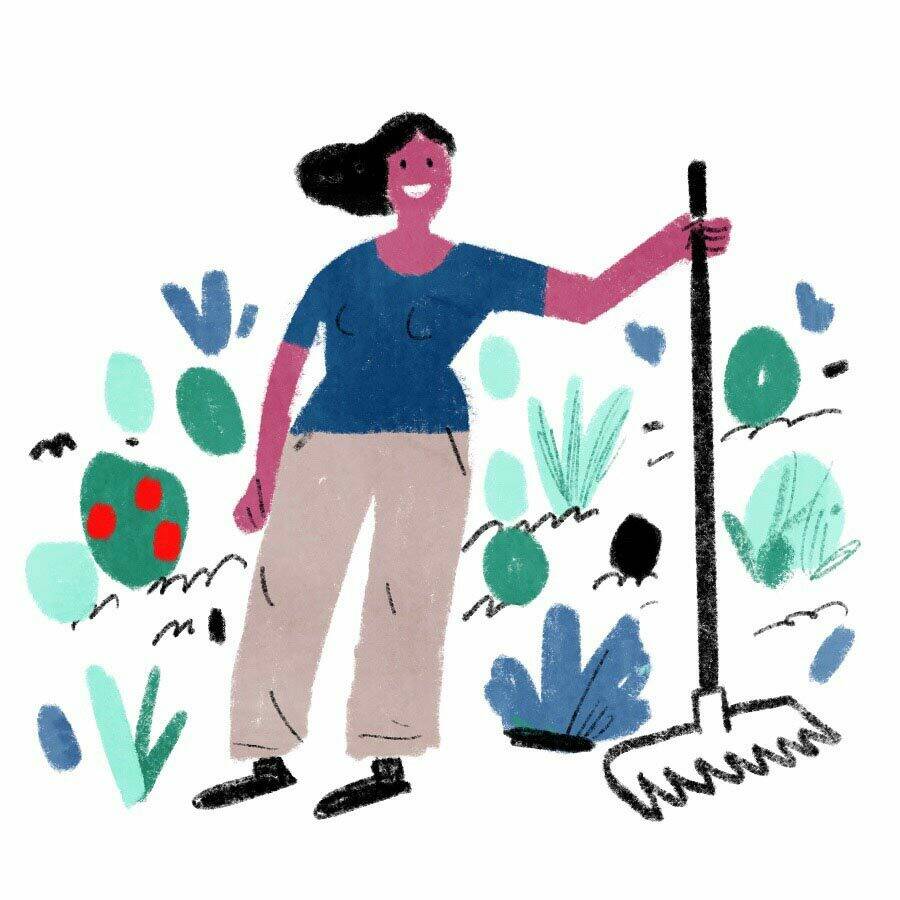 U.S. Sec­re­tary of Agri­cul­ture Son­ny Per­due has called cli­mate change ​"a run­ning joke." Farm­ers, mean­while, are reel­ing from droughts, floods, heat waves, cold snaps and pest out­breaks unleashed by glob­al warming.
Overproduction is what drives the unrestrained use of chemicals, the drawdown of ancient aquifers, and the high levels of agricultural pollution (including greenhouse gases).
Agri­cul­ture is not just a vic­tim, how­ev­er, but a per­pe­tra­tor. The Envi­ron­men­tal Pro­tec­tion Agency esti­mates that agri­cul­ture emits 9 per­cent of the country's green­house gas­es — most­ly nitrous oxide from fer­til­iz­er and methane from live­stock. Glob­al­ly, this num­ber is high­er (rough­ly a quar­ter) and expect­ed to rise, pri­mar­i­ly because of pro­ject­ed increas­es in meat and veg­etable oil pro­duc­tion to sup­ply a grow­ing, mid­dle-income market.
It's impos­si­ble to avoid the cli­mate cri­sis in the coun­try­side, but there is pro­found dis­agree­ment on what to do. In one camp are the large-scale, cap­i­tal-inten­sive farms, con­cen­trat­ed ani­mal feed­ing oper­a­tions (CAFOs) and agribusi­ness oli­gop­o­lies — for them, the solu­tion is an inten­si­fi­ca­tion of indus­tri­al agriculture.
In the oth­er camp is what's known as agroe­col­o­gy, an approach inspired by sci­en­tif­ic research and indige­nous prac­tices show­ing how to work with the land's ecol­o­gy. Agroe­col­o­gy informs many farm­ing styles today, includ­ing organ­ic farm­ing, per­ma­cul­ture, agro­forestry and regen­er­a­tive agriculture.
Let's take these two meth­ods one at a time.
The indus­tri­al approach rests on the con­ven­tion­al (and con­test­ed) belief that only the large-scale indus­tri­al food sys­tem can feed the world. (Nev­er mind that this same sys­tem destroys soil, habi­tat and species, and that organ­ic, small-scale farms can be as or more pro­duc­tive.) Adher­ents have spent the last half cen­tu­ry try­ing to erad­i­cate or assim­i­late all oth­er forms of agri­cul­ture into this ener­gy inten­sive, water-guz­zling, emis­sions-gen­er­at­ing pro­duc­tion model.
Now, bruised and dis­ori­ent­ed by glob­al warm­ing, their pri­ma­ry objec­tive is to main­tain the sys­tem through what they call ​"cli­mate-smart agri­cul­ture": reduc­ing emis­sions and increas­ing pro­duc­tiv­i­ty on exist­ing plan­ta­tions, large­ly through tech­no­log­i­cal fix­es such as drought-tol­er­ant seeds and more pre­cise appli­ca­tion of inputs. But the results aren't always pos­i­tive. The country's vast soy and corn plan­ta­tions, for exam­ple, can label them­selves ​"cli­mate smart" for bring­ing down fer­til­iz­er costs, even as the crops they pro­duce go on to feed cows and pigs in methane-spew­ing CAFOs. Increas­ing pro­duc­tiv­i­ty in one link of the grain/​livestock sup­ply chain can dri­ve fur­ther emis­sions else­where — ​"cli­mate-smart ag" dri­ving ​"cli­mate-stu­pid con­sump­tion."
At bot­tom, so-called cli­mate-smart agri­cul­ture leaves the exist­ing indus­tri­al food sys­tem — a sys­tem based on CAFOs and chron­ic over­pro­duc­tion — intact. Over­pro­duc­tion is what dri­ves the unre­strained use of chem­i­cals, the draw­down of ancient aquifers, and the high lev­els of agri­cul­tur­al pol­lu­tion (includ­ing green­house gas­es). Over­pro­duc­tion leads to under­priced com­modi­ties, which allows the grain, meat and retail giants to buy on the cheap and turn a large prof­it, firm­ing up their monop­oly pow­er — no mat­ter the real cost to farm­ers, tax­pay­ers (who sub­si­dize grain pro­duc­tion) or the environment.
The ratio­nale for indus­tri­al over­pro­duc­tion is to ​"feed the world" by dou­bling food pro­duc­tion by 2050, as one UN pan­el called for. But the world has been pro­duc­ing more than enough food to feed every human being for half a cen­tu­ry. Peo­ple don't go hun­gry because food is scarce, but because they are too poor to buy the food being pro­duced. Pro­duc­ing so much food just dri­ves prices even low­er, run­ning small­er farm­ers out of busi­ness. In devel­op­ing coun­tries, these farm­ers join the ranks of the hun­gry — a cru­el irony behind the call to ​"feed the world." In the Unit­ed States, one of the rich­est coun­tries in the world (and the third-largest food pro­duc­er after Chi­na and India), one in eight peo­ple are food inse­cure — with the largest num­bers in rur­al areas and among farm and food workers.
The alter­na­tive to the indus­tri­al food sys­tem is agroe­col­o­gy, the ​"sci­ence of sus­tain­able agri­cul­ture," devel­oped over 70 years ago when ecol­o­gists and anthro­pol­o­gists observed high­ly pro­duc­tive, mil­len­nia-old forms of tra­di­tion­al agri­cul­ture in Asia and Latin Amer­i­ca that sus­tain­ably pro­duced food and fiber. Research shows these meth­ods could not only pro­duce enough food, but do so while restor­ing — rather than destroy­ing — the planet's ecosystems.
Cov­er crops and mulch, for instance, are used to pro­tect and main­tain fer­tile, organ­ic soils, in place of nitrous-oxide-emit­ting fer­til­iz­er. In fact, the diver­si­fied farm­ing sys­tem — made up of a vari­ety of plants and, often, live­stock — ulti­mate­ly cap­tures and stores car­bon in the ground. Oth­er tech­niques avoid petro­chem­i­cal-based pes­ti­cides by plant­i­ng crops that repel insect pests or attract birds and insect preda­tors, nature's pest control.
Vast­ly out­gunned in the mar­ket, under­fi­nanced in research and drowned out of Wash­ing­ton by agribusi­ness lob­bies, agroe­col­o­gy has been mar­gin­al­ized from main­stream debates on cli­mate adap­ta­tion and mit­i­ga­tion in the Unit­ed States. That is, until the Green New Deal blast­ed open the con­ver­sa­tion on cli­mate change, agri­cul­ture and equi­ty, voic­ing vague but encour­ag­ing sup­port for ​"fam­i­ly farm­ing" as well as ​"sus­tain­able … prac­tices that increase soil health."
Like the orig­i­nal New Deal, the Green New Deal fol­lows decades of lais­sez-faire, free-mar­ket cap­i­tal­ism, mas­sive con­cen­tra­tions of wealth, dev­as­tat­ing finan­cial crash­es and envi­ron­men­tal cat­a­stro­phe (the New Deal had the Dust Bowl — the Green New Deal has glob­al warming).
The first New Deal imple­ment­ed the Agri­cul­tur­al Adjust­ment Act to keep farmer incomes steady by con­trol­ling over­pro­duc­tion. It levied tax­es on proces­sors and mid­dle­men, stored excess grains in nation­al reserves (sell­ing them when sup­ply got low) and paid farm­ers not to grow more than was need­ed in order to ensure ​"par­i­ty prices" — that is, food com­mod­i­ty prices that cov­ered the cost of pro­duc­tion. This meant farm­ers were not forced ​"to over­pro­duce their way out of pover­ty and debt," as Iowa farmer George Nay­lor explains. ​"It was under­stood that the farmer's indi­vid­ual ​'free­dom' to do what­ev­er he or she wished with the land would be tem­pered for the good of all farm­ers and soci­ety. A social con­tract was estab­lished." The Green New Deal pro­vides an oppor­tu­ni­ty to estab­lish a new social con­tract today to once again pre­vent agri­cul­tur­al overproduction.
Imag­ine a con­tract in which a farmer is ensured a par­i­ty price if their farm uses agroe­co­log­i­cal meth­ods and does not over­shoot envi­ron­men­tal­ly sound lev­els of pro­duc­tion — does not mine the soil, pol­lute the air and water­ways, or extract more water and resources than can be sea­son­al­ly replen­ished. These farm­ers would not have to over­pro­duce to stay in busi­ness. They could set more land aside for con­ser­va­tion and forests, to cap­ture car­bon and pro­vide home to wildlife. Or they could raise grass-fed live­stock, which, under cer­tain con­di­tions, can sequester enough car­bon in the soil to off­set methane emis­sions. They could afford to pay farm­work­ers (and them­selves) a fair wage for their high­ly skilled labor.
Mean­while, gov­ern­ment could stop sub­si­diz­ing cheap grains and meat. In fact, stricter reg­u­la­tion could put a price on pol­lu­tion and squeeze CAFOs out of business.
Pres­i­dent Franklin D. Roo­sevelt was able to imple­ment the New Deal despite oppo­si­tion from entrenched cor­po­rate inter­ests because there was a groundswell of sup­port from farm­ers' unions, labor unions and the cit­i­zen­ry suf­fer­ing under the Great Depres­sion. To beat oppo­si­tion from Big Ag, the Green New Deal will need endorse­ments from front­line orga­ni­za­tions in the food, farm and cli­mate jus­tice move­ments. That sup­port will large­ly hinge on the par­tic­i­pa­tion of these com­mu­ni­ties — many of which are already advo­cates and prac­ti­tion­ers of agroe­col­o­gy — in the actu­al draft­ing of legislation.
Clear­ly, the Trump admin­is­tra­tion is nei­ther will­ing nor capa­ble of tak­ing on Big Ag. But the Green New Deal could be the cat­a­lyst to build the broad-based, work­ing-class, mul­ti­cul­tur­al move­ment need­ed to vote the bums out and bring Green New Deal­ers in. Then we need to make them do the right thing — start­ing with a new social con­tract for farmers.
Eric Holt-Giménez
is the exec­u­tive direc­tor of the Insti­tute for Food and Devel­op­ment Pol­i­cy, bet­ter known as Food First. A food sys­tems ana­lyst and agroe­col­o­gist, his lat­est book is Can We Feed the World With­out Destroy­ing It?