It's Time for the Climate Movement to Embrace a Federal Jobs Guarantee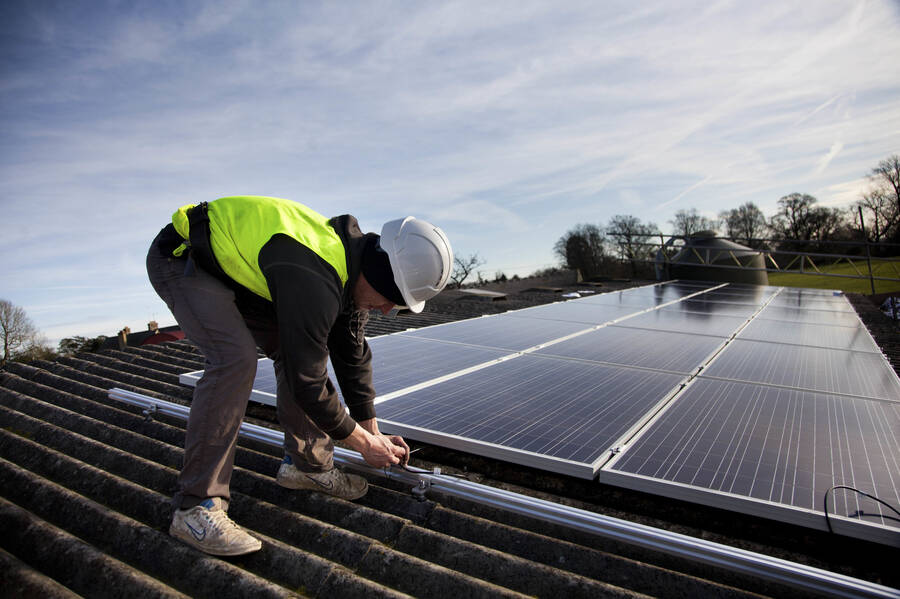 With glob­al tem­per­a­tures ris­ing and midterm elec­tions approach­ing, 2018 is the year the cli­mate move­ment must take bold action towards a fos­sil-free future.
Across the coun­try, young peo­ple face dai­ly reminders that our soci­ety doesn't serve our futures. We suf­fer from unem­ploy­ment and under­em­ploy­ment that is well beyond the nation­al aver­age, with young peo­ple of col­or strug­gling dis­pro­por­tion­ate­ly to find work and eco­nom­ic oppor­tu­ni­ty. We are strad­dled with his­toric stu­dent loan debts. And in a moment when we should be work­ing quick­ly to avert cli­mate cat­a­stro­phe and tran­si­tion to an inclu­sive, fos­sil-free econ­o­my, many of our elect­ed offi­cials remain pas­sive as the Trump admin­is­tra­tion attacks our air, water and land.
As youth lead­ers in the cli­mate jus­tice move­ment, we believe now is the time to embrace a bold polit­i­cal vision that address­es cli­mate change while work­ing to end racial­ized eco­nom­ic inequality.
A cen­ter­piece of that vision is a fed­er­al jobs guar­an­tee, a pol­i­cy through which the gov­ern­ment direct­ly employs any­one who wants a job but doesn't have one. The jobs guar­an­tee has deep roots in the U.S. pro­gres­sive tra­di­tion and is see­ing grow­ing sup­port from schol­ars and move­ment lead­ers who tout its poten­tial to put Amer­i­cans to work while help­ing to rebuild our infra­struc­ture, schools and health­care sys­tem. With Sen. Bernie Sanders devel­op­ing a jobs guar­an­tee pro­pos­al, as well as a score of down-bal­lot can­di­dates and Demo­c­ra­t­ic pres­i­den­tial hope­fuls also voic­ing sup­port, the pol­i­cy is sure to fea­ture promi­nent­ly in the 2018 and 2020 elec­tion cycles.
Cli­mate sci­en­tists say that the next few years may be the only ones we have left to avert cat­a­stroph­ic glob­al warm­ing. A jobs guar­an­tee pro­gram with a strong focus on stop­ping and prepar­ing for cli­mate change — a cli­mate jobs guar­an­tee — might be the last, best hope to quick­ly mar­shal pub­lic sup­port and resources behind cli­mate action. Sim­ply put, this is a can't‑miss oppor­tu­ni­ty for the cli­mate move­ment — and for our generation.
Toward a cli­mate jobs guarantee
Solv­ing the cli­mate cri­sis will be no easy feat. It will require mas­sive invest­ments, to the tune of tril­lions of dol­lars over the next few decades — to tran­si­tion toward a 100 per­cent renew­able ener­gy econ­o­my; to over­haul how we farm, trans­port and con­sume food; to restore deplet­ed ecosys­tems; and to empow­er the com­mu­ni­ties already affect­ed by the cli­mate cri­sis to adapt to changes that can­not be reversed.
Each of these under­tak­ings will also require mas­sive job cre­ation. A cli­mate jobs guar­an­tee has the poten­tial to cre­ate a labor force that could be the engine of rapid decar­boniza­tion, and the ser­vices it gen­er­ates can enhance com­mu­ni­ties' resilience to cli­mate impacts. Impor­tant­ly, such a pro­gram can ele­vate those com­mu­ni­ties who have been sys­tem­at­i­cal­ly exclud­ed from eco­nom­ic pros­per­i­ty as well as those work­ers who risk being left behind by the tran­si­tion to a renew­able ener­gy economy.
A cli­mate jobs guar­an­tee could be the cli­mate movement's ​"Medicare-for-All" pol­i­cy — a uni­ver­sal pro­gram big enough to address the mas­sive and com­pli­cat­ed cri­sis of cli­mate change, but still tan­gi­ble and pop­u­lar among the vast major­i­ty of Americans.
Like Medicare for All, a jobs guar­an­tee is wild­ly pop­u­lar. Polling firm Civis Ana­lyt­ics iden­ti­fied it as ​"one of the most pop­u­lar issues [they've] ever polled," with a major­i­ty of Amer­i­cans' sup­port, and with dis­pro­por­tion­ate inter­est among low-income groups and com­mu­ni­ties of col­or, who tend to bear the brunt of unem­ploy­ment, under­em­ploy­ment and cli­mate chaos. While we've seen grow­ing momen­tum around calls for 100 per­cent renew­able ener­gy and keep­ing fos­sil fuels in the ground, a jobs guar­an­tee is the most promis­ing means of pop­u­lar­iz­ing the deficit spend­ing and enlarged role of gov­ern­ment that rapid decar­boniza­tion of the econ­o­my will require.
Fram­ing the cli­mate movement's efforts around empow­er­ing Amer­i­cans from all walks of life to build an inclu­sive econ­o­my will not only gar­ner more pop­u­lar sup­port for cli­mate jus­tice goals, it could also help build stronger rela­tion­ships with labor, eco­nom­ic, social and racial jus­tice move­ments which will like­ly also throw their weight behind such jobs pro­gram pro­pos­als. The cli­mate jobs guar­an­tee offers an oppor­tu­ni­ty to strike down one of the deep­est fis­sures on the left, that between some labor and envi­ron­men­tal activists. By ham­mer­ing home the mes­sage that we can put Amer­i­cans to work solv­ing the cli­mate cri­sis, we can help end the fal­la­cy that has long under­cut our ties with labor and oth­er allies — that access to good-pay­ing jobs is incom­pat­i­ble with the well-being of our planet.
From vision to reality
While cli­mate advo­cates have much to gain from embrac­ing a jobs guar­an­tee, this is no one-sided alliance. Exist­ing jobs guar­an­tee pro­pos­als can be sig­nif­i­cant­ly strength­ened by embrac­ing a cli­mate jus­tice lens.
A grow­ing body of evi­dence sug­gests that many of the jobs need­ed to avert and pre­pare for cli­mate change can be cre­at­ed rel­a­tive­ly cheap­ly, and are jobs that last long term. More fun­da­men­tal­ly, fail­ing to curb and pre­pare for cli­mate change will seri­ous­ly com­pro­mise a fed­er­al jobs pro­gram, not to men­tion the sta­bil­i­ty of life on this plan­et as we know it. Super­storms, wild­fires and droughts, which will wors­en and mul­ti­ply as tem­per­a­tures rise, are already putting peo­ple out of work and desta­bi­liz­ing our econ­o­my. They also stand to crip­ple the infra­struc­ture and health­care sys­tem that many hope a jobs guar­an­tee will sup­port. And the low-income groups and com­mu­ni­ties of col­or that jobs guar­an­tee pro­po­nents hope to reach will be hit hard­est by extreme weather.
Many jobs guar­an­tee pro­po­nents men­tion tack­ling cli­mate change as one of many social goods that such a pro­gram could pro­duce, but they have yet to ful­ly map out what they under­stand ​"tack­ling cli­mate change" to mean. To ensure that cli­mate change is mean­ing­ful­ly embed­ded in what­ev­er pro­pos­al pro­gres­sives coa­lesce around, the cli­mate move­ment needs to play an active role in help­ing to guide the devel­op­ment of such a pro­pos­al, and mobi­liz­ing Amer­i­cans to make it a reality.
The cli­mate move­ment must align around and artic­u­late our pri­or­i­ties for a cli­mate jobs guar­an­tee and devel­op a strong case for how and why to include them in exist­ing pro­pos­als. This will mean expand­ing the debate beyond its cur­rent focus on green infra­struc­ture projects, which are essen­tial, but can­not ful­ly address the myr­i­ad ways Amer­i­cans will expe­ri­ence cli­mate impacts. Instead of new roads and sea­walls, many com­mu­ni­ties will require oth­er ser­vices to effec­tive­ly adapt, includ­ing access to afford­able, healthy food, care for the elder­ly and oth­er vul­ner­a­ble pop­u­la­tions, and stronger school sys­tems to enable younger gen­er­a­tions to tran­si­tion from cli­mate-vul­ner­a­ble livelihoods.
Our gen­er­a­tion is in des­per­ate need of good, well-paid jobs and of a future that will be liv­able on this plan­et. And there is so much good work to be done to stop cli­mate change. A cli­mate jobs guar­an­tee is the solu­tion Amer­i­ca needs for our over­lap­ping cli­mate and employ­ment crises, but it's up to our move­ments to build the polit­i­cal sup­port to make such a pol­i­cy a real­i­ty. Let's get to work.
Varshi­ni Prakash has been an orga­niz­er in the cli­mate jus­tice move­ment for over
5
years, first lead­ing fos­sil fuel divest­ment cam­paigns at the local and nation­al lev­el and then mov­ing on to found and direct Sun­rise. She cur­rent­ly serves as the Com­mu­ni­ca­tions Direc­tor. Varshi­ni lives in Boston, MA.Sarah Mey­er­hoff sup­ports the Sun­rise Movement's pol­i­cy and com­mu­ni­ca­tions work. She is based in Wash­ing­ton D.C., where she also works in repro­duc­tive health policy.