The Last Stimulus Ignored Climate. Activists Are Determined That Won't Happen in the Next One.
Bruised from the CARES Act, environmental organizations are planning next steps.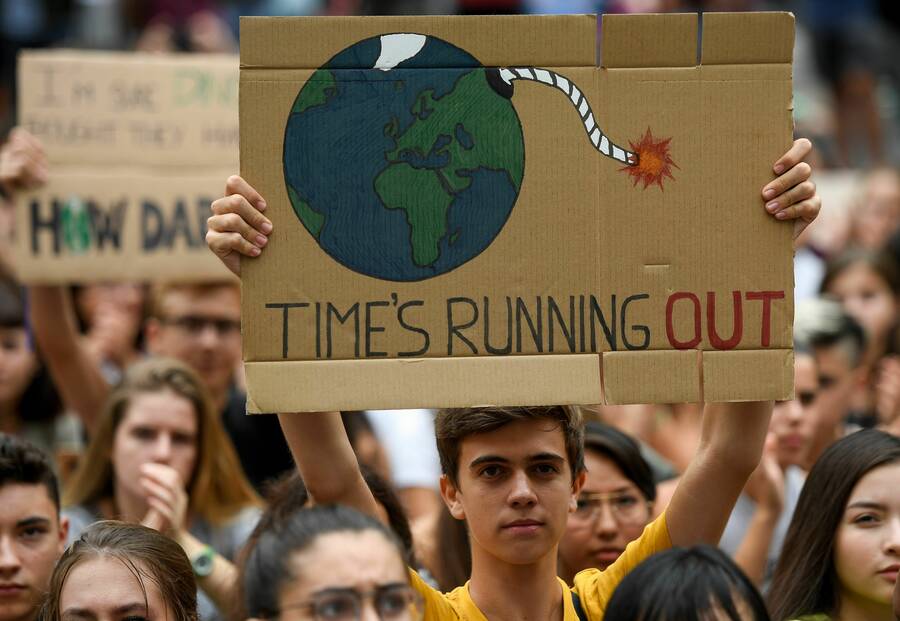 With Con­gress plan­ning to recon­vene lat­er this month to hash out anoth­er coro­n­avirus stim­u­lus bill, cli­mate activists have begun dis­cussing how they might assert them­selves more suc­cess­ful­ly into the next fed­er­al package.
Though climate advocates failed to win green demands in Stimulus 3, many are looking ahead to future stimulus packages, where they believe they could be more successful.
Pro­gres­sive cli­mate advo­cates tried to shape the debate lead­ing up to the $2 tril­lion Coro­n­avirus Aid, Relief, and Eco­nom­ic Secu­ri­ty (CARES) Act signed into law on March 27. A few days before the pres­i­dent signed it, dozens of cli­mate groups, includ­ing 350​.org, Sun­rise Move­ment and the Blue­Green Alliance, joined in coali­tion with hun­dreds of left-lean­ing orga­ni­za­tions in releas­ing ​"Five Prin­ci­ples for Just Covid-19 Relief and Stim­u­lus." The fourth of these five prin­ci­ples called for cre­at­ing good jobs while tack­ling ​"the cli­mate cri­sis that is com­pound­ing threats to our econ­o­my and health." Their demands — grouped under the ban­ner of a ​"People's Bailout" — includ­ed new fed­er­al invest­ments in rebuild­ing the nation's infra­struc­ture, expand­ing wind and solar, and restor­ing wet­lands and forests. The orga­ni­za­tions also called for require­ments that indus­tries reduce their cli­mate emis­sions and pol­lu­tion in exchange for aid.
Soon after, a coali­tion of sci­en­tists, aca­d­e­mics and wonks released a ​"Green Stim­u­lus to Rebuild Our Econ­o­my" — a detailed ​"pol­i­cy menu" that lays out spe­cif­ic cli­mate and inequal­i­ty-con­scious ways to spend new fed­er­al invest­ment. The ideas draw from pro­pos­als put for­ward from nine Demo­c­ra­t­ic pres­i­den­tial can­di­dates, includ­ing Jay Inslee, Bernie Sanders and Eliz­a­beth War­ren. ​"Most of the phys­i­cal work pro­posed here can­not begin imme­di­ate­ly," their let­ter acknowl­edges. ​"We must focus on halt­ing the spread of dead­ly ill­ness. How­ev­er, we can do all the prepara­to­ry work now to make green projects ​'shov­el ready.'"
Daniel Aldana Cohen, a Uni­ver­si­ty of Penn­syl­va­nia soci­ol­o­gy pro­fes­sor and one of the 11 co-authors of the Green Stim­u­lus, told In These Times that many of the drafters were influ­enced by Nao­mi Klein's 2007 book, The Shock Doc­trine, which cen­ters on how lead­ers often exploit nation­al crises to advance destruc­tive poli­cies when cit­i­zens are too dis­tract­ed to fight back.
"Dur­ing a cri­sis peo­ple turn to ideas lying around, and the oil CEOs are not wait­ing for the virus to stop before push­ing their ideas," Aldana Cohen said. ​"We knew we had to get some­thing out more quick­ly." Their think­ing was maybe their cli­mate pro­pos­als would influ­ence dis­cus­sions around the CARES Act, also known as ​"Stim­u­lus 3" — but more like­ly their pro­pos­als could help influ­ence sub­se­quent stim­u­lus pack­ages that law­mak­ers have sig­naled they plan to nego­ti­ate. Know­ing that it can take much longer for orga­ni­za­tions to sign on to detailed pol­i­cy agen­das (rather than to broad prin­ci­ples), Aldana Cohen said Green Stim­u­lus authors sought to ​"mobi­lize as wonks" and then invite cli­mate lead­ers to sign on as individuals.
Stim­u­lus 3 end­ed up being tough for cli­mate advo­cates, not only because they emerged win­ning none of their more vision­ary demands, but also because Repub­li­cans attacked them for politi­ciz­ing the cri­sis and stalling relief.
A cen­tral fight end­ed up being over whether Con­gress should require air­lines to cut their emis­sions to 50% below 2005 lev­els by 2050 in exchange for bil­lions in res­cue aid. The air­line indus­try has com­mit­ted to this tar­get vol­un­tar­i­ly, but cli­mate advo­cates want it stip­u­lat­ed in law.

Such legal­ly-man­dat­ed con­di­tions have prece­dent. Dur­ing the 2008 auto indus­try bailout, Gen­er­al Motors and Chrysler had to accept new fuel-effi­cien­cy stan­dards in exchange for fed­er­al aid. But law­mak­ers in late March said they want­ed to focus on get­ting imme­di­ate relief out to work­ers, hos­pi­tals, and busi­ness­es — and pub­licly charged cli­mate advo­cates with derail­ing that effort.
"[Democ­rats] are hold­ing up vot­ing for this emer­gency bill to help the Amer­i­can peo­ple in terms of the econ­o­my and in terms of our health care over solar pan­els and wind tur­bines, a green new deal about air­line emis­sions," said Repub­li­can Sen­a­tor John Bar­ras­so in a speech on the floor.
"Democ­rats won't let us fund hos­pi­tals or save small busi­ness­es unless they get to dust off the Green New Deal," accused Repub­li­can Sen­ate Major­i­ty Leader Mitch McConnell.
Democ­rats coun­tered by point­ing to Sen­ate Repub­li­cans who, in the midst of nego­ti­a­tions, insert­ed a $3 bil­lion pro­vi­sion for the Strate­gic Petro­le­um Reserve, which are fed­er­al­ly-owned oil stocks stored under­ground along the coast­line of the Gulf of Mex­i­co. After this, cli­mate advo­cates ramped up pres­sure for aid to clean ener­gy indus­tries, Melin­da Pierce, the leg­isla­tive direc­tor for the Sier­ra Club, told In These Times.
In the end, the $3 bil­lion for the oil indus­try was scrapped, as were tax breaks for wind and solar, and demands for air­line emis­sion reduc­tions. Cli­mate advo­cates were left bruised from the fight.
"The air­line con­ver­sa­tion end­ed up being a debate about [car­bon] off­sets which is not the ter­rain that Green New Deal advo­cates want to be fight­ing on," said Aldana Cohen, who urged for more focus around job cre­ation and job pro­tec­tions. ​"We should be focus­ing on invest­ments that lift up work­ers and com­mu­ni­ties," he said.
Pierce said she and oth­er cli­mate advo­cates under­stood their demands for clean ener­gy aid ​"were out­side the scope of what lead­er­ship thought con­sist­ed emer­gency relief" and that envi­ros had orig­i­nal­ly been ​"very much aligned" with the idea that Stim­u­lus 3 should focus pri­mar­i­ly on swift aid to work­ers, fam­i­lies, health­care and front­line businesses.
"Yet when the oil indus­try tried to inject $3 bil­lion to fill the Strate­gic Petro­le­um Reserve, we were acti­vat­ed beyond those goal about work­ers to make sure [law­mak­ers] weren't pro­vid­ing cor­po­rate bailouts," she said, not­ing envi­ros also fought for account­abil­i­ty for bil­lions grant­ed to the Fed­er­al Reserve for cor­po­rate assis­tance. ​"We were fight­ing those bat­tles because oil and gas were bel­ly­ing up to the bar to their cronies in Con­gress," Pierce said.
While some Con­gres­sion­al Democ­rats tout­ed the account­abil­i­ty mea­sures they man­aged to win, Lukas Ross, a senior pol­i­cy ana­lyst with Friends of the Earth, said the end result was a disaster.
"The guardrails for work­ers and com­mu­ni­ties are weak, and the guardrails for cli­mate are nonex­is­tent," he said. ​"As a result of the stim­u­lus bill we are all enter­ing an even stranger and more fright­en­ing world." Ross specif­i­cal­ly not­ed how the new fed­er­al aid could poten­tial­ly give cash-strapped drillers a fresh injec­tion of sub­si­dized credit.
Look­ing ahead
Though cli­mate advo­cates failed to win green demands in Stim­u­lus 3, many are look­ing ahead to future stim­u­lus pack­ages, where they believe they could be more suc­cess­ful. Pres­i­dent Trump and House Speak­er Pelosi ini­tial­ly indi­cat­ed the next bill could focus on infra­struc­ture invest­ment, though more recent­ly Pelosi has walked that back.

On March 31, four days after sign­ing the CARES Act, Pres­i­dent Trump tweet­ed that, ​"With inter­est rates for the Unit­ed States being at ZERO, this is the time to do our decades long await­ed Infra­struc­ture Bill. It should be VERY BIG & BOLD, Two Tril­lion Dol­lars, and be focused sole­ly on jobs and rebuild­ing the once great infra­struc­ture of our Coun­try! Phase 4."
The fol­low­ing day, Pelosi pro­posed reviv­ing House Democ­rats' $760 bil­lion infra­struc­ture bill released in Jan­u­ary, which would include new invest­ments in things like rail, tran­sit, and broad­band. How­ev­er just two days lat­er she sig­naled she had changed her mind, and maybe infra­struc­ture should not be Democ­rats' next pri­or­i­ty. ​"I'm very much in favor of doing some of the things that we need to do to meet the needs of clean water, more broad­band, and the rest of that," she said on April 3. ​"That may have to be for a bill beyond this."
Ross of Friends of the Earth thinks cli­mate advo­cates should be care­ful in how they move for­ward, and focus their efforts on secur­ing aid for peo­ple and pre­vent­ing bailouts for pol­luters. ​"The ques­tion isn't how to invest in cli­mate, the ques­tion is how to invest in work­ers and a more resilient soci­ety," he said. ​"That cer­tain­ly has impli­ca­tions for cli­mate, but at this moment of unprece­dent­ed imme­di­ate suf­fer­ing, it like­ly shouldn't be first on anyone's mind."
Pierce of the Sier­ra Club said if pol­lut­ing indus­tries need more fed­er­al aid in sub­se­quent stim­u­lus pack­ages, they will con­tin­ue to push for con­di­tions. ​"We ful­ly expect the air­line indus­try is going to need an addi­tion­al tranche of sup­port and if we're fun­nel­ing tax dol­lars, we tru­ly believe we should be fun­nel­ing tax dol­lars in a way that is build­ing indus­try of the future," she said.
How intent­ly cli­mate advo­cates should push a ​"Green New Deal" remains in dis­pute, as the phrase itself has become deeply polar­iz­ing in Con­gress, even though the spe­cif­ic ideas under­gird­ing it are broad­ly popular.

Aldana Cohen said he and his col­lab­o­ra­tors delib­er­ate­ly opt­ed for ​"Green Stim­u­lus" over ​"Green New Deal." He point­ed to Data for Progress polling show­ing Repub­li­can sup­port for Green New Deal-like ideas when they're not labeled as such.
"I think our view is you don't want to have the vocab­u­lary pre­judge an argu­ment that you believe you oth­er­wise win," he said. ​"You want to go in and focus on the substance."
Not all Green New Deal sup­port­ers are ready to scale back on the slo­gan, with some say­ing now is pre­cise­ly the time to ele­vate it, and resist the GOP's bad-faith mischaracterizations.
"This is a piv­otal moment to grap­ple with the fact that our econ­o­my was not work­ing well and was not resilient in the face of cri­sis," said Lau­ren Maunus, the leg­isla­tive man­ag­er for Sun­rise Move­ment. ​"Repub­li­cans are using the Green New Deal as a wedge issue and vil­lainiz­ing it, and it's our utmost pri­or­i­ty to clar­i­fy that the Green New Deal has always been about a plan to fight eco­nom­ic inequal­i­ty and cre­ate mil­lions of good fam­i­ly-sus­tain­ing jobs to put our coun­try on a path to a safer, and health­i­er future."