With the Help of Teachers Unions, the Climate Strikes Could Be Moving Into Phase 2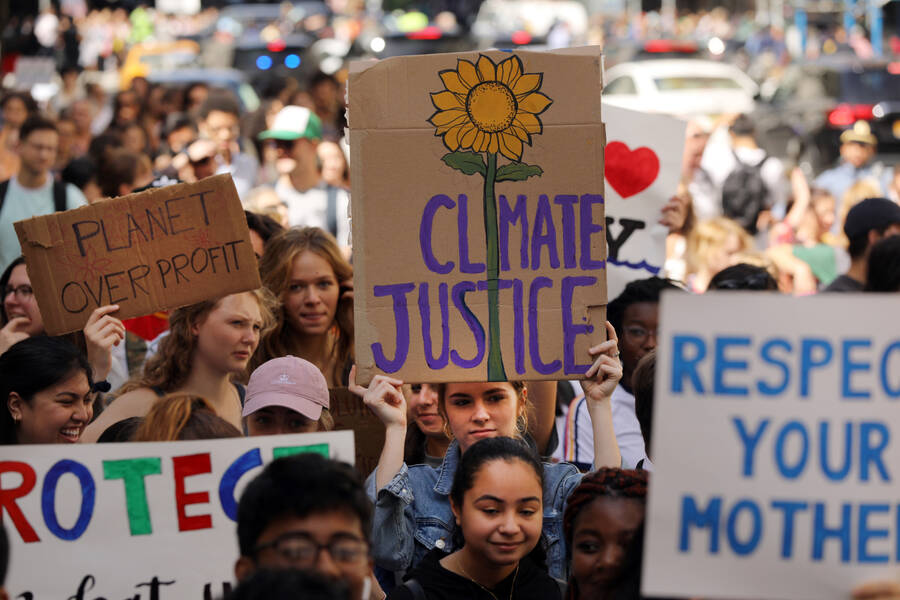 As young peo­ple across the coun­try join the glob­al move­ment to mobi­lize school strikes to demand cli­mate action, one group is start­ing to think more seri­ous­ly about how to best sup­port those efforts: their teachers.
Edu­ca­tors, like those in the Cal­i­for­nia Fed­er­a­tion of Teach­ers and the Mass­a­chu­setts Teach­ers Asso­ci­a­tion (MTA), are begin­ning to lever­age their pow­er both as teach­ers and union mem­bers to push the bounds of cli­mate activism.
Kurt Ostrow, a high school Eng­lish teacher in Fall Riv­er, Mass., has helped lead his union to the fore­front of the cli­mate move­ment over the last few years.
"Cli­mate to me has always been the major cri­sis that needs to be addressed, and even though in the class­room I real­ly try to pri­or­i­tize it, it just doesn't feel always enough," he says. ​"So I have been try­ing to use the lever­age that we have a as union of 110,000 peo­ple to sup­port the movement."
In his first year of teach­ing five years ago, Ostrow went as a del­e­gate to MTA's annu­al meet­ing, where the union's social jus­tice cau­cus—Edu­ca­tors for a Demo­c­ra­t­ic Union—sought a teacher to intro­duce a res­o­lu­tion (known as a ​"New Busi­ness Item") rec­om­mend­ing the divest­ment of state pen­sion plans from coal. Ostrow's col­lege friends had been lead­ers in the cam­pus divest­ment move­ment, and he had always par­tic­i­pat­ed in their actions as an ally, so he was hap­py to vol­un­teer to intro­duce it.
"We lost a quo­rum, so we weren't able to take a vote on it, but the next year we did it again and it passed," he said. ​"That was real­ly how I first dipped my toes in."
When the youth cli­mate strikes took off last year, Ostrow, who now serves on the board of his statewide union, began think­ing hard­er about how teach­ers could help them. At its March board meet­ing, he decid­ed to intro­duce a res­o­lu­tion that the MTA would sup­port the youth cli­mate strike sched­uled for March 15. It passed unan­i­mous­ly.
At the union's next annu­al meet­ing, held in May two months lat­er, lead­ers of the social jus­tice cau­cus delib­er­at­ed over what envi­ron­men­tal res­o­lu­tions they should intro­duce to best sup­port the Green New Deal.

​"I knew we could put for­ward a res­o­lu­tion that said MTA sup­ports the Green New Deal, and I think that would have passed eas­i­ly, but I real­ly want­ed to cre­ate a deci­sion point, like a ​'which side are you on' moment that would real­ly force teach­ers to con­front their own con­science," he told In These Times. ​"So I decid­ed to go rad­i­cal, and I put for­ward a New Busi­ness Item call­ing for the MTA to pro­pose a nation­al teach­ers strike in sup­port of the Green New Deal."
It's ille­gal for teach­ers to strike in Mass­a­chu­setts, and fol­low­ing Ostrow's impas­sioned speech at the con­fer­ence, there was some heat­ed debate. In the end, though, it passed.
Ostrow was pleas­ant­ly sur­prised. ​"I'm a mem­ber of the Sun­rise Move­ment, and my dream is to try and coor­di­nate our efforts with Sunrise's long-term vision of strik­ing for a Green New Deal," he said. ​"So I was just try­ing to plant the seeds in mem­bers' brains, but to be hon­est I hadn't done any orga­niz­ing around it. I wasn't call­ing oth­er locals and say­ing, ​'hey there will be this NBI and will you sup­port it?'"
At the Nation­al Edu­ca­tion Association's (NEA) annu­al meet­ing in July, an MTA del­e­gate intro­duced a res­o­lu­tion for the nation­al union to also call for strik­ing in sup­port of the Green New Deal. It failed, with too many mem­bers ner­vous about the legal­i­ty of such a move.
The next month, two high school stu­dents who were orga­niz­ing for the Sep­tem­ber 20 glob­al youth cli­mate strike came out to the MTA's August board meet­ing and asked the union to pass some­thing back­ing their efforts.
The union did, and also upped its engage­ment in the weeks lead­ing up to Sep­tem­ber 20.
"For the March strike, we just endorsed it, issued a press state­ment, and Max Page [the union's vice pres­i­dent] spoke at a ral­ly," said Ostrow. ​"There wasn't a lot of coor­di­nat­ed effort."
Lead­ing up to this strike, explained MTA's pres­i­dent Mer­rie Najimy, the union did more out­reach, and orga­nized a statewide con­fer­ence call with mem­bers to dis­cuss how to get involved. ​"Our legal depart­ment wrote an advi­so­ry where the gist was to say you have this right to par­tic­i­pate, and as an orga­niz­er you can push your prin­ci­pal, your super­in­ten­dent, to make this a field trip day," she said. ​"You have the right to take a per­son­al day."
On the day of the strike, Ostrow took his stu­dents down to a cli­mate ral­ly as part of a class field trip. He knows he was for­tu­nate: In New York City, the school dis­trict, despite say­ing stu­dents could receive excused absences for par­tic­i­pat­ing in the cli­mate strike, issued an order that barred teach­ers from going. The city's edu­ca­tion depart­ment decid­ed that any employ­ee par­tic­i­pa­tion, includ­ing class field trips or even stag­ing walk­outs on school prop­er­ty, would vio­late rules of ensur­ing a ​"polit­i­cal­ly neu­tral learn­ing environment."
The MTA's work has con­tin­ued since the strike. Last month at its lat­est board meet­ing, the union offi­cial­ly endorsed the Green New Deal, and a new mem­ber-dri­ven cli­mate cri­sis team is hold­ing its first meet­ing in Novem­ber. ​"Our goal will be to fig­ure out how we can push the MTA to take more and more rad­i­cal actions in sup­port of the Green New Deal," Ostrow said. One pos­si­ble tac­tic is tak­ing col­lec­tive sick days. ​"If you can take off to take care of your kids, well the fact is Moth­er Earth is sick," he said.
MTA is not the first teacher union to endorse the Green New Deal. In March, the 120,000-member Cal­i­for­nia Fed­er­a­tion of Teach­ers passed a res­o­lu­tion in sup­port of it, and was actu­al­ly the first statewide labor orga­ni­za­tion in the coun­try to adopt a cli­mate jus­tice agen­da in 2016. That agen­da includes sup­port for fos­sil fuel divest­ment, for enact­ing cli­mate leg­is­la­tion, and for edu­cat­ing mem­bers and stu­dents about the crisis.
Look­ing nationally
So far the nation­al teacher unions have been more guarded.
AFT pres­i­dent Ran­di Wein­garten marched with union mem­bers in New York City dur­ing the Sep­tem­ber 20 strike, but the state­ment she issued did not com­mit her labor orga­ni­za­tion to any real polit­i­cal action beyond edu­cat­ing chil­dren about the issues. ​"If we can help stu­dents learn about the sci­ence of cli­mate change, help them under­stand free speech and cit­i­zen advo­ca­cy as part of civic edu­ca­tion, and encour­age their belief in them­selves, we've done our job in help­ing the next gen­er­a­tion secure their future," Wein­garten said.
Lily Eskelsen Gar­cía, pres­i­dent of the NEA, has tak­en a sim­i­lar approach. In a state­ment pro­vid­ed to In These Times, Gar­cía said, ​"Edu­ca­tors around the nation are proud that their stu­dents are lead­ing on cli­mate change because they know it is an urgent threat. We teach our kids to be lead­ers in the class­room and their com­mu­ni­ties, so it is inspir­ing to watch them speak­ing up to demand action on the cli­mate cri­sis from elect­ed leaders."
The NEA pro­vides edu­ca­tors with resources to teach about cli­mate change, and while del­e­gates vot­ed down the pro­posed res­o­lu­tion for a nation­al strike at its most recent annu­al meet­ing, del­e­gates did pass two less con­tro­ver­sial mea­sures — to encour­age locals to com­post, and to rec­om­mend schools incor­po­rate the caus­es, effects, and solu­tions to cli­mate change in their sci­ence curriculums.
Najimy, the MTA pres­i­dent, is more opti­mistic about grow­ing activism from teacher unions. She point­ed to a new work­ing group on cli­mate jus­tice that's form­ing with the nation­al Bar­gain­ing for the Com­mon Good net­work, a coali­tion of labor and grass­roots orga­ni­za­tions ded­i­cat­ed to lever­ag­ing union con­tracts for social jus­tice. ​"When we go back to the bar­gain­ing table, we can use our pow­er in labor to nego­ti­ate new ways of act­ing for the cli­mate," she said.
Col­lege fac­ul­ty, like their K‑12 coun­ter­parts, are also start­ing to orga­nize in sup­port of their students.
Lead­ing up to September's cli­mate strike, a small group of pro­fes­sors orga­nized an open let­ter call­ing on fel­low edu­ca­tors to can­cel class­es and strike. Almost 830 peo­ple signed it. Two of the orga­niz­ers, Jonathan Isham, an eco­nom­ics and envi­ron­men­tal pol­i­cy pro­fes­sor at Mid­dle­bury, and Lee Smithey, a peace and con­flict stud­ies pro­fes­sor at Swarth­more, co-authored a Guardian op-ed in late August urg­ing the same thing. ​"We risk los­ing cred­i­bil­i­ty with an entire gen­er­a­tion of stu­dents if we can­not take action in sup­port of the defin­ing cause of their gen­er­a­tion," they wrote.
Isham works at Mid­dle­bury with envi­ron­men­tal activist Bill McK­ibben, and he taught McKibben's sev­en 350​.org co-founders back when they were col­lege stu­dents. In an inter­view, Isham said he under­stands it can be eas­i­er in some ways for col­lege fac­ul­ty to take off com­pared to pub­lic school teach­ers. He praised his university's HR depart­ment for being sup­port­ive of fac­ul­ty who want­ed to can­cel class­es for the strike, as pro­fes­sors were giv­en the option to take a per­son­al day off. Isham doesn't even teach on Fri­days, so it was espe­cial­ly easy for him to par­tic­i­pate in Middlebury's ral­ly that day.
"I think the num­ber-one thing edu­ca­tors can do is edu­cate, and share what we know about the cli­mate cri­sis and cli­mate insta­bil­i­ty with our stu­dents," he said. ​"That is our pri­ma­ry job, but I like to say the class­room has porous walls, and I think it's impor­tant to also get out in the world and stand up as a citizen."