Climate Activists Can't Afford to Ignore Labor. A Shuttered Refinery in Philly Shows Why.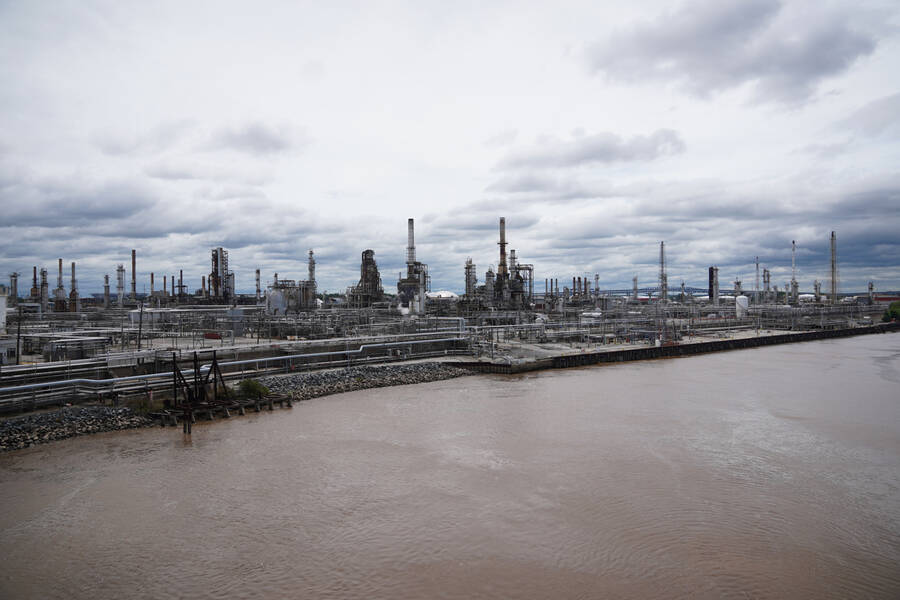 In the ear­ly morn­ing hours of June 21, 2019, a cat­a­stroph­ic explo­sion tore through the Philadel­phia Ener­gy Solu­tions (PES) oil refin­ery in the south­west sec­tion of Philadel­phia. The train­ing and quick think­ing of refin­ery work­ers, mem­bers of Unit­ed Steel­work­ers Local 10 – 1, avert­ed cer­tain dis­as­ter and saved mil­lions of lives. One month lat­er, on July 21, PES declared bank­rupt­cy — their sec­ond in as many years — and began to close down the refin­ery in the fol­low­ing months, lay­ing off almost 2,000 peo­ple with no mean­ing­ful sev­er­ance. Accord­ing to work­ers who spoke with In These Times, the refin­ery stopped run­ning crude oil in ear­ly August, although there are few­er than 100 work­ers who were kept on as care­tak­ers for the waste water and steam gen­er­at­ing units.
The fire on June 21 and the mass lay­offs that fol­lowed impact­ed more than just the phys­i­cal site of the refin­ery and the work­ers who made it run. It also ignit­ed a debate through­out the city about what would become of the refin­ery site, which has been in oper­a­tion for more than 150 years. On the one hand, the explo­sion under­scored the dan­gers the refin­ery posed to the com­mu­ni­ty imme­di­ate­ly sur­round­ing it, and the city as a whole. On the oth­er, the sub­se­quent clo­sure of the refin­ery meant that work­ers were sud­den­ly out of work, with no plan from PES or city offi­cials of how to put them back to work.
This debate, while focused on Philadel­phia, reflects much larg­er ques­tions roil­ing sup­port­ers of a Green New Deal: how to ensure a just tran­si­tion for fos­sil fuel work­ers who lose their jobs, and how to build bonds between unions look­ing out for their mem­bers, and cli­mate orga­niz­ers try­ing to stop fos­sil fuel extrac­tion. Inter­views with com­mu­ni­ty orga­niz­ers try­ing to curb the refinery's tox­ic pol­lu­tion, and work­ers laid off from the refin­ery, indi­cate that the answers are not easy, but require lis­ten­ing to work­ers, many of whom are already think­ing about cli­mate change — and forced, right now, to deal with the hard­ships of los­ing their jobs. In the words of Jim, a for­mer work­er who request­ed only his first name be used due to fear of retal­i­a­tion, ​"Fos­sil fuels need to be phased out aggres­sive­ly. That being said, I'm in the indus­try. You can't just allow the peo­ple in that indus­try to become like the coal min­ers, just floundering."
A tox­ic polluter
Such ques­tions have been the focus of ongo­ing orga­niz­ing by com­mu­ni­ty mem­bers who have long been con­cerned about the health impacts the refin­ery has on the soil, water and air. The refin­ery is in the 19145 zip code, which has one of the high­est rates of hos­pi­tal­iza­tion for asth­ma in the city, along with one of the high­est can­cer mor­tal­i­ty rates, in a city that has the ​"high­est can­cer rate of any large city in the Unit­ed States," accord­ing to the Nation­al Can­cer Institute.
The con­nec­tion between ill­ness­es and the refin­ery is not lost on com­mu­ni­ty mem­bers, nor on Philly Thrive, an orga­ni­za­tion found­ed in 2015 to ​"win a just tran­si­tion of the Philadel­phia Ener­gy Solu­tions oil refin­ery, the largest and old­est oil refin­ery on the East Coast." The orga­ni­za­tion knocked on doors around the refin­ery and embarked on a ​"lis­ten­ing project" in order to bet­ter under­stand the expe­ri­ences of neigh­bors, most of whom are Black and low-income. Alexa Ross, co-founder of Philly Thrive, says that the orga­ni­za­tion exists out­side of the ​"non-prof­it, white, mid­dle class" envi­ron­men­tal move­ment, and is cur­rent­ly focused sole­ly on its ​"Right to Breathe" cam­paign, which is orga­niz­ing around health and safe­ty over prof­it, no fos­sil fuel expan­sion, and a green econ­o­my for all.
After hear­ing count­less hor­ror sto­ries from neigh­bors about asth­ma, bron­chi­tis, can­cer and ear­ly deaths, Philly Thrive was unable to ignore the urgency of the cri­sis. Ross told In These Times that ​"you can com­pare the refin­ery to the next 100 sources of pol­lu­tion all togeth­er, and the refin­ery is still the major­i­ty of tox­ic emis­sions." The refin­ery was the num­ber one source of air pol­lu­tion in Philadel­phia, respon­si­ble for 9% of the city's fine par­ti­cle emis­sions and 20% of green­house gas emis­sions, accord­ing to the Depart­ment of Pub­lic Health. It was also the sin­gle largest emit­ter of tox­ic pol­lu­tants, includ­ing known car­cino­gens, rep­re­sent­ing near­ly 57% of such emis­sions in 2016.
A lack of trust
And although Philly Thrive also lists a com­mit­ment to a ​"just tran­si­tion to clean ener­gy and liv­ing wage green jobs" on its web­site, it also pub­licly acknowl­edges that ​"it has been very dif­fi­cult to carve out sub­stan­tial time in our orga­niz­ing" to build rela­tion­ships with work­ers at the refin­ery. Ross says Thrive was ​"told by our con­nec­tions to USW that they want­ed noth­ing to do with us if we were anti-fos­sil fuel. We're one of the only envi­ron­men­tal groups that hasn't been invit­ed to the table with labor, because we don't think we can afford to say any­thing besides that we need to tran­si­tion from fos­sil fuels now. So we've been denied access to the labor move­ment and USW in particular."
This lack of trust between com­mu­ni­ty mem­bers and refin­ery work­ers has been painful for both groups, and the chal­lenges they've encoun­tered con­nect­ing these two dis­tinct, but ulti­mate­ly con­nect­ed, strug­gles have been dif­fi­cult to tran­scend. Philly Thrive says that at pub­lic meet­ings about the future of the refin­ery, ​"fear, anger and grief have found like­ly tar­gets in each oth­er instead of the com­pa­nies and exec­u­tives respon­si­ble for the refinery."
One for­mer refin­ery work­er even took to Twit­ter short­ly after the explo­sion to slam Philly Thrive. Jim Sav­age, for­mer Pres­i­dent of USW Local 10 – 1, the union that rep­re­sent­ed work­ers at the refin­ery, wrote that ​"hyp­o­crit­i­cal oppor­tunists ran to micro­phones, with fires still burn­ing out of con­trol, call­ing for the imme­di­ate shut­down of the refin­ery with an ​'oh, by the way, take care of the work­ers by doing x, y, and z.' Work­ers that they did­n't both­er to speak with first. A week lat­er, they're still doing it and still no con­ver­sa­tion with the work­ers. Obvi­ous­ly, they pre­fer the flow­ery words of sol­i­dar­i­ty with­out any actu­al effort to cre­ate solidarity."
Jim, the refin­ery work­er men­tioned ear­li­er, says that work­ers saw Philly Thrive ​"as advo­cat­ing for a total shut­down, no indus­tri­al use, which to peo­ple who work there is very scary. We talked about some tran­si­tion with some relief for the work­ers and this wouldn't fit that bill." When pressed about what a tran­si­tion with relief for work­ers would look like, he said that ​"it would include med­ical [insur­ance] while we are laid off with school­ing or train­ing includ­ed… A sev­er­ance would have helped. This is just me though. A lot of work­ers wouldn't agree but I think a sub­stan­tial amount would. Some won't be hap­py with any­thing less than their refin­ery jobs back."
And it's not hard to under­stand why. The PES refin­ery pro­vid­ed around 1,100 full-time jobs and as many as 850 con­tract­ed posi­tions to work­ers large­ly in the Philadel­phia area. Most of the work­ers I spoke with only had high school degrees, and end­ed up mak­ing at least $100,000 per year, often clos­er to $150,000 or $200,000 with over­time and bonus­es, thanks to their strong union and the dan­ger­ous nature of their work.
B.N., who request­ed only his ini­tials be used due to fear of retal­i­a­tion, worked at the refin­ery since 2006 and is now a facil­i­ties man­ag­er at a uni­ver­si­ty, mak­ing about half the mon­ey he pre­vi­ous­ly made. He says ​"it's much safer, but I do miss the mon­ey, and it's very hard to go back­wards." He says that for his old cowork­ers, the job search is ​"bru­tal," with peo­ple get­ting offered jobs that pay $17 an hour. Some haven't found any­thing at all and are still rely­ing on unem­ploy­ment. Oth­ers have moved to Texas, Arkansas, or Louisiana, chas­ing refin­ery jobs on the Gulf Coast, leav­ing their fam­i­lies behind.
When faced with the option of either keep­ing well-pay­ing jobs or putting what may feel like blind faith into hypo­thet­i­cal plans for a tran­si­tion of the site in the spir­it of the Green New Deal, it's not hard to under­stand why refin­ery work­ers have fought to keep the refin­ery open — espe­cial­ly when they are not includ­ed in the dis­cus­sions around what a tran­si­tion could or should look like. The chal­lenges fac­ing com­mu­ni­ty mem­bers and work­ers in Philadel­phia over the future of the for­mer PES refin­ery site are not unique, but rather, indica­tive of a wider gap that must be bridged in order to even­tu­al­ly win a Green New Deal.
The labor move­ment and cli­mate move­ment have often been paint­ed as unlike­ly allies, locked in a nat­ur­al and con­sis­tent con­flict. Although some unions have begun to embrace the need to move away from fos­sil fuels and seri­ous­ly con­front cli­mate change, many unions have dug their heels in and reaf­firmed their com­mit­ment to extrac­tive indus­tries, such as Labor­ers' Inter­na­tion­al Union of North Amer­i­ca, Inter­na­tion­al Broth­er­hood of Elec­tri­cal Work­ers and Unit­ed Mine Work­ers of Amer­i­ca. The AFL-CIO infa­mous­ly came out in sup­port of build­ing oil pipelines in the face of mas­sive protests by Indige­nous com­mu­ni­ties in the Dakotas.
While there's a lot of talk of a ​"just tran­si­tion" away from fos­sil fuels — both in Philadel­phia around the refin­ery, and beyond — we don't have any exam­ples in this coun­try to mod­el this tran­si­tion after yet. It makes sense that a union whose mem­bers work in the fos­sil fuel indus­try would see its inter­ests as tied to the fate of that indus­try, espe­cial­ly giv­en the ten­den­cy of many unions to see their role as fight­ing sole­ly for the inter­ests of their mem­bers, divorced from the inter­ests of the work­ing class as a whole.
A com­mon enemy
It's clear that a basis for a high­er lev­el of sol­i­dar­i­ty must be found to over­come this divi­sion. One poten­tial way to do this is to iden­ti­fy a com­mon ene­my, one who is respon­si­ble for both exploit­ing and endan­ger­ing the safe­ty of the work­ers in these often dan­ger­ous indus­tries, and for the dev­as­ta­tion these indus­tries have on the sur­round­ing com­mu­ni­ties. This com­mon ene­my is, of course, the boss, who is often aid­ed by tax breaks and polit­i­cal sup­port from local and state governments.
The Com­mon­wealth of Penn­syl­va­nia pro­vid­ed PES with $25 mil­lion for refin­ery equip­ment upgrades and rail car infra­struc­ture in 2012, along with numer­ous oth­er tax incen­tives and write-offs. PES was also grant­ed pro­tec­tion by the state for lia­bil­i­ty relat­ed to his­tor­i­cal envi­ron­men­tal con­t­a­m­i­na­tion at the site, or con­t­a­m­i­na­tion result­ing from Sunoco's (the pre­vi­ous own­er) oper­a­tions. Fol­low­ing the June 21 explo­sion and sub­se­quent bank­rupt­cy fil­ing, PES exec­u­tives were paid $4.59 mil­lion in reten­tion bonus­es. In a Novem­ber 22nd fil­ing with the U.S. Bank­rupt­cy Court, PES request­ed to cre­ate an addi­tion­al bonus pool to pay­out exec­u­tives, rang­ing from $2.5 mil­lion to $20 mil­lion if the sale of the refin­ery gen­er­ates $1 bil­lion in net pro­ceeds. Philadel­phia Ener­gy Indus­tries, cre­at­ed by for­mer PES chief exec­u­tive Phil Rinal­di and S.G. Pre­ston, a bio­fu­els com­pa­ny, have put in a bid to pur­chase the refin­ery in order to reopen it. Rinal­di left PES in 2017, but oth­er exec­u­tives with whom he had worked close­ly for years were the ones who closed the refin­ery, filed for bank­rupt­cy, and received mas­sive pay­outs for them­selves. And in the after­math of the dev­as­ta­tion caused to the lives of refin­ery work­ers and the sur­round­ing com­mu­ni­ty, Rinal­di has cyn­i­cal­ly emerged as a key fig­ure call­ing to restart oper­a­tions at the shut­tered refin­ery site.
Even though USW Local 10 – 1 Pres­i­dent Ryan O'Callaghan has pub­licly bashed the exec­u­tives for their lav­ish pay­outs, he also said, ​"The idea of retrain­ing us for jobs that don't exist is not the answer. The idea to put a solar pan­el farm on the site is not the answer. The answer is to restart the refin­ery now." So even though union mem­bers were sold out by the own­ers of PES — who took giant pay­outs while leav­ing them with noth­ing — the union is indi­rect­ly ally­ing with them to work to re-open the refinery.
But is it real­ly about the refin­ery, or is it about good jobs? B.N. said that ​"If it was a solar or a wind farm, and they were pay­ing what the refin­ery paid, [the work­ers] would be there in a sec­ond. It's about the mon­ey. They're not defend­ing the indus­try — they're defend­ing their job and their pay­check. If they could make the same mon­ey work­ing for Green­peace, they would do it." When the only option is to either defend the fos­sil fuel indus­try or have a poor­ly pay­ing, inse­cure job, the vast major­i­ty of work­ers are going to defend the indus­try — no mat­ter their per­son­al beliefs about cli­mate change.
On Jan­u­ary 17, the site will be put to auc­tion, with mul­ti­ple com­pa­nies lin­ing up to re-open the refin­ery. Res­i­dents and com­mu­ni­ty groups like Philly Thrive don't have a seat at the table in dis­cus­sions about the refinery's future, but USW does because it is a cred­i­tor in the refinery's bank­rupt­cy case. What would it be like if the union chose to part­ner with Philly Thrive instead of with the 1%, and signed on to their demands of health and safe­ty over prof­it, no fos­sil fuel expan­sion, and a green econ­o­my for all? The union could stand with com­mu­ni­ty mem­bers and com­mit to shut­ting down the refin­ery, for both the safe­ty of the work­ers, the sur­round­ing com­mu­ni­ty, and our hope for any kind of fos­sil fuel-free future — but only if there is a plan for sev­er­ance pay and health insur­ance for work­ers, along with train­ing and job place­ments at either the old refin­ery site or elsewhere.
The peo­ple most affect­ed by cli­mate change will be in the work­ing class, whether they're mem­bers of USW Local 10 – 1, mem­bers of anoth­er union, or not union mem­bers at all. The Phil Rinald­is of the world, by con­trast, will be much more insu­lat­ed from cli­mate cat­a­stro­phe. This is a press­ing chal­lenge to both the labor and cli­mate move­ment, giv­en the par­tic­u­lar urgency for dras­tic action to address the impacts of cli­mate change before it's too late. How can the labor move­ment move towards act­ing in the inter­ests of their mem­bers, yes, but increas­ing­ly in the inter­ests of work­ers as a whole? And how can the cli­mate move­ment engage labor to help make the Green New Deal a more con­crete pro­gram that work­ers can believe in? In order to ful­ly con­front the com­plex­i­ties of how to actu­al­ly have a just tran­si­tion away from fos­sil fuels, work­ers in those indus­tries need to be at the front of those conversations.
As B.N. puts it, ​"We've done a lot of great things in this coun­try. We can tran­si­tion. Look at World War II, GM stopped mak­ing cars for com­mer­cial pro­duc­tion — they start­ed devot­ing all of their efforts to the war. We can do big things in this country."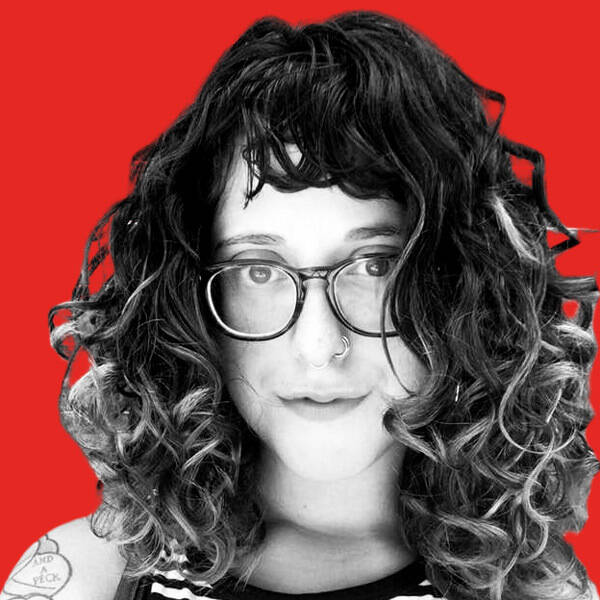 Mindy Iss­er
works in the labor move­ment and lives in Philadelphia.