CNA and NUHW Join Forces Against SEIU in California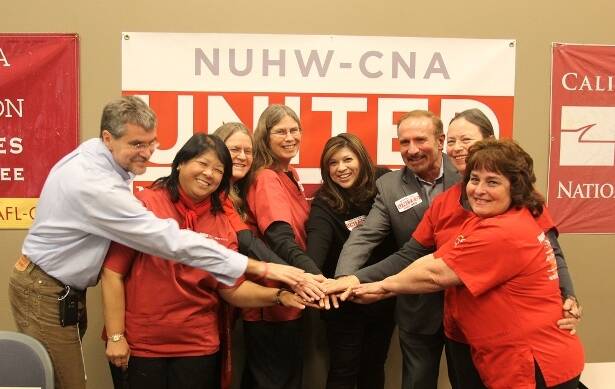 Today, the Cal­i­for­nia Nurs­es Asso­ci­a­tion (CNA) and the Nation­al Union of Health­care Work­ers (NUHW) announced a for­mal affil­i­a­tion, solid­i­fy­ing an already potent alliance. Two of the biggest strikes against con­ces­sions in the last 16 months were con­duct­ed by mem­bers of the CNA and NUHW. Their tar­get each time was Kaiser Per­ma­nente, the giant Cal­i­for­nia health care chain that made $6 bil­lion in prof­its since 2009 but still wants union job cuts and con­tract givebacks.
Last August, CNA and NUHW formed an ​"Alliance of Kaiser Unions" ded­i­cat­ed to ​"rais­ing stan­dards for Kaiser care­givers and pro­tect­ing Kaiser patients." In its found­ing state­ment, the Alliance blast­ed the Ser­vice Employ­ees Inter­na­tion­al Union (SEIU) and the SEIU-dom­i­nat­ed Coali­tion of Kaiser Per­ma­nente Unions (CKPU) for choos­ing ​"to part­ner with Kaiser to increase the corporation's prof­itabil­i­ty at the expense of their own mem­bers and patients." The CKPU includes both AFL-CIO and Change To Win affiliates.
On Jan­u­ary 3, CNA and NUHW took their recent work­place col­lab­o­ra­tion a step fur­ther, unveil­ing NUHW's for­mal affil­i­a­tion with CNA at a press con­fer­ence in Oak­land attend­ed by activists from both unions. CNA and NUHW will now joint­ly seek decer­ti­fi­ca­tion of SEIU in a unit of 43,000 ser­vice and tech­ni­cal employ­ees at Kaiser.
In the fall of 2010, those work­ers vot­ed, by a mar­gin of 18,290 to 11,365, to retain their SEIU rep­re­sen­ta­tion, rather than switch to NUHW. Ille­gal cam­paign­ing and col­lu­sion between man­age­ment and the incum­bent union led the Nation­al Labor Rela­tions Board (NLRB) to order a new elec­tion in July 2011. Last month, a three-mem­ber NLRB pan­el in Wash­ing­ton, D.C. reject­ed SEIU's lat­est attempt to over­turn that deci­sion, set­ting the stage for a like­ly 2013 re-run of the largest pri­vate sec­tor rep­re­sen­ta­tion vote in the last sev­en decades.
Accord­ing to NUHW Pres­i­dent Sal Rossel­li, NUHW mem­bers approved the affil­i­a­tion with CNA in mail bal­lot­ing con­duct­ed in Decem­ber. In mate­r­i­al dis­trib­uted to rank-and-fil­ers before the vote, NUHW assert­ed that the agree­ment pro­vides them with ​"full auton­o­my" and pro­tec­tions against trustee­ship or forced merg­ers. ​"The unions will remain sep­a­rate," Rossel­li said, ​"but we will act like one union when it comes to orga­niz­ing hos­pi­tal work­ers and fight­ing employ­ers like Kaiser and Sut­ter Health.
As one ben­e­fit of affil­i­a­tion, CNA will report­ed­ly seek the same Kaiser work­place access for NUHW orga­niz­ers as its own union reps enjoy; in the past, SEIU has been able to flood Kaiser facil­i­ties with hun­dreds of full-time staff and lost-time orga­niz­ers due to its incum­bent union sta­tus. CNA is also expect­ed to fund great­ly expand­ed hir­ing of NUHW organizers.
CNA cur­rent­ly rep­re­sents 85,000 reg­is­tered nurs­es (RNs) in Cal­i­for­nia and helped form the larg­er net­work of state nurs­es' orga­ni­za­tions known as Nation­al Nurs­es Unit­ed (NNU), which claims a nation­al mem­ber­ship of 185,000 and has dis­played some inter­nal ten­sions of late. CNA also has a Nation­al Nurs­es Orga­niz­ing Com­mit­tee (NNOC) with bar­gain­ing units in Mis­souri, Illi­nois, Texas and Flori­da. NUHW's orga­ni­za­tion­al link will be with CNA directly.
A renewed partnership
The renewed part­ner­ship between CNA and NUHW marks the end of a near­ly four-year-long truce between CNA and SEIU that expired on Decem­ber 31. Since 2009, their peace pact helped reduce inter-union strife nation­wide, while facil­i­tat­ing non-union hos­pi­tal orga­niz­ing in Texas, Flori­da, and oth­er states. (Phone mes­sages and emails seek­ing SEIU com­ment about the CNA-NUHW affil­i­a­tion received no response.)
CNA's détente with SEIU fol­lowed sev­er­al years of cost­ly con­flict and was nego­ti­at­ed short­ly after then-SEIU Pres­i­dent Andy Stern put his union's third-largest affil­i­ate, 150,000-member Unit­ed Health­care Work­ers (UHW), under trustee­ship in late Jan­u­ary, 2009. Stern removed Rossel­li as UHW's elect­ed pres­i­dent, and replaced him with Dave Regan, a more man­age­ment-friend­ly SEIU offi­cial from Ohio.
Stern's con­tro­ver­sial attempt to curb inter­nal dis­sent over SEIU struc­ture, bar­gain­ing and orga­niz­ing strat­e­gy trig­gered the for­ma­tion of NUHW, which has since won bar­gain­ing rights for about 10,000 Cal­i­for­nia health care work­ers. That num­ber includes 4,000 nurs­es and oth­er Kaiser pro­fes­sion­als who did switch from SEIU to NUHW three years ago and are still nego­ti­at­ing new con­tracts. CNA's agree­ment cov­er­ing 17,000 Kaiser nurs­es expires next year.
A (more reli­able) unit­ed front?
Dur­ing the anti-con­ces­sion walk­outs at Kaiser last Jan­u­ary and in Sep­tem­ber 2011, SEIU-UHW urged its mem­bers to cross pick­et lines set up by the 20,000 or more strik­ers rep­re­sent­ed by CNA, NUHW, or Local 39 of the Oper­at­ing Engi­neers. Adding insult to injury, new SEIU-UHW Pres­i­dent Dave Regan then made a failed attempt last sum­mer to enlist Cal­i­for­nia leg­is­la­tors and labor fed­er­a­tion offi­cials in an indus­try-backed attempt to weak­en the state's safe staffing law, which sets min­i­mum nurse-patient ratios in hospitals.
Regan's goal was to sus­pend (dur­ing RN meals and breaks) the nation's first and only ratios law, essen­tial­ly gut­ting a much-prized achieve­ment of the CNA. In an inter­nal mes­sage to CNA staffers last fall, CNA Exec­u­tive Direc­tor Rose Ann DeMoro called Regan a ​"man­age­ment hack" who ​"may be the most despi­ca­ble ​'labor leader' that we have ever encoun­tered" because ​"he has climbed so far into bed with the hos­pi­tal asso­ci­a­tion and employ­ers." Accord­ing to DeMoro, ​"Regan argued on behalf of the Cal­i­for­nia Hos­pi­tal Asso­ci­a­tion that nurs­es need to sac­ri­fice their meals and breaks and the safe­ty of their patients to help hos­pi­tals save $400 mil­lion because the state was in a bud­get cri­sis." Mean­while, state records showed that Cal­i­for­nia hos­pi­tals col­lec­tive­ly post­ed $4.4 bil­lion in prof­its in 2010 alone.
DeMoro expressed addi­tion­al con­cern about oth­er deals nego­ti­at­ed by SEIU-UHW under Regan. At Sut­ter Health, for exam­ple, man­age­ment agreed to rescind wage and ben­e­fit con­ces­sions already accept­ed by SEIU if CNA-rep­re­sent­ed nurs­es (or NUHW mem­bers) were able to resist such give-backs, by them­selves, in the same hos­pi­tal. Accord­ing to CNA, ​"Regan's actions have embold­ened Sutter's already hard line that has pro­voked a long con­tract dis­pute with RNs."
To secure a more reli­able ​"unit­ed front against Kaiser and oth­er employ­ers in our upcom­ing bar­gain­ing," CNA began vying with the Inter­na­tion­al Asso­ci­a­tion of Machin­ists (IAM) as a poten­tial NUHW merg­er part­ner. Last year, the IAM made a much-pub­li­cized com­mit­ment to fund NUHW's sys­tem­at­ic prepa­ra­tion for the still-pend­ing Kaiser re-run elec­tion as a first step toward affiliation.
An inter­nal polit­i­cal shift on the Machin­ists' side has now led to a friend­ly part­ing of ways between the IAM and NUHW, clear­ing the path for a more organ­ic CNA-NUHW con­nec­tion, that will also per­mit the pre­vi­ous­ly inde­pen­dent NUHW to become AFL-CIO-affiliated.
Con­tro­ver­sial truce
CNA's lat­est change of course, vis-à-vis SEIU, has been cheered by Cal­i­for­nia health care work­ers, whose work­place coop­er­a­tion was nev­er much affect­ed by DeMoro's détente with Stern (and with his suc­ces­sor, Mary Kay Hen­ry). In Jan­u­ary 2009, DeMoro accu­rate­ly warned that Stern's ​"dic­ta­to­r­i­al receiver­ship" over UHW, which first brought Dave Regan to Cal­i­for­nia, posed a direct threat to ​"the work­place pro­tec­tions and con­tract stan­dards of CNA/NNOC mem­bers." To meet this chal­lenge, CNA ini­tial­ly pro­vid­ed $2 mil­lion in loans or grants to NUHW that helped keep the new union afloat until UNITE HERE kicked in anoth­er $1.3 mil­lion (after Stern launched an attack on that fel­low Change to Win affil­i­ate lat­er in 2009).
On March 18, 2009, how­ev­er, Stern and DeMoro sud­den­ly declared that ​"we are bury­ing the hatch­et." This was only one year after SEIU pro­tes­tors tried, unsuc­cess­ful­ly, to dis­rupt the 2008 Labor Notes con­fer­ence because DeMoro was an invit­ed speak­er. The two for­mer union rivals unveiled a ​"trans­for­ma­tive coop­er­a­tion agree­ment" that was going to boost labor's ill-fat­ed cam­paign for the Employ­ee Free Choice Act and state-lev­el lob­by­ing ​"to adopt sin­gle-pay­er health care sys­tems." (SEIU and CNA nev­er end­ed up work­ing togeth­er on either of these projects.)
Both par­ties agreed not to poach each oth­ers' mem­bers, and CNA cut-off fund­ing for NUHW orga­niz­ing. In a June 2009 inter­view with Labor Notes, CNA co-pres­i­dent Deb­o­rah Burg­er defend­ed this painful aban­don­ment of NUHW sup­port­ers. She blithe­ly pre­dict­ed that ​"Andy [Stern] and Sal [Rossel­li] will do what they need to sur­vive" and ​"work out their own deal." In the mean­time, ​"oth­er unions will help NUHW. And we'll all move for­ward together."
Burg­er claimed that her union's truce with SEIU some­how grant­ed CNA ​"exclu­sive juris­dic­tion on all nurs­ing issues in nurs­ing prac­tice" — in a field where mul­ti­ple unions, includ­ing SEIU, AFT, AFSCME, and oth­ers con­tin­ue to rep­re­sent sev­er­al hun­dred thou­sand RNs nation­wide. Recall­ing past SEIU efforts to ​"water down the [Cal­i­for­nia] ratio bill, by putting for­ward ratios for all health care work­ers," Burg­er declared that now ​"we won't have any­body under­min­ing, say, our ratios bill."
South­ern orga­niz­ing gains
While post-trustee­ship UHW pro­ceed­ed to under­mine CNA in Cal­i­for­nia on both leg­isla­tive mat­ters and in con­tract nego­ti­a­tions, joint union cam­paign­ing with SEIU at Hos­pi­tal Cor­po­ra­tion of Amer­i­ca (HCA) did pro­duce out-of-state mem­ber­ship gains for the CNA-backed Nation­al Nurs­es Orga­niz­ing Com­mit­tee (NNOC). In 2010-11, CNA won the right to rep­re­sent near­ly 6,500 nurs­es at HCA hos­pi­tals in Flori­da, Texas, Neva­da and Mis­souri. At Tenet Health­care, both CNA and SEIU were rec­og­nized under the terms of a sim­i­lar orga­niz­ing rights agree­ment (man­dat­ing man­age­ment neu­tral­i­ty) that brought anoth­er 1,500 RNs into NNOC in Texas. Dur­ing this mul­ti-state cam­paign, SEIU won bar­gain­ing rights for more than 15,000 HCA and Tenet workers.
Coor­di­nat­ing with SEIU on first con­tract bar­gain­ing at HCA, the world's largest for-prof­it hos­pi­tal chain, proved hard­er than work­ing in tan­dem to win union recog­ni­tion. Eager to begin col­lect­ing dues, even though its hos­pi­tal units had gen­er­al­ly low mem­ber­ship in open-shop Flori­da, 1199/SEIU (also known as Unit­ed Health­care Work­ers-East) set­tled months ahead of NNOC at 10 new­ly orga­nized HCA facil­i­ties there. Accord­ing to one NNOC orga­niz­er involved, ​"SEIU had no orga­ni­za­tion and, as is its prac­tice, clear­ly had a pre-cooked agree­ment with the cor­po­ra­tion to set­tle for a sub­stan­dard contract."
SEIU's set­tle­ment includ­ed a Cal­i­for­nia-style ​"me-too" clause insur­ing that, if NNOC nego­ti­at­ed a bet­ter health care cost-shar­ing for­mu­la, the same terms would also be extend­ed to SEIU, even though the lat­ter had already set­tled for less. New mem­bers of the NNOC at HCA in Flori­da rat­i­fied their first con­tract last May, after an active con­tract cam­paign that enabled them to resist some man­age­ment demands that SEIU acced­ed to. NNOC mem­bers took strike votes, con­duct­ed whis­tle-blow­ing press con­fer­ences, and held infor­ma­tion­al pick­et­ing about staffing lev­els and the qual­i­ty of patient care. Unfor­tu­nate­ly, an over­ly broad ​"no strike clause" agreed to by SEIU first, and then NNOC as well, lim­its sim­i­lar protest pick­et­ing dur­ing the life of the agreement.
Round Two at Kaiser?
Par­tic­i­pants in today's press con­fer­ence envi­sioned a dif­fer­ent sce­nario in Cal­i­for­nia if NUHW suc­ceeds in replac­ing SEIU-UHW as Kaiser's largest union, with CNA help. There, at Sut­ter Health, and oth­er hos­pi­tal chains, the two unions plan to coor­di­nate their resis­tance to man­age­ment demands for health care cost shift­ing, elim­i­na­tion of defined ben­e­fit pen­sions, and var­i­ous forms of out-sourcing.
To win at Kaiser, NUHW orga­niz­ers pri­vate­ly say they need pri­or per­son­al com­mit­ments of sup­port from near­ly 18,000 work­ers. As of now, NUHW remains sev­er­al thou­sand short of that goal. One issue that's def­i­nite­ly aid­ing NUHW can­vass­ing late­ly is Kaiser's attempt to elim­i­nate 1,000 jobs, a breach of job secu­ri­ty com­mit­ments that SEIU-UHW is doing lit­tle to resist. Even an AFSCME local that has pre­vi­ous­ly fol­lowed SEIU's lead at Kaiser has protest­ed this lay-off threat and announced it was boy­cotting Labor Man­age­ment Part­ner­ship meet­ings until the issue was resolved.
At yesterday's ral­ly­ing of Kaiser part­ner­ship foes, Rossel­li rec­om­mend­ed a stronger response: ​"Instead of sus­pend­ing par­tic­i­pa­tion in Kaiser part­ner­ship activ­i­ties, they should noti­fy Kaiser that they are leav­ing the part­ner­ship and join­ing forces with us!"
Steve Ear­ly worked for 27 years as an orga­niz­er and inter­na­tion­al rep­re­sen­ta­tive for the Com­mu­ni­ca­tions Work­ers of Amer­i­ca. He is the author of sev­er­al books, includ­ing Refin­ery Town: Big Oil, Big Mon­ey, and the Remak­ing of an Amer­i­can City (Bea­con Press).