CNN's Coverage of Sanders Was 3X More Negative Than Biden Following Their Big Primary Wins
A tale of two media narratives.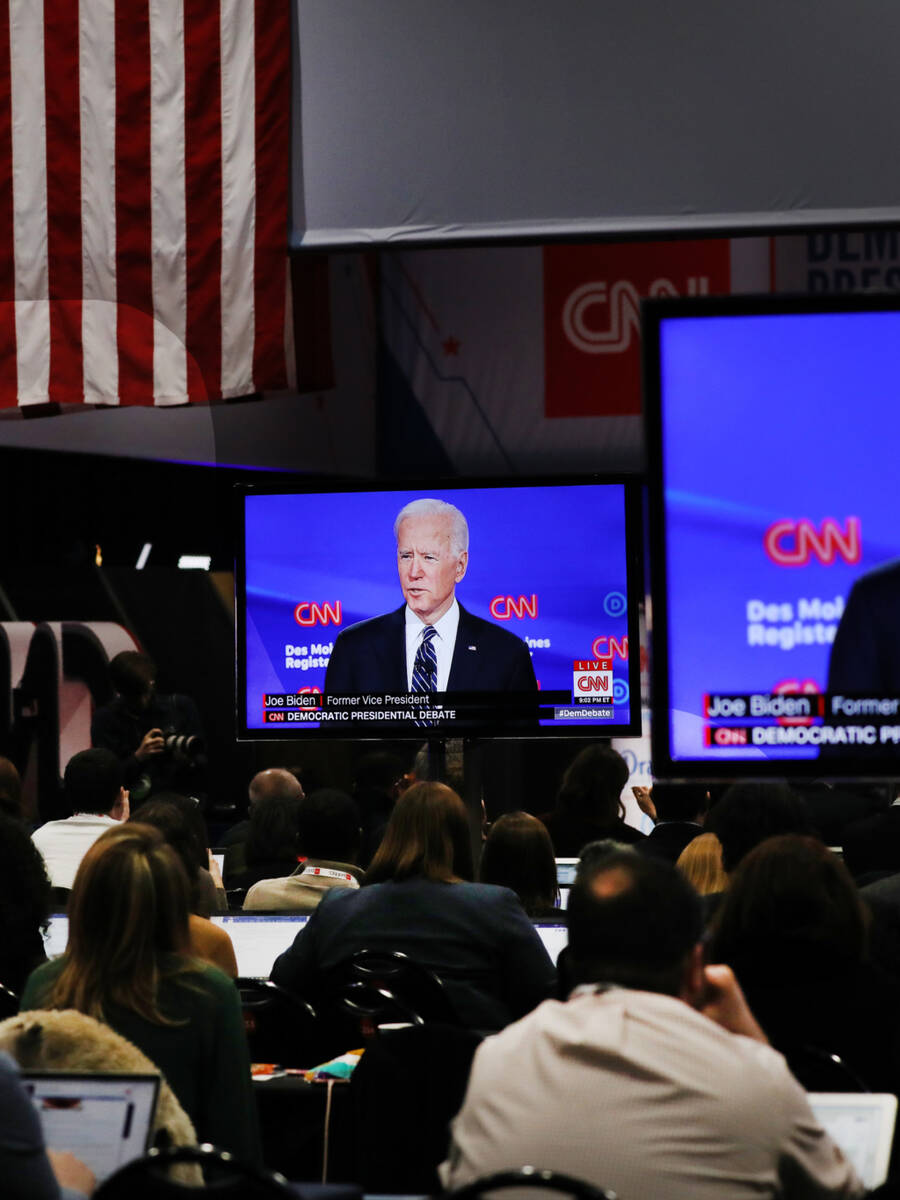 Joe Biden's ascent into fron­trun­ner sta­tus is often por­trayed as an organ­ic con­se­quence of big-time endorse­ments and an untapped desire for a more ​"cen­trist" and ​"elec­table" can­di­date. But a sur­vey by In These Times finds that CNN has por­trayed Bernie Sanders more neg­a­tive­ly than Biden, sug­gest­ing that media slant itself may play a role in Biden's rise.
It's worth noting Linda Chavez saying Sanders' win plays into Putin's hands is far worse than Rosen insisting Biden could afford to be a bit more "inspirational."
In the 24 hours fol­low­ing his mas­sive win in Neva­da, Sanders received 3.26 times the pro­por­tion of neg­a­tive CNN cov­er­age than Biden did fol­low­ing the latter's South Car­oli­na win — despite the two wins being by sim­i­lar mar­gins. Sanders received more cov­er­age after his win than Biden did after his: 419 men­tions to Biden's 249. But a larg­er share of Sanders' men­tions were neg­a­tive, and few­er pos­i­tive, than Biden's. The above 3.26 fig­ure was arrived at by com­par­ing neg­a­tive cov­er­age as a pro­por­tion of total cov­er­age for both candidates.
CNN is one of the most wide­ly watched cable news net­works on tele­vi­sion, aver­ag­ing about a mil­lion view­ers dur­ing prime time. Giv­en its down-the-mid­dle rep­u­ta­tion, CNN can be a use­ful proxy for broad­er media cov­er­age. The 24-hour win­dow fol­low­ing a pri­ma­ry is a crit­i­cal time for set­ting a pub­lic nar­ra­tive about which can­di­dates are viable, have ​"momen­tum," and seem pres­i­den­tial. Media cov­er­age that dri­ves up the neg­a­tives of a can­di­date can have a hand in harm­ing their campaigns.
Sanders won a blowout vic­to­ry in Neva­da, gar­ner­ing 46.8% of the vote in a mul­ti-can­di­date field — putting him well ahead of Biden's 20.2% sup­port. Yet in the 24-hour peri­od fol­low­ing his win, start­ing at mid­night, CNN's cov­er­age of Sanders was slight­ly more neg­a­tive than pos­i­tive: He received 32 pos­i­tive men­tions, 33 neg­a­tive men­tions, and 354 neu­tral men­tions from CNN guests or hosts. (For the pur­pos­es of this study, a ​"men­tion" refers to each time a can­di­date is dis­cussed — but not to each time his or her name is men­tioned. In These Times tend­ed towards con­ser­vatism and only logged a men­tion as pos­i­tive or neg­a­tive if it was clear­ly either.)
In con­trast, dur­ing the 24 hours fol­low­ing Biden's blowout win in South Car­oli­na, bring­ing in 48.4% com­pared to Sanders' 19.9% — rough­ly the same result — the for­mer vice pres­i­dent received much more fawn­ing cov­er­age from CNN: 19 pos­i­tive men­sions, only 6 neg­a­tive men­tions, and 224 neu­tral mentions.
Sanders' neg­a­tives and pos­i­tives were rough­ly equal (33 vs. 32) to each oth­er, while Biden received more than three times more pos­i­tive than neg­a­tive mentions.
This tal­ly is like­ly an under­count of over­all pro-Biden slant in the cur­rent media land­scape, as it does not include the avalanche of pos­i­tive cov­er­age Biden received for the endorse­ments from Amy Klobuchar, Pete Buttigieg and Beto O'Rourke that came the fol­low­ing day. CNN's 5:00 a.m. News­room and its 11:00 a.m. episode of Con­nect the World were exclud­ed from the count, as tran­scripts for these episodes the day after the South Car­oli­na pri­ma­ry were miss­ing from CNN's website.
Twelve of the neg­a­tive men­tions Sanders received fol­low­ing his win in Neva­da either accused the Ver­mont sen­a­tor of being too far left to win, or denounced him as a social­ist. On the Feb­ru­ary 23 episode of News­room, James Clyburn, the Democ­rats' House Major­i­ty Whip, said, ​"On Super Tues­day, peo­ple are con­cerned about this whole self-pro­claimed Demo­c­ra­t­ic social­ist. Social­ism since I was a stu­dent in grade school was some­thing that engen­dered a kind of vocif­er­ous reac­tion among peo­ple of a neg­a­tive nature, and social­ism is always kind of interesting."
Such crit­i­cisms are repeat­ed­ly levied via major media out­lets with no evi­dence, despite polling that shows Sanders could beat Trump in a gen­er­al elec­tion and is trust­ed on issues deemed impor­tant to the Demo­c­ra­t­ic base.
In that same 24-hour peri­od, six neg­a­tive men­tions den­i­grat­ed Sanders' can­di­da­cy by tying him to Rus­sia, or sug­gest­ing that the Russ­ian gov­ern­ment prefers him as a can­di­date (one of those crit­i­cal men­tions over­lapped with the ​"too far left" crit­i­cisms). On the Feb­ru­ary 23 episode of State of the Union, for­mer Rea­gan admin­is­tra­tion offi­cial Lin­da Chavez said, ​"But the prob­lem is, the real win­ner last night I believe was Putin. I mean, we are going to have the most divi­sive elec­tion if Bernie is the nom­i­nee, we are going to see two very, very angry peo­ple rep­re­sent­ing two very dif­fer­ent extremes of their par­ties, and I think that helps make Amer­i­ca more chaot­ic, it makes us more divi­sive and, I think, the one that gets advan­taged by that is Russia."
Four­teen crit­i­cisms fell under the umbrel­la of neb­u­lous ​"elec­tabil­i­ty" knocks. One of those argu­ments was deliv­ered by Biden him­self, who was briefly fea­tured on the 3:00 p.m. episode of News­room. The network's White House cor­re­spon­dent Jeff Zele­ny asked Biden, ​"Sen­a­tor Sanders as the nom­i­nee be a McGov­ern-like mis­take for this par­ty?" Biden replied, ​"Well, that's for the vot­ers to know. Now, look, I think it's going to go down between Sen­a­tor Sanders and me for the nom­i­na­tion. As I said all along, it's not just, can you beat Don­ald Trump, can you bring along — can you keep a Demo­c­ra­t­ic House of Rep­re­sen­ta­tives in the Unit­ed States Con­gress? And can you bring along a Demo­c­ra­t­ic Sen­ate? Can you help peo­ple up and down the line? And I think I'm bet­ter pre­pared to do than Sen­a­tor Sanders."
Notably, Sanders was not inter­viewed by CNN in the after­math of his Neva­da win, nor was he invit­ed to com­ment on Biden's win in South Carolina.
In con­trast to Sanders, crit­i­cisms of Biden fol­low­ing his South Car­oli­na win were far more tem­per­ate — and less seath­ing and drawn-out — with all of them focus­ing on inad­e­qua­cies or chal­lenges in the cam­paign, com­pe­ti­tion from oth­er ​"mod­er­ates," and the need for him to be more inspi­ra­tional. Some of the crit­i­cisms also con­tained encour­age­ment. For exam­ple, on the 2:00 p.m., March 1 episode of News­room, CNN polit­i­cal cor­re­spon­dent Arlette Saenz said, ​"Clyburn is speak­ing out more about his endorse­ment of Joe Biden. He says Biden was — has his work cut out for him, and it may start with retool­ing his cam­paign, I'm quot­ing him on say­ing that."
And on News­room​'s 3:00 p.m. episode lat­er that day, CNN polit­i­cal cor­re­spon­dent Hilary Rosen said, ​"But I also think that Vice Pres­i­dent Biden has to get a lit­tle more inspi­ra­tional. I think telling peo­ple they should­n't have dreams is not going to be a good long term mes­sage. Cut­ting down some­one else's dreams is not a good long term message."
For the pur­pos­es of count­ing neg­a­tive men­tions, In These Times did not make qual­i­ta­tive dis­tinc­tions. But it's worth not­ing Lin­da Chavez say­ing Sanders' win plays into Putin's hands is far worse than Rosen insist­ing Biden could afford to be a bit more ​"inspi­ra­tional."
The morn­ing show State of the Union also set aside at least nine min­utes to an inter­view with Joe Biden by Jake Tap­per, which aired at 9:00 a.m. the morn­ing after the South Car­oli­na pri­ma­ry. Between dis­cus­sion of the U.S. deal with the Tal­iban and the Trump administration's response to coro­n­avirus, Biden hit out at Sanders on three occa­sions, argu­ing that he has greater cred­i­bil­i­ty, crit­i­ciz­ing Sanders' track record in Con­gress, and knock­ing Sanders' posi­tion that the win­ner of the plu­ral­i­ty of del­e­gates should be the DNC's pres­i­den­tial nom­i­nee. ​"They are not look­ing for rev­o­lu­tion, they [want] results. They want a return to decen­cy. They want to be able to get things done," Biden said. ​"And I have a record that is far supe­ri­or on those two issues than Bernie's."
No cor­re­spond­ing inter­view with Sanders was aired in the 24 hours fol­low­ing his vic­to­ry in Nevada.
This aligns with the ana­lyt­ics of tele­vi­sion mar­ket­ing mon­i­tors with no vest­ed inter­est cry­ing foul. Cit­ing a sur­vey from Crit­i­cal Men­tion, a ​"real-time media mon­i­tor­ing plat­form," adver­tis­ing con­sul­tant Kevin Cate not­ed on Twit­ter that ​"between South Car­oli­na polls clos­ing Sat­ur­day & 7 PM ET on Super Tues­day, @JoeBiden earned $71,992,629 worth of almost entire­ly pos­i­tive nation­al media. Add local media in those mar­kets and it eas­i­ly tops $100 mil­lion worth of earned media in 72 hours." Media mon­i­tors in jour­nal­ism have anoth­er name for ​"earned media": It's called ​"puffery," and its exis­tence is not evi­dence of skill on the part of the Biden cam­paign, but rather a sys­temic fail­ure on the part of media out­lets, that should not be anoint­ing a pres­i­den­tial fron­trun­ner as ​"inevitable."