College Adjuncts Union Scores Victory at Maryland Institute College of Art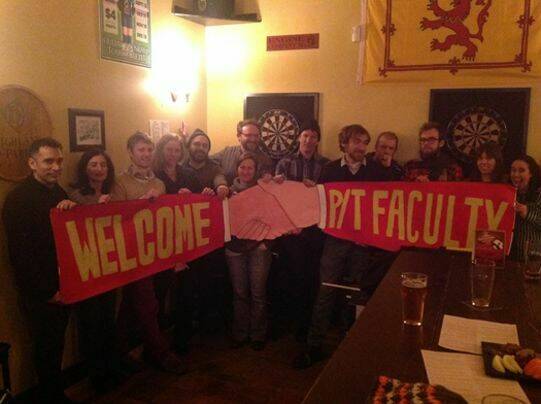 BAL­TI­MORE — Part-time col­lege fac­ul­ty mem­bers at the his­toric Mary­land Insti­tute Col­lege of Art (MICA) scored an impres­sive win on Tues­day when they vot­ed over­whelm­ing­ly to bring a labor union on cam­pus for the first time since MICA's open­ing in 1826.
In secret bal­lot vot­ing super­vised by the Nation­al Labor Rela­tions Board (NLRB), the pro-union votes num­ber 160, com­pared to 75 anti-union ones, reports Kather­ine Kavanaugh, one of the lead­ers of the fac­ul­ty group. This unof­fi­cial count has been con­firmed by a NLRB spokes­woman, who adds that the agency nor­mal­ly takes about a week to con­firm an elec­tion of this kind. Once the elec­tion is for­mal­ly cer­ti­fied by NLRB, the part-time col­lege instruc­tors will be rep­re­sent­ed by Gaithers­burg, Md.-based Ser­vice Employ­ees Inter­na­tion­al Union Local 500.
Though the elec­tion peri­od itself took only sev­en weeks, the vic­to­ry rep­re­sents a major bench­mark in the part-time pro­fes­sors' sus­tained cam­paign to improve job con­di­tions and the over­all qual­i­ty of cam­pus life, says Kavanaugh. The pro­fes­sors, also known as adjuncts, began meet­ing infor­mal­ly in 2011 to dis­cuss ways to raise pay, pro­vide access to health insur­ance ben­e­fits and ensure job secu­ri­ty, she says. Those ear­ly meet­ings devel­oped incre­men­tal­ly into a for­mal part-time fac­ul­ty com­mit­tee, she con­tin­ues, which itself even­tu­al­ly became the MICA Adjuncts Union.
​"This wasn't at all about union­iza­tion when we start­ed," Kavanaugh tells In These Times. ​"It was about teach­ers who felt strong­ly that change was need­ed both for the ben­e­fit of the adjuncts and for the ben­e­fit of the stu­dents at MICA. … We want­ed to work with the full-time fac­ul­ty and with the admin­is­tra­tion." While the full-time fac­ul­ty remained neu­tral, Kavanaugh says, the admin­is­tra­tion ducked the adjuncts' attempts to dis­cuss the issues — and that's what prompt­ed the moves toward for­mal organization.
​"It was only when the admin­is­tra­tion con­tin­ued to stall us, when they made it clear they wouldn't work with us in a seri­ous way, that we start­ed talk­ing about a union," Kavanaugh says.
The reluc­tance by admin­is­tra­tors to engage with the MICA adjuncts has since con­tin­ued, adds Joshua Smith, anoth­er leader of the adjuncts' group. The fledg­ling union had ini­tial­ly hoped that high­er-ups, name­ly MICA Pres­i­dent Fred Lazarus IV, would adopt a neu­tral stance in the union elec­tion like the full-time fac­ul­ty had, he says. As MICA's pres­i­dent for the last 35 years, Lazarus has earned respect and def­er­ence from most instruc­tors and staff — and a rel­a­tive­ly pos­i­tive take on the union from him would have res­onat­ed both dur­ing and after the election.
To the adjuncts' dis­ap­point­ment, how­ev­er, Lazarus came out pub­licly against orga­niz­ing last month, invit­ing part-time fac­ul­ty to meet­ings where he lob­bied for ​"no" votes. ​"The admin­is­tra­tion wasn't heavy-hand­ed: Nobody was required to go to the meet­ings and I don't think the admin­is­tra­tion ever crossed the line" of labor law in oppos­ing the union, Smith says. Nev­er­the­less, he con­tin­ues, Lazarus ​"made it clear how he felt, and he is a very influ­en­tial voice."
Despite the dis­may Lazarus' actions pro­voked, Smith points out that he is also prepar­ing to retire, sug­gest­ing that the entire cam­pus is enter­ing a peri­od of tran­si­tion. A new pres­i­dent, Samuel Hoi, will take office lat­er this year, and Smith says many adjuncts are hope­ful that the change will be a good oppor­tu­ni­ty to cre­ate a more coop­er­a­tive labor-man­age­ment atmos­phere. (Hoi him­self has remained mum on the subject.)
"[Lazarus'] retire­ment was a real­ly a unique moment" for the for­ma­tion of the union, Smith remarks, because its immi­nence pro­vid­ed some cush­ion­ing for work­ers around the president's push against orga­niz­ing. ​"I think that some of the adjuncts felt that they could vote for the union with­out pro­vok­ing a con­fronta­tion" with Lazarus, he says.
MICA spokesper­son Jes­si­ca Weglein Gold­stein turned down sev­er­al In These Times requests for an inter­view with Lazarus or oth­er top MICA offi­cials. Instead, she pro­vid­ed this pre­pared statement:
We look for­ward to work­ing with the union that will be rep­re­sent­ing our part-time fac­ul­ty and are con­fi­dent that our adjuncts will con­tin­ue to join us in mak­ing their high­est pri­or­i­ty the aca­d­e­m­ic and cam­pus expe­ri­ences of our students.
For SEIU Local 500, the vote marks the lat­est in a string of union orga­niz­ing vic­to­ries for adjuncts at col­leges and uni­ver­si­ties in the region. Last year, the union won an elec­tion at Wash­ing­ton, D.C.'s George­town Uni­ver­si­ty to rep­re­sent some 650 adjuncts. Anoth­er elec­tion in 2012 to rep­re­sent about 700 part-time pro­fes­sors at D.C.'s Amer­i­can Uni­ver­si­ty was sim­i­lar­ly successful.
Local 500's orga­niz­ing efforts are asso­ci­at­ed with SEIU's ​"Adjunct Action" project, which is stim­u­lat­ing union orga­niz­ing on col­lege cam­pus­es in wide­ly scat­tered sec­tions of the coun­try. Just with­in the last sev­er­al weeks, Adjunct Action has been involved in active union elec­tion cam­paigns at Marist Col­lege in New York state, Macalester Col­lege in Min­neso­ta, and Seat­tle Uni­ver­si­ty in Wash­ing­ton state; all three have yet to be decided.
MICA Adjuncts Union mem­bers expect to begin meet­ing this week to draft out strat­e­gy and tac­tics for nego­ti­at­ing a first con­tract. Its fun­da­men­tal goals are those shared by the grow­ing adjuncts' move­ment nation­wide, Smith reports: Name­ly, they will strive to improve over­all com­pen­sa­tion and bet­ter inte­grate the part-time fac­ul­ty into the tra­di­tion­al col­lege community.
Bruce Vail
is a Bal­ti­more-based free­lance writer with decades of expe­ri­ence cov­er­ing labor and busi­ness sto­ries for news­pa­pers, mag­a­zines and new media. He was a reporter for Bloomberg BNA's Dai­ly Labor Report, cov­er­ing col­lec­tive bar­gain­ing issues in a wide range of indus­tries, and a mar­itime indus­try reporter and edi­tor for the Jour­nal of Com­merce, serv­ing both in the newspaper's New York City head­quar­ters and in the Wash­ing­ton, D.C. bureau.