Despite Major Legislative Advances, Colombian Domestic Workers Still Suffer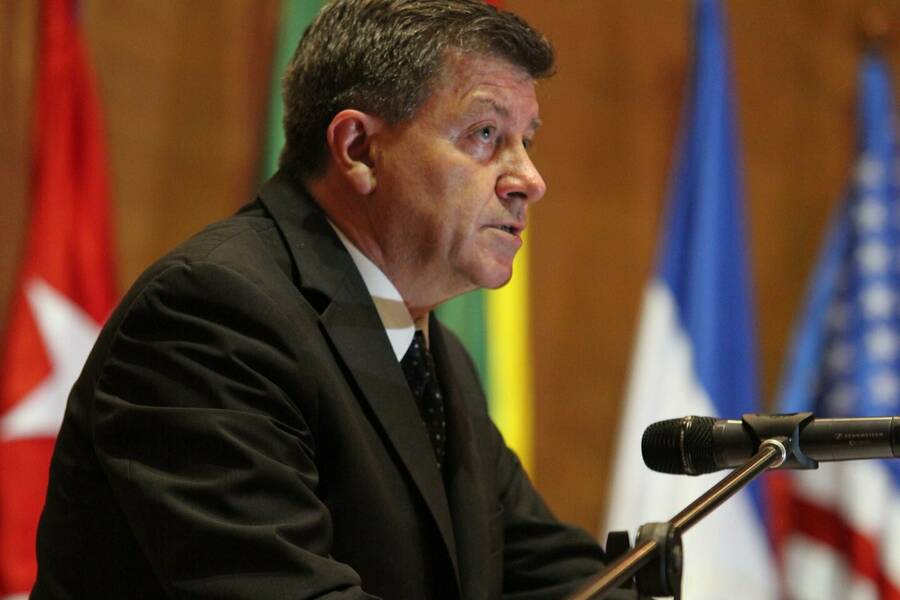 "Why did you bring me another black girl?" These were the words that greeted 16-year-old Claribeth Palacios Garcia from an employer when she moved to Medellín to work as a maid years ago. The hateful words stung, but didn't break her. Instead, she says, they left an emotional scar that fuels her fight for respect, dignity and labor rights for all Colombia's domestic workers.
"It's important [to know your rights] because a person can't demand [rights] they don't know [they have]," said Palacios Garcia. ​"I can't talk about what I don't know."
Palacios Garcia is one of more than 750,000 domestic workers in Colombia who often work long hours for low pay while enduring racism, sexual harassment and labor exploitation. 95 percent of these maids are women, many who flocked to urban centers such as Medellín, Bogotá and Cali fleeing violence from the country's decades-long civil war. The influx of labor workers and lax labor laws made these hardworking women vulnerable to abuse and exploitation. The current peace talks between armed rebels and the Colombian government, due to wrap up at the end of March, have shone a spotlight on the plight of victims of the civil war once again. Domestic workers have made key legislative and cultural advances in recent years, but they remain vulnerable to discrimination and exploitation.
As a young girl in Chocó, a a predominantly Afro-Colombian province in Western Colombia, Palacios Garcia had limited opportunities. Her education abruptly halted at the age of 16, when her mother decided school was no longer an option. So Palacios Garcia accepted an offer to come to Medellín to study, fueled by her deep desire for education. But the shady proposal instead resulted in long, brutal workdays cooking and cleaning in fear of being screamed at by her boss.
Palacios Garcia returned home, but it soon became too dangerous to stay in Chocó, a hotspot for guerrilla fighters, paramilitary groups and drug trafficking. When guerrillas brutally murdered Palacios Garcia's uncle, who was her father figure, she says she knew she couldn't stay. So she headed back to Medellín, like hundreds of thousands of others from Chocó who were victims of the conflict. Many of these victims ended up working as maids, the only job available to them, where many say they were often treated as a second-class citizens. Since her first job, Palacios Garcia has worked for nearly 10 different employers over the course of 20 years.
"You always encounter the good, the bad and the ugly in this work," said Palacios Garcia, who says she no longer tolerates verbal, physical or sexual abuse from her employers. But the line is not always so clear. One employer helped Palacios Garcia buy a house, but illegally ended her contract when she was pregnant. When a lawyer suggested she sue, Palacios Garcia thought about how her employer had helped her and she decided against it.
In recent years, Colombian domestic workers have organized for their rights, leading to the 2014 signing of an international treaty to protect domestic workers' rights. Any country that signs this treaty agrees to enact laws for fair terms of employment for domestic workers, such as minimum wage, standard work hours and paid annual leave. In December 2014, Colombia's Constitutional Court ruled that domestic workers are eligible for biannual bonuses like all other Colombian workers, another important advance in their fight for recognition of the value of domestic work. Congress still has to pass legislation to enact this decree.
These advances mark major steps forward for domestic workers' rights in Colombia, but ensuring that all Colombian employers adhere to these guidelines has proved to be a challenge, both legally and culturally. Changing a perceived mindset about domestic workers and starting a discussion about their rights poses an obstacle in itself, according to Andrea Londoño, the coordinator for Hablemos de Empleadas Domesticas (Let's Talk about Domestic Workers) and a woman who has hired domestic workers in her own home.
"The social conversations that we had among ourselves and our husbands were conversations about the qualities and defects of the domestic worker, but we never talked about rights," Londoño said says of her personal experience. The initiative is working to break down this mindset in Colombia that overlooks domestic workers' rights.
These cultural assumptions run deep, so educating both workers and employees is key. Palacios Garcia now knows when an employer is exploiting her by illegally terminating her contract or failing to pay for health insurance. She has learned her rights through the Escuela Nacional Sindical (National Labor Union School) and can advocate for herself when an employer doesn't comply, whether intentionally or accidentally.
"These are things that we understand clearly as part of the labor union," Palacios Garcia saidsays, referring to domestic workers' legal rights. ​"But there are many women who remain anonymous, in the dark and they still don't know."
One of these women is her sister, who relies on Palacios Garcia as an unofficial consultant when unsure of the legality of an employer's actions. When one employer tried to avoid giving severance pay, Palacios Garcia's sisterly advice was legal: Tell him he is obligated to pay. But in another case, her advice to her sister was about personal dignity. An employer had instructed her sister to only use a certain plate and spoon, insinuating that she was too dirty to use the regular cutlery. Palacios Garcia told her sister to quit despite fears of failing to provide for her family.
"Your kids aren't going to die of hunger, because I'm sure that this isn't the only [domestic] work in Medellín," that is available, she said. ​"She has to learn that this is not the way to treat a human being."
Palacios Garcia now works part-time as a maid and as a secretary for the labor union, whose next big goal is passing a law to give domestic workers biannual bonuses. But bureaucracy can be slow in Colombia, and maids like Palacios Garcia have waited long enough for the respect and recognition they deserve.
"We can't just wait for the government to do these things," Londoño saidsays. ​"As citizens, we also have to act."
Anna-Cat Brigida
is a freelance writer based in Medellin and has written for the LA Times, the Daily Beast and Vice's Broadly.