Colorado Teachers Are Mad as Hell—And Now They're out on Their First Strike in Decades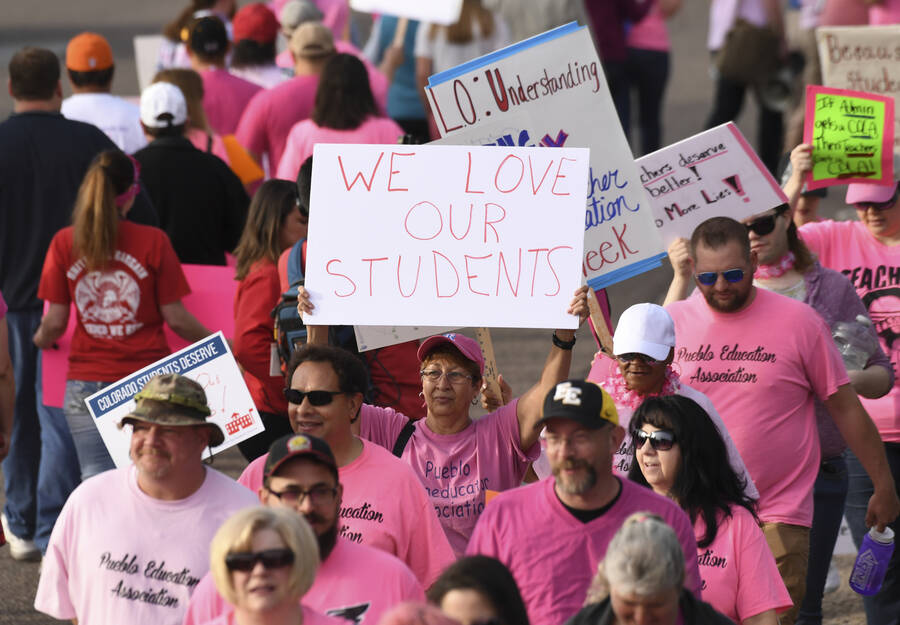 Teach­ers in Pueblo, Col­orado have been on strike for the past five days in a his­toric work action. They're call­ing for 2 per­cent cost-of-liv­ing increas­es — a demand sup­port­ed by a neu­tral fact-find­er who deter­mined that the school dis­trict could afford such raises.
It's the first teach­ers' strike in Col­orado since 1994, and it comes just weeks after some of the largest teacher orga­niz­ing efforts in the state in decades.
Teacher pay in Col­orado ranks 31st in the coun­try, with the aver­age edu­ca­tor earn­ing just under $53,000, accord­ing to the state's edu­ca­tion depart­ment. As Chalk­beat Col­orado notes, some school dis­tricts in the state have aver­age salaries above $70,000, while oth­ers are clos­er to $30,000.
On April 26 and 27, thou­sands of teach­ers from across Col­orado poured into Den­ver, the state cap­i­tal, to call on leg­is­la­tors to increase fund­ing for teach­ers and schools. Those ral­lies weren't tech­ni­cal­ly strikes — edu­ca­tors pre­fer the term ​"walk­outs" — since school dis­tricts closed before­hand and many teach­ers used their per­son­al days to attend. The Col­orado Edu­ca­tion Asso­ci­a­tion, the state's largest teacher union, says that pub­lic schools are under­fund­ed by $822 mil­lion, and that per-pupil spend­ing stands at $2,700 less than the nation­al average.
Mike Maes, exec­u­tive vice pres­i­dent of the Pueblo Edu­ca­tion Asso­ci­a­tion, told In These Times that over the course of the past week their strike has real­ly evolved ​"into a com­mu­ni­ty move­ment." On Wednes­day rough­ly 1,000 teach­ers, stu­dents and par­ents marched for miles around the city. ​"There's almost no words to describe it," said Maes. More than 470 teach­ers vot­ed to strike, and just 24 vot­ed against it.
In late April, a Repub­li­can state sen­a­tor named Bob Gard­ner intro­duced a bill designed to pre­vent Col­orado teach­ers — like those in Pueblo — from going on strike. His leg­is­la­tion threat­ened teach­ers with job ter­mi­na­tions, fines and even jail time. The bill would have also blocked school dis­tricts from pay­ing any teacher for time they spent on strike. Gard­ner said his bill was inspired by the teacher strikes in West Virginia.
But the bill was quick­ly shot down, with even Gardner's fel­low Repub­li­cans com­ing out in oppo­si­tion. With­in days, Gard­ner announced he would kill his own bill, say­ing there were too many oth­er items left for leg­is­la­tors to attend to this ses­sion. When The Den­ver Post asked Gard­ner at the end of April if he'd con­sid­er rein­tro­duc­ing the bill next year, he said much would depend ​"on what hap­pens between now and Jan­u­ary of next year." He added, ​"if we have a teacher strike, I prob­a­bly will." Sen. Gardner's office did not return In These Times' request for comment.
That said, teach­ers weren't much threat­ened by Gardner's bill.
"It did more to mobi­lize our mem­bers than scare them," Corey Kern, a spokesper­son for the Den­ver Class­room Teach­ers Asso­ci­a­tion, told In These Times.

Kallie Ley­ba, pres­i­dent of the Dou­glas Coun­ty Fed­er­a­tion of Teach­ers agreed. ​"Nobody took that bill seri­ous­ly, not even the Repub­li­can cau­cus," she told In These Times. ​"Col­orado is a local con­trol state — mean­ing it's ulti­mate­ly your school board mem­bers who would con­trol any sort of retal­i­a­tion. It wouldn't come from the state-lev­el unless there was a law passed, and we knew that wasn't going to pass." Col­orado school board mem­bers and super­in­ten­dents — like those in West Vir­ginia, Okla­homa and Ari­zona — have been rel­a­tive­ly sup­port­ive of the teach­ers' protests.
Maes, of the Pueblo Edu­ca­tion Asso­ci­a­tion, said con­cerns of retal­i­a­tion have not been at the fore­front of his mem­bers' minds. ​"Of course we're always a bit con­cerned," he said. ​"But if there's ret­ri­bu­tion we'll stand up for ourselves."
Colorado's school fund­ing sit­u­a­tion is par­tic­u­lar­ly chal­leng­ing com­pared to oth­er states. It is the only state in the coun­try to have a so-called ​"Tax­pay­er Bill of Rights" law, which bars leg­is­la­tors from rais­ing tax­es with­out vot­er approval. ​"We have incred­i­bly low prop­er­ty tax­es in Col­orado, and they con­tin­ue to go down," said Ley­ba. ​"As a result we have lost an incred­i­ble rev­enue stream for schools."

In order to raise more edu­ca­tion fund­ing, advo­cates are work­ing to pass The Great Schools, Thriv­ing Com­mu­ni­ties bal­lot ini­tia­tive, a mea­sure that would gen­er­ate $1.6 bil­lion through tax increas­es on the state's high­est earn­ers and cor­po­ra­tions. Advo­cates are cur­rent­ly work­ing to col­lect sig­na­tures. Due to a con­tro­ver­sial state amend­ment, teach­ers need to col­lect sig­na­tures from 2 per­cent of reg­is­tered vot­ers in every sen­ate dis­trict across Col­orado in order to secure the mea­sure on November's ballot.

Col­orado is not a right-to-work state, but it's not a col­lec­tive bar­gain­ing state either.
Kern of the Den­ver Class­room Teach­ers Asso­ci­a­tion says this essen­tial­ly means teach­ers in each dis­trict must fight for every right and pro­tec­tion they have, and ​"a lot of dis­tricts are in dif­fer­ent points in that fight." In Dou­glas Coun­ty, for exam­ple, teach­ers had col­lec­tive bar­gain­ing rights for decades but lost them six years ago. ​"Our mem­bers didn't want to strike for a col­lec­tive bar­gain­ing agree­ment at the time in 2012," said Ley­ba, the teacher union pres­i­dent. ​"I think our mem­bers didn't know how bad it was going to get."
Accord­ing to Kern, there's been a sharp increase in teacher mil­i­tan­cy since Trump was elect­ed. ​"That woke up a lot of peo­ple, espe­cial­ly young folks," he said. ​"I think edu­ca­tors just reached their tip­ping point, and we're see­ing a much more sup­port­ive par­ent com­mu­ni­ty too." Den­ver teach­ers are cur­rent­ly locked in a con­tract dis­pute that Kern says could result in a strike vote next January.