The Just Transition for Coal Workers Can Start Now. Colorado Is Showing How.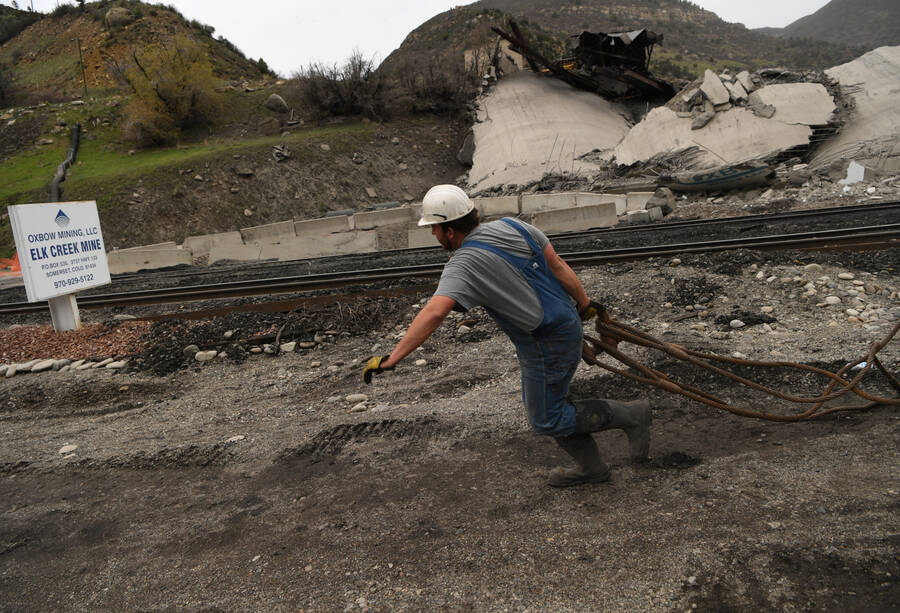 This past May, Colorado's Demo­c­ra­t­ic gov­er­nor Jared Polis signed a series of new envi­ron­men­tal bills into law, with the enthu­si­as­tic back­ing of the state's labor move­ment. Leg­is­la­tion ranged from expand­ing com­mu­ni­ty solar gar­dens to estab­lish­ing a ​"Just Tran­si­tion" office for coal-depen­dent communities.
Orga­nized labor in Col­orado hasn't always been an ally in the fight against cli­mate change, but begin­ning in 2018, a Demo­c­ra­t­ic mes­sag­ing bill that called for 100 per­cent renew­able ener­gy by 2035 forced local unions to start hav­ing some tough conversations.
"Repub­li­cans con­trolled the Sen­ate, so the bill had no chance of pass­ing, but it forced the con­ver­sa­tion on our end as to what do we need to do to get behind these bills in the future, instead of just block­ing them or delay­ing," explained Den­nis Dougher­ty, the exec­u­tive direc­tor of the Col­orado AFL-CIO, which rep­re­sents approx­i­mate­ly 165 unions rep­re­sent­ing more than 130,000 work­ers. ​"It was real­ly the first time we asked our­selves, well what's our game plan?"
In Feb­ru­ary 2018, Col­orado activists launched a state-based affil­i­ate of the Peo­ples Cli­mate Move­ment, a coali­tion of com­mu­ni­ty, faith, youth and envi­ron­men­tal groups focused on pro­mot­ing an equi­table response to cli­mate change. Dougher­ty, who worked for years as a fed­er­al medi­a­tor before join­ing the labor move­ment, soon became co-chair of the Col­orado coali­tion. ​"This was the first time labor has real­ly stepped out in lead­er­ship on cli­mate," he told In These Times.
What fol­lowed were a series of orga­nized talks between unions and envi­ron­men­tal groups. With resources from its par­ent orga­ni­za­tion, the Peo­ples Cli­mate Move­ment Col­orado even hired a skilled facil­i­ta­tor from the Insti­tute for the Built Envi­ron­ment at Col­orado State Uni­ver­si­ty to help guide its con­ver­sa­tions. The work cul­mi­nat­ed in a Cli­mate, Jobs and Jus­tice Sum­mit last September.
Democ­rats won a major­i­ty of seats in the state Sen­ate after the 2018 midterms, giv­ing them tri­fec­ta con­trol over Col­orado pol­i­tics, and the abil­i­ty to pass many cli­mate-relat­ed bills this year. Those bills includ­ed two pieces of leg­is­la­tion advo­cates hope can serve as a mod­el for cli­mate, jobs and jus­tice orga­niz­ing in oth­er states.
One is HB-1314, which estab­lish­es a Just Tran­si­tion Office in the Col­orado Depart­ment of Labor and Employ­ment. The first-of-its-kind office, which will have both a ded­i­cat­ed staff and an advi­so­ry com­mit­tee of diverse stake­hold­ers, is charged with cre­at­ing a equi­table plan for coal-depen­dent com­mu­ni­ties and work­ers as the state tran­si­tions away from fos­sil fuels. The goal is to mit­i­gate the eco­nom­ic hard­ship that will accom­pa­ny this ener­gy tran­si­tion. A draft plan is due by July 2020, and by 2025, the state will start admin­is­ter­ing ben­e­fits to dis­placed coal work­ers, and pro­vide work­force retrain­ing grants to coal-tran­si­tion­ing com­mu­ni­ties like Pueblo, Larimer, Delta, Mor­gan and others.
As part of the leg­is­la­tion, labor unions suc­cess­ful­ly pushed for lan­guage around ​"wage dif­fer­en­tial ben­e­fits" for those work­ers who end up in jobs that may pay less than the jobs they cur­rent­ly have in the fos­sil fuel indus­try. The Just Tran­si­tion office would pro­vide ​"sup­ple­men­tal income" to cov­er ​"all or part of the dif­fer­ence" between a coal worker's old job and their new one.
Dougher­ty said they pushed for an office pre­cise­ly because they thought it would be stronger than an advi­so­ry board or a task force. ​"I'm not wor­ried it will be some­thing with­out teeth," he said. ​"There's also so much groundswell to keep up pressure."
The sec­ond bill, SB-236, includes lan­guage to autho­rize the so-called secu­ri­ti­za­tion of coal plants, as a way to has­ten their retire­ment and to bring addi­tion­al funds to coal-depen­dent com­mu­ni­ties. The idea is to allow a util­i­ty com­pa­ny to swap its remain­ing coal plant debt for a ratepay­er-backed bond. Twen­ty oth­er states have bond secu­ri­ti­za­tion laws, and they have been used by gov­ern­ments to close a nuclear plant in Flori­da and a coal plant in Michi­gan. The twist in Col­orado is to use some of the mil­lions of dol­lars in sav­ings from secu­ri­ti­za­tion to rein­vest back in work­ers and vul­ner­a­ble communities.
The bill spon­sor, Demo­c­ra­t­ic State Rep. Chris Hansen, first intro­duced the idea in 2017. While his bill passed the House, it died in the then-GOP-con­trolled Senate.
Labor and envi­ron­men­tal groups sup­port­ed the secu­ri­ti­za­tion bill this year, though Dougher­ty empha­sized that the sav­ings it could gen­er­ate would not be enough on their own to fund the kind of just tran­si­tion they're look­ing to see. ​"We see it as just one fund­ing mech­a­nism for com­mu­ni­ties and work­ers," he said. (A sep­a­rate bill also passed this year by Col­orado law­mak­ers enables the state's pub­lic util­i­ties com­mis­sion to dis­trib­ute some of the secu­ri­ti­za­tion sav­ings to vul­ner­a­ble communities.)
Accord­ing to the Col­orado Min­ing Asso­ci­a­tion, Col­orado is the 11th largest coal-pro­duc­ing state, with six active coal mines, employ­ing a lit­tle over 1,200 mine work­ers. The Nation­al Min­ing Asso­ci­a­tion esti­mates that near­ly 18,000 peo­ple across Col­orado are employed direct­ly by the state's min­ing industry.
For both the Just Tran­si­tion office and the coal plant secu­ri­ti­za­tion bill, lead­ers say key to pas­sage was a lot of edu­ca­tion, research and tough, hon­est dialogue.
Rep. Hansen, who has a PhD in resource eco­nom­ics and worked in the ener­gy sec­tor before run­ning for office in 2016, said get­ting his bill passed was a mul­ti-year process of stake­hold­er engage­ment. ​"I also real­ly had to edu­cate my own col­leagues about secu­ri­ti­za­tion," he told In These Times. ​"Some folks in Col­orado thought this was a give­away to the util­i­ties indus­try, but it's real­ly the oppo­site of a bailout because for the secu­ri­ti­za­tion to work the com­pa­nies have to walk away from sig­nif­i­cant amounts of revenue."
Rep. Hansen said he's been try­ing to be hon­est with peo­ple that major eco­nom­ic tran­si­tions are com­ing, and the best thing lead­ers can do is proac­tive­ly plan ahead. ​"There will be dis­lo­ca­tion and dis­rup­tion but the alter­na­tive is to let what we've typ­i­cal­ly had hap­pen in this coun­try which is just kind of a free-fall for tran­si­tion­ing com­mu­ni­ties with no real help from gov­ern­ment," he said. ​"I much rather try and pre­pare then be reac­tive after-the-fact."
With­in the Just Tran­si­tion office, Dougher­ty said labor unions plan to push for the wage dif­fer­en­tial ben­e­fit to cov­er a tran­si­tion of up to three years. For exam­ple, if some­one was earn­ing $100,000 in a coal-indus­try job, and retrains for anoth­er posi­tion that pays $60,000, labor wants to see the state cov­er that dif­fer­ence for sev­er­al years.
Dougher­ty said at first unions thought a ​"just tran­si­tion" could mean demand­ing jobs at the same lev­el of pay and ben­e­fits that work­ers are cur­rent­ly earn­ing in per­pe­tu­ity, but after doing research into the issue and assess­ing the polit­i­cal real­i­ties, they mod­i­fied their demands.
"We hired some­one to research every ​'just tran­si­tion' that's been done across the world," he explained, adding: ​"We said, okay, well what can we real­is­ti­cal­ly do at the state lev­el that we think is fair while also not com­ing out and demand­ing some­thing that's nev­er going to happen?"
"I think what hap­pened in Col­orado is real­ly, real­ly impor­tant," said Paul Get­sos, the nation­al direc­tor of the Peo­ples Cli­mate Move­ment. ​"It's a real exam­ple of union lead­ers who are real­ly will­ing to edu­cate oth­er union lead­ers about the issues to see how they can move their insti­tu­tions forward."
Get­sos added that Colorado's expe­ri­ence reflects how suc­cess­ful leg­isla­tive vic­to­ries are not won overnight. ​"It takes a lot of rela­tion­ship build­ing," he said. ​"A lot of trust."