Community Members, Including Former Chicago Bull, Unite To Save School From 'Turnaround'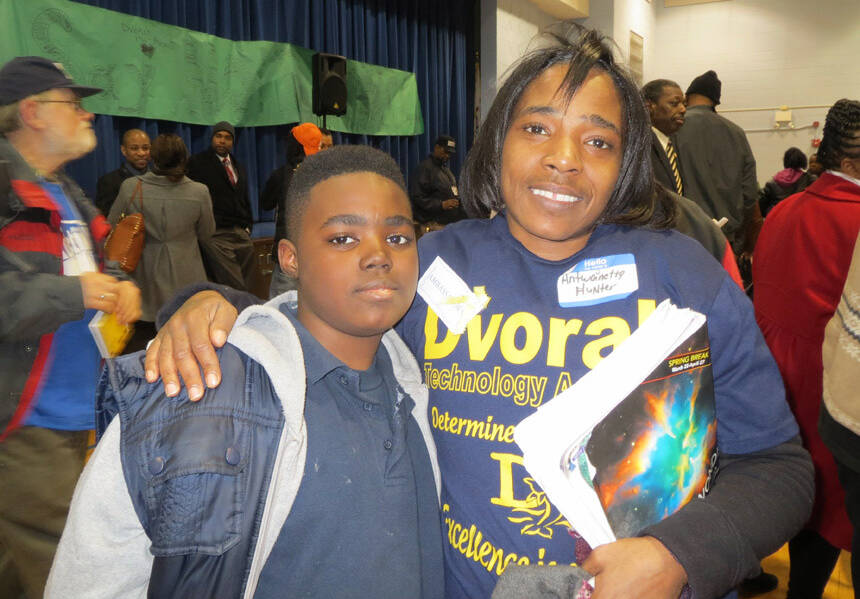 At 2:50 pm on March 21, as Car­rene Bev­er­ly-Bass remem­bers it pre­cise­ly, her world changed.
That's when she was told by admin­is­tra­tors that Dvo­rak Tech­nol­o­gy Acad­e­my on Chicago's West Side, where she has taught for 21 years, was tar­get­ed to become a ​"turn­around school." This would mean all of Dvorak's teach­ers and staff would lose their jobs next fall, when the ele­men­tary school would be tak­en over by a pri­vate non­prof­it orga­ni­za­tion: the Acad­e­my for Urban School Lead­er­ship (AUSL), which already runs 29 Chica­go pub­lic schools attend­ed by 17,000 students.
Along with North Lawn­dale's Dvo­rak, the Chica­go Board of Edu­ca­tion is plan­ning to des­ig­nate two oth­er ele­men­tary schools as ​"turn­arounds": McNair Ele­men­tary on the West Side and Gre­sham Ele­men­tary on the South Side are also on the chop­ping block. In some cas­es, some employ­ees are retained dur­ing turn­arounds, but the dis­trict has already announced that the plan this time is to remove all staff from the three ele­men­tary schools.
​"They ambushed us," Bass says, tears trick­ling down her face. ​"It was the most dehu­man­iz­ing expe­ri­ence I've ever had in my life."
All three schools host­ed hear­ings on April 2 in front of Chica­go Pub­lic Schools (CPS) and AUSL offi­cials, who were tasked with report­ing back to the school board. After anoth­er hear­ing next week at the school board's down­town cen­tral office, the board will vote on the turn­around pro­pos­als on April 23.
On Wednes­day night, sev­er­al hun­dred dis­traught and furi­ous par­ents, stu­dents, elect­ed offi­cials and teach­ers — includ­ing Bass — gath­ered in Dvorak's audi­to­ri­um to give their tes­ti­mo­ny unan­i­mous­ly oppos­ing the proposal.
​"All I ever want­ed to do was teach," Bass, who cur­rent­ly teach­es fourth grade at Dvo­rak, tells In These Times after mak­ing her impas­sioned remarks to the crowd. ​"To treat us that way when we just want to teach, it's so, so disrespectful."
AUSL and CPS offi­cials start­ed the meet­ing at Dvo­rak with a brief intro­duc­tion about the turn­around process and AUSL. There was a recita­tion of sta­tis­tics show­ing Dvorak's poor per­for­mance on the Illi­nois Stan­dard Achieve­ment Test (ISAT), where stu­dents scored far below state and dis­trict aver­ages. Nine­ty-eight per­cent of Dvo­rak stu­dents are Black, and near­ly all qual­i­fy for reduced-price lunch — an indi­ca­tion of poverty.
Pamela Creed, prin­ci­pal of AUSL's Fuller School of Excel­lence on the South Side, explained dur­ing the intro­duc­tion that the orga­ni­za­tion devel­ops a ​"pos­i­tive cul­ture" in its schools and sets ​"rig­or­ous goals" for stu­dents. ​"We do cel­e­brate stu­dent achieve­ment," she said. For exam­ple, she con­tin­ued, ​"We have col­lege readi­ness cel­e­bra­tions for stu­dents who met their col­lege readi­ness tar­gets — they have piz­za with their principal."
AUSL's pre­sen­ta­tion appeared to be cut short by boos and heck­ling. Then, one after anoth­er, locals took the floor to lam­bast the turn­around plan. They described the tight sense of com­mu­ni­ty that exists at Dvo­rak, where mul­ti­ple gen­er­a­tions of North Lawn­dale fam­i­lies have sent their kids. Sev­er­al adult speak­ers point­ed out their for­mer grade-school teach­ers and prin­ci­pal in the crowd. They described the way Dvo­rak stu­dents — many of whom are home­less, have spe­cial needs or face oth­er chal­lenges — have fam­i­ly-like bonds with teach­ers, secu­ri­ty guards, lunch ladies and oth­er staff who've been there for years.
Var­i­ous speak­ers did acknowl­edge Dvorak's poor test scores. But, they said, the school has been improv­ing. Many peo­ple pro­fessed faith and hope in Prin­ci­pal Cheryl White, who has only been in her posi­tion for a lit­tle more than a year.
And while many point­ed out that AUSL schools often don't per­form bet­ter than Chica­go neigh­bor­hood schools on stan­dard­ized tests, they also remind­ed offi­cials that scores don't tell the whole sto­ry about a school. ​"We need to start telling our stu­dents they are more than just a test score," said Toni Minter, a teacher at anoth­er CPS school. ​"This school is worth sav­ing; these jobs are worth saving."
Numer­ous speak­ers charged that the Dvo­rak turn­around plan is part of a larg­er agen­da: to dis­place poor Black fam­i­lies from gen­tri­fy­ing neigh­bor­hoods. Res­i­dents often feel the same way about pri­vate­ly run char­ter schools replac­ing long­stand­ing pub­lic schools in their areas: They think it is a way to uproot the exist­ing com­mu­ni­ty and open a school that is more attrac­tive to high­er-income res­i­dents. (Turn­around schools are not char­ter schools, but crit­ics fre­quent­ly view them in the same vein.)
​"This is a land grab," said Valerie Leonard, a mem­ber of the Lawn­dale Alliance, who referred to the plan as the ​"AUSL hos­tile takeover." ​"This is about real estate."
Locals not­ed their community's prox­im­i­ty to down­town and said that peo­ple have already been forced out by ris­ing prop­er­ty val­ues. Sev­er­al speak­ers, includ­ing Minter, said they or peo­ple they know have been priced out of the neigh­bor­hood but con­tin­ue send­ing their kids to Dvo­rak because they love the school.
​"This is big­ger than us, they want this land," Bass tells In These Times. ​"It's about the fact that you can see down­town from here. It's about the red X's on the build­ings" that the city uses to denote homes slat­ed for demo­li­tion. ​"It's like we're the vic­tims of some­thing we didn't do."
Mar­qui­ette Criswell had two kids grad­u­ate from Dvo­rak and has fam­i­ly roots in North Lawn­dale going back more than 60 years. She, too, sees the turn­around pro­pos­al as a strug­gle over the future of the neigh­bor­hood. ​"They are try­ing to take our homes, they are try­ing to take our schools, they are try­ing to take our jobs," she tes­ti­fied. ​"All in the name of gentrification."
Though stu­dents cur­rent­ly enrolled would con­tin­ue to attend after the ​"turn­around," res­i­dents expressed wor­ry that prob­lem stu­dents might be pres­sured to leave or that new stu­dents with dif­fi­cult cir­cum­stances would have trou­ble gain­ing admission.
Donielle Law­son, whom many refer to as ​"the Jail Teacher" from her stint edu­cat­ing inmates in the Cook Coun­ty Jail, said in her tes­ti­mo­ny that she worked in an AUSL school—Dodge Renais­sance Acad­e­my on the West Side — for about six months. She quit, tak­ing an $18,000 pay cut, because she said offi­cials were reject­ing stu­dents with poor dis­ci­pline or atten­dance records.
​"My con­cern is that our stu­dents who have chal­lenges and issues will be turned away — only to end up on the streets," added Ronald Hay­wood, for­mer­ly a mem­ber of the Dvo­rak Local School Coun­cil and a vol­un­teer and bas­ket­ball coach at the school. ​"We have a phe­nom­e­nal prin­ci­pal in Ms. Wright. We have phe­nom­e­nal par­ents, we have phe­nom­e­nal teach­ers … What we ask for now are resources and sup­port. I ask once again we have resources so our stu­dents can remain in a school that is sup­port­ive and famil­iar to them. They say it takes a vil­lage to raise a child — Dvo­rak is that village."
Though the con­cept of turn­around schools in the city began more than a decade ago under Chicago's sweep­ing school reform plan, crit­ics see its con­tin­u­a­tion as part of the larg­er efforts of May­or Rahm Emanuel and his appoint­ed school board to pri­va­tize many aspects of pub­lic edu­ca­tion and reduce the pow­er of the Chica­go Teach­ers Union. Emanuel's first two years in office includ­ed the sev­en-day his­toric strike by the union and the largest round of school clos­ings in U.S. his­to­ry. Short­ly after tak­ing office, Emanuel also announced he want­ed to dou­ble the num­ber of schools run by AUSL. He chose a for­mer AUSL exec­u­tive, Tim Caw­ley, to serve as Chief Admin­is­tra­tive Offi­cer for Chica­go Pub­lic Schools.
​"What this is real­ly all about, to be clear — turn­arounds are anoth­er ver­sion of school clos­ings," tes­ti­fied Pauline Lip­man, a pro­fes­sor at the Uni­ver­si­ty of Illi­nois at Chica­go, to loud cheers. ​"The school his­to­ry, cul­ture and staff, the school com­mu­ni­ty are wiped out."
She not­ed that the schools AUSL has tak­en over are dis­pro­por­tion­ate­ly in African-Amer­i­can neigh­bor­hoods, and that African-Amer­i­can teach­ers com­prised a dis­pro­por­tion­ate num­ber of those laid off.
Local 24th ward alder­man Michael Chan­dler, State Rep­re­sen­ta­tive Arthur Turn­er and Ray­mond Gye, direc­tor of con­stituent ser­vices for U.S. Con­gress­man Dan­ny K. Davis, also spoke out in oppo­si­tion to the turn­around plan.
Turn­er said he was only told about the turn­around plan the day before it was announced. ​"I felt very dis­re­spect­ed by that," he said to the audi­ence. ​"The rela­tion­ship between the com­mu­ni­ty and the teach­ers is very impor­tant. Try­ing to rebuild the com­mu­ni­ty, 16th street, the West Side of Chica­go, we need… the teach­ers sit­ting here. … We can do great things here at Dvo­rak. I'm here in sup­port of the fam­i­ly mem­bers and union mem­bers today."
When Mick­ey John­son stepped up to tes­ti­fy, the micro­phone was sev­er­al feet too low for him. The for­mer Chica­go Bulls play­er, on the team from 1974 to 1979, is now a com­mu­ni­ty activist in North Lawn­dale, where he grew up. He helps out with the Dvo­rak bas­ket­ball pro­gram. ​"Don't believe the hype," he told the crowd, charg­ing that the turn­around is real­ly a way to break the teach­ers union.
​"When you take away what a child knows, that's trau­mat­ic," John­son tells In These Times after the hear­ing's con­clu­sion. ​"I'm all for change for the bet­ter. But this school has been build­ing. We need to keep build­ing on what they already have instead of start­ing over."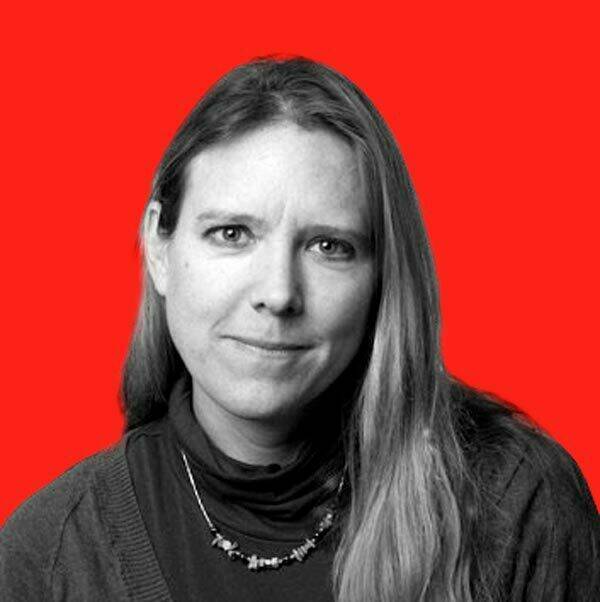 Kari Lyder­sen
is a Chica­go-based reporter, author and jour­nal­ism instruc­tor, lead­ing the Social Jus­tice
&
amp; Inves­tiga­tive spe­cial­iza­tion in the grad­u­ate pro­gram at North­west­ern Uni­ver­si­ty. She is the author of May­or
1
%: Rahm Emanuel and the Rise of Chicago's
99
%.